You are in the right place if you are looking for Divi theme templates and Divi site examples to get an idea for designing your website.
Divi by "Elegant Themes" is the most popular page builder for WordPress available in the market. You can quickly build stunning sites with simple drag and drop without coding knowledge.
More than 2 million sites are built worldwide through Divi. It is a fully customizable WordPress theme you may customize per your business identity.
So without any further ado, let's dive deep to learn more about Divi and its action.
Benefits of Using Divi for Website Design
Many website builders are available in the market, but for designing the website, you need to choose a suitable theme to make it successful in your online endeavors.
Divi, a popular WordPress theme, offers various benefits over others. Here are a few key advantages of using the Divi theme:
1. Responsive Design and Mobile Optimization
Most website visitors are mobile, so your website must be responsive without creating any layout issues while displaying on the mobile version of the web.
Divi offers these features to give a seamless experience to all visitors, irrespective of devices. It is more likely to create the best UI for visitors on any screen size.
2. User-Friendly Drag-and-Drop Builder
Divi's intuitive drag-and-drop builder feature is the best option if you don't know coding but want to design your website.
With its easy-to-use interface, you can easily customize the layout, font, and elements, rearrange sections, and opt for different designs. This feature has made it possible to design websites with less effort and quickly.
3. SEO friendly
Divi is a very lightweight theme, thus helping surpass core web vitals, essential for ranking sites in Google searches.
The theme's code structure ensures good schema, semantic markup, fast loading page, proper heading structure, and other technical aspects that positively impact the SEO of sites.
4. Regular Updates and Support
To remain compatible with the current updates coming on WordPress, Divi offers regular updates and follows evolving SEO standards.
And for any support or issue you face, Divi offers robust assistance and resources to help you solve your queries.
Besides these, Divi offers a wide range of features that make it a top choice for many to build websites on WordPress.
Showcase of Divi Site Examples (Sites Built With Divi)
Now let's check some stunning example sites built with Divi framework.
1. My Columbus Realtor (Real estate)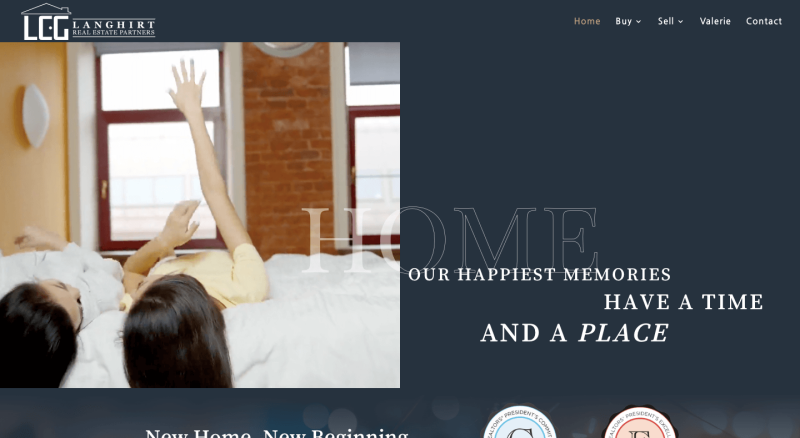 This website is developed using Divi, and it offers all tools needed for any real estate, agencies, businesses, and service providers.
The template offers a sleek layout with a prominent section that displays images, a title, and a call to action button. This website also provides smooth transitions and has a responsive design.
2. White Gorilla (Digital Service)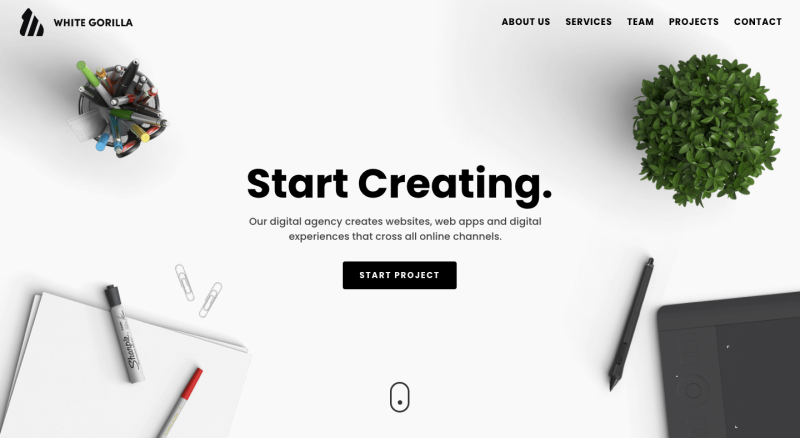 You can look at the animation of the digital service company landing page, which is quite elegant and stylish. The use of high-quality images, a color palette, and neatly structured information showcase the beauty and craftsmanship of the page.
The layout is well organized, citing various information like services offered, portfolio of past projects, and forms to connect. This stylish website design conveys the company's professionalism and creativity.
3. GoCycle(Product Sale)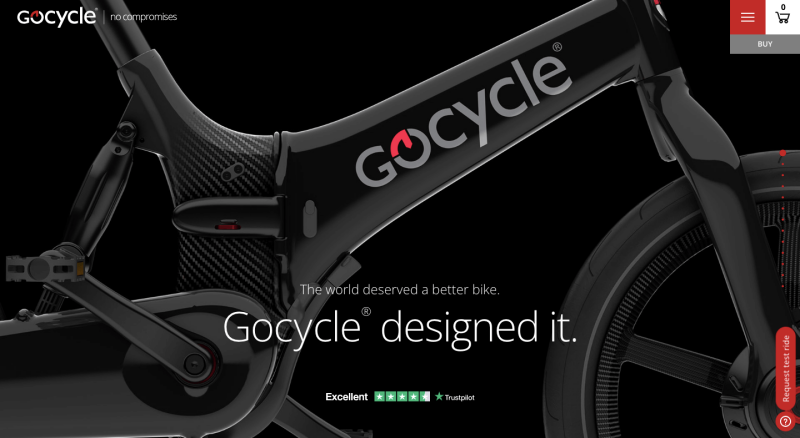 The GoCycle website was built with Divi, an air purification system for homes. The design features clean greenery and impactful visuals to attract the eyeballs of donors.
The layout incorporates various sections, including the product listing, contact us page, office address, and different services offered with a clear call to action for sale.
4. New School Of Finance (Education Site)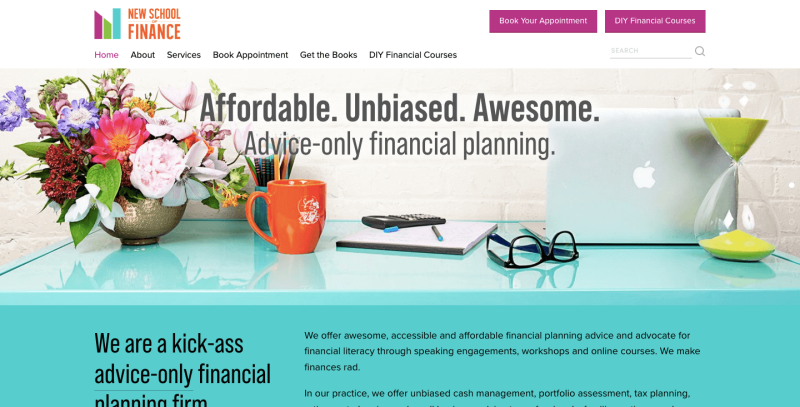 Divi themes helped this website design for an eye-catching education niche, advanced animation, and proper transitioning. This example is for you when you want to launch some courses and host a website.
The layout incorporates a professional color scheme, well-organized sections, a CTA button, and high-quality images for better visuals.
5. Nomad Capitalist (Event site)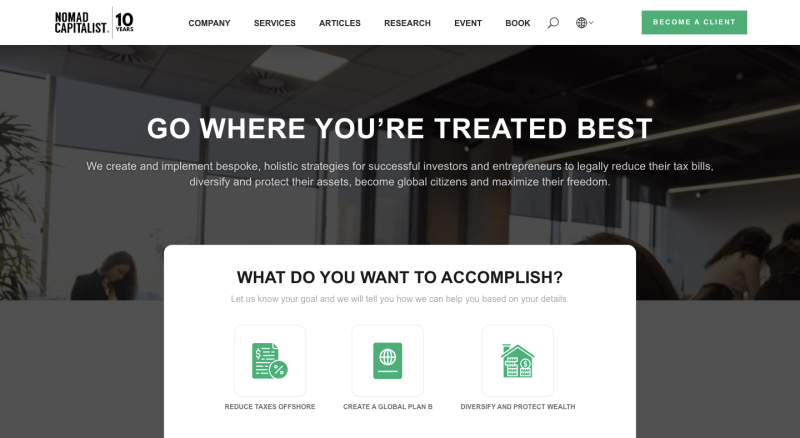 NC is among the best Divi site examples: a sleek, modern design, eye-catching visuals, and a clear Click to action button that perfectly demonstrates professionalism.
The page includes sections like capturing event details, registration, process flow, and testimonials with proper menus allowing visitors to access important information and take action easily.
6. Southern Bancorp (Online Banking)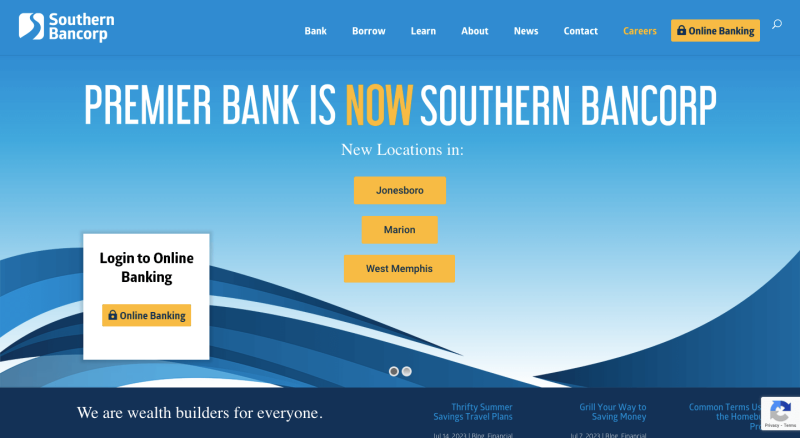 BankSouther's website is in the list of Divi site examples. Look at the captivating and engaging website design using the Divi template for the banking niche. The landing page demonstrates eye-catching visuals, enticing visitors to explore the page and take action.
The layout is responsive to ensure it can adapt to different screen sizes and is quite user-friendly. It is fully customizable, with intuitive navigation, interactive call to action, and a dynamic news section.
7. Buffer Insurance (Insurance Site)
The design offers a modern aesthetic with a vibrant color scheme that exudes a sense of creativity and professionalism.
The website contains well-organized sections like hero banners with CTA, different services, testimonials, and expertise. Comply typography, animation, vibrant color, and intuitive icons to enhance the user experience.
8. Tieland To Thailand (Lifestyle Site)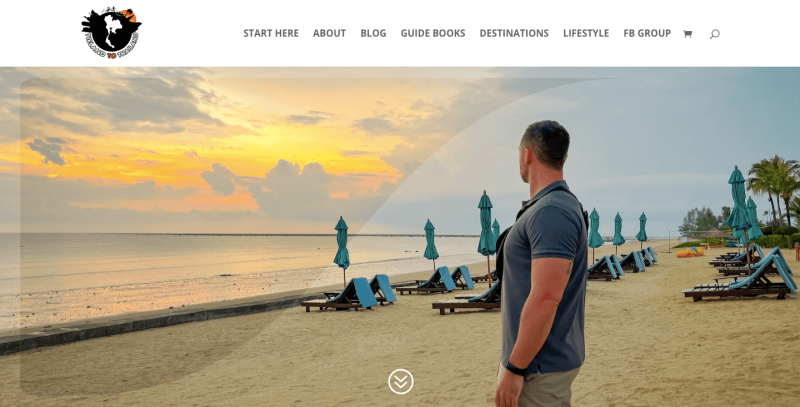 If you are a travel blogger with a lifestyle niche website, this Divi site example will be your priority. This layout is tailored for travel bloggers and enthusiasts who want to showcase their content visually captively.
The landing page has various sections that allow visitors to explore destinations, read blogs, engage with social media, and read testimonials.
9. EcoHost (Hosting Site)
This site had an elegant and professional landing page tailored for web hosting services in the technology niche. The landing page effectively conveys critical key service information using concise and impactful sections.
High-quality images, features, pricing, testimonials, and well-placed call-to-action buttons catch visitors' attention and have a good engagement score.
10. Tampa Real Estate Insider (Service site)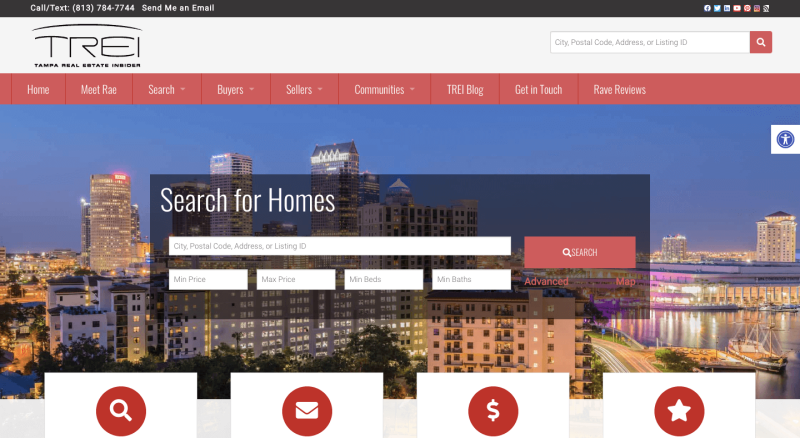 The TREI website design is a perfect example of a site developed using Divi. Here elements are used to captivate the visitor's attention and encourage engagement.
The TREI Landing page provides a stylish and functional solution for professionals looking to make a strong impression and generate leads online.
Click Here To See the Full Website
11. Samui Garden Villa (Travel Site)
Samui Garden Villa is a premium villa Thailand website developed using the tools provided by Divi and integrated with the booking system.
The site has menus, clear CTA, visuals, testimonials, blogs, and, most exciting, most beautiful photo galleries.
Tips for Maximising Divi Theme Potential
1. SEO optimization
Divi offers built-in SEO settings that allow you to optimize your site for better search engine visibility. It is possible to customize meta tags, including title tags and meta descriptions, to represent the content of each page more accurately.
You may install the Rank Math SEO plugin to further optimize your Divi website SEO settings. This plugin allows you to add additional features and functionalities to enhance your SEO effort.
2. Utilising Built-in Modules and Extensions Effectively
Divi theme also offers a wide range of built-in modules that add additional design options for your site. These modules include features like text, images, sliders, galleries, buttons, forms, testimonials, pricing tables, etc.
You can experiment using these modules, and exploring their functionalities is a great way to unlock the full potential of Divi.
3. Optimization Tips for Performance and Loading Speed
Optimizing the images is crucial; you must compress them before loading them onto your site. You must also consider minifying CSS and Javascript files to reduce file size and enable caching to improve all performance.
Though the Divi theme is optimized for these parameters, you may still use plugins like WP Rocket to optimize all these in a single place with many more features.
4. Mobile Optimization
Most of your website visitors will be from mobile only, so mobile optimization is crucial. Divi provides mobile editing options that allow you to customize the appearance and layout specifically for mobile users.
You need to test its responsiveness across different devices and screen sizes. Use tools like Google's Mobile-Friendly Test to identify issues and make necessary adjustments.
FAQs on Divi Site Examples
How many websites use Divi?
Divi is the most popular WordPress theme and has gained significant users. It is being used by over 2 million users worldwide for their design and development needs.
Should I use Divi for my website?
Though its answer will depend upon your needs and preferences, when you want design flexibility, ease of use, and 100+ pre-made templates, Divi is worth spending the money on.
Is Divi good for SEO?
Divi is a fast and lightweight theme and provides several features to optimize your website for search engines, and it generates clean and semantic code for easy crawling.
Which is faster: Elementor or Divi?
The website's speed depends upon various factors like hosting, file size, etc. I have compared Divi & Elementor and concluded the fastest theme for WordPress.
Is Divi easy for beginners?
Divi is praised for its user-friendly interface and intuitive drag-and-drop builder, making it accessible for beginners. I have written many tutorials and guides for the Divi theme.
Conclusion
Divi is an excellent choice for over 2 million users and is known for its intuitive, easy-to-use interface and drag & drop builders. The Divi site examples showcased the theme's versatility across various industries, inspiring users to explore the possibilities.
From e-commerce stores to personal blogs, Divi provides the necessary tools and customization options to create visually appealing websites. So, if you are looking for a page builder and a powerful theme, Divi is the best option to kickstart your web journey.
Source: https://www.wpglossy.com/divi-site-examples/
---
---
You might also like this video