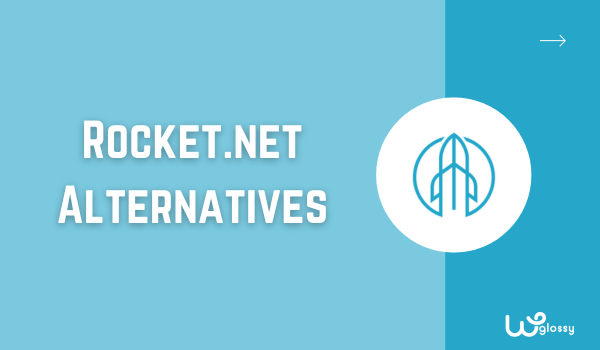 So, are you looking for some best Rocket.Net alternatives to host your business site? Like you, I was the one who was searching for the same, as I felt that this hosting is overpriced! Thus, I spent some time to find out reliable hosting servers.
Who are Rocket.net's competitors? Let me consolidate them in this blog post; I hope it will help you pick the best alternative for your dream site. Before getting into the list, let me tell you about the downsides of Rocket.Net hosting.
Rocket.net Hosting downsides
If you want to host your website on fully managed WordPress hosting without budget constraints and control, you may go with Rocket.net. However, some of its downsides make users like me start looking for its alternatives.
Even though it is a recommended web hosting service available in the market, but still, there are a few reasons why someone might be interested in looking for Rocket.Net Alternatives are:
1. Pricing: The pricing offered by this managed hosting might need to be more budget-friendly to everyone. Other hosting providers are offering the services at relatively lower prices.
2. Limited Control: This managed hosting offers a user-friendly, easy-to-use dashboard, which means advanced users who want more customization and server configuration will not find it more lucrative.
3. Features: It has a wide range of features to cater to the needs of websites but needs advanced features like integration with specific plugins and specialized developer tools.
4. Limitation on the number of websites and traffic: It limits the number of websites to host on the given plan and the traffic limit it can handle. This is the downside for users who own multiple sites and want more flexibility.
5. Issues with uptime and customer support: Though this problem is only prevalent to some users, some users reported the issue of uptime and customer support while using it. So you must be aware of the potential problems associated with these.
8 Best Rocket.net alternatives For Excellent Site Performance
Choosing the best hosting is a crucial task for every site owner! You should consider its features, add-ons like CDN & Email hosting, customer support, and pricing plans. Here are the best Rocket.net alternatives 2023; you may pick the suitable one!
1. Cloudways ($30 Discount)
If you are looking for easy-to-use, scalable, and reliable web hosting that too under budget, then the number #1 alternative to Rocket.net is Cloudways. I have been using it on my sites, and the speed and performance are outstanding.
What I liked most about Cloudways is its excellent customer support, easy-to-use interface, and backup & restore features. You can scale your business with Cloudways features and pay only for the additional use of a server, and it can handle all your traffic without any downtime.
Features:
2. Kinsta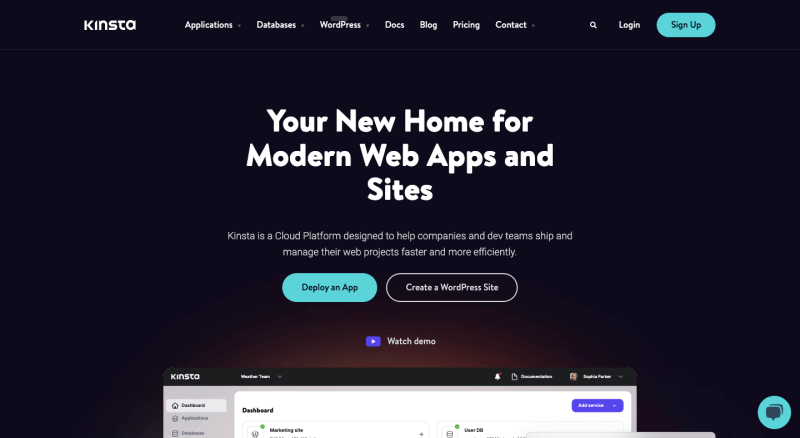 Kinsta also offers managed WordPress hosting, which makes it among the ideal alternatives to Rocket.net in 2023. It's primarily focused on performance, security, and exceptional user experience and thus gained a stellar reputation in the web hosting industry.
Regarding speed and performance, no one can say bad words about Kinsta as they have worldwide CDN and global availability of data centers. Choose the data center near your audience demographic for better hosting performance.
Features:
Easy-to-use dashboard and easy interface
Global Data Center Locations
Built-in Security Features like hardware firewalls, DDoS detection
Trusted by 25,000+ growing businesses like Flippa, Tripadvisor, etc.
Get technical support in as little as 1 minute and 27 seconds
Free trial with Free $20 credit
3. WP Engine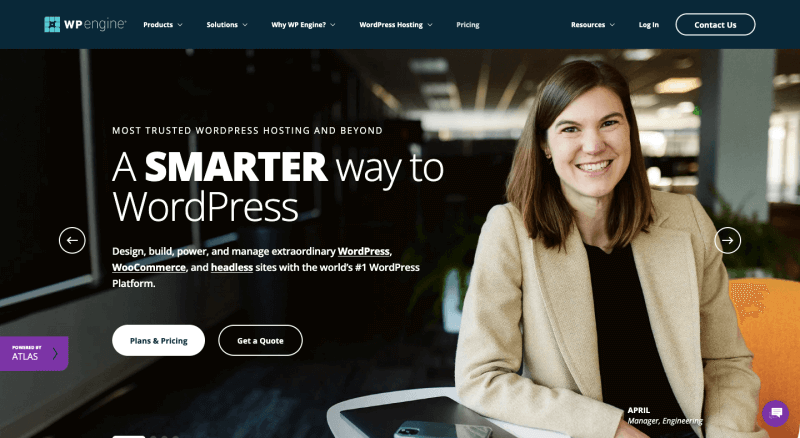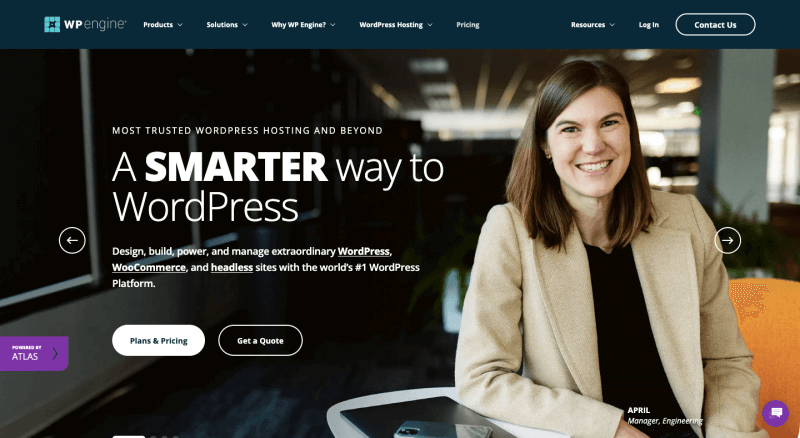 WP Engine is also among the potential alternatives of Rocket.net, which offers a wide range of services, including WordPress hosting. If you want fully managed WordPress hosting similar to Cloudways, WP Engine offers all the required features.
For better performance and speed, WP Engine also offers a Global CDN feature with over 200 data centers globally, allowing for peak performance regardless of where your traffic lives. They strongly focus on website security, site performance, and site-building.
Features:
60 days money back guarantee
Free WordPress migration plugin
Instant speed with EverCache and CDN
Staging environments for developers
Automatic WordPress and PHP updates
4. Flywheel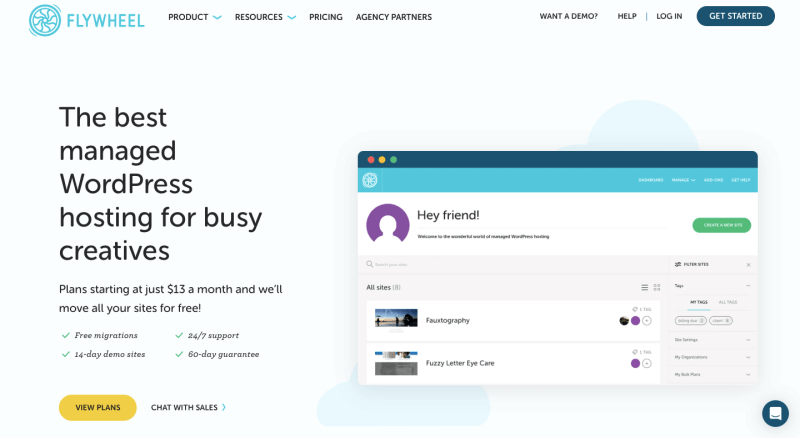 Flywheel is an exceptional managed WordPress hosting for busy creatives and an excellent alternative to Rocket.net. They offer various features for managed hosting to focus on what you love rather than dealing with technical nitty-gritty stuff.
What I liked most about Flywheel is that they host only WordPress sites, and their servers are tuned for WordPress. So it's a plus point for WordPress site users. This hosting platform is trusted by over 35k brands like Expedia, hence is a trustful and reliable web hosting to host your sites.
Features:
Managed caching and performance
Managed security and managed software updates
Expert support
Free SSL, demo sites, and malware cleanup with 99.9% uptime
Seamless site migration and one-click backups
5. Siteground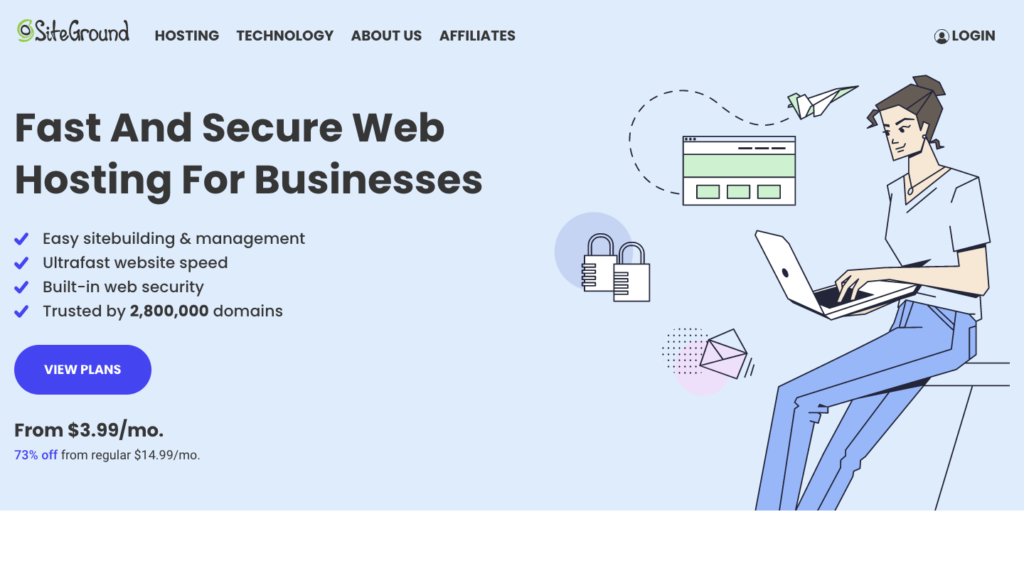 Siteground is one of the Ultrafast WordPress hosting recommended by WordPress.org and trusted by more than 2,800,000 domains. Also claims to increase the website speed by 500% using the latest technologies like Google Cloud integration.
I have used Siteground on my sites, and the site loading speed was fantastic. Though it's a bit expensive compared to others, it offers tons of tools & features too. So, it's the best alternative to Rocket.net if you don't have budget constraints.
Features:
Top-rated 24/7 customer support
Free email, SSL, CDN, and Backups
30-day money-back guarantee
Free site migration
Allow easy scalability as your needs grow
6. Templ.io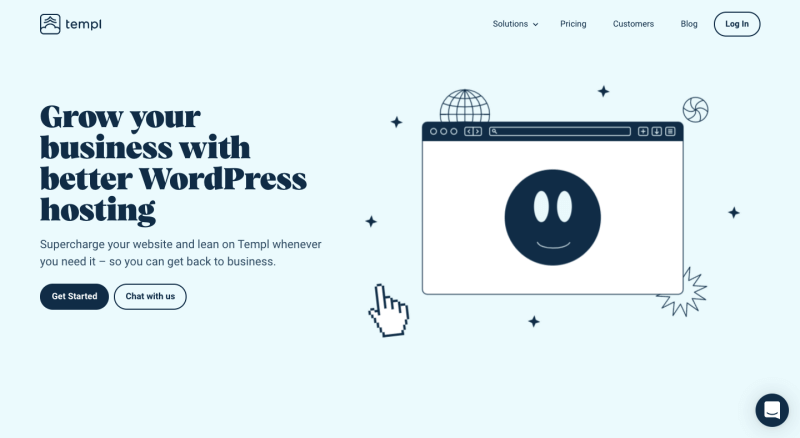 Templ is a fully managed WordPress hosting provider that uses Google Cloud and Google CDN to supercharge your website speed and performance. Templ.io also deals with WordPress hosting only, so it's a good substitute.
It offers tools and features that will make you fall in love with things like Unlimited free migrations, advanced security, speed optimization, daily backups, and support from WordPress experts. Hence, it is among the best Rocket.net alternatives.
Features:
Staging environment
Competitive pricing and offers
Global CDN and scalable infrastructure
Avail a 10 days free trial without credit card details
Developer-Friendly Features like Git integration and SSH access
7. Liquid Web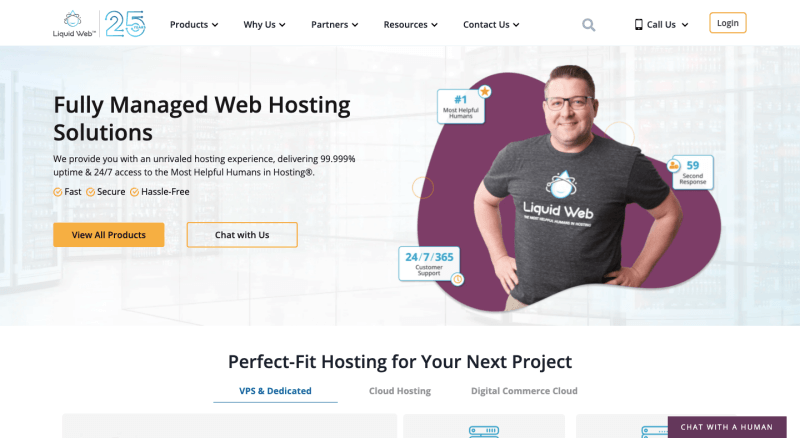 Liquid Web is a renowned web hosting provider that offers a wide range of solutions, including managed WordPress hosting. They have been in the market for over 20 years and have established themselves as a reliable and trusted option for businesses and individuals.
Whether you are a small business or a big one, Liquid Web hosting provides a solution to cater to everyone's needs ensuring better performance and under budget. Liquid Web emerges as a top-notch alternative to Rocket.net
Features:
Free website migration assistance.
187,000+ Customers in Over 150 Countries
Customizable server settings for advanced users.
Automatic backups and one-click staging environments.
Advanced security measures, including firewalls, DDoS protection
59 Second Initial Response Guarantee on Phone, chat, and helpdesk
8. Dreamhost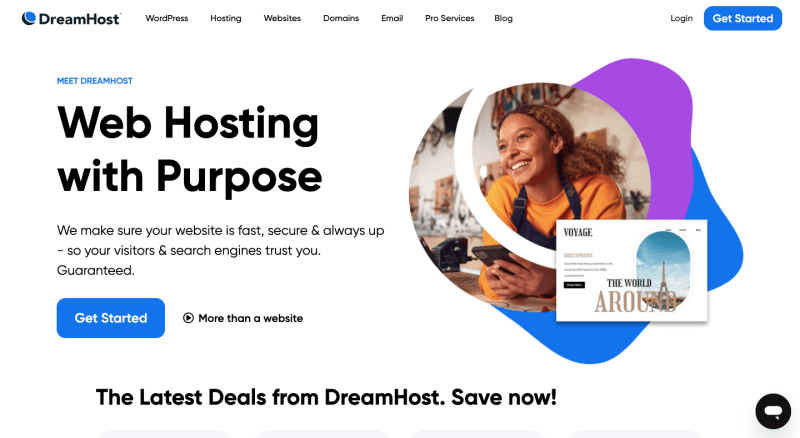 If you are searching for cheap Rocket.net alternatives, Dreamhost is an ideal option. They offer a wide range of services, from shared to cloud hosting, including managed WordPress hosting. WordPress.org officially recommends this hosting for its reliability.
What I liked most about using Dreamhost is that you get a free professional email id @yourdomain with 25 GB storage, mobile and desktop sync, etc., so that you can promote your site with a message landing in inboxes.
Features:
100% uptime guarantee
Free domain name for the first year
All hosting plans include SSDs for fast speed
DreamHost offers a 97-day money-back guarantee
Advanced security features free SSL, automatic updates
Provides a dedicated IP address for enhanced security and email deliverability
Recommended alternative to Rocket.net
I have been in the blogosphere for the last 13 years, and after thorough research and using various hosting services, my recommended Rocket.net alternative is Cloudways. It is a leading managed hosting provider currently in the market, known mainly for speed, performance, and scalability features.
Remarkable Features:
How to Choose the Right Hosting Service?
1. Uptime
Uptime refers to the percentage of time the hosting server is functional and visitors can access your website. It is an important parameter to consider before deciding the suitable hosting for your site. However, almost all companies provide; ideally, 99.9% uptime, but still, some companies need to be up to that par.
2. Loading Time
This is also very important to a cinder before choosing the hosting service. Website loading time affects the user experience and also the search engine optimization. It would help if you opted for a company that prioritizes loading time, such as Cloudways, as it is equipped with the latest technology of CDN, caching, and server optimization. Its TTFB is excellent, which helps to pass the core web vitals assessments.
3. Customer Support
If you are not tech-savvy and don't want to waste time dealing with the backend and functioning of your site, then the dedicated customer support is essential. For any technical issues or questions, quick customer support is needed. Cloudways offers 24/7 support through live chat, calls, email, and using a ticketing system and is known for its top-rated expert customer support.
4. Storage Space
Before purchasing, evaluate your site's storage space and choose the ideal hosting that provides adequate space for your database, files, and media. It would be best to look for hosting companies that offer scalability features like Cloudways for easy upgrades or pay for additional resources only.
5. Pricing
This factor varies from person to person, and you should choose the best Web hosting per your budget and requirement. Make sure to balance the cost with the quality of services the hosting provider provides. There are expensive and affordable hosting providers, so choose wisely.
FAQs regarding Best Rocket.net Alternatives
1. How do I know which alternative to Rocket.net best fits my website's needs?
It will depend upon your preference and requirements. You can look at pricing, features, performance, customer support, scalability, and user reviews. However, I recommend Cloudways hosting to be the perfect alternative to Rocket.net.
2. Are there any free alternatives to Rocket.net for managed WordPress hosting?
Though Rocket.net is the best managed WordPress hosting, if you are looking for a free alternative, you can look at wordpress.com. However, free hosting has many limitations like control, issues, features, etc.
3. Can I easily migrate my website from Rocket.net to another hosting provider?
Yes, you can easily migrate your website from Rocket.net to another hosting. You can either migrate yourself by the guide provided by the hosting provider, or you can ask customer support to do this task for you so that you can chill and relax.
4. Is Cloudways better than Rocket.net?
Yes, Cloudways is the top alternative to Rocket.net. Its features like scalability, staging environments, and developer tools are excellent. I also use Cloudways hosting on my sites and would like to recommend you.
5. What are the best alternatives to Rocket.net?
I have listed the top 8 Rocket.net alternatives you can refer to above. But if you don't have time, don't want to research, and are looking for my single name, you can go with Cloudways sure shot.
Wrapping Up Rocket.net Alternatives
Rocket.net has some downsides like premium pricing, limited control on server configuration, and limitation on traffic per plan. So exploring good Rocket.net alternatives will offer great value for your money, greater flexibility, scalability, and improved customer support.
Among the best alternatives, Cloudways stand out from others in terms of features, customer support, and affordable pricing. So, Cloudways is a highly reliable alternative to Rocket.net for managed WordPress hosting. Which hosting service are you planning to buy?
Source: https://www.wpglossy.com/rocket-net-alternatives/
---
---
You might also like this video