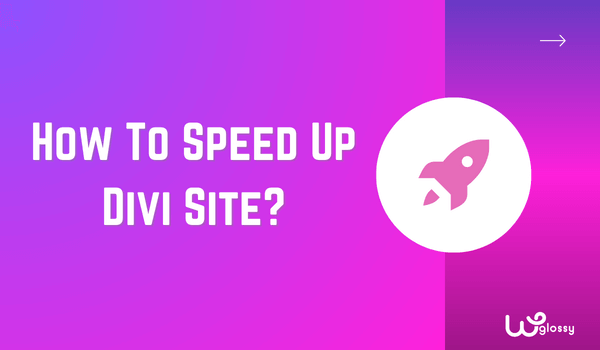 Your Divi website has become slower, which is affecting its search engine ranking, right? It's the worst nightmare for any website owner; I also faced a similar issue a few months ago. At that time, the only question on my mind was: how to speed up the Divi site?
Like anyone, the first thing I did was search for the answer on Google. Unfortunately, I got more confused, not because I didn't find the solution but because Google offers multiple solutions, so which one to follow?
The good thing is, the issue is solved now, but it leaves me thinking, if a person like me gets confused, what about someone who's using Divi for the first time? That's the reason behind this guide. Here, I'll share only the tips that work. So let's check the details!
Why Is My Divi Site So Slow? Does Divi Slow The Site?
I want to discuss the cause of this problem before getting into the details of making Divi fast. Remember, there are a lot of reasons that affect the website speed badly. For example, most people don't know that Divi isn't the only reason that slows down the website.
Yes, you've read it right! Try all methods of improving the Divi site's speed, which won't work if the issue is with hosting. In this scenario, you should change the hosting server; otherwise, there's no other effective solution.
I've met with several individuals who think Divi itself slows down the site, which is only a misconception. Divi doesn't slow down our website; instead, we make mistakes. For example, some website owners use many plugins or don't properly use the Divi optimize settings.
Besides plugins, how big the image or video file size we upload on the site also affects the speed. Besides that, one should always clean the WordPress database time-to-time. The unnecessary data will impact the site's performance if you don't do it.
It's important to note that diagnosing and resolving performance issues can be complex, particularly if you're a newbie. Therefore, you should always follow proper instructions, which I'll discuss below in detail, while addressing the issues individually.
Roadmap To Speed Up Divi site For Higher Rankings
Here's the roadmap to fix Divi slow loading issue. I'll share eight tips and address the cause of the problem as well, along with how you'll be able to solve it.
Before making any changes, note down your site speed score. Use Google PageSpeed Insights or GTMetrix to check your site's speed.
Make sure to read everything; first, check tip number one; if it works well, good otherwise, move to the second one.
1. Utilize Divi Performance Settings
First, utilize the Divi performance settings instead of removing the plugins or making big website changes. The process isn't so technical, and the website speed increases rapidly after using the setting feature correctly.
You only have to go to the dashboard of your WordPress website and then click on "Theme settings" under Divi's option. After clicking on it, you'll notice a window like the image below; select the "performance" option here.
The performance settings may not look important, but they can make your site blazing fast. You only have to understand the meaning of it and enable the options. If you have no idea about the settings, read the important features of Divi performance settings.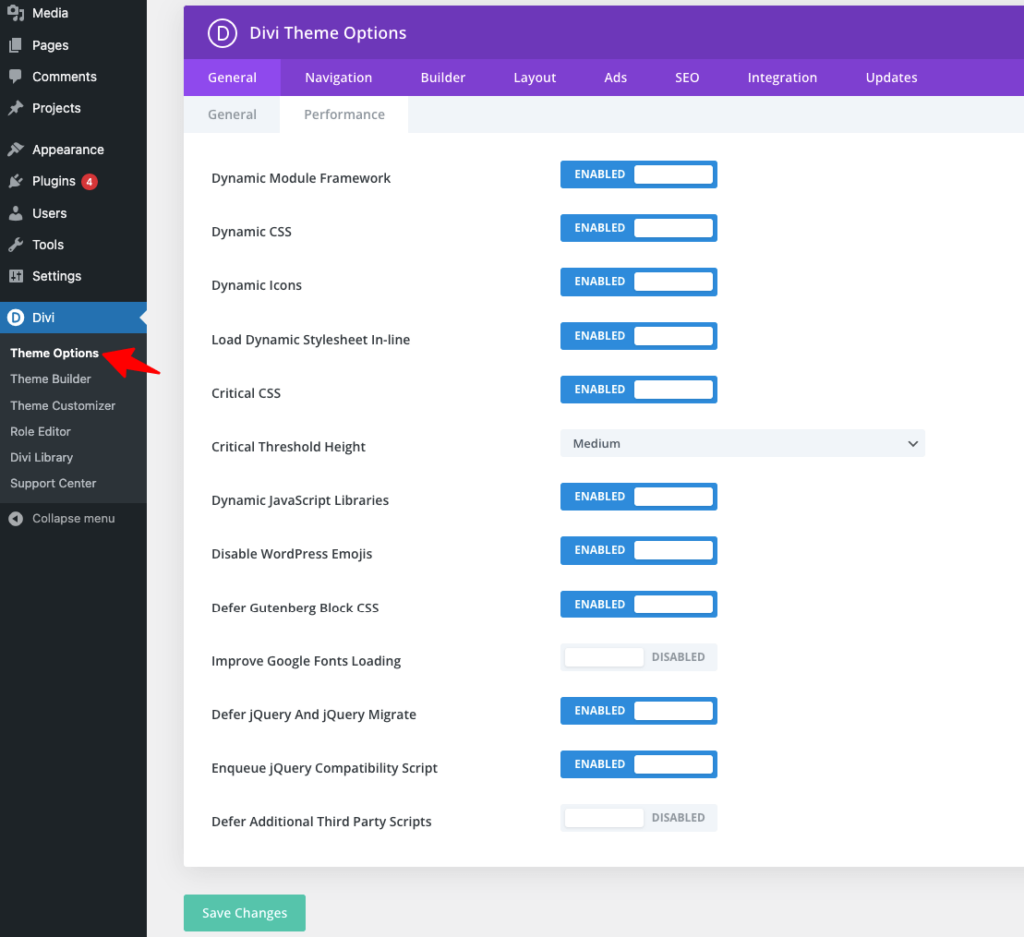 Functions like "Dynamic Module Framework and Dynamic Icons" ensure only required functions and icons load on the page. Also, the "Dynamic CSS" function reduces the CSS file to increase the speed.
With "Critical CSS" settings, you'll allow Divi to load only the critical CSS files on the first interaction. The "Critical Threshold Height" parameter determines the "above-the-fold threshold" for deferring styles. By selecting the Threshold height, balance the load times.
The "Dynamic Java Script" options control when Javascript libraries need to be loaded. You can also enable the "Disable WordPress Emojis" option to remove native WordPress native emojis.
The "Defer Gutenberg Block CSS" option delays the Gutenberg Block CSS file, and the "Defer jQuery and jQuery Migrate" feature reposition the jQuery and jQuery Migrate scripts to improve website load.
Enable the "Improve Google Fonts Loading" and "Limit Google Fonts Support For Legacy Browsers" functions to optimize the loading process of Google Fonts on a website and to optimize the size and load times of Google Fonts.
It's not important to enable every function in the settings. A cache plugin can do most of the tasks. So, enable only the essential functions for your site.
I suggest you enable useful options like "Dynamic Module Framework, Dynamic CSS, Dynamic Icons, and JavaScript Libraries" to speed up your Divi website.
2. Use High-Performance Hosting
If your blog or website speed is still the same as before, check your hosting service even after using the Divi performance settings. Mostly, the thing that creates the speed issue is the hosting. That's why I always recommend checking the hosting service by trial first.
The free trial lets you decide whether the service is worth using. You may also ask your friends for suggestions, and if you don't have friends or read the users' reviews about the hosting service, here is my suggestion!
Hosting I Recommend
The hosting service I trust completely is Cloudways Hosting. I have been using it for over four years and also recommend all my friends. It makes my life worry-free; the basic plan starts at only $14 per month, in which you get 1GB RAM, 1TB Bandwidth, and 25GB storage.
The first plan is for people who don't have a big budget. The plan I'm using costs $54 monthly. It offers 4GB RAM, 2 Core processors, 80GB storage, and 4TB bandwidth. Users also get 24/7 customer support, free SSL, free migration, automated backups, etc.
You should also know about its salient features like
SafeUpdates For Automatic Core Updates
Auto-Healing Cloud Servers To Avoid Site Crash
Staging Environment For Testing
PHP 7.4 & 8 Ready Servers For Fast Site Loading
Fast Ticket Response From Premium Support
Not only me! Even the Elegant Themes team recommends Cloudways hosting for faster Divi site performance. Just compare the pricing plans of Cloudways Premium Vs Standard and choose the suitable one! Don't forget to check our exclusive Cloudways Promo Code for a $30 discount.
3. Buy A CDN (Content Delivery Network)
Don't only rely on good hosting; buy a CDN (content delivery network) for your website. It will make your website faster and affect the core web vitals metrics, one of the most important factors for ranking in Google.
Core web vitals consist of three metrics:
LCP (Largest Contentful Paint) measures a website's time to display the largest content element.
FID (First Input Delay): FID measures how long a webpage responds to the first interaction.
CLS (Cumulative Layout Shift) determines how often the web page's user experience layout shifts.
Now you must consider the connection between CDN and core web vitals. CDN is all about caching your website files, like images, videos, etc., across multiple locations worldwide rather than one server.
The benefit of this action will be when a user wants to access your site's content, the closest server will deliver the content. For example, if someone is accessing a video from your website from Germany, the nearest European server will provide the content.
This way, the user can get the content instantly. As a result of this action, your WordPress website's core web vitals score will increase because they're about how long a website takes to respond, display the content, and the stability of visuals.
Cloudways Hosting With CDN
Another reason behind supporting Cloudways hosting is it comes with Cloudflare Enterprise CDN (content delivery network). Without the hosting of Cloudways, the CDN service will cost around $4.99 a month for up to 5 domains.
Here, you will get extended security with DDoS protection. It is also possible to stop potential threats through the web application firewall. Moreover, Cloudways has enabled the Edge Page Cache & Argo Smart features to lower your site's TTFB and LCP. So, what are you waiting for?
4. Do Image Optimization
Do you also think that one image can't affect your site speed? Everyone has the same thought until they face a slow website issue. Yes, one image on a web page isn't enough to decrease site speed but think about how many images you've posted overall.
These unoptimized images increase loading times, leave a bad impression on users, and aren't good for mobile optimization and SEO. The solution to this issue is to optimize the images before posting them on the site and implement lazy image loading.
Use plugins like FlyingPress or Perfmatters for the lazy load images. These plugins are excellent in detecting and lazyloading images to prevent unwanted images.
How I Optimize Images For The Site?
I always choose JPG, PNG, or mostly WebP format for the image.
If possible, first convert the image in a format like WebP via the tool, then upload it.
Don't upload big-size images; resize them and compress the file.
I use the FlyingPress plugin to lazyload the images.
Lastly, I add Alt text and image descriptions.
5. Remove Unused Plugins
Another effective tip for you is to remove all plugins that you don't use. I always recommend using fewer plugins; the more you have on your site, the slower it will become. Also, make sure the plugin you've downloaded is up-to-date.
Using outdated plugins is like living with a security threat without precautions. You never know what will happen the next moment. It's best to use plugins like Jetpac Protect that check the plugins and their associated vulnerabilities.
6. Clean Your WordPress Database
The WordPress database means the content of your sites, comments, pages, etc. When you include the extensions, tables and revised data get added to the database. If this unessential data accumulates, the server load will affect the site loading time.
So, how to clean the database in WordPress and fix Divi slow loading issue? As you know, manual optimization will take time. You may rely on the database plugins like WP Clean Up Optimizer or WP Sweep to get the job done.
Note: it's better to take a database backup before deleting anything.
7. Limit The Use of Sliders, Animations, And Motion Effects
Many website owners use sliders, animation, and motion effects to give the website a stylish or fancy look. This may be a requirement for some business websites, but if you have a normal website, these things will cause more harm.
Remember, users come to your blog or website to find the answer to read your content. The points that matter to him are how good your content is, how fast the page loads, etc. So don't waste your time adding animations or motion effects.
8. Use a Performance Plugin
If you think the process above seems hectic and you don't have much time to do everything yourself, don't worry. Hats off to the technology; you've quality plugins like Perfmatters and Flying Press that solve these issues!
Divi, don't lazyload background images. Perfmatters allow the users to lazy load videos, iFrames, and images. Enabling it's a simple method; you'll see "iFrames and videos options" below the "images" setting; click on it. For background images, enable the "CSS Background Images" function.
Perfmatter solves the delay in animation issue. You only need to add scripts in the "Excluded from delay" option under the "Javascript" setting tab. Here's the script you need to add:
jquery.min.js
jquery-migrate.min.js
.dipi_preloader_wrapper_outer
/Divi/js/scripts.min.js
/Divi/js/custom.unified.js
/js/magnific-popup.js
et_pb_custom
et_animation_data
var DIVI
elm.style.display
easypiechart.js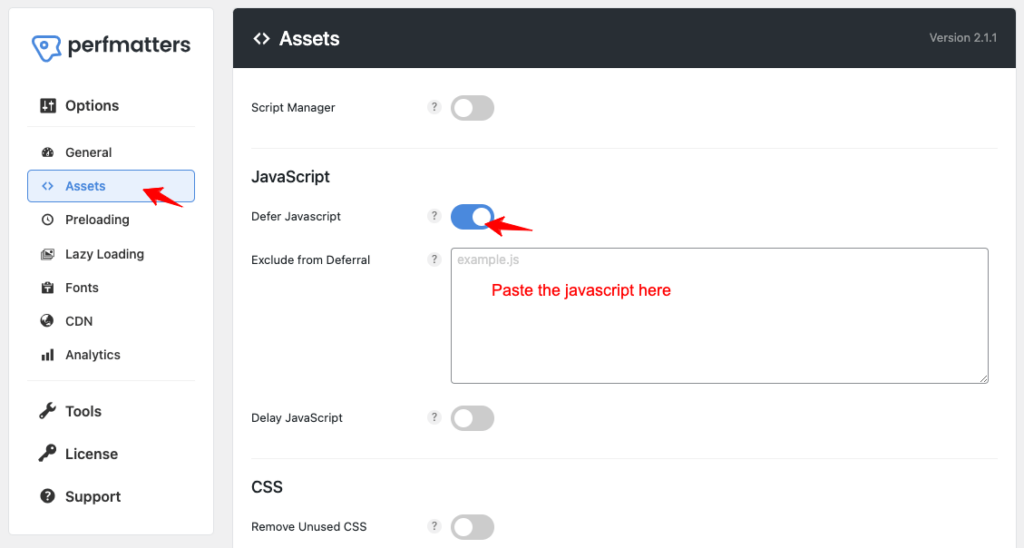 Both plugins allow you to select the number between 0 – 5 (I recommend settings of 2 or 3 images)of Preload images from the settings. Besides that, you can easily remove unused CSS using Perfmatters or FlyingPress.
Consolidating the uses of FlyingPress & Perfmatters, you may install any of the plugins to
Remove Unused CSS
Lazy Load Images
Improve TTFB through CDN
Host Font Locally
Remove Bloats
Speed Up Divi Website – FAQs
How to check Divi Site speed?
The best and easiest way to check the web page speed of any site is to use a website speed check tool. Several tools, like the Cloudways Google Page Experience, are available in the market. Add your site link; the tool will show you all the details.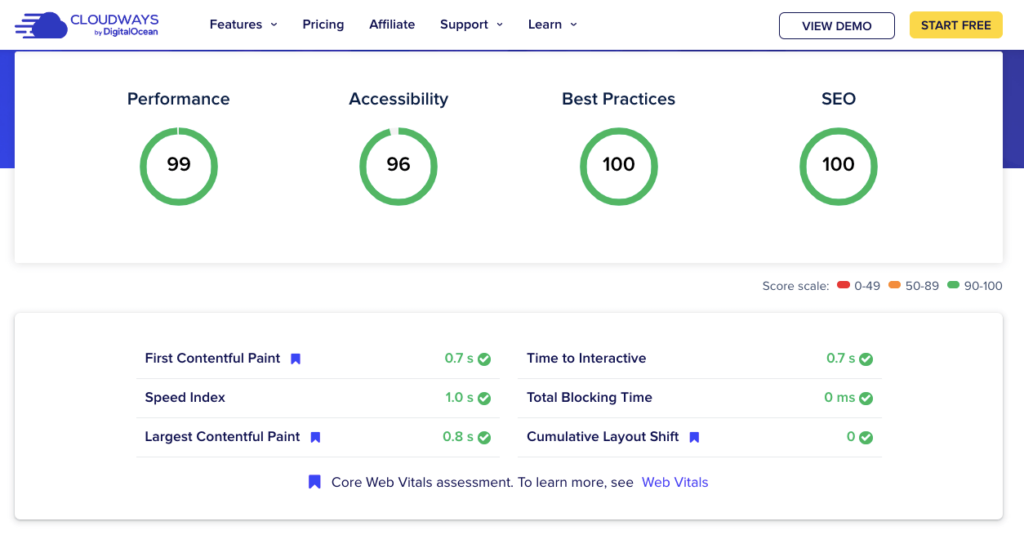 How do I clear my Divi cache?
The process of cleaning Divi Cache manually is pretty simple. Visit the WordPress dashboard of your website, and find the "Divi" option. Under the Divi tab, select "Theme Options" and "Builder" functions, and then choose "Clear" under the "Advanced" settings.
Is Divi bad for SEO?
No, Divi isn't bad for SEO; instead, it's one of those options to trust completely. However, it doesn't mean the impact can't be bad because, in the end, everything depends on how you utilize the theme and optimize your website for search engines.
Wrapping Up The Tips To Speed Up Divi WordPress Site
Making your site load fast is more important. I've discussed the eight tips considered the most effective way to speed up a slow Divi website. At first, my recommendation will be to check the Divi performance optimization settings and enable important functions.
If it doesn't work, check your hosting; this might create issues. Start free with Cloudways. Try purchasing a CDN for your blog website. Later, move towards making changes like removing unused plugins or cleaning the WordPress database.
Last but not least in this Divi speed optimization guide, always optimize visual content before uploading. Unoptimized images and videos create many issues besides slowing the website. Other than that, Google also considers image and video SEO while ranking.
Other Site Speed Guides
How To Speed Up WoCommerce Site?
Source: https://www.wpglossy.com/speed-up-divi-website/
---
---
You might also like this video