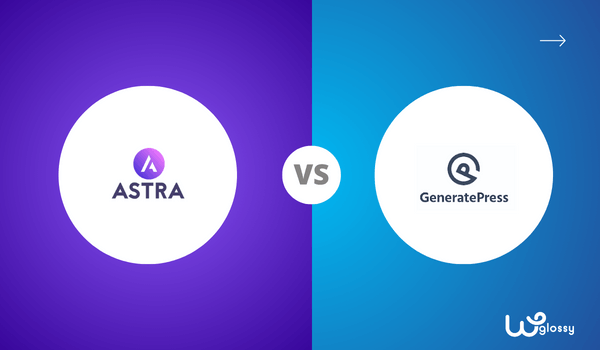 Astra Vs GeneratePress? Which WordPress theme is the best? A lot of users have the same question. I have more than ten years of design experience to answer this question!
You know both themes if you have been in the WordPress and blogging industry for a while. Both themes have stunning designs, lightweight code, and highly customizable features.
This Astra Vs GeneratePress comparison article will show you a side-by-side theme comparison. At the end of this article, you'll understand who's the clear winner.
Here is a quick comparison of Astra and GeneratePress if you want to select an ideal theme to design your WordPress dream site.
Astra Vs GeneratePress – Quick Comparison
| | | |
| --- | --- | --- |
| | | |
| | Free & Paid Version Available | |
| | | Features Are Limited; Settings Are Easily Understandable |
| | Compatible with Elementor, beaver buider | Gutenberg Block Based Builder Available |
| | | |
| | Full Design Control With WordPress Front End Customizer | Full Control With WordPress Front End Customizer |
| | 240+ Ready Made Designs, Can Be Used Instantly! | 40+ Pre made Site Library |
| Premium Modules & Elements | 14+ Pro Modules available | |
| | Create Your Stunning Store With Astra Woocommerce | Compatible with woocommerce, Add color, typography and layout options to your online store |
| | Light weight theme, Completely Optimized for Page Speed. | Light weight theme! Fully optimized for page speed |
| | No Social Media plugin Supported! You Have To Install A 3rd Party Plugin | |
| | Convert Pro Available To Increase The Conversions | Such features Are Unavailable, You Need To Rely On 3rd Party Plugins. |
| | Fully SEO Optimized with SCHEMA | Schema Integrated, Fast Loading, Lightweight Theme |
| | | |
| | | |
| | Support Forum and Astra Community Is Available. Documentation & Video Tutorials Are Good & Enough | Support Forum Is Available. Documentation & Video Tutorials Are Good & Enough |
| | | |
| | | |
| | | |
Now, it's time to check their intro and comprehensive comparison to make the right decision!
Astra Theme – Brief Intro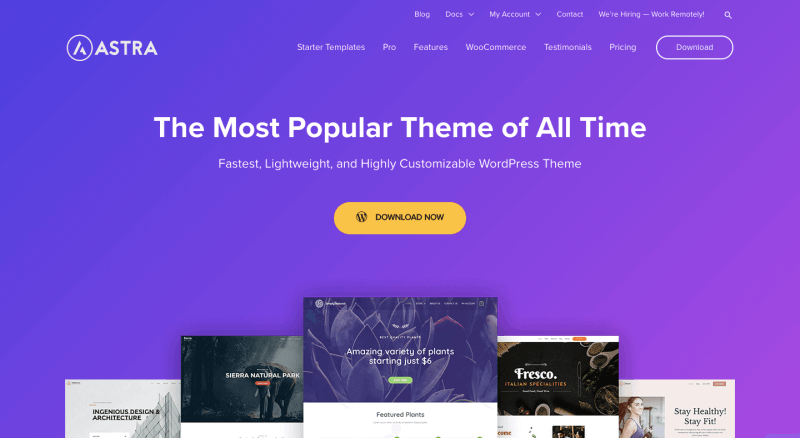 Astra is a WordPress theme created by BrainStormForce. It is one of the market's most highly rated and speed-optimized WordPress themes. Apart from that, Astra is a freemium WordPress theme.
The free version of Astra comes with unique features that you can use to run a perfect WordPress website or WooCommerce store.
If you check the WordPress themes repository, you can see that more than a million people are using the theme, and the community left more than 5000 five-star reviews!
Considering the WordPress themes out there to compete, this is a milestone.
The premium version of Astra will unlock more powerful features and integrations. Since it has a better customizer, anybody can create cutting-edge page designs without coding experience. You may check the difference between Astra Free Vs Pro to understand their feature qualities.
Likewise, feel free to check out my Astra WordPress theme review to learn more about the theme. Also, I will discuss the Astra theme's features and functionalities in this article. So you will understand more about the theme.
Now you have a basic understanding of the Astra theme. Next, let's see what GeneratePress is and what makes it a worthy opponent.
GeneratePress – Quick Intro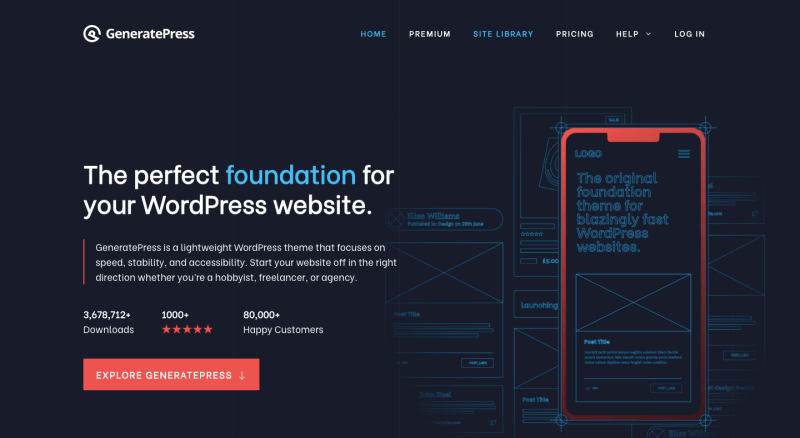 When your priority is a lightweight code and highly customizable WordPress website, you should check out GeneratePress. It is a popular WordPress theme; more than 500,000 people use it to create their blogs, business sites, or online stores.
Customizing the theme is also very simple. It can be integrated with multiple page builders. This lightweight theme has free and paid versions. To recognize the feature differences, you should check the GeneratePress Free Vs Premium comparison.
Since several third-party page builders are available, the GeneratePress team created a dedicated page builder plugin called GenerateBlocks. With GenerateBlocks, building custom landing pages inside the GeneratePress theme is relatively easy.
Regarding rating, GeneratePress has a decent amount of five-star reviews from its users.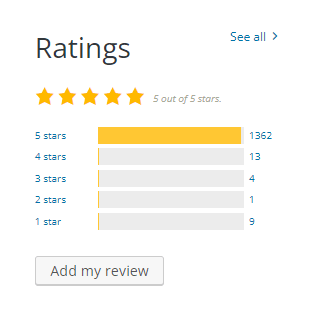 While checking the customization options, compatibility, and everything, GeneratePress is one of the finest WordPress themes in the market.
Now you know what each theme offers and what makes it unique. Next, let's see which ones will perform better on multiple occasions. The theme is also freemium, making GeneratePress more suitable for beginners and professionals.
Astra vs GeneratePress: Detailed Theme Comparison
In this comparison, let me talk about the following:
Ease of use
Features
Customization Options
Speed and Performance
Pre-Built Templates
Gutenberg Compatibility
WooCommerce Compatibility
SEO-Friendliness
Support and Updates
Pricing
Pros and Cons
This will give you an idea of which theme will score better in these areas. Without any further ado, let's start with testing the ease of use of both WordPress themes.
1. Ease of Use
The theme needs to be easy to use and configure. Most people prefer a theme that doesn't come with a bulky user interface. This section will show you how easy the Astra and GeneratePress themes are to use.
Astra
Astra comes with a dedicated theme panel. Look at the premium modules.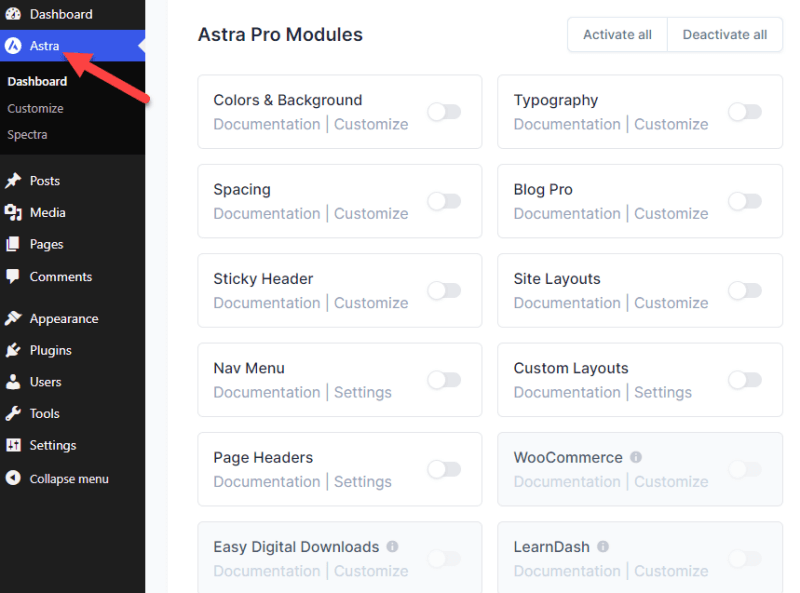 If you need to turn custom features on/off, you can use this section. They make setting up a WordPress site accessible according to the user's requirements. Plus, after enabling the modules. You can further customize them through the WordPress customizer.
Also, they have added a section for customizing specific areas of your website. Check the screenshot below!
If you open the WordPress customizer, you will see how easy it is to set up a website or online store with Astra.
Enable the modules you need, and you will see dedicated customizer options!
All these facts make Astra one of the beginner-friendly themes in the market.
GeneratePress
Once you have activated GeneratePress, you'll see the theme's settings under the Appearance section.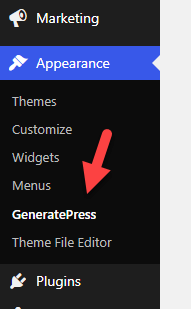 There, you can see every available module.
After enabling the modules you need, check out the customizer. You will see individual configuration options there.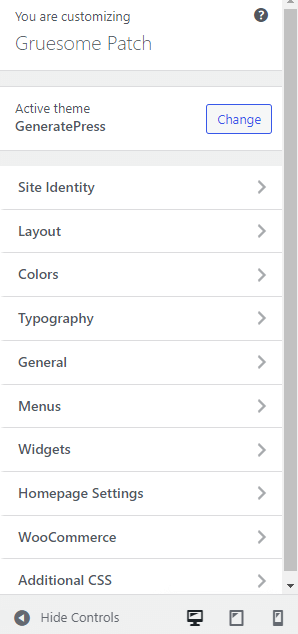 GeneratePress is also an easy-to-use theme for WordPress.
Winner: Tie
Why: Both themes are easy to use and configure.
2. Features
Features make the theme more powerful. With the right features, you can create a powerful WordPress website or WooCommecre store without relying on third-party tools or plugins. This time, look at the unique features offered by Astra and GeneratePress.
Astra
Astra comes with exceptional features like:
Astra would be a great addition to every website that needs a unique identity and styling.
GeneratePress
Here, GeneratePress has fantastic features like:
Styling Control
Advanced hook system
Navigation menu control
Infinite scroll
Import/export
Display rules
Layout options
Header and footer control
Undoubtedly, GeneratePress is a feature-rich WordPress theme.
Winner: Tie
Why: In terms of features, both Astra and GeneratePress are good.
3. Customization Options
With a suitable WordPress theme, you can customize every inch of your website. Customizing the website is mandatory since the default WordPress homepage and templates look unprofessional. Astra and GeneratePress themes are highly customizable. But which one offers more customization options?
Astra
With Astra, you can customize every inch of your WordPress website or Woocommerce store. The theme comes with several modules you can enable and tweak. Apart from that, Astra is also optimized for page builders.
You can take the customization process to the next level using any page builders plugin like Elemetor or Beaver Builder. You can tweak your header, footer, body, headings, and almost everything.
GeneratePress
GeneratePress works well with their in-house page builder plugin GenerateBlocks. Although, GeneratePress can be combined with almost every page builder plugin. With their built-in features, you can customize your website how you want.
But to unlock the full potential, GeneraeBlocks would be essential.
Winner: Astra
Why: Combining Astra with any page builder plugin simplifies the designing process. On the other hand, GneeratePress is also a good option, but Astra offers more features.
4. Astra Vs GeneratePress Speed
Website speed is one of the crucial things you must check every time. Since website speed is considered one of the ranking factors, it would be great if you could optimize your website's speed. Which is the fastest WordPress theme, Astra or GeneratePress?
Astra
The latest Astra theme is faster than before. It uses Vanilla JavaScript and eliminates render-blocking for quick loading. It can load in seconds, which is needed for higher Google rankings.
We use Cloudways hosting, and here's the Astra speed test result! When Cloudways and Astra theme gets combined, the result will be incredible. View the Astra speed performance!
GeneratePress
Like Astra, the GeneratePress theme also contains speed qualities! With the smallest page size in KB and very few HTTP requests, it can tweak your site for speed.
We have performed the same test on a GeneratePress dummy install, and here's the final result: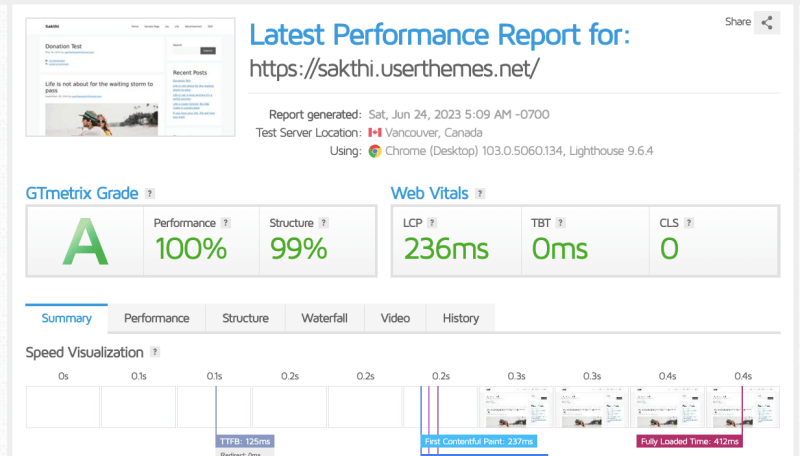 Winner: GeneratePress
Why: In the speed test, GeneratePress scored slightly better. You can improve the results with proper speed optimization tools like a caching and image compression plugin.
5. Pre-Built Templates
Instead of using the default WordPress homepage, try something unique. You can create custom homepages and landing pages with the Gutenberg editor or a dedicated page builder plugin like Elementor, Beaver Builder, or WP Bakery Visual Composer.
Most themes come with pre-built templates. This section will show you what type of page templates Astra and GeneratePress offer.
Astra
Astra offers 240+ templates that are ready to import.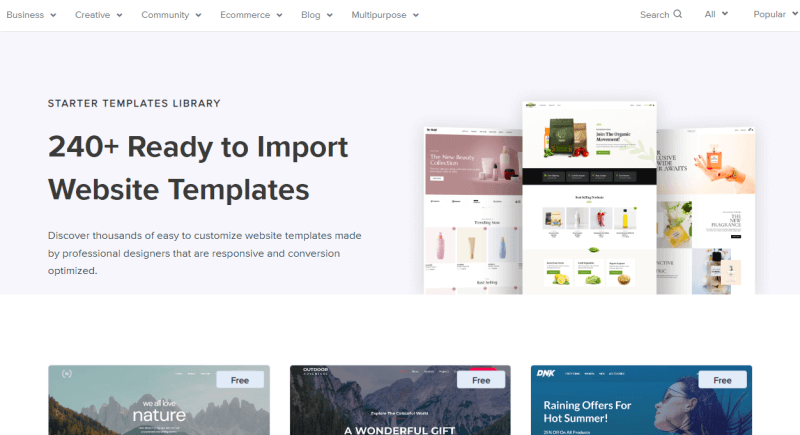 All the templates are 100% customizable. So once you have imported a template, you can tweak it according to your brand colors and preferences.
The best part about the pre-made templates is they have labeled the templates according to the industry/type.
So if you are looking for a template suitable for your online store, check out the eCommerce templates section. Finding suitable pre-made templates has become much more manageable.
GeneratePress
GeneratePress devs also released a bunch of pre-made templates.
Importing them to a live WordPress install would be an easy task. On top of that, they have templates suitable for Gutenberg, Elementor, and Beaver Builder. You can choose one according to your use.
Winner: Astra
Why: Astra's templates are unique and user-friendly.
6. Gutenberg Compatibility
WordPress 5.0 came up with a brand new editing experience called Gutenberg. The website admin will see compatibility issues if the activated theme is incompatible with Gutenberg. Examine which theme can provide better support with the Gutenberg editor.
Astra
Astra won't cause any issues when you use it on a Gutenberg install. It is 100% compatible, and you can start a website with Astra without getting any problems.
GeneratePress
GeneratePress works well with Gutenberg. Plus, GenerateBlocks is their Gutenberg-based WordPress page builder. We can say that GeneratePress is 100% compatible with Gutenberg.
Winner: Tie
Why: GeneratePress & Astra theme support Gutenberg. So there won't be any compatibility issues.
7. WooCommerce Optimized?
WooCommerce is the top tool for setting up an online store. If your theme supports WooCommmerce, you can expect zero compatibility issues and run the online store smoothly. Let's look at which theme is more suitable for WooCommerce installations.
Astra
Astra comes with a dedicated WooCommerce module.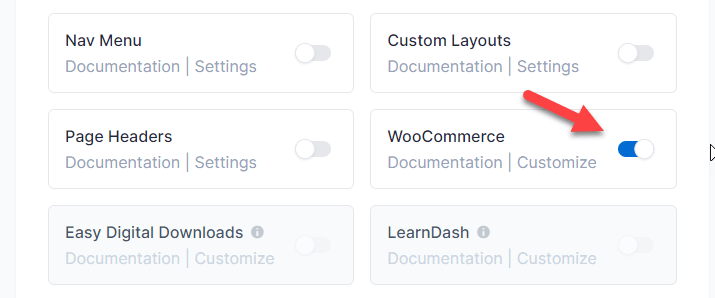 By enabling it, you can take things further. Once you have enabled the module, go to the customizer. You will see WooCommerce-oriented functions you can do.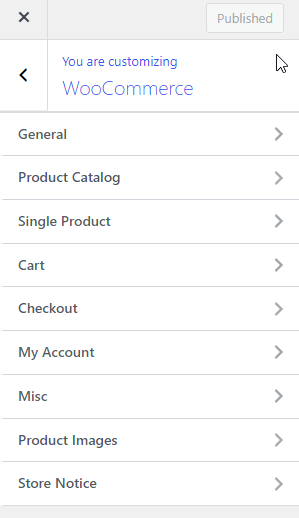 You can modify your WooCommerce store's look and features without writing or tweaking codes. So, we can say that Astra is optimized for WooCommerce.
GeneratePress
Like Astra, GeneratePress also has the option to enable the WooCommerce module.

After enabling this module, open the WordPress customizer. You'll see every customizable option there.
So, GeneratePress is a good theme for running WooCommerce stores. But it is minimal compared to Astra.
Winner: Astra
Why: Astra offers more WooCommerce-based features for their customers. GenertaePress comes with WooCommerce options but limited customization. Astra is a clear winner here.
8. SEO Optimized
Getting targeted visitors from the search engine is the dream of every site owner. The code quality, responsiveness, and heaviness decide the SEO-friendliness of a WordPress theme. Which theme is suitable for SEO, Astra or GeneratePress? Let's check!
Astra
Astra WordPress theme is highly optimized for SEO. Its file size is under 50KB and not depending on jQuery. It also has excellent SEO practices like inbuilt Schema markup, optimized header tags, and AMP compatibility.
GeneratePress
GeneratePress has well-structured coding and Schema integration that lets the search engine easily understand the site structure. A site designed with this SEO-optimized WordPress theme can offer the best browsing experience for high user engagement.
Winner: Both
Why: Bothe GeneratePress and SEO have inbuilt SEO features that will help you rank well on search engine page results.
9. Support
If you need help with the theme, contact the support team or go through the knowledge base section. Look at both themes' support policies here.
Astra
If you have a pre-sale or billing-related question, contact the support team via a contact form. When you have more technical issues, log in to your Astra account and raise a support ticket.
The support team will get back to you within a business day and assist you properly. They also have video tutorials and written guides (documentation) to help you get started with the theme or customize it.
GeneratePress
GeneratePress also has a responsive support team. Like Astra, if you have pre-sale questions, you can contact them using the contact form. Technical issues are handled via tickets. Moreover, the theme founder is easily reachable through email. He always responds to your concerns.
Winner: Tie
Why: Both themes offer excellent support through various mediums, such as knowledgebase support agents. So, that's a tie.
10. Pricing
Pricing is one of the top priorities when choosing a WordPress theme or plugin. We do not need to spend hundreds of dollars every month to keep the product.
We will be looking at the pricing options of Astra and GeneratePress here.
Astra
Astra comes with two pricing options.
Annual membership

Astra Pro – $47 a year
Essential Bundle – $137 a year
Growth Bundle – $187 a year

Lifetime membership

Astra Pro – $227 (one-time)
Essential Bundle – $677 (one-time)
Growth Bundle – $937 (one-time)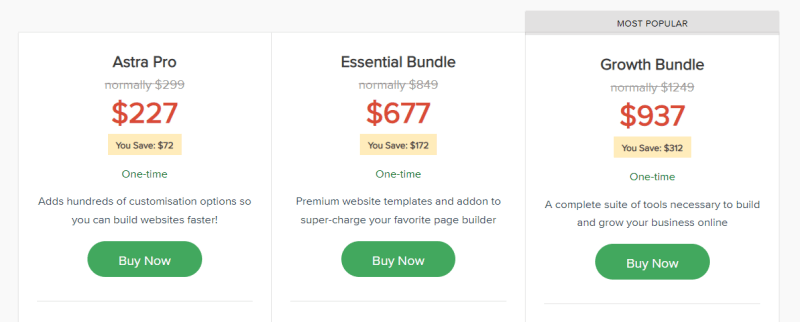 If you are a beginner and need the theme for personal use, the Pro or essential bundle subscriptions are great. On the other hand, when you represent an agency or need to get the theme for a one-time fee,d consider using the lifetime membership.
The theme is inexpensive. Anyone could get their hands on Astra premium for an affordable price.
GeneratePress
GeneratePress's pricing plans are simple.
Yearly – $59 a year
Lifetime – $249 (one-time fee)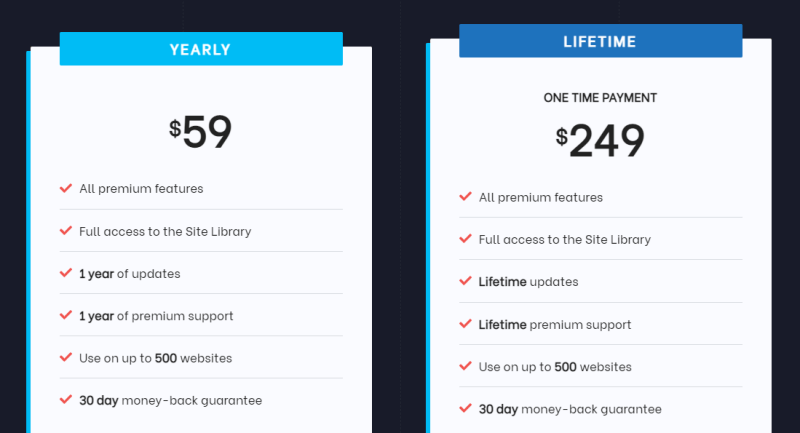 Once you have paid for the subscription, you'll get access to the premium version according to your chosen plan.
Winner: Astra
Why: Astra offers a cheaper plan than GeneratePress. Also, the Astra subscription can be handy if you need access to premium plugins like Convert Pro, Schema Pro, and Ultimate Addons for Elementor/Beaver Builder.
GeneratePress has a simple pricing option, but there's nothing more about it.
Pros & Cons Of Astra And GeneratePress Themes
Finally, let's look at both themes' advantages and disadvantages.
Astra
The main benefits of Astra are:
Lightweight code
Highly customizable design
Page builder optimized
Great support team
Pre-made templates
WooCommerce friendly
Customizer optimized
Affordable pricing
Well-crafted documentation archive
On the other hand, the disadvantages of Astra are:
Slow Customizations
Basic Styling Features
That's right! There are no disadvantages!
GeneratePress
The significant benefits of GeneratePress are:
Compatible with most third-party plugins
Page speed optimized
Excellent support team
Hook system to add codes inside the website
Free access to the site library
WooCommerce ready
Let's check out the limitations of GeneratePress next.
Not a complete white-labeled solution
No plugin integrations
Simple WooCommerce features
Limited options in the free version plugin
Winner: Astra
Why: Astra offers a cheaper subscription fee for their premium add-on. The GeneratePress free theme has limitations, whereas Astra doesn't limit much. When comparing these, I found Astra theme is the best for WordPress site design.
Wrapping Up The Comparison – Astra vs GeneratePress 2023
Astra and GeneratePress are great WordPress themes. Both come with lightweight code, highly customizable design settings, and excellent support team
Comparing the two themes, Astra performed better than GeneratePress.
As you can see, we also use the Astra theme for our website (premium version) and are happy with its features. Getting the Astra Premium version to get some unique page designs. It is worth every penny you spend on the membership.
But on the other hand, if you are starting and need to know more about both themes, try the lite version. Since the themes are freemium, you can test the free versions and see the results yourself.
My Conclusion
Astra is better than Generatepress because it contains 240+ readymade templates, Header & Footer builder, and excellent Woocommerce features. Millions of people are using this theme; hence, you can also create a brand identity with this design source.
Generatepress is a good theme option for bloggers and startup sites. It has fantastic code quality and a Gutenberg block-based builder available. Its features are good, but they are limited. If you are an industry professional, choose the Astra WordPress theme.
Other Theme Comparisons
Source: https://www.wpglossy.com/astra-vs-generatepress/
---
---
You might also like this video