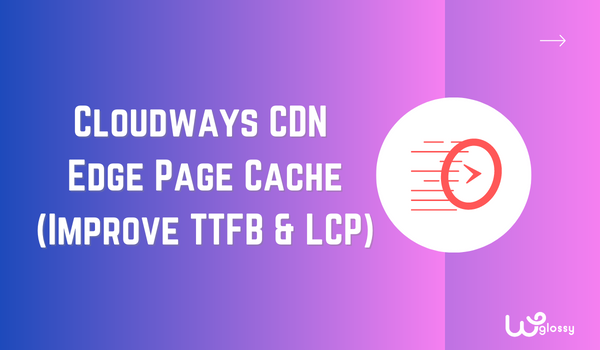 Every site owner dreams of building a fast-loading website to get higher Google rankings and huge conversions. I assume you also wish the same and thus make your presence here!
The best way to make your site load lightning fast is to improve TTFB (Time To First Byte), page load times, and LCP (Largest Contentful Paint, a metric of Core Web Vitals)
If I say that I have a solution to get lower values for these three speed Metrix, then how do you feel? You will be excited, right?
Yes! You can improve TTFB, LCP, and Site load time in one shot through the newly introduced feature of Cloudways hosting partnerships with Cloudflare.
I've been using this managed hosting for the past 5 years and am delighted with its excellent speed and security performance; I have never faced a downtime issue until now.
What is the latest addon in Cloudways hosting? Its edge page caching & Argo smart routing from Cloudflare Enterprise and yes these are the requirements for my high-performance blogs.
I was looking for full-page caching to pass core web vitals. I was paying $20 for the Cloudflare Argo Pro plan to get this feature, now available in Cloudways.
As you are looking for page speed improvement, let me explain these speed features of Cloudways Cloudflare CDN integration, and hence you will get it to boost your site speed score.
What Is Edge Page Caching? What Are Its Benefits?
Instead of having the memory space in the central location of the CDN, it has been moved closer to the edge of the network so that the users can retrieve the data more efficiently. As a result, the network's overall load and latency get reduced, and the stress is low in the data center.
Simply put, it is physical hardware located at the network's edge with high-performing computing resources to manage the data storage. It is similar to a cloud data canter that stores frequently used resources for delivery.
So, the edge page cache caches your popular web pages at the edge servers of Cloudflare in 275+ POPs around the world. It is faster than partial cache as your well-liked pages are immediately delivered to your readers from the nearest edge server.
Benefits
Reduces the load on your original server because of getting only fewer requests
Keeps your site available when the origin server goes down
Lowers the bandwidth and latency; improves the performance and security
Real-time responses and optimizes your data structures
Serves massive users and handles higher traffic
Improves page load time as your content is closer to your audience
Like Edge page caching, you should know about Argo Smart Routing and its benefits!
What Is Argo Smart Routing? What Are Its Benefits?
The Argo Smart Routing of Cloudflare finds out the network's real-time traffic congestions and delivers your content to the end user through the best routes. It drastically improves page load times by utilizing your bandwidth efficiently.
Since Argo routing detects the most optimal path for content delivery and reduces network latency by 30%, your site will load super fast, resulting in an excellent user experience and reduced bounce rate for higher Google rankings.
Benefits
Improved user experience
Increased uptime
Encrypted traffic for high security
Dynamic content delivery
Detailed analytics through Histogram
Cloudways + Cloudflare CDN
CDN (Content Delivery Network) is essential to speed up business websites. Cloudways recognized the importance of fastening the client's sites and partnered with the world-class CDN, Cloudflare.
It is a paid addon that is highly affordable ($4.99 for less than 5 domains). I have clearly explained how to integrate Cloudflare CDN in Cloudways hosting with step-by-step instructions and a video tutorial. Are you not using this managed hosting? Get it now through the Cloudways Promo Code!
CloudwaysCDN Contains
100GB Enterprise CDN
DDoS Protection & Firewall
Image Optimization & Brotli compression
Mirage mobile optimization
HTTP/3 support
And now,
Edge page caching
Argo smart routing
Global rate limiting
Honey pot project
How To Enable Edge Cache In Cloudways CDN?
If you have activated CloudwaysCDN, enabling the Edge page caching is easy. Let me tell you a few steps to enable it!
Step 1: Visit Your Cloudways Dashboard
Step 2: Select your Server, and go to "Applications"
Step 3: Go to the Cloudflare section; you will see the following settings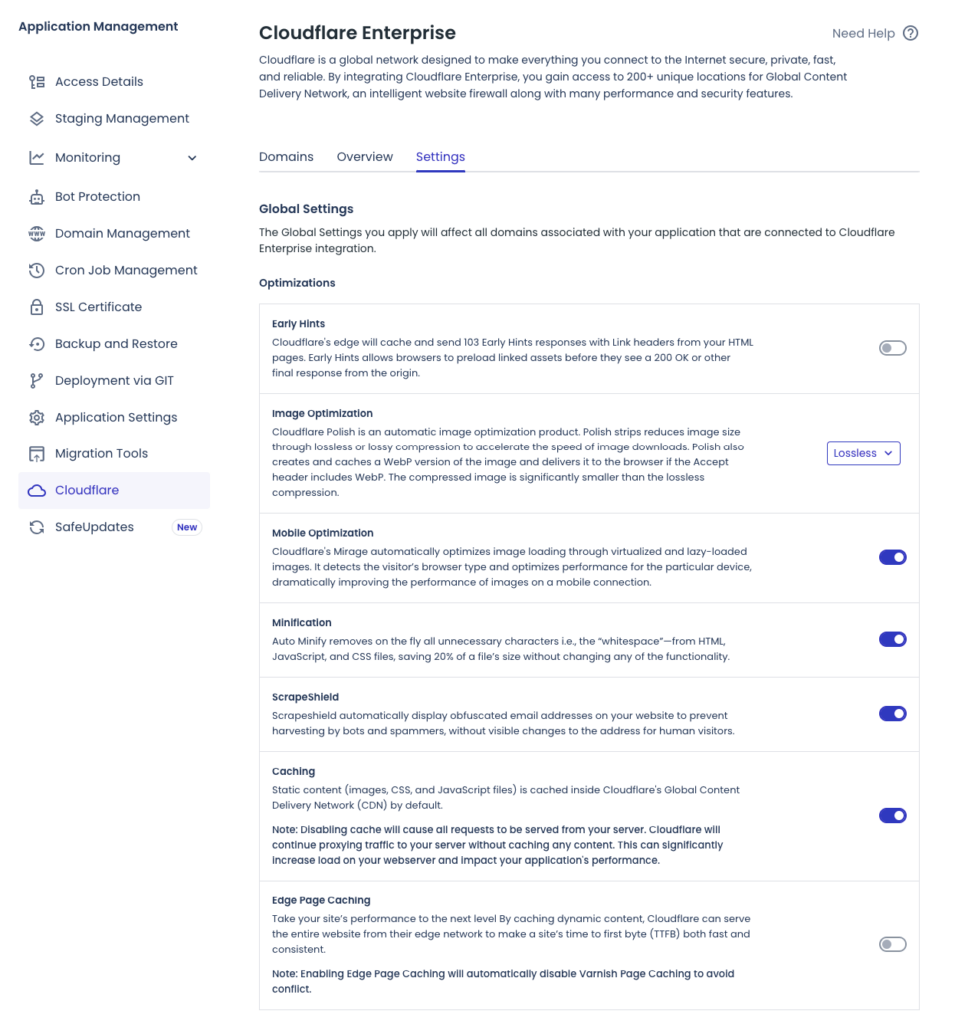 Step 4: Go to the "Settings" tab and enable the options shown in the screenshot below.
That's all! You have successfully enabled the edge cache in Cloudways CDN to speed up your WordPress website.
Now, let's see the scores of TTFB, LCP, and Page load times before and after the Edge page cache activation.
GTMETRIX Test Results
My site is hosted on a DO 2GB server in Banglore, India. I have tested my blog loading times in GTMetrix, and here are the results for your viewing! Look at the marked scores!
Before Enabling Cloudways CDN Edge Page Cache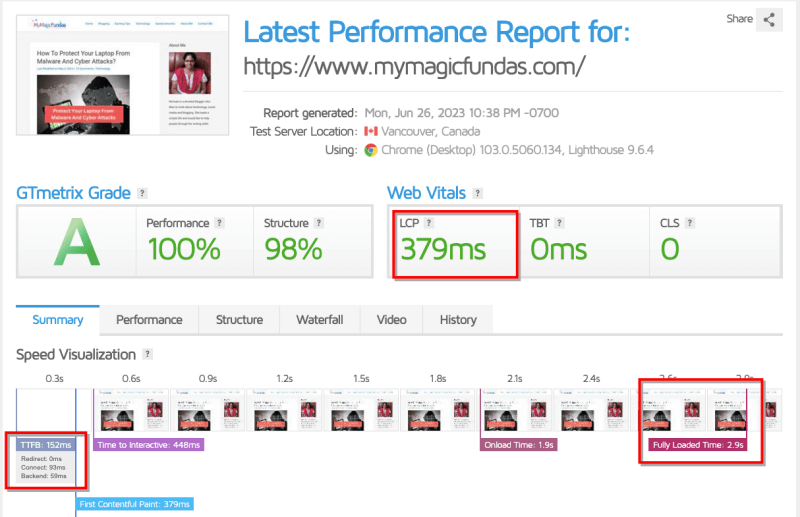 After Activating Cloudways CDN Edge Page Cache
You can see the tweaks in TTFB, LCP, and Fully Loaded time. So, my site's TTFB value has been improved by 56.6%.
Not only in a single country! I have done the speed tests in different locations worldwide, and here are the results.
| | | | | | | |
| --- | --- | --- | --- | --- | --- | --- |
| Location | TTFB | TTFB After Edge Cache | LCP | LCP After Edge Cache | Fully Load Time | Fully Load Time After Edge Cache |
| Vancouver, Canada | 152ms | 66ms | 379ms | 236ms | 2.9s | 2.1s |
| Hong Kong, China | 228ms | 50ms | 507ms | 312ms | 2.9s | 1.9s |
| London, UK | 190ms | 41ms | 626ms | 264ms | 2.2s | 2.2s |
| Sydney, Australia | 228ms | 68ms | 728ms | 353ms | 4.8s | 3.1s |
| Mumbai, India | 394ms | 49ms | 1.8s | 1.1s | 4.7s | 2.9s |
| San Antonio, TX, USA | 115ms | 48ms | 428ms | 265ms | 2.5s | 1.8s |
| Sao Paulo, Brazil | 463ms | 72ms | 1.1s | 634ms | 3.5s | 2.6s |
You can see the speed value improvements at every location! Now, let's dig into the speed tests further!
SpeedVitals Test results
SpeedVitals is a well-known website to measure website performance. Have a glance at the performance score before and after the Edge Page Cache in CloudwaysCDN.
Performance Before Cloudways CDN Full Page Cache

Performance After Cloudways CDN Full Page Cache

Undoubtedly, the full-page cache of the Cloudflare CDN addon in Cloudways hosting boosts site loading speed.
From the above screenshots, you can see the performance grade of my site has skyrocketed from "C" to "A". It is a great speed boost that I was expecting for higher user engagement and to get Google's attention.
And now, let me show the TTFB scores before and after activating Cloudways CDN Edge cache.
TTFB Scores Before Edge Cache in Europe
TTFB Test Results After Edge Cache in Europe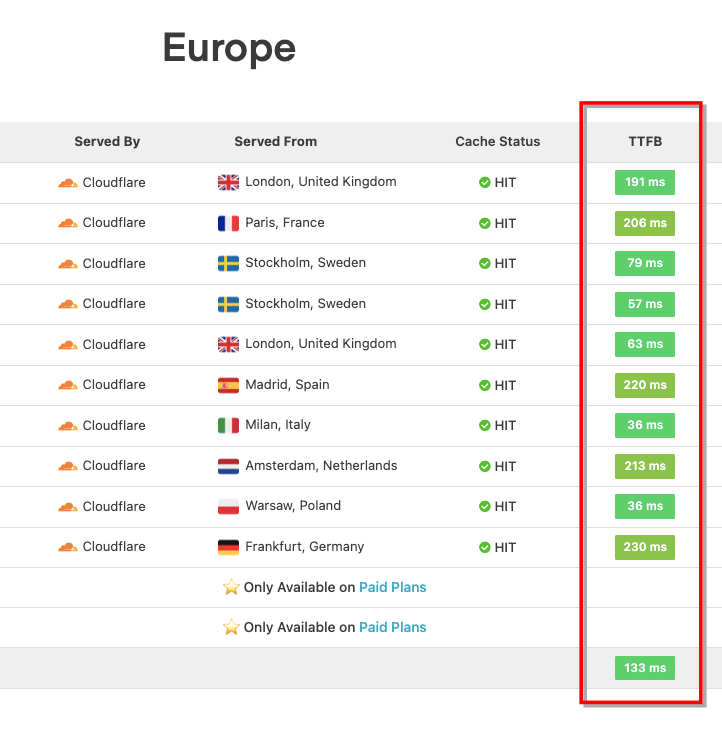 To display the TTFB score in a clear format, I have entered the speed values in the table! Look at the reduction in TTFB values.
| Location | Before Edge Cache | After Edge Cache |
| --- | --- | --- |
| London, UK | 468ms | 191ms |
| Paris, France | 215ms | 206ms |
| Sweden | 349ms | 79ms |
| Finland | 306ms | 57ms |
| Belgium | 248ms | 63ms |
| Madrid, Spain | 295ms | 220ms |
| Milan, Italy | 594ms | 36ms |
| Netherlands | 243ms | 213ms |
| Warsaw, Poland | 661ms | 36ms |
| Frankfurt, Germany | 529ms | 230ms |
| Average | 391ms | 133ms |
From the average values, I learned that my site's TTFB has improved by 66% in Europe. Don't you need this page loading time progress?
TTFB Results Before Cloudways CDN Full Page Cache in America
TTFB Values After Cloudways CDN Full Page Cache in America
Don't miss checking the TTFB speed score improvements after enabling the Cloudways CDN Edge page cache!
| Location | Before Edge Cache | After Edge Cache |
| --- | --- | --- |
| Las Vegas, US | 166ms | 74ms |
| Lowa, US | 238ms | 125ms |
| South Carolina, US | 194ms | 69ms |
| Northern Virginia, US | 138ms | 115ms |
| Oregon, US | 194ms | 62ms |
| Dallas, US | 211ms | 89ms |
| Montreal, Canada | 162ms | 52ms |
| Sao Paulo, Brazil | 454ms | 36ms |
| Santiago, Chile | 435ms | 38ms |
| Average | 244ms | 73ms |
With the help of Average scores, I calculated the TTFB of my site has improved by 70% in America. I'm delighted with this drastic jump in the speed score.
TTFB Scores Before Edge Page Cloudways CDN Cache in Asia Pacific & Africa
TTFB Results After Cloudways CDN Edge Cache in Asia Pacific & Africa
Finally, look at the TTFB values with and without Cloudways CDN full-page cache.
| Location | Before Cache | After Cache |
| --- | --- | --- |
| Mumbai, India | 474ms | 84ms |
| Delhi, India | 830ms | 68ms |
| Taiwan | 305ms | 45ms |
| Hong Kong | 370ms | 45ms |
| Tokyo, Japan | 344ms | 38ms |
| Singapore | 255ms | 240ms |
| Jakarta, Indonesia | 593ms | 77ms |
| Sydney, Australia | 227ms | 218ms |
| Dubai, UAE | 786ms | 130ms |
| Tel Aviv, Israel | 833ms | 147ms |
| South Africa | 928ms | 107ms |
| Average | 540ms | 109ms |
For the Asia Pacific and Africa regions, the TTFB score has been tweaked by 79.8%. As our targeted audience is located in these regions, I'm happy with this loading time elevation.
Cloudways CDN Edge Caching – FAQs
I'm using CloudwaysCDN. Do I need to pay extra for Edge Page Caching?
No! You don't need to pay extra money to activate the Edge caching in Cloudways hosting.
What is Global Rate Limiting In CloudwaysCDN?
Global Rate Limiting in Cloudflare CDN protects your site from spiteful automated traffic and ensures 100% uptime. This security feature is now available for CloudwaysCDN users. You need to activate it.
Can I improve my TTFB score with Edge caching?
Yes, of course! We have seen significant improvements in TTFB, LCP, and the fully loaded time of our website. Check our speed scores (Screenshots attached) after enabling this Cloudflare feature in CloudwaysCDN.
Why should I integrate Cloudflare Enterprise Addon In Cloudways Hosting?
If you own a dedicated business site, you should get the Cloudflare enterprise addon in Cloudways hosting to get their managed service & focus on business growth, avoid using several plugins, prevent malicious traffic through enhanced security and improve site performance.
Wrapping Up – Improve TTFB, LCP & Page Load Time With CloudwaysCDN Edge Cache
The CDN reduces the load of your web server and acerates the content delivery for your audience. However, you should be careful in choosing a reliable CDN provider to secure your data and boost the site's speed performance.
Cloudways hosting team always focuses on offering the fastest hosting service for their customers. They introduced several speed qualities, and its Cloudflare CDN partnership is one among them.
And now, taking the speed eminence to a new height, they have made the Edge Page Caching available and Argo Smart routing for faster load times so that your audience, wherever located, can access your site quickly.
So, to reduce your site's TTFB and LCP of Core Web Vitals, you should consider using the CloudwaysCDN and enabling the full page cache without any extra fee. What are you waiting for? Start free with Cloudways and get a $30 discount.
Source: https://www.wpglossy.com/improve-ttfb-lcp-cloudways-edge-page-cache/
---
---
You might also like this video