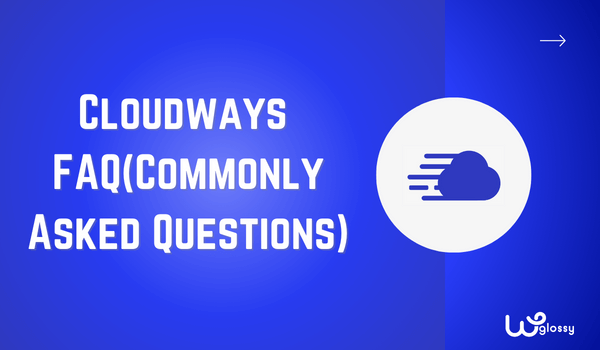 Cloudways – It is my steady fast hosting companion in the ever-evolving digital landscape. This managed hosting has not only hosted my websites but has also been instrumental in nurturing their growth. I used to admire its user-friendly interface, superfast performance, responsive customer support, proactive firewall security, and many more fantastic features.
Let me tell you about this article – Cloudways FAQs! It becomes evident that the choice to entrust my digital endeavors to Cloudways was a pivotal one. As I have been using Cloudways hosting for the past 5 years, I would like to answer some common questions related to this web hosting so that will help the site owners understand its qualities and hence they can decide whether to go with it or not.
Frequently Asked Questions About Cloudways
Let me give you the brief replies for some common Cloudways FAQs. Just go through them; if you need any help, please reach us through the comment section.
1. Is Cloudways A Web Host?
Yes, Cloudways is a web hosting provider, but it operates a bit differently from traditional web hosts. It bridges the gap between powerful cloud infrastructure services and users who want a straightforward hosting experience.
Providing a managed hosting environment on top of renowned cloud platforms, helps users (especially those who don't have technical knowledge) to leverage the power of cloud hosting without delving into the intricacies of server management.
Instead of owning and maintaining their own data centers and hardware, Cloudways partners with several top-tier cloud infrastructure providers. This means when you host with Cloudways, you're essentially using resources from these cloud providers, but with an added layer of management provided by Cloudways. I hope it is clear now!
2. Is Cloudways A Shared Hosting?
No, Cloudways is not a shared hosting service. It provides managed cloud hosting, and here your website or application runs on a virtual server in the cloud, isolated from other users, ensuring better performance, security, and scalability.
While users can set up and manage servers directly with the different cloud providers like Digital Ocean, AWS, and Google Cloud, Cloudways offers a layer of management on top. This includes setup, security, updates, and application deployment.
Their platform simplifies many of the technical aspects of running a server on cloud platforms. Unlike shared hosting, where multiple users' websites are hosted on a single server, with Cloudways, you get dedicated resources from the cloud provider you choose.
3. Is Cloudways only for WordPress?
No, Cloudways is not only for WordPress. While they offer optimized solutions for WordPress and have tools tailored for WordPress hosting (like the Breeze cache plugin and the Migrator tool), it supports a variety of other popular web applications as well.
Here are some of the applications you can deploy here other than WordPress!
Magento: A popular e-commerce platform.
Joomla: Popular content management system next to WordPress
Drupal: A robust CMS popular among developers.
Laravel: A PHP web application framework.
PHP Stack: It allows for hosting raw PHP applications.
PrestaShop: Another e-commerce solution.
OpenCart: An online store management system.
Cloudways offers a platform that makes it relatively easy to deploy, manage, and scale these applications.
4. What Is The Promo Code For Cloudways?
As we use several servers and become super affiliate, the company has provided an exclusive Cloudways Promo Code for our readers to get the highest hosting discount of $30.
The current working coupon code is "WPGLOSSY".
When you enter this Promo code, the discount will automatically be applied.
5. Does Cloudways Have cPanel?
No, Cloudways does not use cPanel. Instead, it has its own custom-built control panel that is well-designed to simplify server and application management for users. I'm sure you will get a different experience from traditional hosting control panels like cPanel or Plesk.
For users familiar with cPanel, there might be a slight learning curve when adapting to the control panel, but you will find it intuitive and straightforward once you get accustomed to it. Look at the dashboard, yes, all under one roof!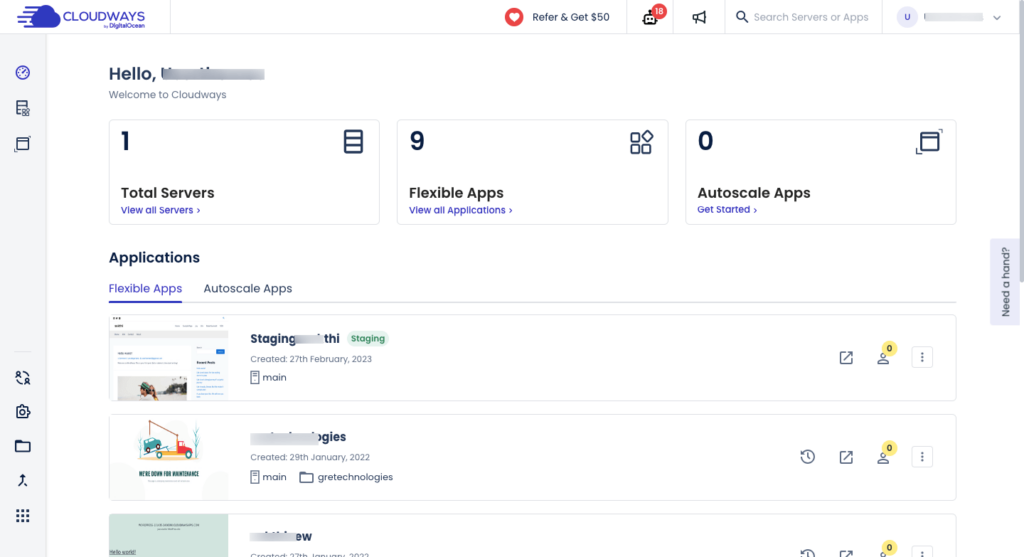 6. How Do I Backup Cloudways?
Cloudways contains an integrated backup solution, ensuring that your data is safe and recoverable in their platform. Two types of backups are available here! You should understand that the backup cost is separate from server hosting and it depends on the size and frequency of your backups.
Backup Types
Automated Backups: Cloudways allows you to schedule automated backups. These backups can be set to run at specific intervals, from hourly to weekly, depending on your needs and preferences.
On-demand Backups: Besides the scheduled backups, you can manually initiate a backup whenever you want. This feature is handy before making any major changes to a site or application.
You don't need to worry about the backup location as it stores your data offsite and hence it stays safe even if there will be any disaster that ruins the primary server. Likewise, the file restoration process is simple and straightforward. I have explained the Cloudways backup & restoration process, check it out throug this Cloudways FAQs blog post.
7. How Do I Connect To SFTP Cloudways?
Cloudways supports Secure File Transfer Protocol for secure file transfer through data encryption, uploading & downloading your site files, installing the plugins and themes, setting up the file permissions, managing media content, review logs, etc.
To perform any of these technical tasks, you need to get the SFTP login access. So, you should check our detailed tutorial to gain access to Cloudways SFTP login. However, remember to keep backups before making significant changes.
8. How To Enable Cloudflare on Cloudways?
Cloudways Cloudflare partnership is wonderful when it comes to the site speed. Earlier, the company has partnered with Stackpath CDN and now to offer improved service, it has been moved with the world-class CDN service.
Activating the Cloudflare Addon in Cloudways is a piece of cake. We have written a detailed step-by-step post along with the video tutorial to get the job done. Check out the article and Youtube videp to enable the Cloudflare on Cloudways.
9. Can I Pass Core Web Vitals With Cloudways?
Yes! We have done the same! Make sure to implement the WordPress speed optimization techniques and don't hesitate to get a reliable CDN service to pass the core web vital assesments.
10. What version of PHP does Cloudways support?
Cloudways offers PHP hosting with a balanced combination of security, ease of use and performance. It is a great choice for the businesses that run PHP applications. You will adore a robust and scalable environment here!
Currently, it supports PHP 7.4, 8.0, 8.1, and 8.2 and few older versions as well. If you want to change the PHP version or update to the new one, you must look at our comprehensive tutorial to do it!
Wrapping Up The Cloudways FAQs
Undoubtedly, Cloudways is an excellent web hosting choice for dedicated business sites. As a proud user, I came across several questions among the site founders who are looking to buy this managed cloud hosting. I hope this Cloudways FAQs article will help them take the right decision.
Being lauded for catering to a diverse range of hosting needs, I'm delighted about my five-year-long relationship with Cloudways, a fantastic partnership that has been nothing short of extraordinary. So, go with this cloud web hosting service, and don't forget to use our exclusive promo code to get the highest discount.
Source: https://www.wpglossy.com/cloudways-faqs/
---
---
You might also like this video