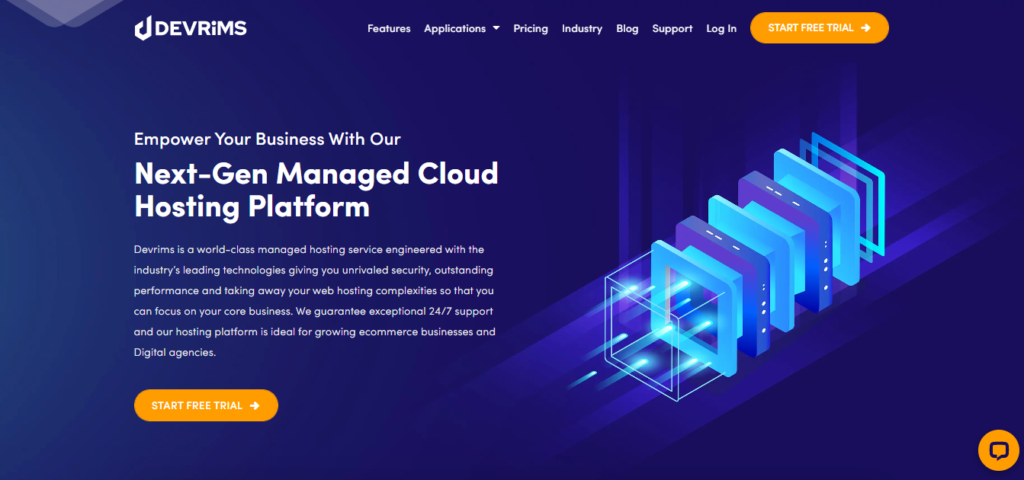 It is my unbiased Devrims hosting review after using the server service for a couple of months. There are many options available for hosting, so how to decide which one is suitable for your website? When choosing the best hosting, one should consider a few main factors: performance, security, scalability, cost, and support.
In today's era, traditional website hosting services like shared hosting or VPS hosting is not a good option for high-traffic, business-critical, or eCommerce website. Due to the limited features, no flexibility, and security issues, traditional web hosting services are no longer a favorite choice of developers and website owners.
Conversely, Managed Cloud Hosting is making its mark on the industry. The simplicity, flexibility, performance, and freedom it provides are extraordinary. You can get the required cloud resources with all the software services fully managed by the hosting provider in a few clicks without worrying about hosting complexities.
Considering these factors, if we look at all types of hosting, managed cloud hosting is the best choice for any website. This review will provide you with all the necessary knowledge about Devrims, including its features, applications, pricing plans, and more. In the end, you decide for yourself whether it is a good choice for your website or not. Let's begin.
Devrims Hosting – Breif Intro
Devrims is a Managed Cloud Hosting platform that offers hosting services of all major Php-Based CMS, Apps, and frameworks on industry-leading cloud infrastructure servers: Amazon Web Service & DigitalOcean with 24/7 Technical Support and free website migration.
If you are looking for fully managed cloud hosting without any restrictions, then Devrims hosting is the best option for you. Its monthly & hourly pricing plans are highly affordable. So, are you ready to know more about Devrims and see how they match the hosting industry standard?
My Rating For Devrims review
4.9 Excellent – Affordable and high-performance cloud hosting with an option to mold your hosting server according to your needs in a few clicks.

Pros
High-Performance & Optimized Tech Stacks
Unlimited Apps & Domains with Free SSL
Offers 99.99% Uptime Guarantee with Charge-Back Policy
Unlimited Free Website Migration
One-Click Server & SSD Storage Scaling
User-Friendly and East-To-Mange Platform
Pay-As-You-Go Payment Policy
Offers 6-Days Free Trial Account. No Credit Card Required
Cons
Email Hosting is Unavailable
No Phone Support
Difficult to Select the Server Size
Devrims Offering
This section will cover the supported applications, tech stacks, and offered technology of Devrims.
1. Supported Applications
Devrims offers managed cloud hosting of seven Php-based applications with multiple version support. With the one-click app installation feature, you can install multiple applications of different types and versions using different versions of Php in a single server. Here are the details:
WordPress Hosting: Devrims offers six versions of WordPress Hosting, which are: 6.0, 5.9.2, 5.8.2, 5.7.2, 5.5.1, and 5.4.2.
WooCommerce Version 4.3.0
Magento Version 2.4.3 with ElasticSearch, 2.3.4, and 1.9.4 are supported.
Laravel Version 8.3, 6.20, and 5.5.
Raw PHP Hosting: All versions of Php from 5.6 to 8.1 are supported.
OpenCart Versions 3.0.3.6 and 3.0.3.5.
Joomla Version 3.9.20
2. Renowned Infrastructure Provider
Devrims partners with industry-leading infrastructure providers: Amazon Web Service (AWS) and DigitalOcean (DO). Using Devrims, you can get the most trusted cloud technologies at your fingertip and launch the AWS or/and DO server(s) in one click without creating an account on their platform. The platform offers 40+ different server sizes in three different server families.

General Purpose Servers: Provides a balance of vCPU and RAM.
CPU Optimized Servers: Ideal for apps that require a high number of vCPU.
Memory Optimized Servers: For apps, process large data sets in memory.
The platform offers 25+ data centers strategically located globally to host your app nearest your audience. The nearest hosting server means the better performance user will get.
3. Optimized Tech Stack for High-Performance


A tech stack is the collection of technologies that combine to host and live your website. For Php-based applications, the market-leading tech stacks are LAMP (Apache), LEMP (Nginx) & LOMP (Open LiteSpeed). Apart from the Web Services (Apache, Nginx & LiteSpeed), each Tech Stack uses Linux as OS, MySQL/MariaDB as Database, and Php as a server-side language.
Devrims offers all 3 industry-leading Tech Stacks in one click installation. By default, the system suggests the best Tech Stack based on your application and its version selection, but you can change the Tech Stack in one click and the software services version. The good thing is that Devrims optimized and configured all three Tech Stacks according to the application for high performance.
4. Server-Level Caching
The hosting platform also offers server-level caching to boost the performance of your application. By default, no caching service will be installed during the application installation. Later, you can install the caching services based on your requirement in one click.
5. Additional Software Services
The platform offers full customization options, which is why they offer additional software services to cater to particular needs. All additional software services Like MongoDB and ElasticSerach can be installed in one click. Also, you can create unlimited databases or data sources.
Why is Devrims Hosting best?
The Devrims platform primarily focuses on four main pillars performance, security, easy management, and freedom. Each feature is under the umbrella of any one main pillar. Here is some highlight on Devrims features.
High Performance
Devrims platform provides high-performance, Fully Managed Cloud Hosting. The platform is partnered with AWS and Digital Ocean to provide a reliable cloud server with SSD cloud storage for fast data reading and writing.
All offered Tech Stack is fully optimized for high performance and lightweight to consume minimal server resources. Also, according to the application, you can use server-level caching technology to increase server speed.
High Security
When running an online business or a website, you need security that protects your website and critical data. A free SSL certificate from Let's Encrypt offers website-level protection. Devrims provide multiple layers of security, including Hardware Firewall, SSH/SFTP Security, and IP Whitelisting.
Furthermore, Devrims servers have a Fail2Ban system that prevents any brute force attack using SSH and SFTP, even if the incoming traffic is open to everyone. The incredible firewall management capability allows deploying your access control policy with a click for all external connections.
Freedom
Devrims do not restrict you from anything; use the services with all freedom and flexibility. You are free to host multiple applications on a single server, add multiple domains on one application or create unlimited databases.
It is simpler to host several applications when you can run different PHP versions on the same server, and Devrims provides you with that feasibility too. It does not cost any extra. You only need to pay for the plan cost and use the services without any long-term commitment.
Easy Management
Even if you do not have much technical knowledge, you can fulfill all your hosting needs with Devrims simple and easy-to-use interface. A welcome screen that walks you through configuring your first server is presented when you initially sign in to your hosting account. The setup wizard makes installing a new server and adding an application simple.
Free Website Migration

Devrims offers unlimited free migration on a single server or a different server. They have an expert technical team for application migration without any downtime. First, they migrate the application and share the staging URL with you for checking. Once you are satisfied with the migration, make it live by adding a domain name.
24*7 Technical Support
Devrims claims to provide all users with 24/7 live chat and ticket support. Additionally, they have a substantial knowledge base section with nearly all the documentation on the technical side of the managed cloud hosting services.
Pricing Plans
Devrims provides a selection of pre-made, general-use cloud hosting plans, including a certain amount of vCPU, RAM, Storage, and Bandwidth. All hosting plans include all features, server costs and management fees without hidden charges.
You can scale up the SSD storage as per your requirement once the server is created, and extra bandwidth utilization will charge separately. No matter which package you select, you are free to host an unlimited number of applications or websites according to the server resources, and the cost remains the same.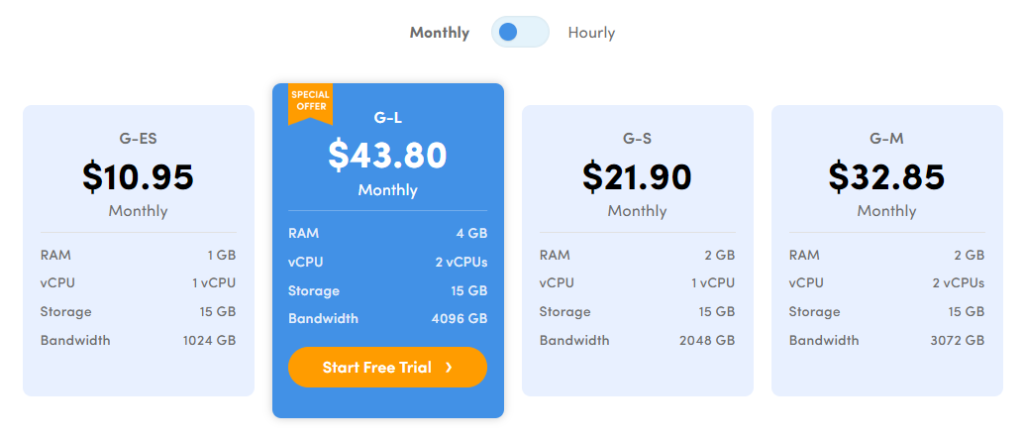 With the Pay-As-You-Go payment policy, first, use the services and pay at the end of the month without any usage commitment and upfront charges. The Devrims platform calculates the invoice based on the number of hours you use the server. For example, if you run a $15 per month plan only for 10 days, the system generates the $5 invoice at the end of the month.
Devrims hosting Review – My Conclusion
Many firms are offering good hosting options without any doubt, but which one is best for your website or business has to be decided by you. Devrims offers managed cloud-based hosting with the most reliable features, as mentioned above in the article. They provide a free migration facility, so you do not face any trouble.
After using their server service, I have decided to write a Devrims hosting review. Try Devrims services with the 6-day free trial without any credit card details and experience everything yourself. If satisfied with their services, go for a paid version and grow your business. After using the hosting, don't forget to share your hosting experience with me.
Source: https://www.wpglossy.com/devrims-hosting-review/
---
---
You might also like this video