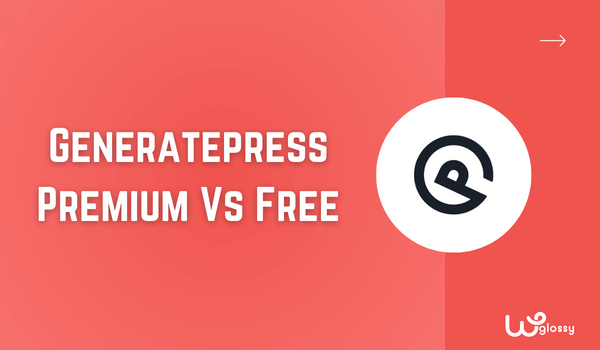 GeneratePress Free Vs Premium, Which theme version should you use? Let me tell answer your question. Before getting into the details, I'm delighted to tell you that we use GeneratePress paid theme to design this blog, WPGlossy!
Choosing a suitable WordPress theme can be challenging. Since it affects the speed and look of the website, you need to be careful. GeneratePress is a multipurpose WordPress theme that has lightweight code.
Many bloggers and WordPress site owners will need help choosing one for their blog or business because it has a free and premium version. So, do you also confused about picking the right theme version? Well, no more struggle.
As a proud user of this theme for over four years, I can show you GeneratePress free vs premium comparison and which version should be your optimal fit. First, let's quickly compare the free and paid versions so that you will learn about the availability of the features.
GeneratePress Free Vs Premium – Quick Comparison
| | | |
| --- | --- | --- |
| | | |
| | | |
| Types Of Site & Blog Layouts | | |
| | | |
| | | |
| | | |
| | | |
| | | |
| | | |
| | | |
| | | |
| | | |
| | | |
Let me continue the details with an introduction to GeneratePress.
GeneratePress – A Brief Introduction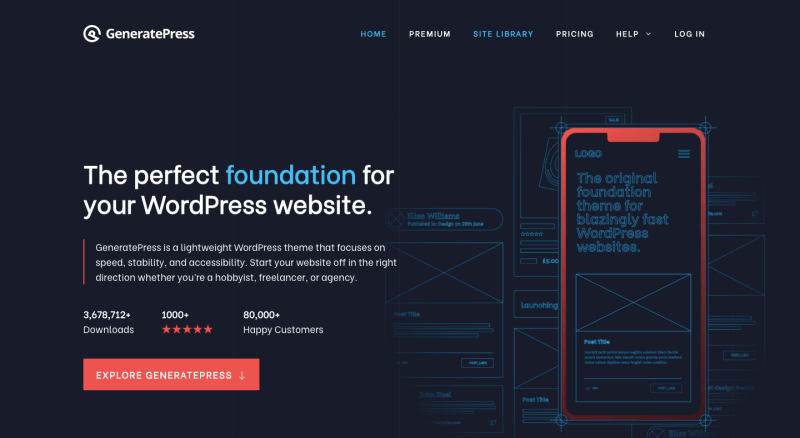 GeneratePress is a freemium WordPress theme created by Tom Usborne. It is one of the finest freemium WordPress themes available in the market. If you check the themes repository, see that more than 500,000 websites use it. Plus, the theme has over 1300 5-star ratings.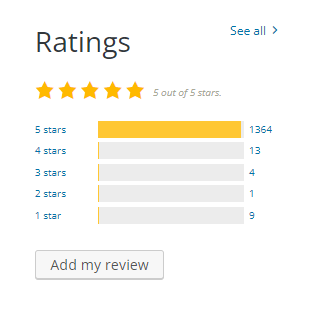 This tells that the theme is something most people love. GeneratePress has many features like a Site library, Advanced hook system, Navigation menu customization, Header and Footer customization, and much more.
Since it is a highly customizable WordPress theme, you can tweak every inch of your website without hassle. On top of that, GeneratePress can also be combined with page builder plugins like Elementor, Beaver Builder, and WPBakery Page Builder (formerly known as Visual Composer).
So, creating custom landing pages and interactive blog pages is a cakewalk. There won't be any compatibility issues; use any plugin you prefer to develop custom designs. Also, don't forget to show the last updated date in your blog posts for high Google rankings.
Next, let's move to the article's core, the side-by-side comparison between GeneratePress free and premium.
GeneratePress Free vs Premium – Detailed Comparison
I'm going to compare the following!
Features
Reasons to choose it
Support
Pricing
Pros & Cons
This way, you will better understand which theme would be the best option.
1. Features Comparison
This section will show you which theme offers better features and what you can expect.
GeneratePress Free Version
In the free version theme, you will get features like:
Layout

Container
Header
Primary Navigation
Sidebars
Footer
Blog

Colors
Typography

Font Manager
Typography manager
Check the layout settings; you will see multiple options for individual sections.
For example, it is possible to tweak the overall container width, enable/disable sidebars on individual pages, choose the number of footer widgets to display, and so on.
The color customization will help you tweak the styling of the website without modifying the CSS.
You may customize the body, header, primary navigation, content, and footer colors without hassle.
It is possible to add a Google font to your WordPress website without using any coding or third-party plugin; use the typography section.
You may add any Google font to the website from the dropdown.
Once you have a font on the site, choose an element and assign a font.
Handle the font family, font size, line height, etc., without tweaking the CSS or adding additional CSS. The best part is you can assign individual fonts to different elements! This way, you have to customize the typography of the website.
GeneratePress Premium Version
As you know, the paid version will unlock a lot more power. The most loved features of GeneratePress premium are:
Site Library
Custom modules

Backgrounds
Blog
Copyright
Disable elements
Elements
Menu plus
Secondary navigation
Spacing

WooCommerce optimization
The developers have created and added stunning page designs to the site-library module. So if you need to skip the theme design time and import one of the pre-made templates, activate the site library module.
Now, let's take a quick look at other modules:
Backgrounds: Configure different background images for individual elements.
Blog: Customize the blog archive with multiple options.
Copyright: Customize the copyright message in the footer.
Disable elements: Disable custom elements on specific pages.
Elements: To add extra codes, use the elements module.
Menu Plus: Set up a mobile menu and customize it.
Secondary navigation: Add an extra navigation menu to your header.
Spacing: Customize the spacing and padding between individual elements.
Are you running an online store with WooCommerce? The WooCommerce module would come in handy. By enabling it, customizing the product page, and adding custom fonts, colors, and layout options to individual product pages or shops.
By default, all the modules will be disabled. You have to enable them one by one according to your requirements.
2. Reasons To Choose The Theme Version
You must pick an ideal theme version based on your site requirements!
When Do You Need GeneratePress Free Version?
GeneratePress free version theme will be a great fit in these scenarios:
Creating your first WordPress site
To test the features before purchasing the premium version
Running a basic WordPress website with a minimalist design
To have an online presence for your business
When Should You Use GeneratePress Premium Version?
On the other hand, the GeneratePress premium version will come in handy when you plan to:
Build a professional website for an extensive web presence
Run a WooCommerce store for massive conversions
Tweak the website through page builder for high user engagement
Import a well-designed demo from pre-made templates to win readers' hearts
Get premium support and regular theme updates for proper working
Reach higher search engine rankings through faster-loading pages
3. Support Offered By The Dev Team
The free version of GeneratePress is having limited customer support. You should visit the support forum when you need help setting or tweaking the theme.
You can create a thread there with your issue; someone from the official development team will help you.
The paid version has priority support. When you need help with the theme, log in to your GeneratePress account and raise a support ticket to the appropriate department. Within 24 business hours, you will get all your issues solved.
4. Pricing
Next, let's see how much it will cost to create a GeneratePress-powered website.
The lite version of GeneratePress is free for a lifetime. There won't be any monthly or yearly subscription fees. You will get all theme updates in your WordPress admin area. It is an excellent way to test the features of GeneratePress.
The premium version of GeneratePress has two subscription models.
Annual – $59 a year
Lifetime – $249 (one-time)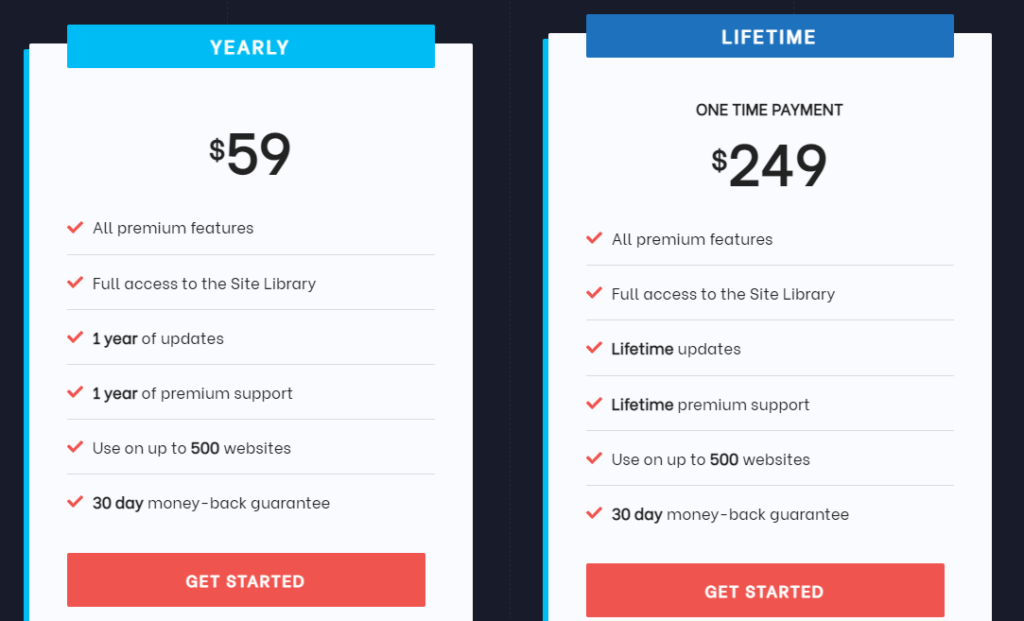 Select a pricing plan according to your preferences!
For example, the yearly license would be a great fit if you are a blogger or a WooCommerce store owner. Alternatively, the lifetime subscription can represent any web development agency or something similar.
Both subscriptions will give you 500 domain licenses and a 30-day money-back guarantee. So, you are free to try GeneratePress out.
5. Pros & Cons Of GeneratePress Free Vs Premium
Pros of GP Free Version
Easy to use
Customizer friendly
Lightweight WordPress theme
Inbuilt fonts to choose from
Ready for standard blogs
Compatible with page builders
Cons of GP Free Version
Limited customization options
Limited support from the official author
Pros of GP Premium Version
WooCommerce optimization
Premium modules
Access to the site-library
Priority support and updates
Copyright control
Layout customization
Navigation menu options
Detailed documentation
Pros of GP Premium Version
Final Verdict: Who's the Winner
From my above explanation, the paid plan of GeneratePress is far better than GeneratePress lite version. The premium tool has excellent features, priority support, customization opportunities, etc.
From my theme customizing experience, I suggest using the premium version theme for your professional blog or online business website. I'm sure you will design your dream site with the best user experience.
Generatepress Premium Vs Free 2023 – FAQs
Next, see some frequently asked questions regarding GeneratePress's free and premium versions.
Which Subscription Would Be a Better Fit – Free or Premium?
When you are a beginner or need to test the features of GeneratePress for the first time, the free version plan would be great. There, you will see what the theme has to offer. Get the premium version when you are ready for an upgrade. It is the best choice for an online store with WooCommerce or Easy Digital Downloads.
How Well Can We Customize the Website?
GeneratePress is a highly customizable WordPress theme. The free version will limit the customization options. But on the other hand, with the premium version and a powerful page builder plugin, you can tweak every inch of your WordPress website or WooCommerce store.
Can We Get Pre-Made Demos?
Yes. Access the paid version and get pre-built templates (site library). All the templates are customizable, and changing the designs according to your preferences is more feasible.
Which Theme Is Better, Divi or GeneratePress?
It is a great question! Check the detailed comparison Divi Vs GeneratePress; you will know which theme is better in what ways.
How Much Do GeneratePress Costs?
GeneratePress's yearly subscription will cost you $59. And the lifetime subscription costs you $249. Both plans will give you up to 500 website installations.
Is There Any Moneyback Guarantee?
GeneratePress premium subscriptions come with a 30 days money-back guarantee. Get a complete refund if you think the premium version is unsuitable for your blog or business. All you need to do is raise a ticket to the billing department.
Wrapping Up The GeneratePress Free Vs Premium Comparison
GeneratePress is the best WordPress theme optimized for speed and performance. But choosing the right version is always confusing! After using the paid GeneratePress theme for four years, I have shown you which subscription would suit you and why.
If you are a beginner and need the basic features, the free version of GeneratePress is a great option. When you need cutting-edge features and integrations and want to build an online store, your choice should be the GeneratePress premium version.
Hundreds of people are using this fastest theme for WordPress, and they love it. So, why don't you give the premium subscription a try? I hope this GeneratePress free vs premium article helps you decide on the right version. If not, check GeneratePress Alternatives!
Source: https://www.wpglossy.com/generatepress-free-vs-premium/
---
---
You might also like this video