Do you want to create a transparent header for Astra-powered website? You have arrived at the right place.
Setting up a custom header design will come in handy in most cases. If you run an online store or any other branded website, the header customization can help you stand out.
But by default, most themes come with a basic header. You can add menus to it, and that's it!
Have you ever thought about making your header more stunning or visually appealing? I hope you had and here is the one that you seek for!
This guide will show you how to create a transparent header in Astra WordPress theme. Keep reading this step-by-step guide.
But before going further, let's see why tweaking the header could be a good idea, so that you feel better for doing a right thing to win your readers' heart!
Why Customizing the Header Is a Good Idea?
When a visitor lands on a website, the header is the first thing he'll see. Most themes come with a header like this:

It is pretty basic. But what if we can turn the basic design into an elegant design?
Something like this:

It is going to draw more attention, right? Yes, of course!
A website's header must be impressive and needs to provide proper navigation to the visitor. You might want to add links to your important pages, social media, etc. You can create mega menus and use them inside the header to improve it.
It will help the visitor go to the exact page where he needs to be without hassle. Now, you know the importance of customizing the header. Next, let's see how to make a transparent header in Astra theme for WordPress.
Step-by-Step Process To Create a Transparent Header in Astra
Creating a transparent header in Astra WordPress theme is a simple task. The feature comes with the latest version of Astra free version too. You must check Astra free Vs Pro!
So you do not need to pay for the premium addon to use the transparent header feature. The first thing you need to do is, install Astra on your WordPress website.
Once you have installed the theme, activate it.
If you are already using it, you can skip these steps. In our demo website, the header looks like this:
As you can see in the screenshot, the header is not transparent and has a white background color. Let's change it.
The first thing you need to do is open the customizer.
Next, open the Header Builder.
You will see two options inside Header Builder.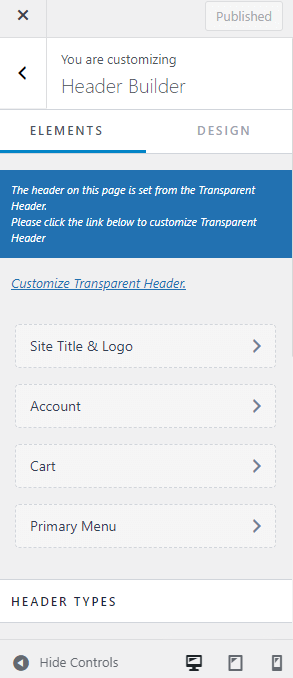 Under the Elements tab, you can see every customization options you can deal with in the header. The Design tab will show you styling-related options.
However, in our case, scroll down to the header types, and you'll see the transparent header option there.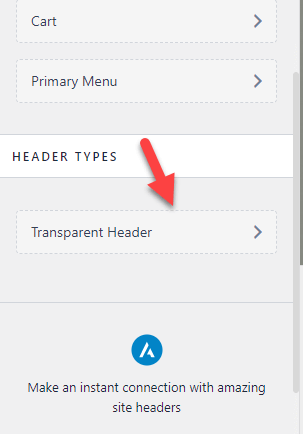 Open the settings.
You will see options like:
Enable/disable transparent header
Enable on which device
Set up a different logo for a transparent header
Separate logos for retina devices
Logo width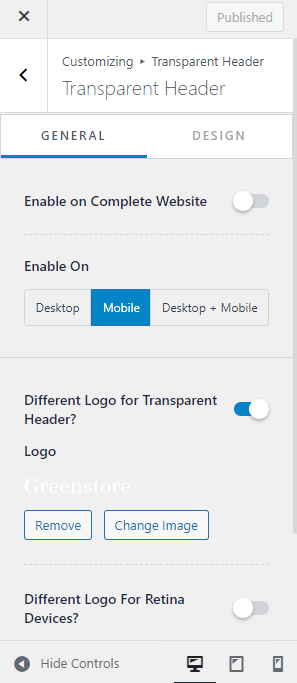 The first thing you need to do is enable a transparent header on the website. The live preview wizard will show every change as soon as you modify the options.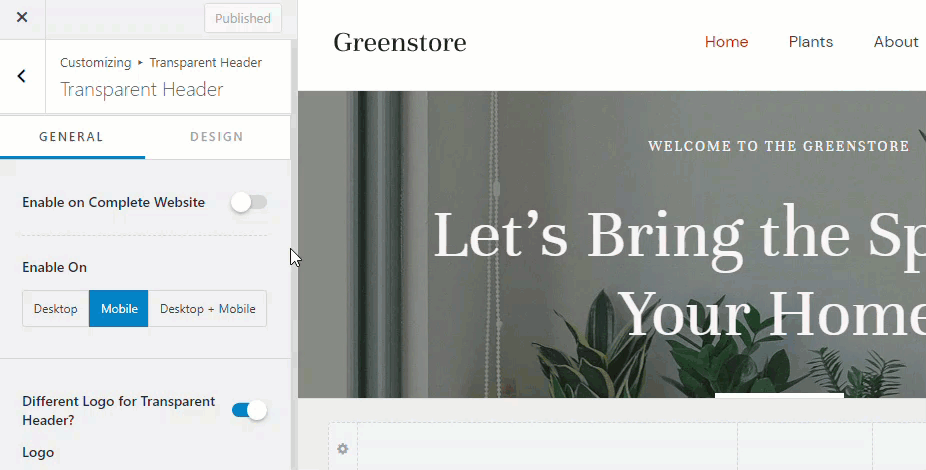 You can also choose which devices to target with the transparent header. In this case, we will be targeting both mobile phones and desktops.
Next, you need to customize where to display the transparent header. You will see additional configuration options after enabling it on your WordPress installation.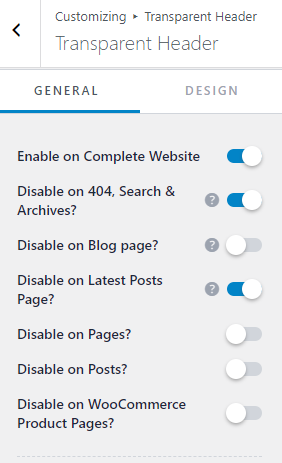 You can configure them according to your preferences. Once you are done with the customization, move to the next one, which is setting up logos for the website.
You can disable the option when you do not need to use a custom logo for the header. Finally, choose the width of the logo.
When you increase or decrease the logo's width, you can see how it will look in the front end.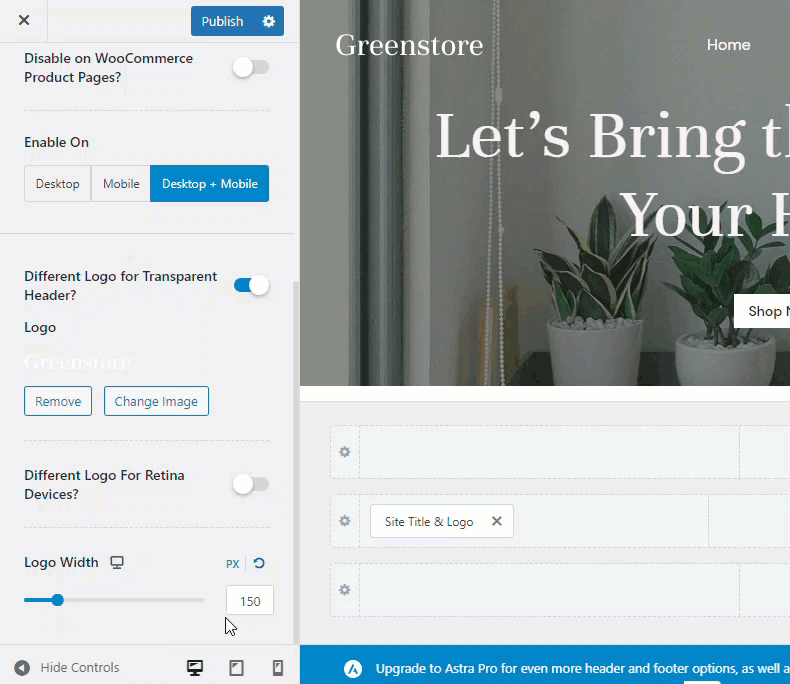 This way, you can choose the perfect width for your logo.
That's it!
This is how you can create a transparent header in Astra and customize it. The premium version add-on of Astra comes with much more features.
So if you need to do more with your header apart from simply making it transparent, get the premium add-on.
It is affordable and 100% worth it.
Transparent Header – Frequently Asked Questions
Now, let's look at some popular frequently asked questions regarding the transparent header!
Why Creating a Transparent Header Is a Good Idea?
The first thing visitors see after landing on your website is your header. To create a better first impression, you should develop a notable header. Hence, a custom header will give you a better user experience and conversion rates.
Do We Need Ay Additional Page Builder Plugins?
The Astra theme comes with an in-built customizer. This feature allows you to create elegant designs without using a third-party page builder plugin.
How To Disable The Transparent header In Astra Theme?
To remove the transparent header in Astra theme, visit its advanced settings. Under Disable elements, the option is available. It is an excellent choice for beginners who don't know about coding.
How Much Does the Astra Premium Cost?
Astra offers two membership plans. If you are into yearly membership, the subscription starts at $47. On the other hand, if you want a lifetime subscription, that starts at $227 (one-time).
Conclusion
Astra is a highly customizable WordPress theme. Combining it with the premium add-on allows you to create stunning designs without touching a single line of code. As mentioned in this article, the header is one of the main parts of a website most visitors notice. Tweaking the header will help you stand out from the crowd and build your identity.
When a transparent header can be fancy, it could be helpful in most situations. I hope you found this article helpful and learned how to create a transparent header in Astra WordPress theme. If you need assistance customizing the site built with the Astra theme, reach out me through the comment section. I'll help you with my design experience and knowledge.
Source: https://www.wpglossy.com/create-transparent-header-in-astra-theme/
---
---
You might also like this video