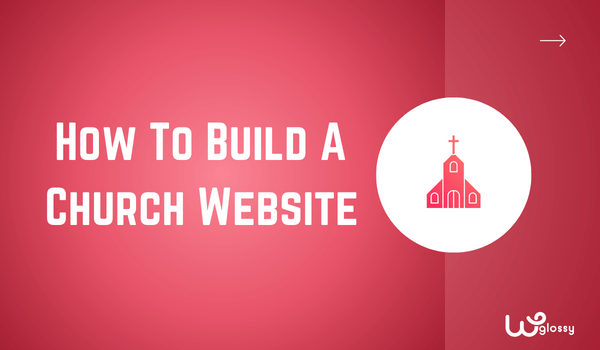 In today's digital age, online presence is crucial to connect with wider audiences. A well-designed website opens the door for many opportunities like welcoming visitors, sharing essential information, and fostering community engagement.
This post will guide you through building a church website in 7 easy steps. From choosing the domain name to crafting the engaging content and helping you to discover how to build a church website from scratch, saving you time and money!
So, without further ado, let's start creating a stunning website.
Step-By-Step Process To Build A Church Website
Making a Chruch website is not rocket science! You just need to follow some simple steps to make it live and get better visibility!
Step 1: Choose a Domain Name
The first step of creating a church website requires purchasing a domain name. Selecting the right domain is very crucial in building the website. Your domain name is your identity or the address of your home that someone looks at while visiting your house.
Here is how you choose a domain name for your church website:
Reflect your church identity: Your domain name should carry your church's identity. You can use the church name or abbreviation for easy recognition.
Keep it short and memorable: Keep it short and avoid using long-form names that might be challenging for visitors to recall.
Choose the right domain extension: While .com is a widely used TLD, you can choose options like .org or .church.
Best platform: The best platform to buy a domain name is namecheap.com, and you can buy it at just $5.98/year. Customer support is excellent and offers a bunch of extensions.
Check availability: You can use Namecheap, and to get an idea about domain names, you can also refer to Lean Domain Search.
The domain names are paid annually, and with the purchase of more years at the beginning, you get hefty discounts. Also, you have an auto-renewal option, so you don't lose your domain name after its expiry.
Step 2: Purchase Web Hosting
After purchasing the domain name, the next crucial step is to buy web hosting to build an effective church website. Before purchasing web hosting, you need to look at a few parameters, as buying the right hosting from many providers in the market needs to be clarified.
Access your need: You must have a fair idea of your church website and evaluate it before purchasing the web hosting, factors like expected traffic, budget, technical expertise, etc.
Performance and Speed: For better user experience and search engine ranking, the performance and speed of a website are a must. Look for CDN, SSD, optimized server, and security before purchasing.
Customer support: Quality customer support is vital if you are not tech-savvy and need assistance setting up your website. Look for 24/7 support through live chat, email, and over the phone.
Reliability and uptime: Your website should always be live so visitors can access it. Also, the hosting company must be reliable as you will do lots of stuff on your website.
Plenty of hosting providers are available in the market; only some are good and even deliver what they promise on their websites. I have been in the blogosphere for the last 13 years and have personally used many web hosting for my sites. According to my experience, I would like to make recommendations.
Here are the recommended web hosting for your church website:
1. Cloudways
Cloudways is the top-rated managed web hosting provider and has received awards for many consecutive years. The platform is user-friendly, using which you can quickly launch your website on their server.
Cloudways offer optimized servers, high-level security, automated backups, and, most importantly, world-class customer support. I am still looking for customer support better than Cloudways so far.
The most important feature offered by Cloudways is its scalability feature. You will pay for the resources used only, and with the growth of your website, the server can be easily scalable to tackle large numbers of traffic.
Its Best Features Are
Achievements
Best web hosting for startup
Rated #1 SMB hosting provider on G2 and Trustpilot
2. A2 Hosting
A2 hosting offers blazing speed to the websites hosted on their website, which is crucial for engaging visitors to your church website. I have rated it 10/10 for its performance, customer support, speed, and wide range of hosting solutions to cater to all businesses.
If you already have a website, want free migration, and enjoy the best server within your budget, then A2 hosting should be your top priority.
Its Best Features:
Up to 20x fast blazing speed
Free site migration
Money back guarantee
Flexible and scalable hosting plans to cater to various needs
Cheap green web hosting to reduce carbon footprints
Achievements:
WordPress.org recommends A2 hosting for its fast and reliable hosting service
A2 Hosting has been certified by CNET
Step 3: Install WordPress
After acquiring both domain name and web hosting, it's time to connect them both and install WordPress. WordPress is a popular content management system that serves as a website foundation.
Yes! WordPress is the best Church website builder. To install WordPress, log in to your web hosting control panel and look for "One-Click Install" or "Auto Installer" options.
You should either point your "A" record to the IP address of your web host or change the nameservers as per your service provider. You can even take the help of YouTube to understand the process.
Step 4: Select a Church Website Theme
When building the website, selecting a suitable WordPress theme is essential, which must be lightweight and load very fast. Page builders are also a necessary aspect of it when we discuss themes.
Here, we'll explore three highly recommended church website themes: Astra, GeneratePress, and Elegant Themes.
1. Astra
Astra is one of the popular WordPress themes, which is lightweight and versatile and offers various features. Astra offers premade templates tailored explicitly for church and religious organizations.
These templates can serve as a foundation for your Church website, allowing you to create a professional and visually appealing website easily.
2. Generatepress
GeneratePress is another excellent option to craft your website. This theme is known for its lightweight, speed, and efficiency and provides the best user experience.
It offers many customizable options to create a unique and engaging website that resonates with your audiences. It is also compatible with many page builders, enabling developers to develop websites with advanced features and functionalities.
3. Elegant Themes
Elegant Themes, particularly the Divi Theme, is the Most Popular WordPress Theme In The World And The Ultimate WordPress Page Builder. Divi comes with a drag-and-drop builder that simplifies designing and customizing websites.
It also offers a wide range of premade templates and defined layouts for your website. Many websites are using Divi to build their website, and you can find Examples of Church Sites Using Divi.
Check out premade templates ready to be used for church sites offered by Divi themes. Before moving to the next step, I want to emphasize page builders such as Divi and Elementor, which are the most popular and widely used.
Both these page builders help you with designing and customizing your website with the help of drag and drop. You can also use the premade layouts and templates, which are fully customizable. Both are user-friendly, and you can try anyone out of these.
Step 5: Install Plugins
Plugins are an essential complement to building a more powerful church website. These provide additional functionalities that enhance the user experience and streamline the website management.
A few plugins are free, and some are premium, provided below, that you can install on your website.
Free Plugins
Let's explore some of the essential free plugins you can consider integrating into your church website:
Yoast SEO/Rank Math SEO: For optimizing the content for search engines, you need an SEO plugin, and you can choose between Yoast SEO or Rank Math SEO. It helps you with on-page SEO and also recommends best practices.
Akismet Anti-Spam: Akismet Anti-Spam is a helpful plugin to keep your website's comment section free from spam. It filters out unwanted and harmful spam free from your website.
Contact Form 7/WPForms: For better user engagement, you need a Contact Us page; these plugins help you build pages quickly. You can choose anyone among them.
W3 Total Cache: Optimising your website's performance is crucial, and these caching plugins help you improve your speed's overall performance in terms of user experience and speed.
UpdraftPlus: A free plugin enables you to back up your Church website database, content, plugins, and pages regularly.
Smush: For better loading speed and performance, your high-quality images need to be compressed, and Smush Pro will help you compress and optimize images.
Google Site Kit: This plugin is developed by Google to help website owners integrate various services like Google Analytics, Google Search Console, and Google AdSense and gain valuable insights into the WordPress dashboard.
Some plugins mentioned above also come with a freemium model, which means you can upgrade to the premium model for more functionalities and features.
Many plugins are available in the market, but we need to be cautious while installing them as it increase the website size. You can install it as per your specific need later on.
Paid Plugins
Let's explore some of the essential paid plugins you can consider integrating into your church website:
WP Rocket: WP Rocket is the most powerful caching plugin that improves the overall website performance and helps load the website quickly. It offers features like page caching, file compression, lazy loading, and more.
Social Snap: This plugin offers social sharing buttons on your website, click-to-tweet functionality, social media auto-posting, and comprehensive analytics.
Gravity Forms: For your church website, you might need to create complex and customizable forms, including surveys, quizzes, registration forms, etc. This plugin is handy for these tasks, so you must grab it.
OptinMonster: If you want to convert your visitors into leads, then this plugin is for you. OptinMonster helps in lead generation and allows the creation of attractive pop-ups and opt-in forms to grow your email list.
VaultPress: You can do real-time backups, security scans, and restoration options to help your website data secure and safe.
Amelia: It is an appointment and event booking plugin ideal for church organizations. It offers scheduling, booking management, and integration with popular calendars.
Step 6: Create Essential Website Pages
Once you have installed the necessary plugins and customized your website with the proper theme and page builder, it's time to engage your audience with essential pages and blogs.
Some key pages to consider include:
About Us: You can share your church history, background, mission, teams, and many more so that visitors can understand better about who you are.
Contact Us: You can create a custom contact us page using the plugin mentioned above, like WPForms, and embed it on this page. This allows visitors to ask for any queries or questions.
Sermons: You can create a dedicated section to showcase recorded addresses in audio or video format. Organize them by date, series, or topic to make navigation easy for users.
Events: This is the most crucial page, and visitors must know about upcoming church events, workshops, seminars, and gatherings.
Privacy Policy: As a best practice of online business, you must include a privacy policy page that outlines how you handle user data and privacy.
Step 7: Create A Blog Page To Implement SEO
You should focus on writing blog posts to acquire more visitors organically through different search engines like Google. You can write about any topic of your interest that resonates with your targeted audiences.
For better visibility and reach, you must do SEO (Search Engine Optimization); the first SEO process is the proper Keyword Research. Now let's discuss it in brief:
Use of Keyword Research
As mentioned earlier, the church website content must align with relevant keywords for better visibility and reach to your target audience.
Keyword research helps you understand what terms and phrases your target audience is searching for, enabling you to tailor your content to their needs.
Tools Available for Keyword Research
Though plenty of free options are available in the market regarding keyword research, two prominent tools are widely used: SEMRush and Ahrefs.
These tools offer keyword search volume, difficulty, other relevant keywords, trends, etc., helping you to make informed decisions about which keyword to target.
SEMRush
SEMRush is a popular SEO tool known for doing keyword research, competitor analysis, and Google ad optimization. It is an in-one SEO tool that offers many features, including AI assistant blog writing, blog outline, and title generation.
The data provided by Semrush is relevant, and the best thing about this tool is competitor analysis. You can spy on competitors and take advantage to fill the gaps.
Ahrefs
While we primarily focus on Semrush, it's worth mentioning Ahrefs as an alternative. This tool is known for backlink analysis and keyword research capabilities. It offers insights into keyword search volume, SERP analysis, difficulty, CTR, etc.
How to Perform Keyword Research Using SEMrush?
Step 1: Identify the topics on which you want to cover up article
Step 2: Enter the case in the Semrush keyword research tool, and it will generate tons of keywords with search volume, competition, etc.
Step 3: Now, it's time to analyze the keywords metrics. Initially, look for moderate to high search volume with less keyword difficulty.
Step 5: You can explore the other relevant keywords to clarify better which keyword to target.
Step 6: Create high-quality content to engage the audience.
TIP: You can also use Semrush's competitor analysis tool to fetch all the keywords on which your competitor ranks and identify the areas of improvement to cover those in your article. This is what the SEO experts do to get keyword ideas.
Step 8: Launch and Maintain Your Website
Congratulations! Now it's time to go live with your church website and make it accessible to your audience.
Before launching, check whether your site design is perfect, includes all essential pages, has relevant audience content, and is accessible to all devices, including mobile.
Note: Remember to link your website with Google Analytics and Google search console. It's essential to making your website crawl to Google search engines.
Since the church website is a dynamic platform, it requires ongoing attention and maintenance. Under maintenance, you must update the site, engagement, interaction, events scheduling, analytics and insights, etc.
Pro Tip: How to do SEO?
Search engine optimization is a crucial component in the success of your church website. SEO helps your website with a higher ranking in search engine results making it more visible to your audiences.
WordPress, on which you have developed your websites, is inherently SEO-friendly. Here is how you can do SEO on WordPress with ease:
Keyword Research: As discussed earlier, you can identify the relevant keywords using Semrush, on which you can create content to get rankings in SERP.
Install SEO Plugin: Install multi-featured SEO plugins like Yoast SEO or Rank Math SEO. These plugins offer on-page optimization tools, meta-tag customization, and content analysis.
Schema Markup: Schema markup helps search engines understand your content's context, leading to enhanced search results. Rank Math SEO works very well in creating schema markup of your content.
Sitemap Generation: Sitemaps help search engines crawl and index your website content. Both SEO tools work well in the generation and auto-indexing of pages.
Optimise Permalinks: In WordPress, you can easily set your pages/posts permalink per best SEO practices.
On-Page SEO: After installing SEO tools and keyword research, you can create high-quality content and optimize for SEO by looking at the suggestions and scores the SEO tool provides.
Image Optimization: Using a proper plugin like Smush, you can quickly web version of images and auto compress images to enhance the page loading time.
FAQs on how to build a church website?
1. How can I create a website for the church?
Ans: To create a church website, purchase a domain name and web hosting. After connecting both, you can add a theme to include essential pages and design and optimize them for search engines.
2. What makes a good church website?
Ans: A good church website must be visually appealing, easy to navigate, click to action button, important pages or information, offer sermons and resources, and foster community engagement.
3. Who builds websites for churches?
Ans: If you can build a website church by yourself, you will save lots of money. Otherwise, Churches can hire web developers and agencies specialized in church website development.
4. Can I build a church website without any technical skills?
Ans: Yes, platforms like WordPress offer user-friendly tools, plugins, themes, and page builders, with the help of which you can build church websites by drag and drop.
5. Which platform should I use to build my church website?
Ans: Though various platforms are available in the market, WordPress is more plural than anyone, and around 830 million websites use WordPress as of 2023.
6. Best church website builder?
Ans: On WordPress, you can get user-friendly themes, plugins, and page builders like Elementor and Divi. It is considered one of the best website builders because of its flexibility and features.
Conclusion
I hope you have learned, How To Build a Church Website! In a nutshell, a church website empowers your congregation to connect, share, and grow online. Your website becomes a vibrant hub of faith by carefully selecting the platform, web hosting, and theme, customizing the design, adding meaningful content, and optimizing for search engines.
Whether you are tech-savvy or not, the processes mentioned above are user-friendly and easily doable. You may feel that creating a Church website is difficult and a lot of steps involved. Don't think like that! All are easy-to-implement steps. Start building your church website and bridge the gap between the spiritual and digital worlds.
Source: https://www.wpglossy.com/build-church-website/
---
---
You might also like this video