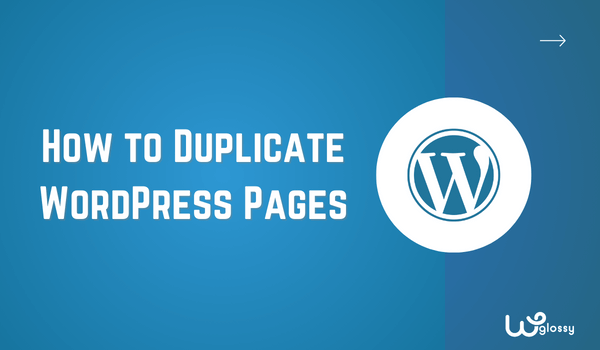 Do you want to reinvent the wheel when creating a new WordPress page? Are you looking to replicate your best-performing page with a few simple clicks? If so, then you are in the right place. In this comprehensive guide, you will learn how to duplicate pages in WordPress.
Various methods are available, but with the right techniques, you can streamline your workflow and save precious time. So, without any further ado, let's dive in and unleash the potential of duplicating pages in WordPress.
Understanding the Importance of Duplicating Pages
Duplicating the pages by simple copy and paste may seem like a simple feature, but its significance is not limited to just saving your time. You might encounter a situation of creating similar layouts, preserving the consistent design, or experimenting with variations of existing content.
In all these scenarios, duplicating pages in WordPress will help you. Let's look at the benefits it will serve to you as a WordPress website owner:
Save time and effort: This is the foremost reason for duplicating the pages, as you need not start from scratch and rebuild similar layouts.
Streamline Workflows: For websites that have repetitive layouts, it's suggested to duplicate the pages to streamline your workflows. Creating new content becomes so easy with this process.
Backup and safety: In case of any mistake or accidental deletion, duplicating pages will serve as the backup and safety net. It will be easy for you to recover the original pages if needed.
Maintaining consistency: Users love consistency and want the same structure and design across all pages. This also shows professionalism and, thus, better user retention.
Experiment with design: Duplicating the pages gives freedom to experiment with the page without any fear of messing up the original page. Also try A/B split testing for better ROI.
How To Duplicate Pages in WordPress manually?
In this method, you require a copy-and-paste method to duplicate the page in WordPress. It will take time, and you must do it individually for each page.
To manually copy and paste the code for the page which you want to duplicate into the new page, here is how you should do it:
Step 1: Open the page you want to duplicate – Just scroll to the page section of the dashboard and open the page you want to duplicate in the code editor.
Step 2: Locate Code Editor – Three dots are in the top right corner. Just click it, and you will find many options to go ahead with. But you have to choose the "Code Editor" option from there.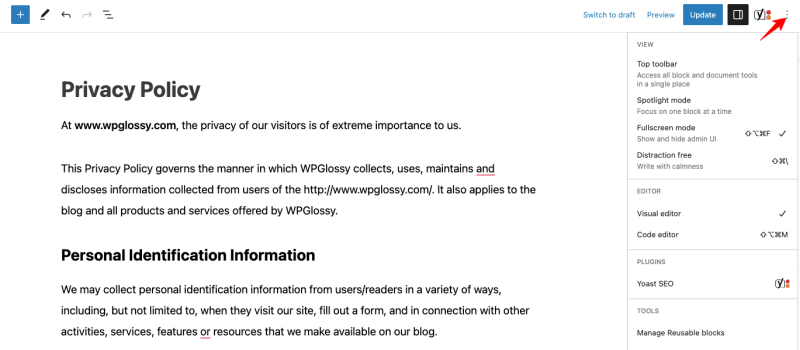 Step 3: Copy the code – After finding the code editor version of the page instead of the visual editor, just copy all the code, and you are good to go now.
Step 4: Create New Page – You must return to the page section and click the "Add New" button. The blank visual editor page will be open in front of you. Like the above process, locate and click the Code Editor option.
Step 5: Pase the Code – In this step, you must paste the code you copied earlier. Now click on the Publish button, and it's done now.
As it's a time-consuming process, and every time, you need to duplicate the page individually of each page which becomes a tedious task. I recommend using plugins for duplicating the pages in WordPress.
How To Duplicate Pages in WordPress using a plugin?
Cloning a page in WordPress is very simple and convenient when you use a plugin. It will save you time, and most importantly, you don't need to do it individually; clone pages in bulk, also.
So before moving to the step-by-step process of duplicating the page, let's look at the few plugins worth checking out.
This popular plugin developed by team Yoast is the best solution for website owners, developers, and content creators. It offers various features, including easy duplication, fully customizable, and compatibility.
This plugin comes with various customizable options and is also compatible with custom post types, making it versatile. Without any doubt, this plugin handles the duplication effortlessly.
Mandip Singh develops it and has over 3+ million active installations of this plugin. You may easily duplicate posts, pages, and custom posts with a few clicks. It offers redirection, prefixes, suffixes, clone link locations, etc.
What users liked about this plugin is its simplicity and its ideal option for those who frequently need to create variations of existing content or replicate templates for a consistent design.
This plugin is developed by keeping in mind duplicating the exact page along with custom taxonomies and fields. It has more than 200k active installations and was developed by real WordPress users to eliminate the pain of fellow users.
This plugin very precisely clones the pages or posts, including metadata, and helps maintain consistency in your website content presentation.
This plugin is developed by Ninja Team, with the help of which you can easily clone WordPress pages, posts, and custom post types. It has over 20,000 active installations and is super easy to use.
This plugin offers a simple and intuitive interface; just clone pages without technical expertise. This efficiency saves time and effort, allowing users to get better website management.
This plugin has over 30 million downloads and offers features to WordPress users to migrate, copy or clone a site from one location to another with backup options.
This is the more advanced plugin with many features in a single platform. Apart from the free version, it also offers a pro version to users for features like drag-and-drop installs, premium support, etc.
Step by Step process on How to Duplicate pages in WordPress?
To duplicate the pages in WordPress, you have to follow these simple steps:
Step 1: Install and activate the plugin
Step 2: Navigate to the WordPress Dashboard and Go to Posts or Pages, depending on what you want to duplicate.
Step 3: Hover the mouse over the page or post you want to duplicate
Step 4: You will get various options on Hover; click the Duplicate or Clone option.
SEO Considerations and Best Practices For Page Duplication
There are essential SEO considerations and best practices to ensure while duplicating pages in WordPress, as your website must maintain search engine ranking and avoid any issues.
Here are some important tips to follow:
Update meta tags & titles: You must update the meta description and title while duplicating the page. This will help search engines differentiate between original and duplicate pages.
301 redirects: If required, redirect traffic from the duplicate page to the original page using 301 redirects. This will reduce the chances of duplicate content issues.
Internal linking: make sure you link back duplicated pages to the original page and vice versa to have a well-connected website structure.
Use noindex tag: This works well if you don't want search engines to crawl and index the duplicated page or post to avoid duplicate content issues.
Duplicate Pages In WordPress – FAQs
1. How do I duplicate a page in WordPress without plugins?
Ans: Try the manual copy-and-paste method to duplicate pages in WordPress without a plugin. This might be tedious as you need to do this individually with each page and might encounter errors.
2. How do I duplicate multiple pages in WordPress?
Ans: The easiest and most convenient way is to use plugins for duplicate pages or posts in WordPress. This method will save your time, effort and offer additional features too.
3. Can I duplicate a page in WordPress with Elementor?
Ans: Yes, You can easily duplicate the Elementor page with the help of the clone option available in the Elementor plugin. You may use the plugins mentioned above also to clone Elementor pages.
4. What is the most reliable way to duplicate pages?
Ans: The most reliable way to duplicate pages is through the plugins. It's super easy to use, clones pages or posts, and offers additional features like bulk cloning. And the good thing is that these plugins are free to use.
5. Can I make changes to a duplicated page or post?
Ans: You can change the post's duplicated pages and do iteration, experiments, or A/B split testing to judge better about your pages.
Wrapping Up The WordPress Page Duplication
After reading this article, I hope you got the answer to how to duplicate pages in WordPress. Duplicating the pages in WordPress significantly streamlines the website management and content creation process. Also, you can save time and effort by avoiding the need to recreate similar layouts or content from scratch.
The best method to duplicate pages or posts in WordPress is by using the plugins, and apart from just cloning, the plugins offer additional features as well. But consider the best SEO practices to avoid duplicate content penalties. So, which method or plugin would you like to use for WordPress page duplication?
Source: https://www.wpglossy.com/duplicate-pages-in-wordpress/
---
---
You might also like this video