Your call-to-action (CTA) is one of the most important components of your website or blog that can help you to increase conversions. It provides information to your visitors on what next to do. Through a CTA, you can direct people towards taking the desired action, which can be anything from subscribing to your email list to sharing your content on social media platforms. If your call-to-actions are not visible and your visitors have to search for a way to do something, you will lose them to your competitors.
Buyers have short attention spans. So, you must have call-to-actions with prominent buttons that can stand out. They should not only be user-friendly but intuitive too. You need enticing CTAs to attract visitors' attention and get them to buy from you.
If you have a WordPress website or blog, call-to-action plugins can assist you in grabbing the attention of the users and converting them into buyers. They will make your site action-oriented with visually appealing buttons, eye-catching notification bars, and pop-ups.
Numerous WordPress plugins can be used to create effective CTAs.
Let's take a look at the top ten CTA WordPress plugins:
---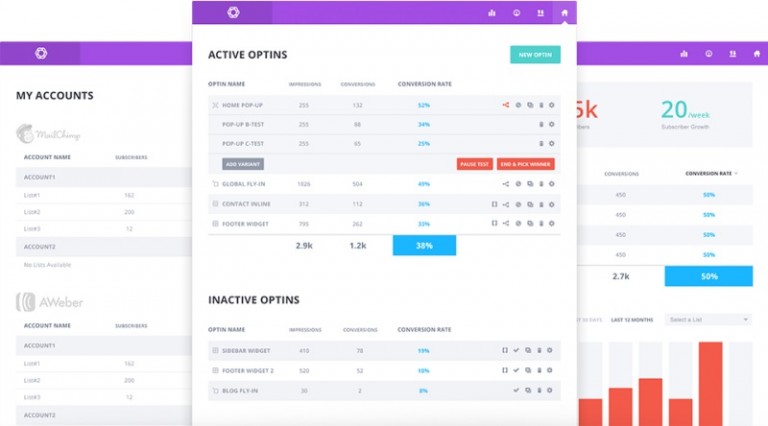 Image Source: Elegant Themes
Bloom CTA plugin is specially designed for increasing the number of subscribers. It is very helpful in converting website visitors into loyal followers. You can place this plugin in particular posts or web pages. It is possible to display special forms with various offers based on the location of the visitors and your interaction with them through Bloom.
You can access over 100 design templates, which can be customized per your requirements. The plugin offers different opt-in types, including inline opt-in forms, content opt-in forms, widget area opt-in forms, and more, which you can place at other places on your website. Fly-ins can be added too. You can set triggers for both pop-ups and fly-ins.
---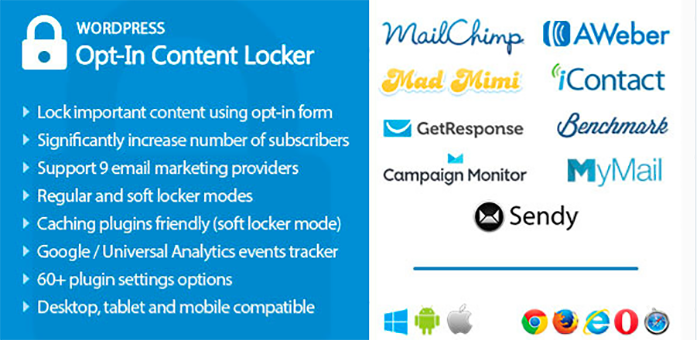 Image Source: CodeCanyon
An opt-in content locker is a helpful tool to lock some of the content and make it available to subscribers only. For example, you can lock exciting content on your website and ask visitors to submit their names and email addresses to access your locked content. Users' data is stored in the database and can be exported as a CSV file.
The plugin displays the content to the users who are already subscribed to every time they visit your website or blog. It integrates with MailChimp, GetResponse, iContact, Campaign Monitor, Benchmark, etc. It even integrates with Google Analytics.
---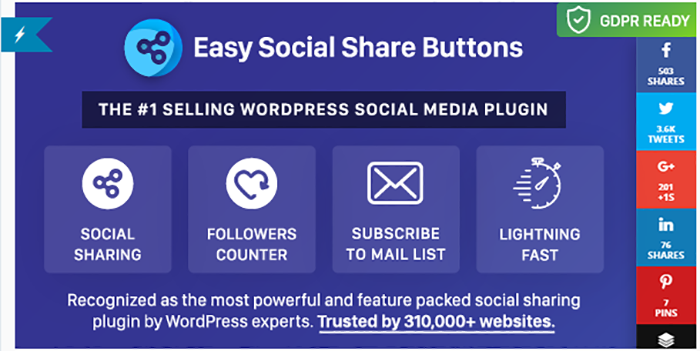 Image Source: CodeCanyon
Easy Social Share Buttons for WordPress allow you to share on over 50 major social networking sites. It supports over 30 display positions, 55 share button templates, and 30 animations. The plugin is mobile compatible. In addition, it integrates with all the major e-commerce plugins.
This plugin allows you to have custom settings for different posts and pages where buttons are displayed. In addition, you can send visitors a custom message after sharing your content.
Easy Social Share Buttons will give detailed analytics of your buttons' performance. By having this social media plugin, you can increase your social followers, drive traffic to your website and improve your rankings.
---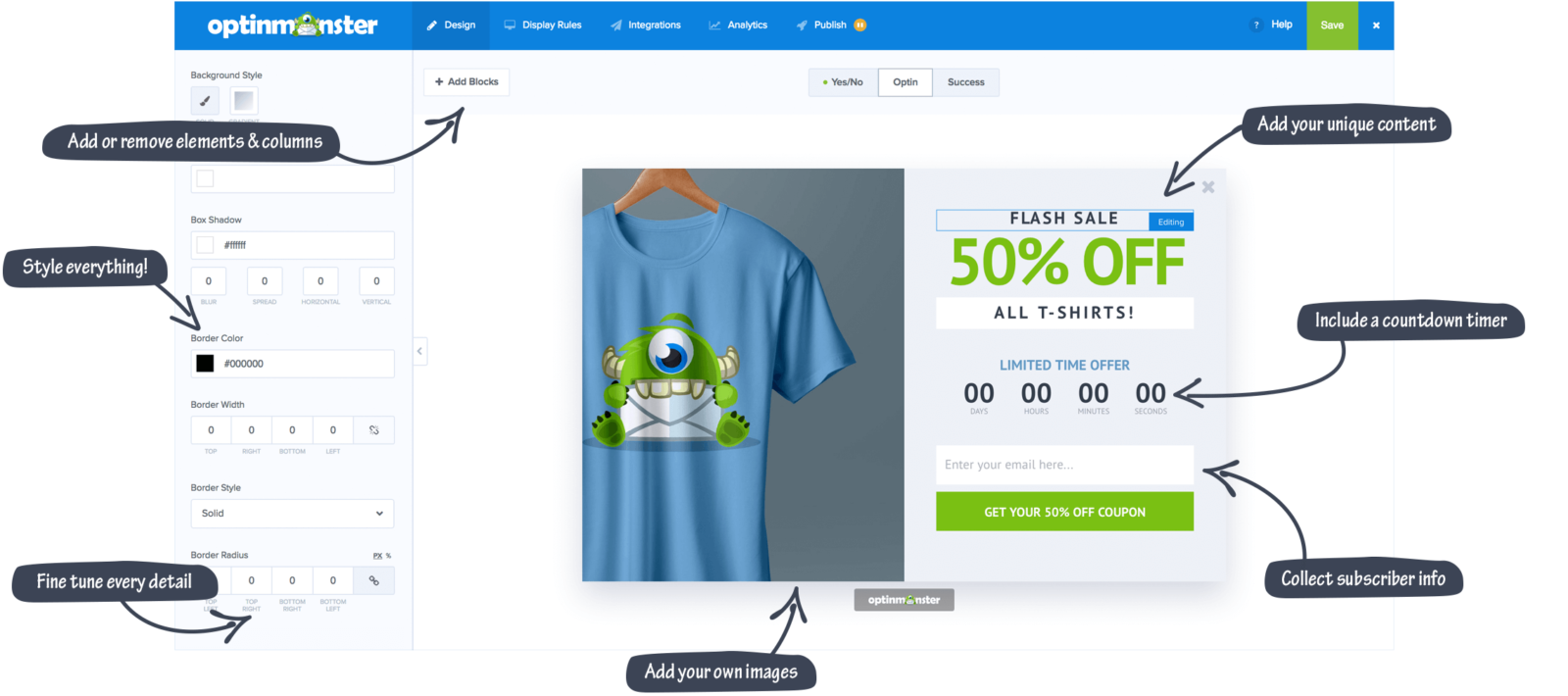 Image Source: OptinMonster
OptinMonster is a useful WordPress plugin to grow your email list and get more subscribers, helping you increase your website traffic. It offers various email subscription options through lightbox pop-up, inline forms, floating bar, sidebar forms, and slide-in scroll box. In addition, it has more than 60 responsive ready-to-use templates, which you can customize as per your requirements.
You can track your visitors' behavior and use triggers to display the right pop-ups and forms at the right time to boost conversions. You can also display targeted messages to visitors based on their status like returning visitors, existing customers, newsletter subscribers, etc.
The plugin allows you to carry out A/B testing to determine what works the best for your site.
---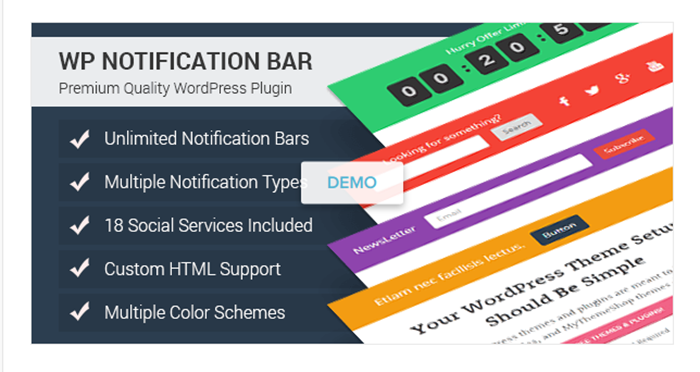 Image Source: MyThemeShop
WP Notification Bar Pro is a flexible and user-friendly plugin that shows different options to users, like subscribing to an email list, displaying special offers, and directing visitors to popular blog posts. In addition, it allows creation of unlimited bars per website.
The plugin enables you to link to any URL with buttons or text. It has a responsive layout with various color schemes for an attractive look. You can track the number of views and know where users are clicking. You can create subscribe to email bar, text bar, social media bar, etc., through the plugin. It is possible to set the start and end date of the notifications to stop them when your offer ends. There is also an option of having a real-time preview of the notification bar before making the site live.
WP Notification Bar Pro is an effective tool to manage marketing promotions and boost traffic on different pages of your website. The plugin is optimized for performance and is SEO-friendly to enhance rankings.
---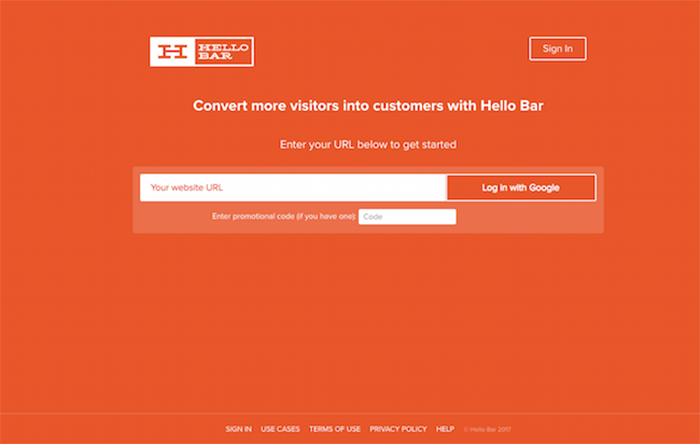 Image Source: Hello Bar
Hello Bar is one of the most popular call-to-action tools that allow creating a top bar, full-page CTA, modal pop-up, slider bar, and more without coding knowledge.
The plugin will help you promote your content on Facebook, Twitter, LinkedIn, etc., leading to increased social media engagement. In addition, it collects emails for product updates and newsletters.
With the plugin, you can boost traffic on your targeted pages and integrate newsletter subscriptions with MailChimp. Hello Bar also assists users in simple A/B testing. It has clean user-interface facilitating users in bringing customizations. The plugin is also preferred for time-sensitive campaigns, as it has a field for the date range.
---

Image Source: WordPress.org
Simple Side Tab allows adding a vertical tab to your website's right or left side. The tab sticks to that specific place, always visible even when the visitors scroll the page.
This call-to-action is very useful when you want to promote your products and offer discounts on them, helping you redirect users to a particular page.
You can decide where you want to place the tab on the page, whether left or right side, and set the background color that matches your site. You can even choose the text of the tab and the fonts. The tab is built with CSS, offering easy customization. This plugin works well on mobile phones as well.
---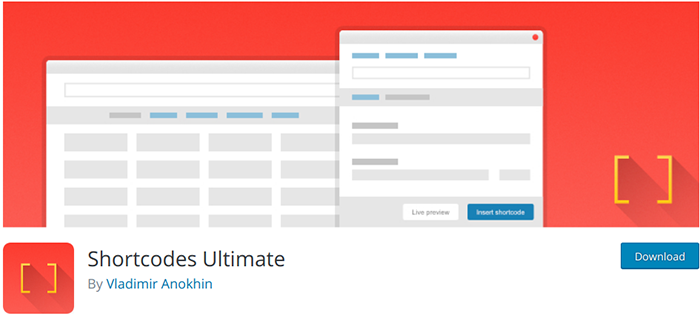 Image Source: WordPress.org
Shortcodes Ultimate is a feature-rich plugin consisting of more than 50 shortcodes. Through this plugin, you can create boxes, sliders, tabs, buttons, responsive videos, and more. Once you install this plugin, a new button is added above the editor, which you can use to insert custom buttons. You can create a CTA of your choice by combining boxes and buttons.
The plugin offers a custom CSS editor for making quick changes. In addition, it allows selecting from predefined styles, providing unlimited color variations. The plugin is fully responsive, compatible with mobile devices, and extendable.
---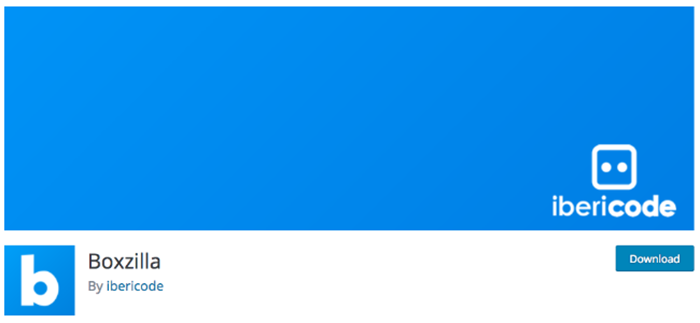 Image Source: WordPress.org
A successor of the Scroll Triggered Boxes plugin, Boxzilla is a lightweight CTA plugin that you can use to create boxes that pop-up, slide, or fade in at any time and has the content of your choice. In addition, you can choose the screen position where you want it to appear. You can also customize the box's appearance, including colors and animation. The triggers for displaying the box include scroll based on a percentage point, number of page views, manual click, time on site, reaching a certain page element, and more.
You, therefore, have complete control over how and when the box appears. You can even hide the box on mobile devices. Boxzilla comes in both free and pro versions, with the pro version offering more features.
---
Image Source: WordPress.org
Inbound Now offers this plugin, which allows adding attractive CTAs without coding knowledge. It is an all-in-one solution for creating your email lists, running A/B split tests, etc., to convert visitors and increase leads. Through this plugin, you can drive your site visitors to specific areas. It has an easy-to-use visual editor that lets you quickly change your CTA buttons. The plugin can track conversion rates on your CTA, clone an existing call-to-action, and create pop-up CTAs. It gives several customization options as well.
---
Final Note:
Call-to-action is a vital part of any website. If your visitors aren't taking any action on your site, you won't be able to create any value. Attractive CTAs can encourage your visitors to sign up for a free download, register for a webinar, buy your offerings, etc.
If you are a WordPress user, the above call-to-action plugins will assist you in increasing your conversion rates and taking your business to the next level. They will help enhance engagement, reduce bounce rates, and achieve your marketing goals.
So, try various combinations of these plugins until you find the ones that work best!
Source: https://wparena.com/best-call-to-action-wordpress-plugins/
---
---
You might also like this video