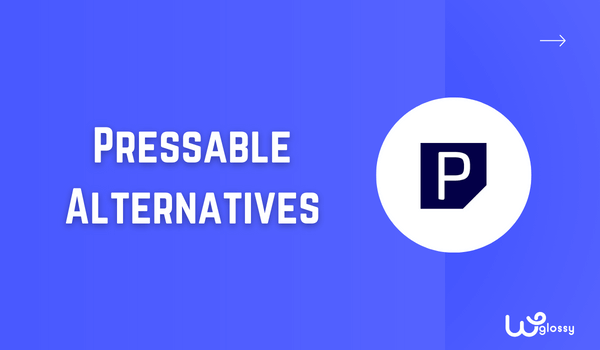 I assume you have purchased Pressable hosting and are unhappy with their services. And you are now searching for some best Pressable alternatives, right? I know it because I started my niche blog a few months ago and chose Pressable hosting.
It wasn't that bad, but it's not excellent like other big hosting services. The biggest deal-breaking feature was the pricing plan. Each plan has a limit of website visitors per month, like 5,000 or 10,000 depending on the plan.
For example, the basic plan that costs $20 has limitations of 5,000 visitors for your website. If the number of visitors crosses the limit of 5,000, you must upgrade your plan. Due to this reason and many others, I shifted my website to another platform.
I didn't want to choose an expensive hosting provider again, so I researched properly, and this article is all about it. I'll share my top 10 favorite Pressable hosting alternatives that I've found during my research. It'll help you switch to the right and affordable platform.
Downsides of Pressable Hosting
Before we go further, let me share the downsides of Pressable hosting. So you'll be able to know the problems I've faced and you may face in the future.
Visitors Limit – Each plan of Pressable has a visitor limit starting with only 5000 visitors per month on the personal plan of $20.
Expensive – Pressable is expensive. For $20, you'll get a basic plan only for a single website with a visitor limit. If you want to host multiple websites, your only options are Advanced or Pro plans that cost between $60 – $90.
Low Storage – The SSD plans you'll get with the package are quite low compared to the competitors. From the personal plan, you'll only get 20GB of storage. While at the same time, other hosting providers offer more.
10 Best Pressable Alternatives To Host Your Site In 2023
I like the top 10 best Pressable alternatives because of excellent service, good pricing, and performance. You can read the details or my quick guide to select any hosting platform that meets your criteria.
1. Cloudways ($30 Discount)
The first best and most reliable option is Cloudways hosting. It's a trustworthy platform currently used by about 80,000+ businesses. With the highest uptime to features like automatic server-level backup, easy WordPress installation, and free SSL certificate, everything is available.
In addition, the customer service is top-notch. You can contact the support team anytime. The response time is great, and for technical issues, you'll get a fast ticket response in at least two hours. Check my detailed Cloudways review to understand its exceptional qualities.
Best Features
Trusted and reliable platform used by over 80,000 businesses
High-speed performance and faster page load times
99% uptime guarantee for uninterrupted website availability
Automatic server-level backups for data security and peace of mind
Free SSL certificate included for enhanced website security
Responsive and knowledgeable customer support is available 24/7
Taking site backup and file restoration is a piece of cake
Cloudways Promo Code (WPGLOSSY) is available to claim a $30 discount
2. Kinsta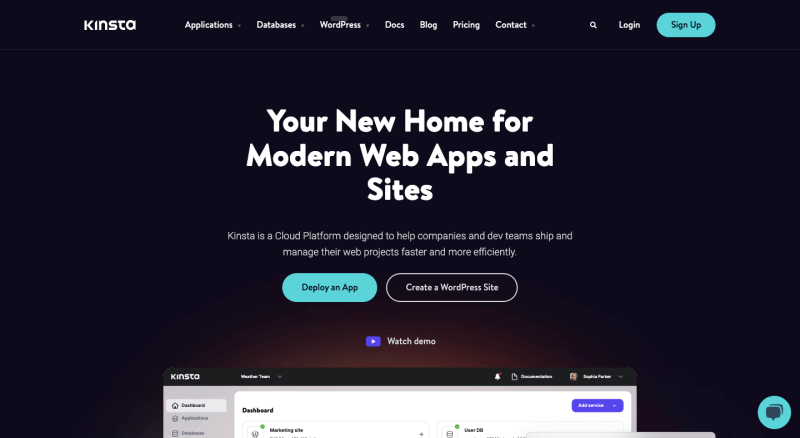 The second alternative hosting for Pressable is Kinsta which offers blazing-fast performance for faster-loading sites. My favorite feature about it is the simple dashboard that gives complete control over everything (settings, SSL, backups, etc.).
It's a cloud-based hosting that offers more availability. The backup system is great; the hosting platform will automatically back up all website data daily. The best part is that the backup data will remain safe for up to 14 days in your dashboard.
Stunning Features
Easy-to-use interface for the user.
99.9% uptime, ensuring excellent performance.
It allows free website migrations.
It takes backups daily that will remain safe for 14 days.
Fantastic customer service to fix your struggles.
Multi-user access makes it perfect for teamwork.
3. Templ.io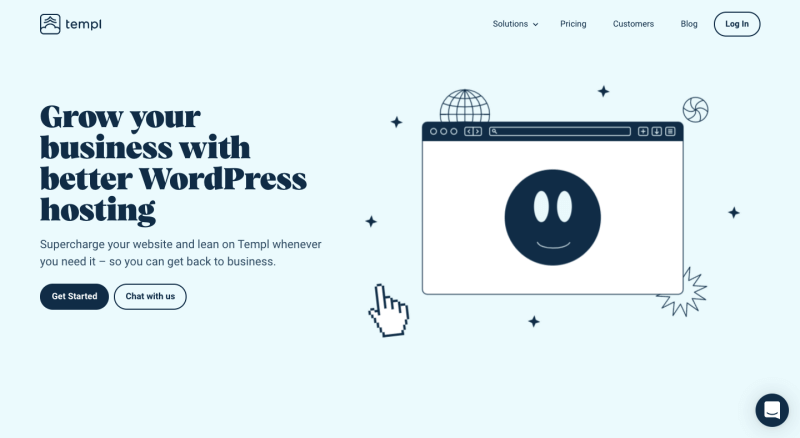 The third pressable hosting alternate I want to recommend is Templ. You may be reading the name for the first time, but it's a great hosting provider. I've used it, and the performance is up to the mark. What is best is the price starts at only $15.
You can easily start your site by paying a minimum of $15. It's backed by Google Cloud, which ensures good site speed and gives us peace of mind. Your website's data will remain secure in the cloud infrastructure of Google Cloud.
Top Features
Secure website data in Google Cloud infrastructure
Regular malware scanning and file change detection
Daily backups that will be stored for a month
Unlimited free migrations of websites
Affordable price starting at just $15
Fast and expert support via an easy-to-use chat system
4. Rocket.net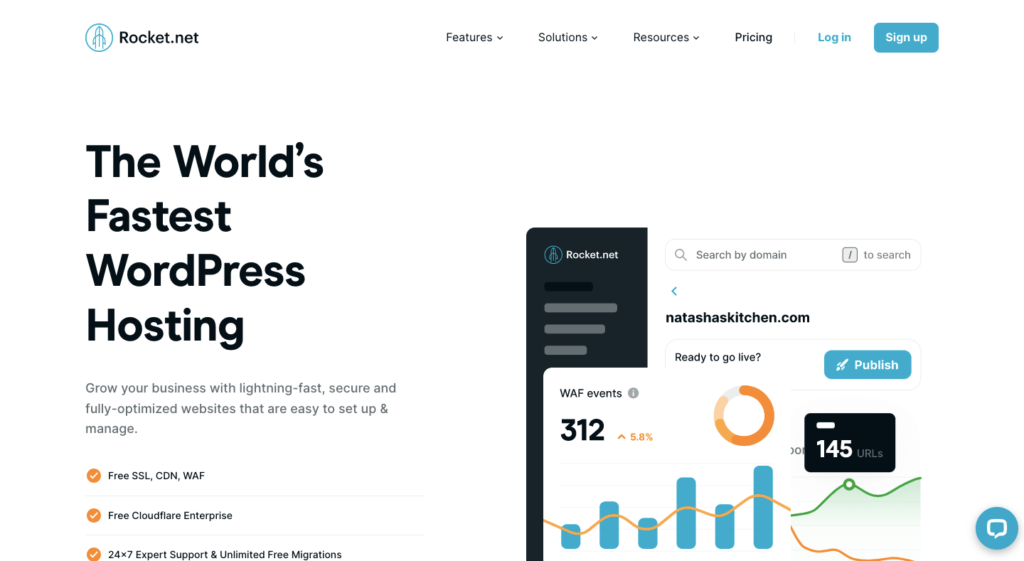 Rocket.net is a good hosting provider; it's my friend's favorite. Many hosting services that limit visitors in the pricing plans start with 5,000 to 10,000 visitors. Surprisingly, the starter plan of Rocket hosting has a visitor capacity of 250,000 for $30 monthly.
Coming to other features, it's simple to use, and managing your WordPress website is simple on the dashboard. They offer live support 24 X 7 to all customers, and the average ticket response time is only about 6 minutes, meaning all your problems will be solved in a few minutes.
Notable Features
User-friendly dashboard for easy website management
Anytime live support for all customers
Quick average ticket response time of about 6 minutes
The visitors limit starts with 250,000
99.9% uptime, ensuring top-notch performance
Eliminates security threat and protect your website data
Unlimited free SSL certificate for all websites
5. Nexcess
Nexcess is one of the best Pressable alternatives, a highly reputable hosting provider offering a wide range of hosting solutions for businesses and individuals. They have plans for all platforms, whether WordPress, Magento, or WooCommerce.
With Nexcess, you can migrate your website anytime without paying a penny. The user-friendly interface allows you to configure and customize your hosting settings effortlessly. Lastly, know that the Nexcess team is available 24/7 for your help.
Exciting Features
Wide range of hosting solutions for various platforms
Free website migration for all users
User-friendly interface for easy configuration and customization
Robust performance with fast loading times and exceptional uptime
Scalable hosting plans to accommodate growing traffic
Comprehensive security measures with regular malware scanning
All-time, excellent customer support from experts
6. WP Engine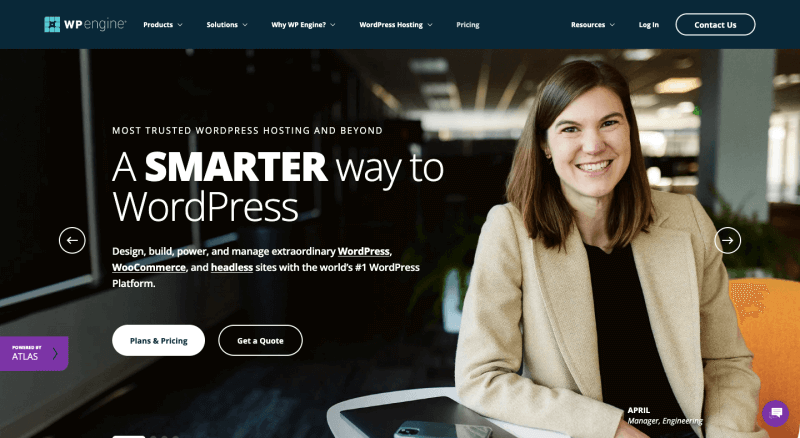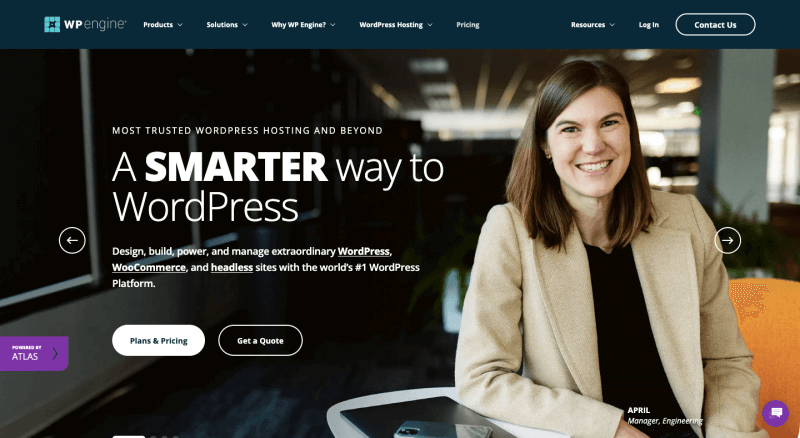 If you want to create a low-budget website, WPEngine hosting is the best place to start. It offers a starter plan for one website for $20, and the visitor limit is also not bad, about 25,000, that's more than enough for a new site.
Other features of this best WordPress hosting are it's secure, fast, and simple to use. Most WPEngine sites load under 200ms, which is pretty good for any website. The customer service is 24/7. No matter when you face a problem, their team will always be there to help you out.
Amazing Features
Offer excellent performance, reliability, and security
The fast loading time is 200ms
Robust security measures with backups
Multiple hosting solutions to cater to everyone
24/7 excellent customer support from WordPress experts
The hosting plans start at $20
7. WPX Hosting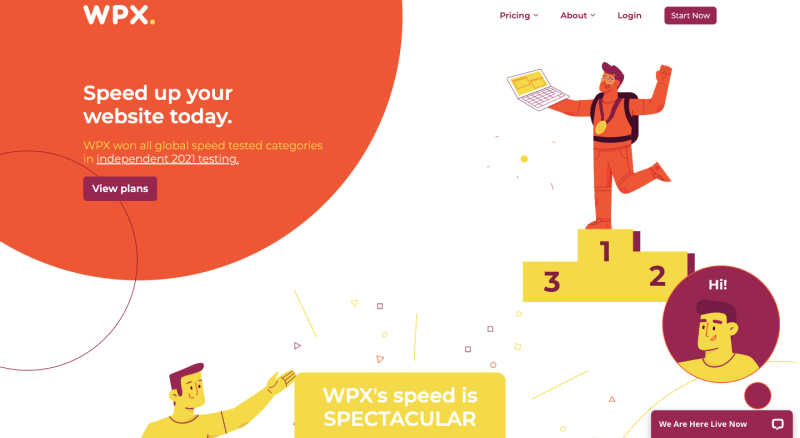 WPX Hosting is a top-notch hosting service that offers exceptional performance in a range that suits all website owners. The basic plans start at $20 per month, which allows you to manage up to 5 websites; remember, no other hosting provider offers 5 websites in the basic plan.
This makes it an ideal option for individuals or businesses looking to host multiple websites on a budget. The starter plan storage is 15GB, providing 1GB RAM for each site. Also, the average support response time on live chat is only 30 seconds.
Exceptional Features
Reliable and affordable hosting plans
Impressive speed and performance
Ample storage and RAM allocation
Responsive and efficient customer support
Easy-to-use interface for users.
Fast live chat response in only 30 seconds.
8. Flywheel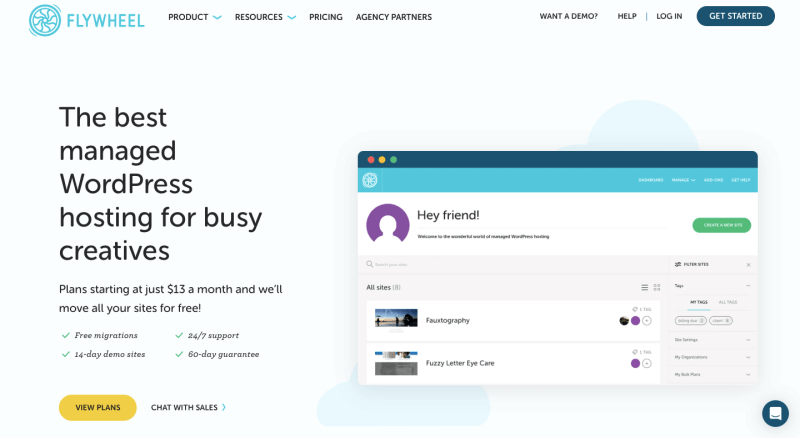 The next hosting that comes on the eight number is the Flywheel. It's powered by Google Cloud service that ensures fast loading times and scalability. The security system is also powerful; it has a web application firewall (WAF) to protect your website data.
Another thing I like about the hosting service is the customer service all over the day and the price point. You'll get to choose between four plans starting at only $15. The better the hosting plan, the more you have to pay.
Great Features
Strong security measures, including a web application firewall (WAF)
24 X 7 customer service availability
Affordable pricing plans starting at $15
Excellent performance based on testing and user experience
Live chat support available round the clock
Well-designed custom dashboard with useful features
9. SiteGround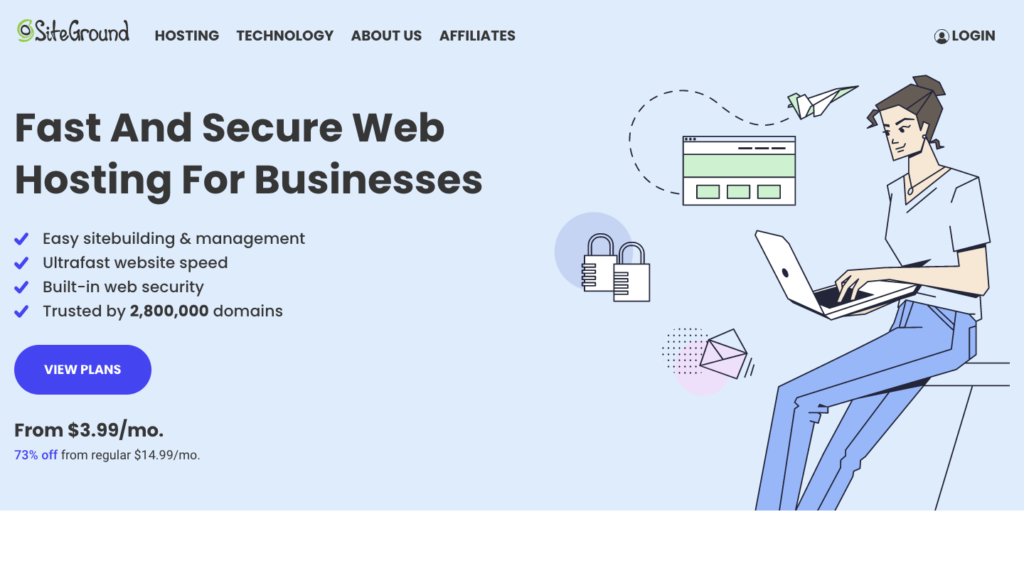 SiteGround is a highly reputable and reliable hosting provider that has gained immense popularity in the industry. Strong focus on performance, security, and exceptional customer support, it has every feature that a website owner needs.
The plans of this Pressable alternative are cheap, starting at only $3.99 per month, and can cost up to $10.69 monthly. They offer free SSL certificates, WP migration service, daily backup, and a 30-day money-back guarantee in this affordable price range.
Excellent Features
Reliable and affordable hosting provider
Emphasis on performance, security, and customer support
The advanced plan of $10.69 allows you to host unlimited websites
Free SSL certificates for enhanced website security
Free WordPress migration service for easy website transfer
Daily backups to protect website data
10. Convesio.com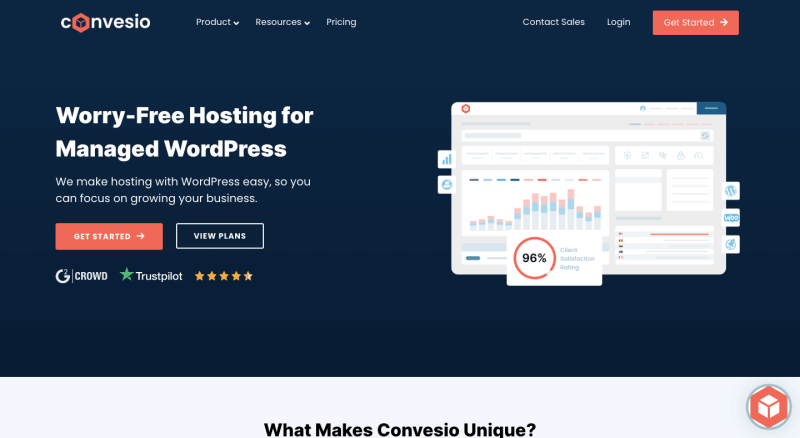 The last hosting provider in my list of Pressable alternatives is Convesio. The platforms offer hosting for all, from starters to businesses, with excellent performance and advanced security that ensures your website will remain safe forever.
Another notable aspect of Convesio is its focus on simplicity and user-friendly management. Live chat and ticket support services are also available to solve customer queries. Besides these features, the platform offers free basic website migration to all users.
Fantastic Features
High-performance hosting solution
Advanced security measures for website protection
User-friendly dashboard for users
Free basic website migration services
Excellent customer support via live chat and ticket system
99.9% uptime for all websites
Frequently Asked Questions (FAQs)
Which is the most affordable alternative for Pressable hosting?
The affordable alternative for Pressable hosting is Siteground hosting. The plans of Siteground hosting start from $3.99. That's a suitable plan for one website. The other plans for unlimited websites are GrowBig costing $6.69, and the last plan is GoGeek at $10.69 monthly.
Who are the top Pressable hosting competitors in 2023?
The top Pressable hosting competitors in 2023 are Cloudways, Kinsta, Templ.io, Rocket.net, and WP Engine.
Which is the cheap hosting, Cloudways or Pressable?
Regarding pricing, the Cloudways hosting services are better and more affordable than Pressable. Their plans start at the price of $11 monthly. The better your plan, the more you have to pay. While Pressable basic and entry plans have a price range of $19 to $25 a month. So, the cheapest hosting service is Cloudways, one of the excellent Pressable alternatives.
Conclusion
I hope you have checked my recommendations for Pressable Alternatives 2023 to get suitable hosting for your dream site. In case you're still worried or conferred, I suggest going back and reading the best features of all the hosting services I've discussed.
After looking at their hosting features, check whether it meets the criteria of the website. For example, a starter plan won't benefit you if you're a business owner. While if you're only learning, it's best to go with superfast-managed hosting like Cloudways.
Once your website grows, upgrade your plan. This way, you don't have to worry about a big budget. Lastly, if possible, compare the price plans of the hosting service you're selecting to get the best deal. So, which Pressable hosting alternative would you like to get?
Source: https://www.wpglossy.com/pressable-alternatives/
---
---
You might also like this video