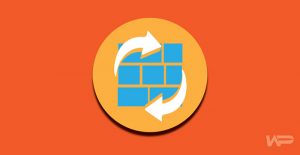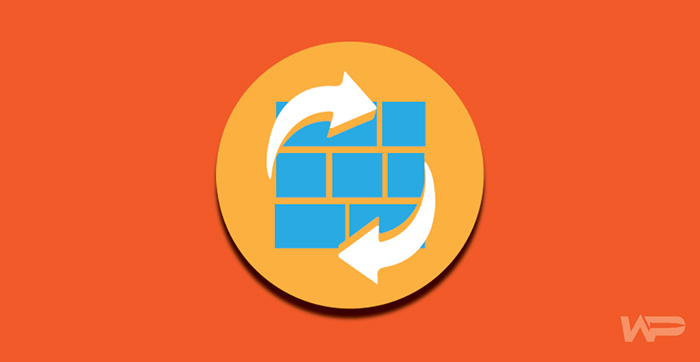 Last Updated on by Nick Braithwaite
There are many factors to consider when choosing the right theme for your website. Are you building an entire online store or a simple blog? Do you have the sufficient skills to modify the theme to your requirements or will you need the help of an accommodating support team? Are you looking for something minimalistic or do you plan to go big? And even if you already have the answers to these questions, you should keep in mind that not every WordPress theme is quite as well coded and regularly updated as we'd wish.
To help you out with your choice and ensure you don't waste any money on themes that have long been abandoned by their developers, we've compiled a list of the top 5 WordPress themes for 2019. Whether you're launching a brand-new website or just want to keep your existing site fresh by giving it a digital facelift, these 5 themes provide a wide enough choice of functionalities and styles to meet anyone's needs.
One of our favorite themes ever made, Divi has everything you could possibly need for a modern and fully functional website. It comes packed with its very own WYSIWYG front end editor – the Divi Builder – which lets you easily design and customize your website in real time. The theme also comes with an amazing selection of responsive elements and page templates, as well as a collection of professionally designed demos.
Here's what your website could look like in 2019 with the Divi theme: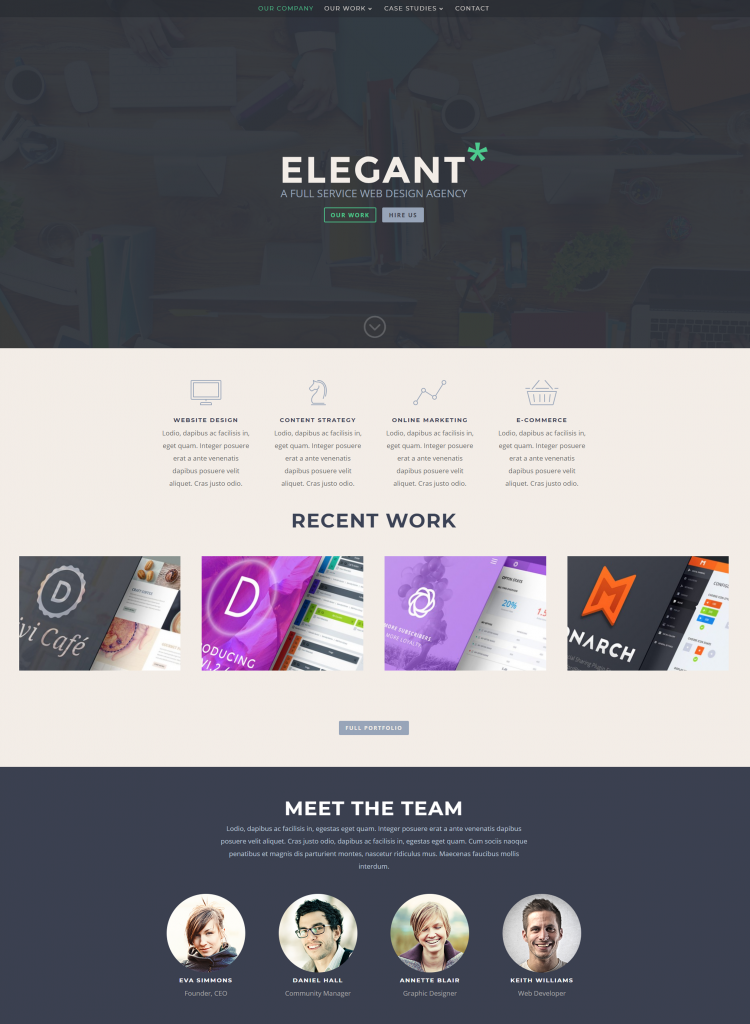 You can check out the full collection of Divi demos here (just scroll down to the demos section).
Looks aside, one of Divi's standout features is the integrated split testing and conversion rate optimization system that helps you choose the best design options to fulfill your goals. Plus, the amazing support team over at Elegant Themes not only provides fast and pertinent replies but has also compiled a help center packed with highly useful support articles. And you can always visit the Divi Builder's demo page to see just how simple Divi makes website creation.
To get ready for 2019, Divi's developers made sure the theme was fully compatible with the Guttenberg editor, and they've already released two updates since the start of the year.
If Divi is your theme of choice for 2019, all you need to do is sign up for one of Elegant Theme's membership packages to get access to all their themes and plugins.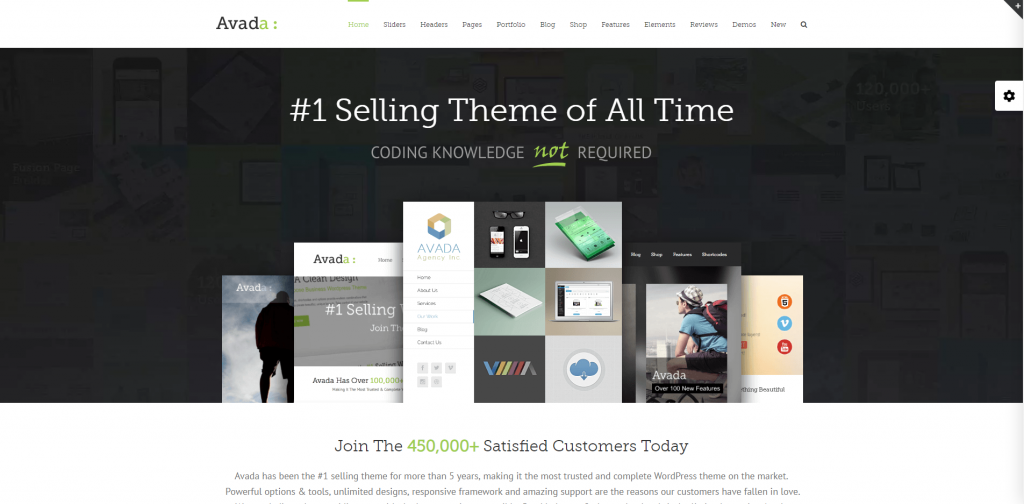 Avada has held the title of the best-selling theme on ThemeForest for a long time (6 years, to be precise), and all with good reason. Regularly updated, compatible with all the most popular plugins, fully responsive, and packed with powerful options, Avada has rightfully been called the Swiss army knife of WordPress themes. It comes with a set of beautifully designed and completely customizable elements, 45 importable demos, its own Drag & Drop page builder, and $200 worth of premium plugins.
Here's just one of many website styles you could go for with Avada in 2019: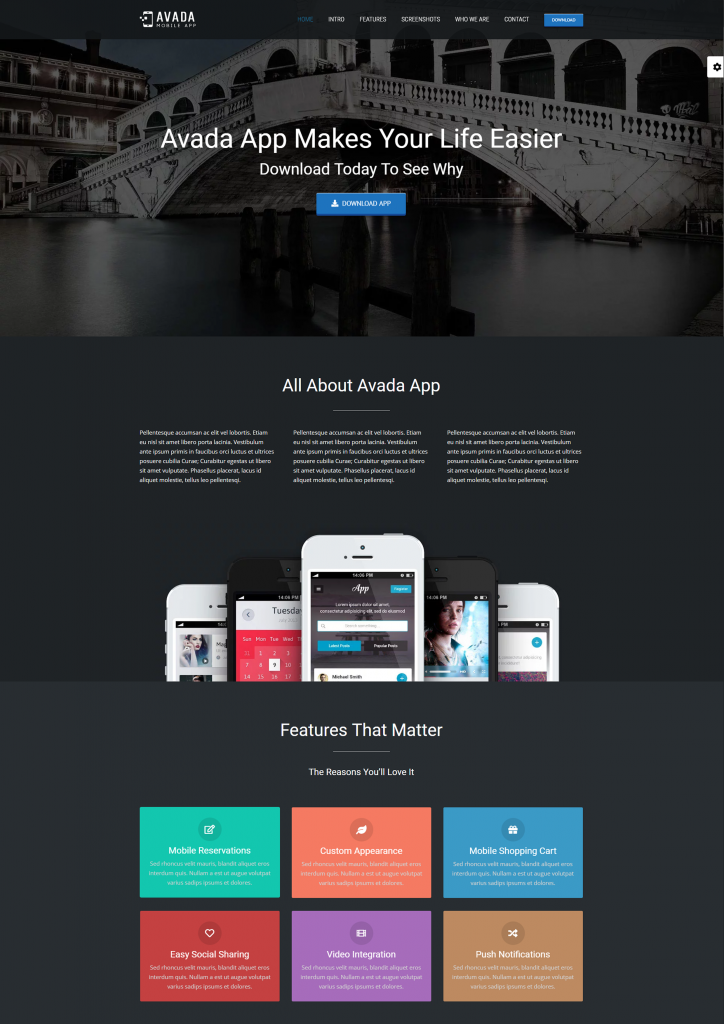 Everything about this multi-purpose theme is intuitive and easy to use. And just to confirm how dedicated they are to keeping their theme utterly up to date and ready for everything 2019 has in store, the developers recently decided to add a set of GDPR tools to Avada. We can't wait to find out what else they have planned for the upcoming year.
You can get Avada for $60 on ThemeForest.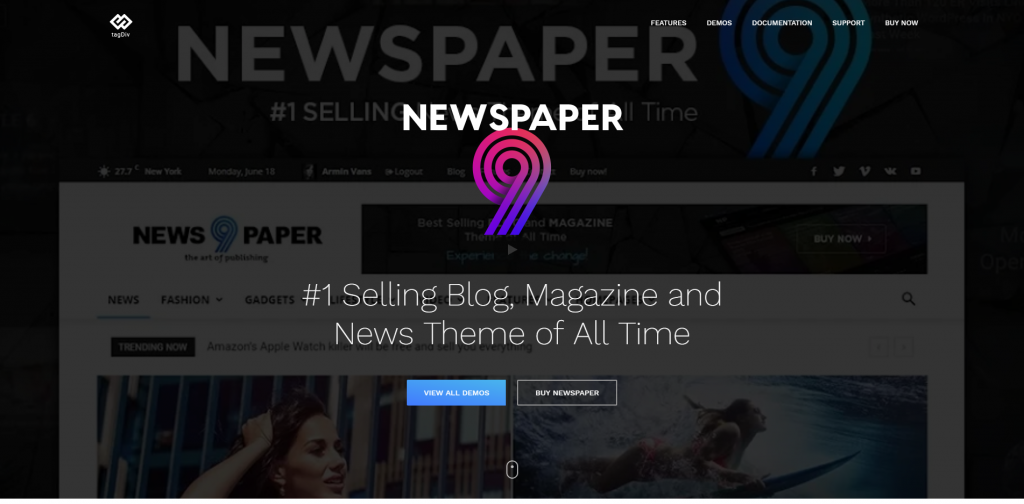 Looking to launch a personal blog, news portal, or digital magazine? Look no further than Newspaper. This theme is specifically designed for online publications and comes with a ton of easily importable pre-designed demos that will get your 2019 site up and running in no time.
Just take a look at their Crypto News demo: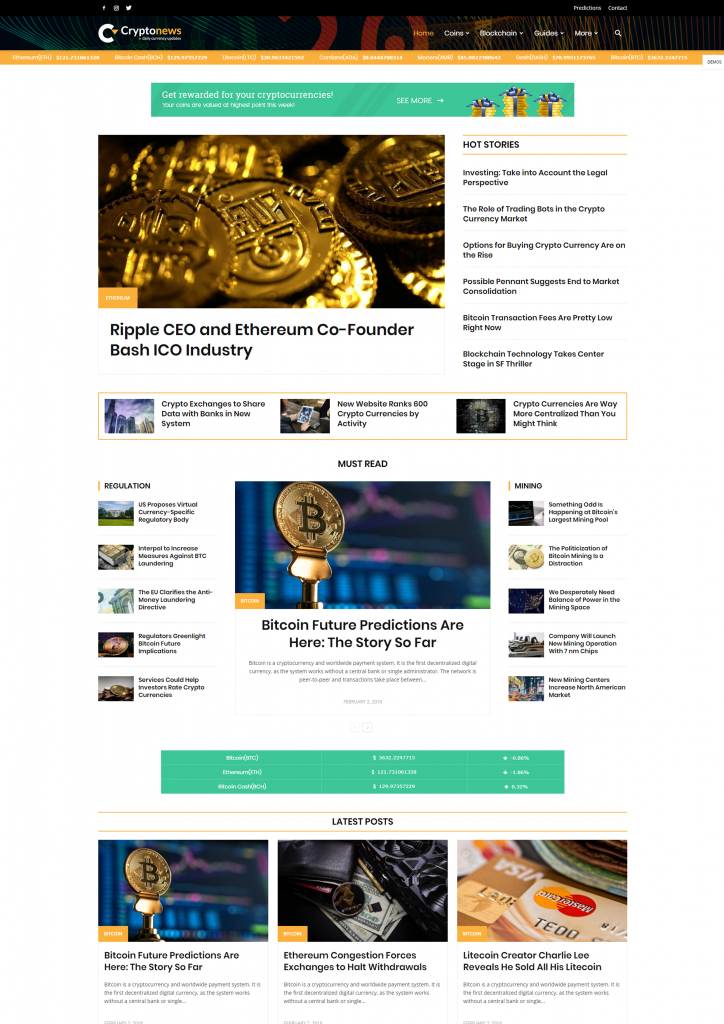 Modern, clean, and practical. A perfect design for 2019, right?
And if you're more inclined to mixing and matching layouts yourself, the tagDiv Cloud Library lets you choose from 400+ elements and page templates you can customize to your needs. Newspaper also comes with a set of highly practical widgets for blogs and magazines, like the social counter widget, the weather widget, the Instagram widget, the exchange widget, and others.
In a recent blog post, the team hinted at some high-quality improvements they're cooking up for 2019, though it seems they're not ready to reveal the details just yet.
Newspaper is available for $59 on ThemeForest.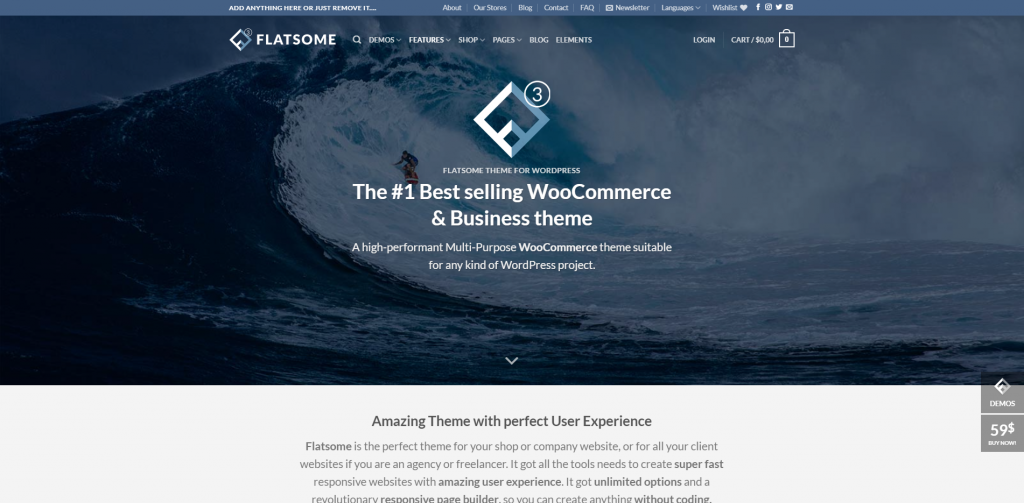 Flatsome is made with eCommerce in mind. Its design is geared toward the perfect user experience for online shoppers and its developers make sure the theme is always up to date with the latest version of the WooCommerce plugin. Flatsome comes with its own Drag & Drop page builder, account pages for registered customers, a ton of product lists and single product layouts, a large online library of predesigned sections and page designs, and a handful of beautiful demos to help you create the perfect online store in 2019.
Here's the type of online shop you could be running in 2019: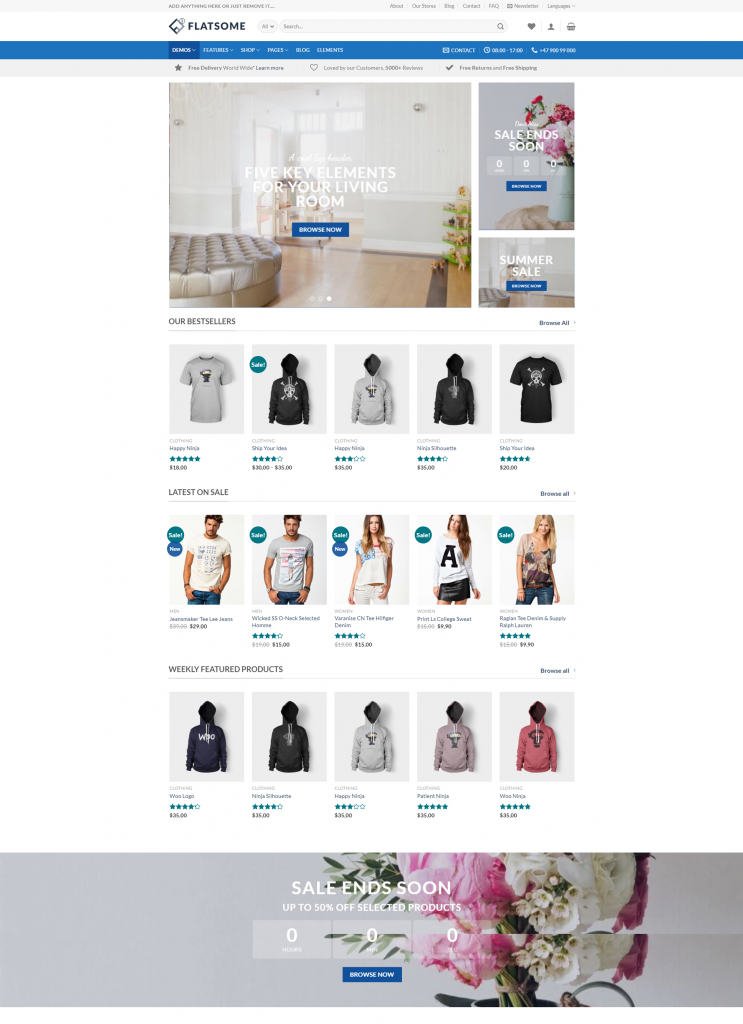 You can set up Flatsome to let your store visitors perform live product searches, open quick view product pop-ups, shop directly from product category pages, and much more.
Whatever updates the team behind Flatsome has planned, we're confident they'll deliver the magic needed to keep our eCommerce platforms booming with business throughout 2019 and beyond.
You can purchase a copy of Flatsome for $59 on ThemeForest.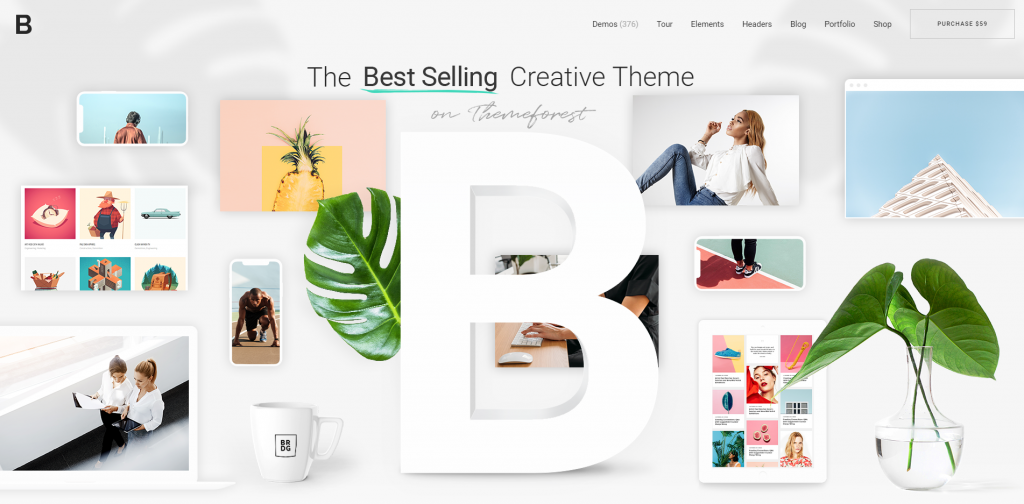 If you value beauty above all else, Bridge is the perfect theme for you. This multi-purpose creative theme comes with a mind-boggling collection of 370+ stunningly designed demos.
Check out one of their latest additions: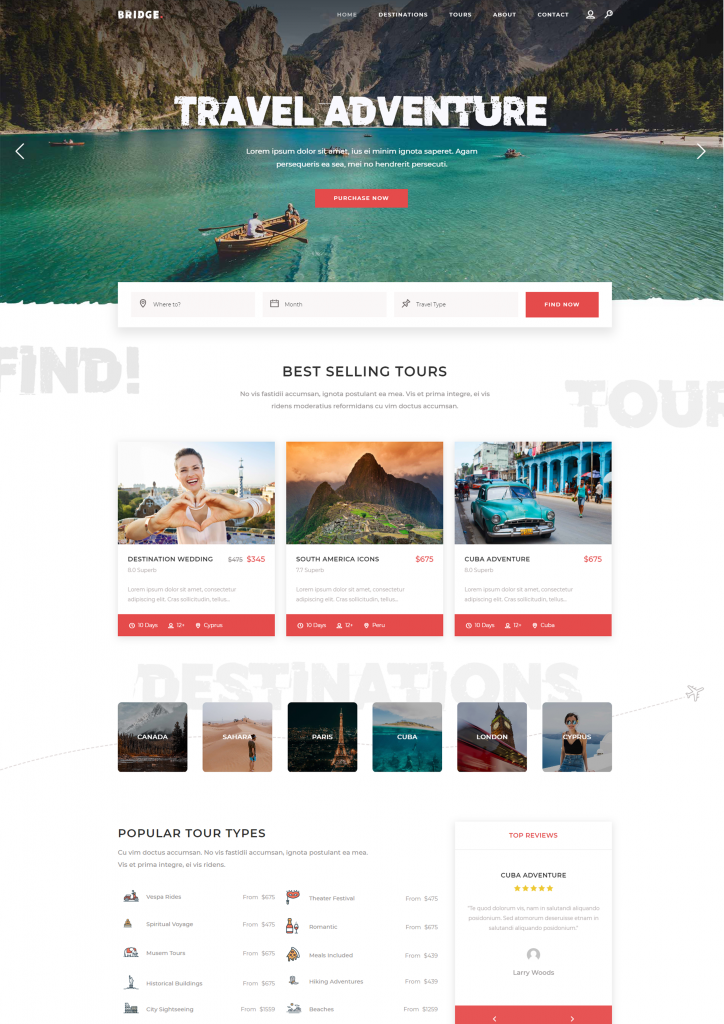 Whether you're in need of an online store, a listing site, a musician showcase, a product presentation, a corporate website, a creative portfolio, or any other type of site you can imagine, Bridge most likely has a ready-to-go demo that will perfectly match your needs.
But it's not all good looks. The Bridge theme is full of practical features and comes bundled with $100 worth of premium plugins. And if you ever get stuck while setting up your site, the Bridge support team is always there to lend a helping hand.
If there's one thing we expect from Bridge in 2019, it's for the number of demos to keep growing. And if the past is any indication, each demo is sure to look even better than the last.
You can get the Bridge theme on ThemeForest for just $59.
---
There you have it: our list of the top 5 WordPress for 2019. We're sure the year ahead has much in store in terms of new WordPress functionalities and design trends, and we look forward to keeping track of how the market will adapt and what types of innovations theme developers will come up with to stay on the cutting edge.
You can be certain we'll keep you posted, so make sure to stay tuned to WPwarfare for all the latest WordPress news.
Source: https://wpwarfare.com/top-5-wordpress-themes-for-2019/
---
---
You might also like this video