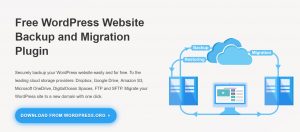 Last Updated on by WP Warfare
WPVivid is the latest WordPress backup and transfer plugin to hit the market. Not only does it boast a range of impressive backup features, storage options, and a one-click restore function, it can also be used to easily transfer a WordPress site to a new domain or server. And did we mention it's free?
In this WPvivid review, we discuss in detail the features and functionality that this backup and transfer plugin offers. We also look at the user-experience when setting up the plugin, and how it compares to UpdraftPlus, a big player in the backup sphere. Let's get started…
WPvivid Backup Plugin: An Introduction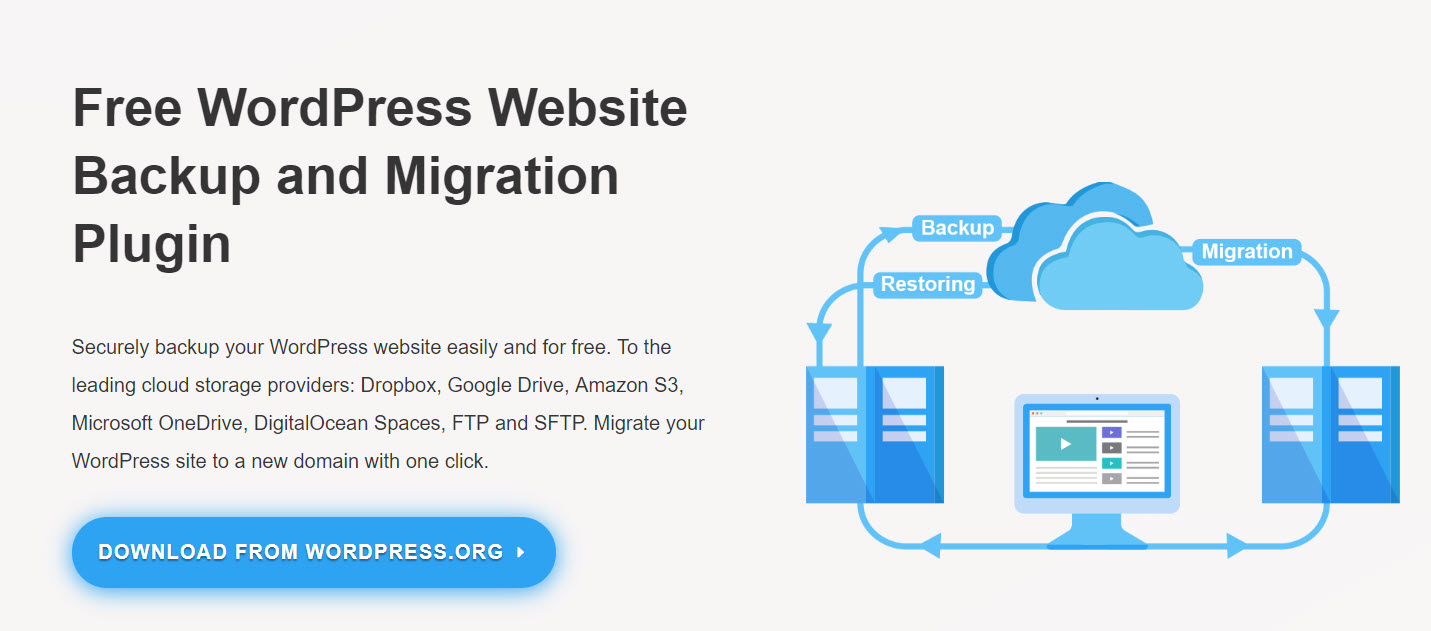 The WPvivid Backup Plugin can securely backup and/or transfer a WordPress site for free. Easily migrate your site to a new domain or server with a single click. Or set up automated backups to leading cloud storage providers.
Let's take a closer look at the top features from WPvivid…
Site Transfer – Transfer your site to a new domain, from a development environment to a server or new domain, or from one live server to another. You can also transfer your site to a sub-directory, and all in just a couple of clicks.
Automatic Backups – Schedule automatic backups on a frequency of your choosing (daily, weekly, monthly – whatever works for your website).
Cloud Storage Provider – Select from numerous cloud storage providers including Dropbox, Google Drive, Amazon S3, Microsoft OneDrive, FTP, SFTP, and more.
No Limit on Number of Backups – Make as many backup copies as you think necessary.
No Limit on Backup Size – WPvivid don't limit backup size, the only limits may be your cloud storage or hosting account.
Backup Splitting – If needs be you can split and save backups in multiple parts. This will come in handy if your storage options have size limits.
Only Backup What You Need – Choose to backup your whole site, files, or just the database.
Manage Backups Locally – Create local backups or download backups from your cloud storage to local devices.
One Click Restore – Rest easy that if the worst does happen, your whole website can quickly be restored with just a single click.
Support – WPvivid supplies useful help articles, walking you through the plugin set up process, and more. You can also contact the developers via the WordPress repository plugin support forum if you have any questions or problems.
So now we know what features the WPvivid Backup Plugin is offering. Next, let's consider this plugin's usability – just how easy it is to transfer a WordPress site, as well as backup and restore your website with WPvivid?
WPvivid: User Experience
Once you have installed and activated the WPvivid Backup Plugin, you'll be greeted by the WPvivid dashboard…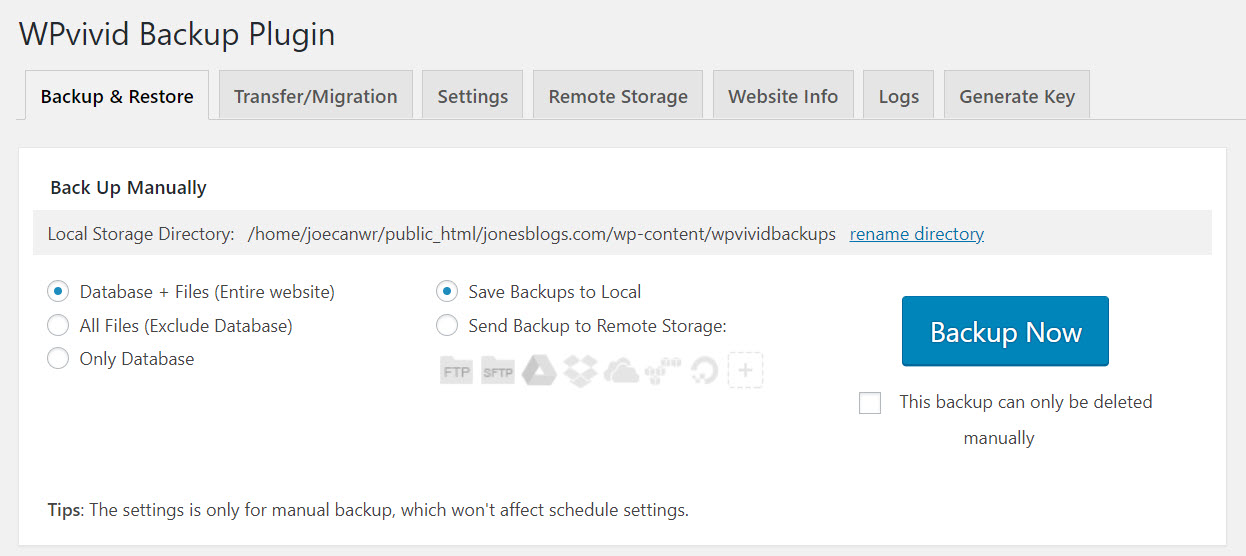 Here you can easily navigate around the plugins features and settings, and importantly customize the plugin to suit your backup needs.
Transfer a WordPress Site
WPvivid can help you easily transfer a WordPress site from one domain to another, or from a development site to a live server. To do so, firstly ensure the plugin is installed on both the destination website and the site you want to copy.
You will now need to generate a key on the destination website. This is a quick process – open the WPvivid dashboard and select Generate Key > Generate.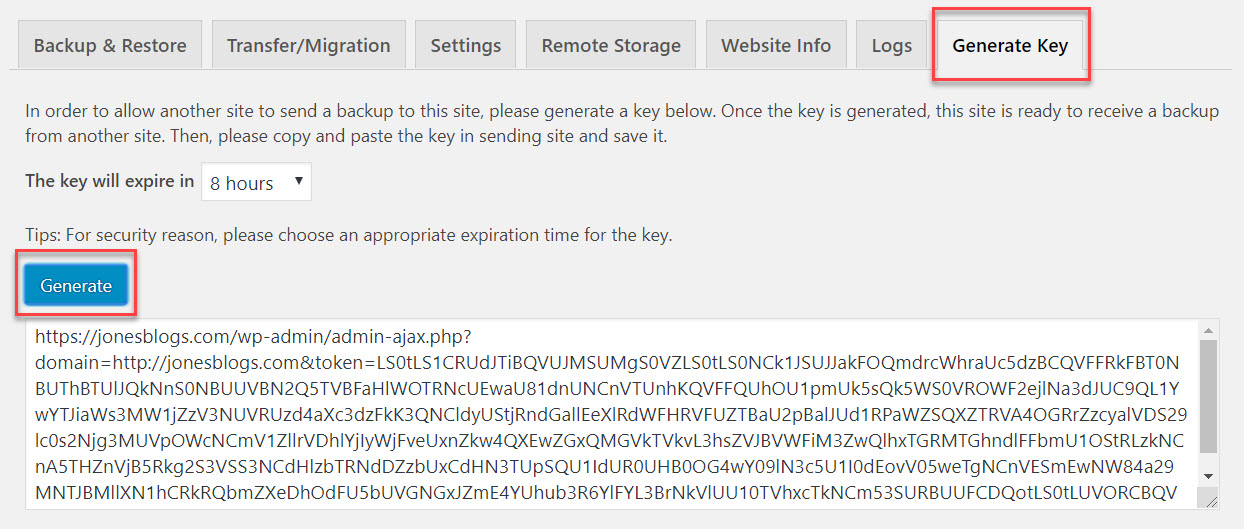 Copy the key and then switch to the dashboard of the website that you would like to copy. Click on the Transfer/Migrate tab and paste the key into the appropriate box. You can then select to transfer your entire website, or just the files or database separately. Now click Save > Transfer.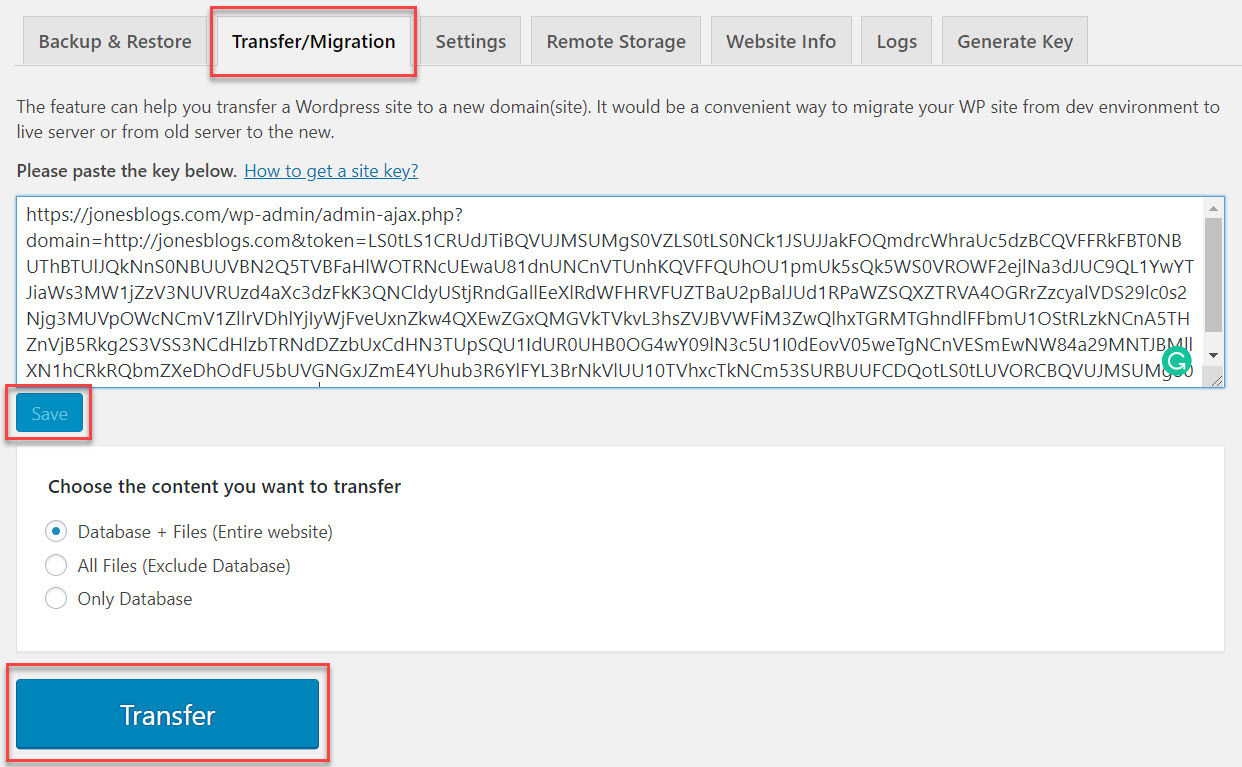 Your website will now transfer to your destination site. For further detailed information on this process, you can check out WPvivid's support documentation on how to transfer a WordPress site.
Remote Storage
If you want to backup a WordPress site, then the first step is to connect your website with the remote storage location/s of your choice. To do this, click on the Remote Storage tab.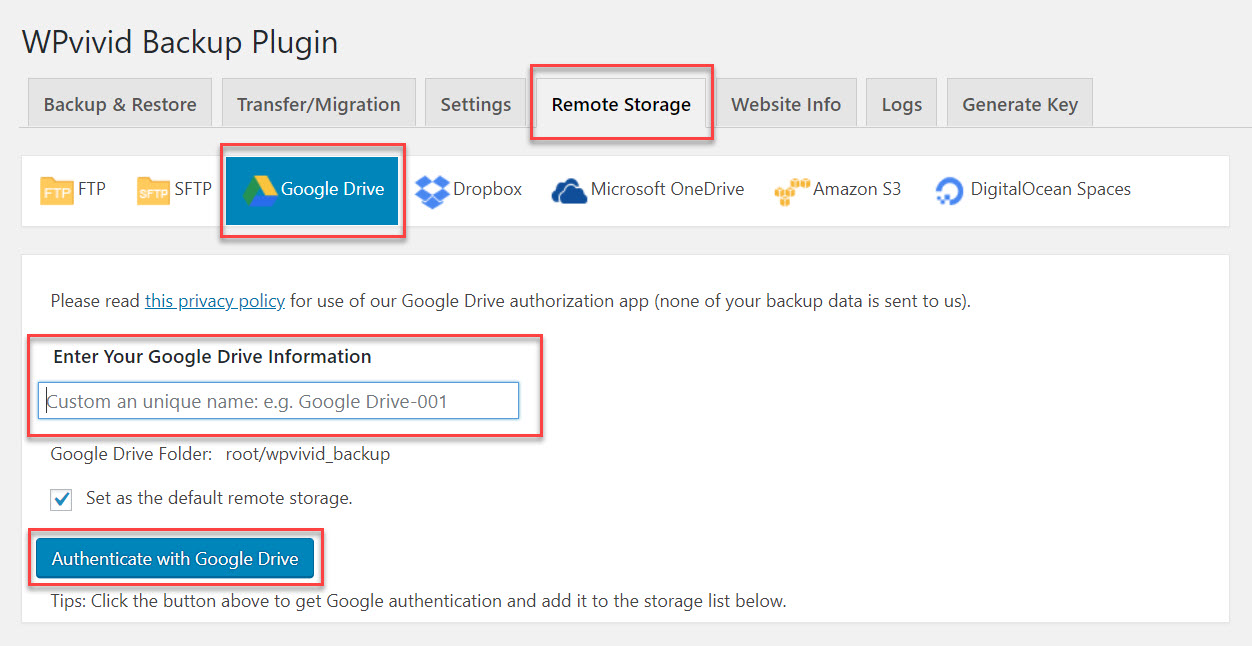 Now choose a remote storage location to store your backups. Here we have chosen Google Drive. (If you haven't already, you will first need to create an account with the storage provider of your choice).
Give your Google Drive folder a name and then select Authenticate with Google Drive.
Google Drive will now take you through its authentication process, where you will need to confirm that want to allow WPvivid to sync with your Google account.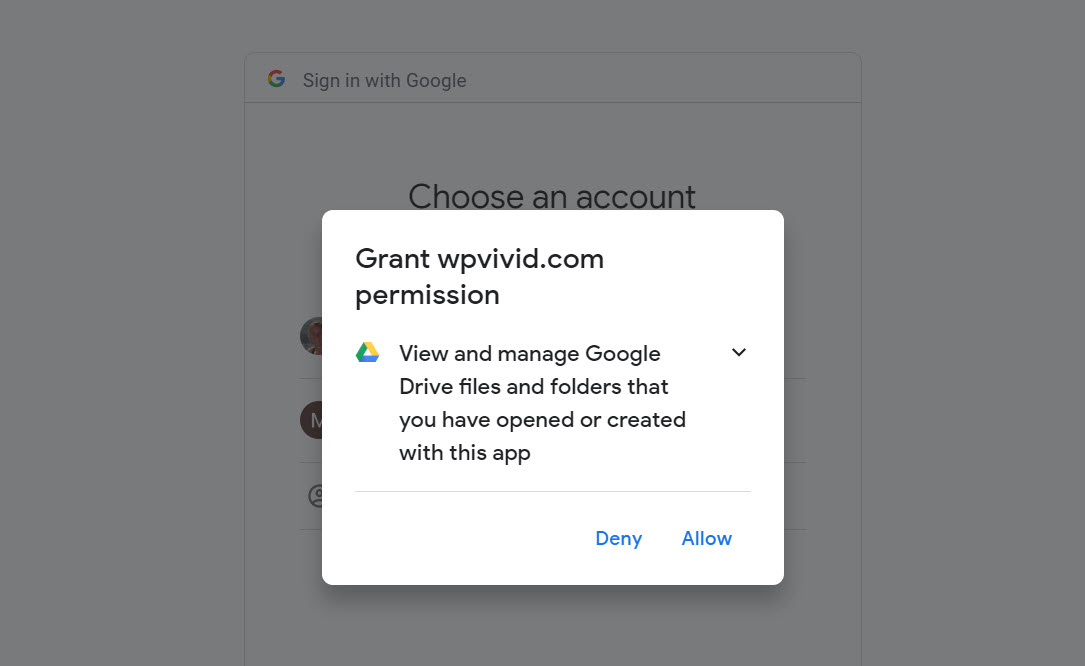 Once authentication has been completed, you will find that Google Drive has been added as a storage location for your backups.

If you don't add a remote storage provider, WPvivid will simply save backups to your local server (the same server on which your website is hosted).
Manual Backup
WPvivid allows you to manually backup your site whenever you choose. This can be useful if you want to make some key changes to your site – a quick manual backup before any alterations will give you peace of mind that if something goes wrong you can easily restore the original website.
To manually backup your website select the Backup and Restore tab. Then under Back Up Manually, select which aspects of your website you would like to back up and which storage location you would like to send the backup to.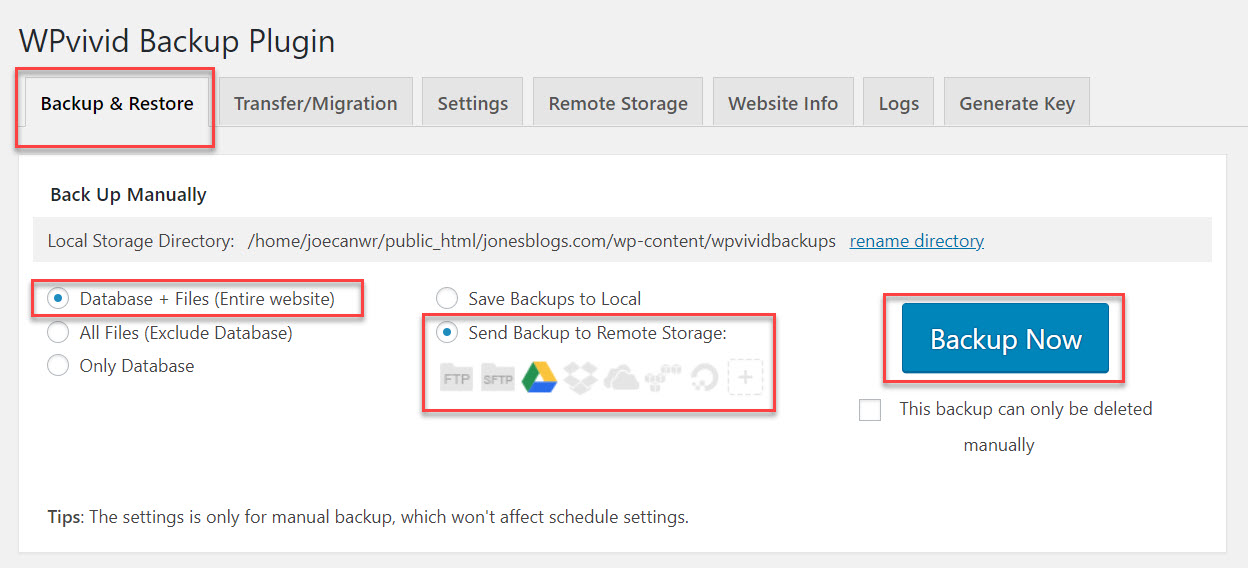 Hit Backup Now – WPvivid will now back up your website. Then scroll down the page to view a log of your backups.

Scheduled Backup
Under the Settings tab you can configure your backup settings and importantly set up scheduled backups.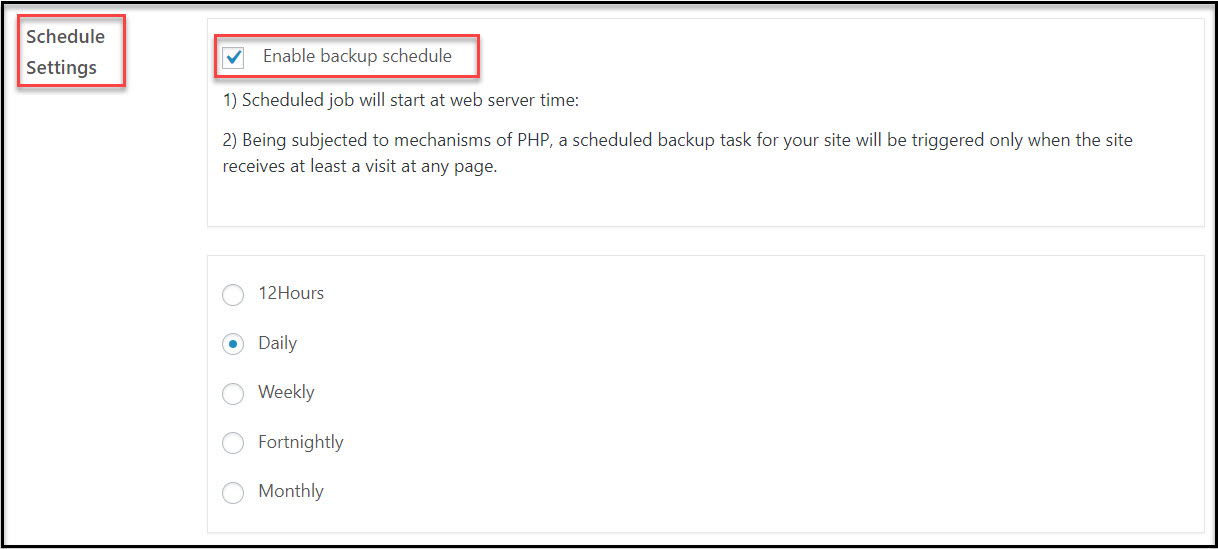 Scroll down to Scheduled Backups and click on Enable Backup Schedule. You can now select…
How often you want to backup your website
What elements of your website you want to backup
Where you want your backups stored.
Remember to scroll down the page and select Save Changes.
Under settings you can also set backup file sizes, activate emails reports, clean up all temporary and junk files created during the backup and restoration processes, and much more.
Restore Backup
Restoring a backup is extremely quick and easy. Simply click on the Backup and Restore tab and then scroll down the page to the backup log.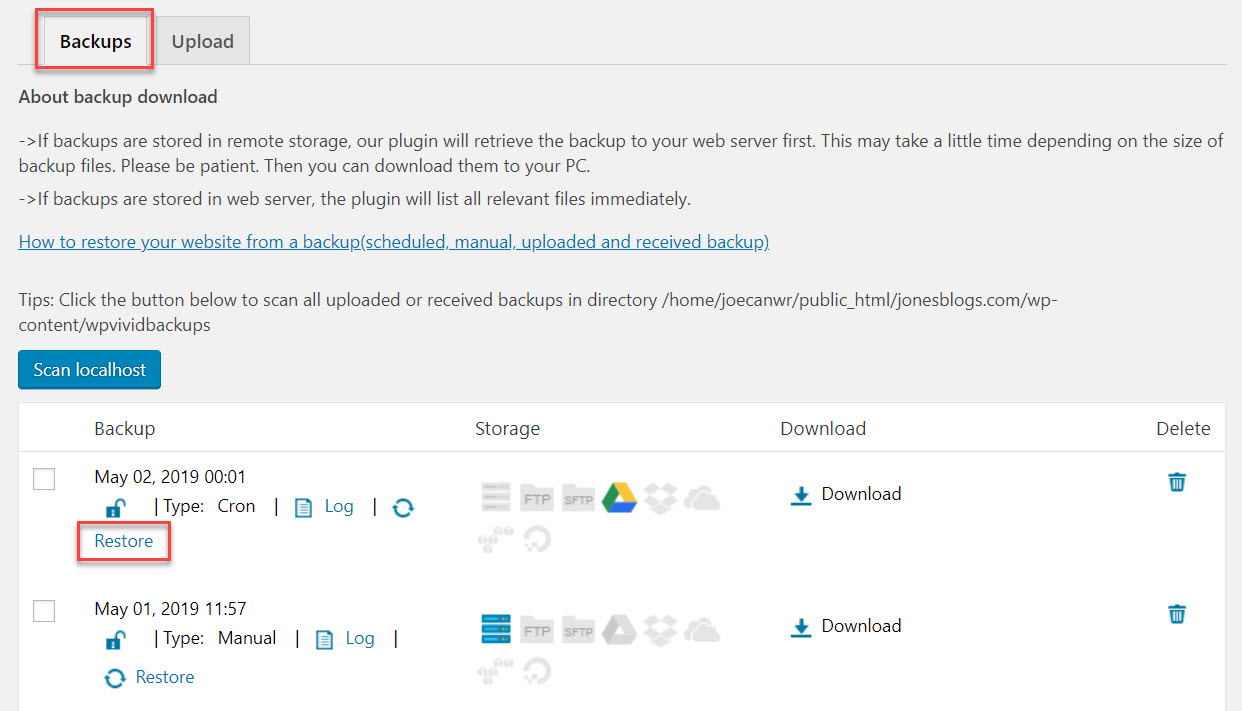 Select the backup you want to use and then click Restore. WPvivid will now restore your backup and notify you once the process is complete.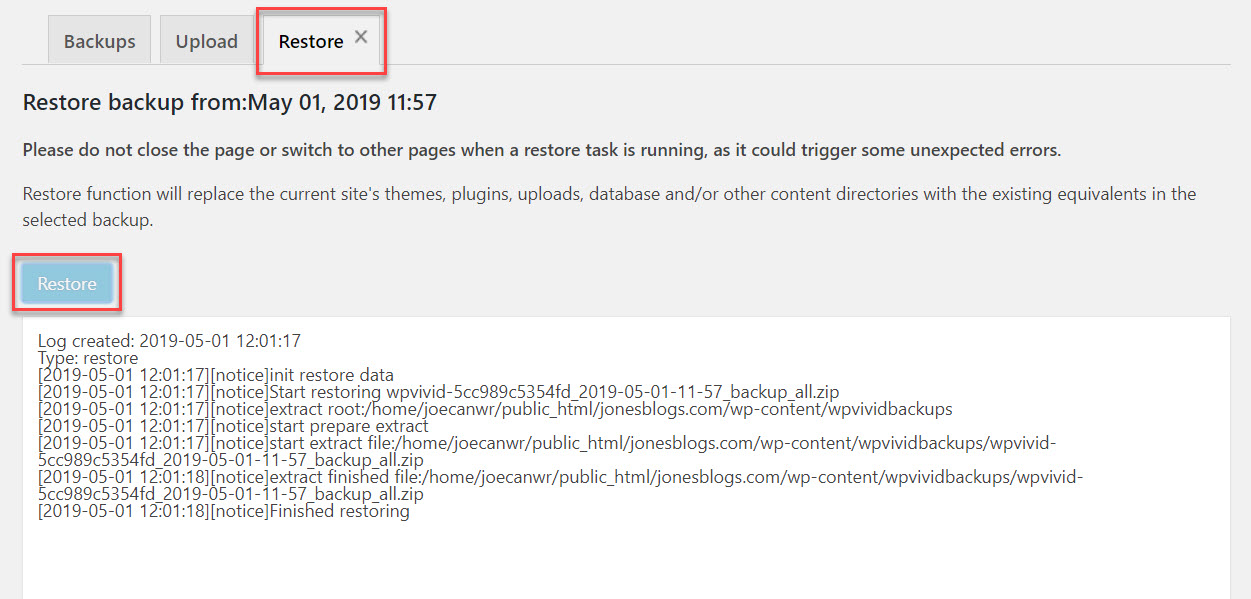 Evidently, WPvivid is a very user-friendly plugin to set up, enabling you to quickly transfer a WordPress website, as well as create automatic scheduled backups. You can also easily manually backup and restore a backup in just a few clicks. So let's now find out how this plugin compares to UpdraftPlus…
WPvivid vs UpdraftPlus

UpdraftPlus is a well-known backup plugin that has been downloaded over two million times. But with many of the features from UpdraftPlus being provided at a premium, is it time users switched over to WPvivid? Let's see how these two backup and transfer plugins compare…
| | WPvivid | UpdraftPlus |
| --- | --- | --- |
| Price | Free | Free and Premium |
| Site Transfer | Yes | Only with Premium |
| Remote Storage Locations | Dropbox, Google Drive, Microsoft OneDrive, Amazon S3, DigitalOcean Spaces, FTP, SFTP, plus more coming soon. | Dropbox, Google Drive, Amazon S3, UpdraftVault, Rackspace Cloud, Dream Objects, OpenStack Swift, FTP, and email (more offered via premium). |
| Scheduled and Manual Backups | Yes | Yes |
| Unlimited Backups and Unlimited Backup Size | Yes | Yes |
| Backup Splitting | Yes | No |
| One Click Restore | Yes | Yes |
| Support | Detailed step-by-step tutorials and WordPress repository forum support. | YouTube videos and WordPress repository forum support. |
WPvivid Backup Plugin: Final Thoughts
As you can see, using the WPvivid Backup Plugin to backup and/or transfer a WordPress site is very easy. Not only does it provide an impressive range of backup features and an extremely user-friendly experience, but it also compares favorably to industry favorite UpdraftPlus. So are you ready to install WPvivid on your WordPress website?
Any questions on how to backup and/or transfer a WordPress site? Please ask away in the comments below…
Source: https://wpwarfare.com/transfer-a-wordpress-site/
---
---
You might also like this video