Are you looking for killer membership site ideas for your next project? If so, we hope this article remains an inspiration to the end.
Creating a membership website is exciting but overwhelming, especially at the beginning.
To improve your chances of success, you need a solid idea before setting up, adding content, and marketing your membership site.
Without such an idea, starting a membership site and finding the motivation to keep going will drive you crazy or out of business.
Seeing that nobody desires either outcome, it's best to research your membership website ideas beforehand.
Why?
First, your initial idea might not have any money-making potential like the golden goose you presumed it was.
Second, you might chance upon a marketing site idea that better aligns with your interests, passions, and values.
And third, you don't want to dive head-first into an oversaturated niche that will leave you feeling like an empty shell.
That said, grab coffee (or whatever floats your boat) and let's dive right in!
But First Things First: Is the Membership Site Model Still Viable?
Oh yes, it is! And we have the stats to support the claim.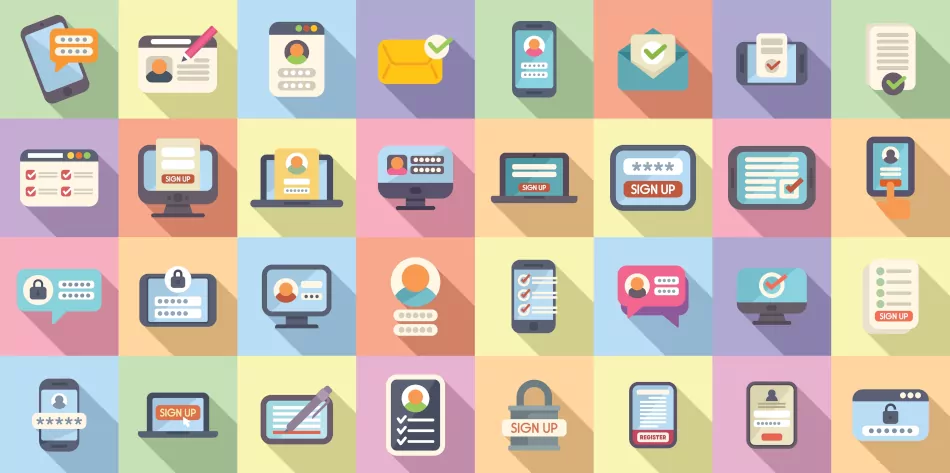 According to a report by The Business Research Company, the global subscription e-commerce market grew from $119.4 billion in 2022 to $196.35 billion in 2023 at a compound annual growth rate (CAGR) of 64.4%.
The market size is expected to grow to about $1.482 trillion (with a T) in 2027 at a CAGR of 65.8%. That's great for anybody looking to start a membership website, right?
Even during the Covid pandemic that saw many businesses close, membership sites thrived. That's according to this online membership industry report.
"The online membership space has remained relatively immune from any downturn caused by the Covid-19 pandemic, and in fact over half of all membership owners reported higher sales and revenue. This is undoubtedly spurred on by increased pursuit of hobbies, home learning, alternative career paths, etc during this period."
The same report showed that 63.5% of entrepreneurs saw membership incomes increase in the last 12 months. Again, some great news, right?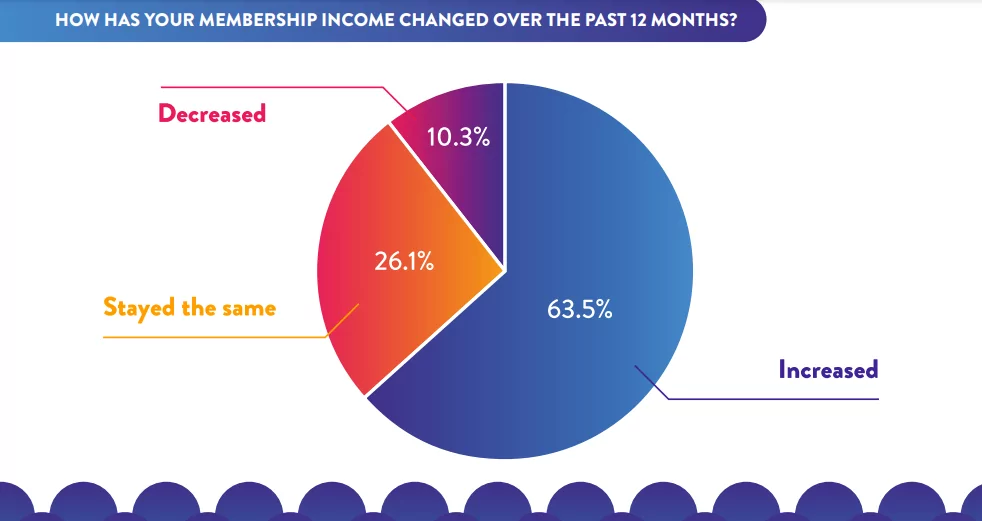 What's more? There are thousands of successful membership sites, including A4Medicine, and The Manila Times TV – two great examples that use the Paid Member Subscriptions plugin.
One of my favorite examples is the Dollar Shave Club, a membership site that Unilever bought for $1 billion in cash. Guess what they do? They deliver razor blades! Can you imagine that?
Well, they have additional grooming products now, but delivering razor blades for a dollar per month is where it all started.
Here is the YouTube promotion video that prompted 12,000 orders in two days.
The video proves YouTube is a brilliant way to market your membership site.
In a nutshell, the membership business model is alive and kicking. It's a viable and profitable venture if you have killer membership site ideas and are willing to put in the work.
How Do I Choose the Right Membership Site Ideas?
Now that we know memberships are still viable and the market will continue to grow in the coming years, how do you choose profitable membership site ideas?
It is easy. Here are some questions to ask yourself.
What needs do your target audience have, and how can you fulfill them? Which content or resources are they actively seeking out?
How can you monetize your membership site idea? Be clear and strategic when presenting your value proposition;
Which membership website ideas are you passionate about? A successful membership site takes time and effort, so choose something you already love doing. Otherwise, you'll burn out early;
What are your unique talents, expertise, and skills? Again, choose niches and membership site ideas that let you shine;
Is there a market demand for your idea?
Which subscription website ideas can you grow into a sustainable business over time? In other words, the best membership site ideas are scalable.
When you look at it, choosing the right membership site idea boils down to understanding your target audience. You will need lots of research beforehand. Also, validate your membership idea using a minimum viable product (MVP).
With that out of the way, let us dig into the meat of today's article. Which are the best membership site ideas?
Top 15 Profitable Membership Site Ideas to Consider
The ideas you ultimately pursue depend on your interests, available resources, and market demand. Go with something you love, can sustain with what you have, and people are willing to buy.
#1 – Premium Content Memberships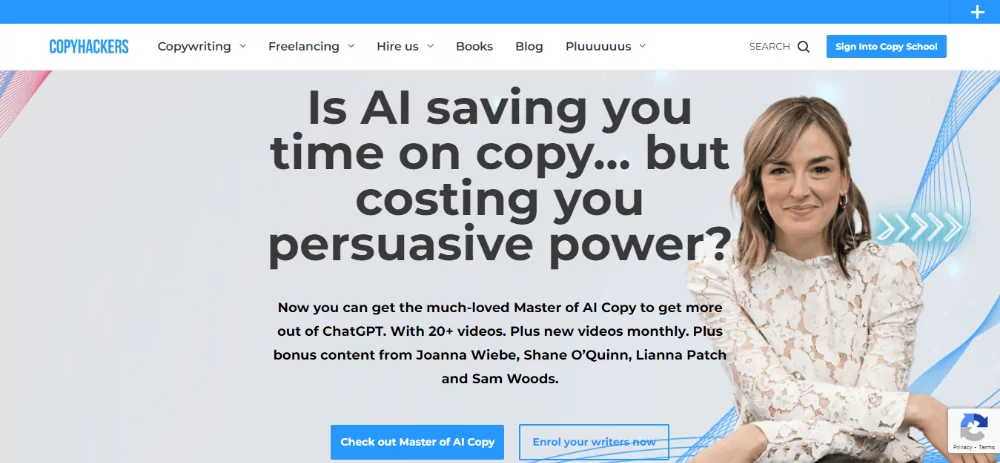 A premium content membership is arguably one of the most popular and profitable membership site ideas you can pursue.
Many freelancers, bloggers, and entrepreneurs run massively successful content membership sites. Quick examples include the likes of Copyblogger, Copyhackers, and AuthorityHacker.
The basic concept goes like this. Create a membership site with lots of stunning free and gated premium content. Then use the free content and other promotion methods to sell gated paid content.
The model seems simple, right? Wrong.
It takes a lot of effort to produce the amount of high-value material needed for premium content memberships.
While your gated content might need refreshing once every few months, you need a continuous stream of fresh content and other incentives to retain members.
But you're committed and can move mountains to achieve your goals, so go for it. After all, many other entrepreneurs did it. Plus, you can get super-specific with your niche selection process.
Who is it for: Established blogs with big followings and traffic. If you already have a following, it is time to sell memberships for your premium content.
Oh, by the way, Netflix is another superb example of a premium content membership site.
#2 – Professional Connection Hubs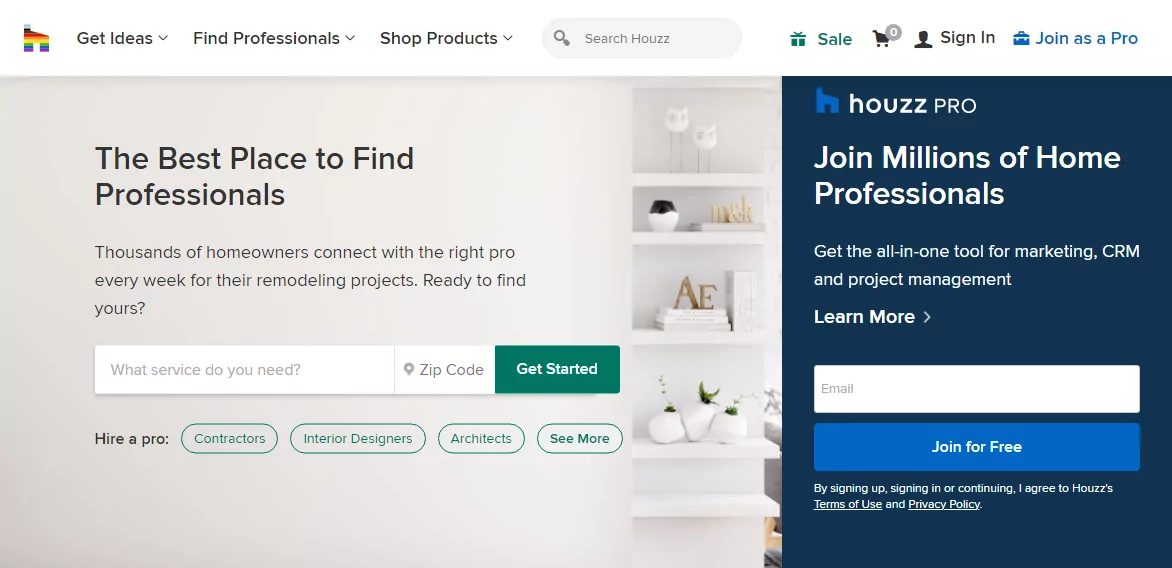 Can't find a handyperson to fix your lawn or air conditioner? Do you need a landscaper or a company to remodel your swimming pool?
Maybe you need an interior designer and a real estate agent so you can finally put your house on the market.
You can either ask for recommendations or check out professional connection hubs like Houzz or TaskRabbit.
Connection hubs are profitable membership site ideas since homeowners and repairers are your customers.
You charge both parties for connecting on your directory-style membership site. The first group is happy they find vetted professionals, and workers find regular jobs.
You don't even need to charge for memberships. You can monetize your site using other methods, including ads, which leads us to our next point.
Who is it for: Anyone looking to create a membership directory for local professionals and businesses.
#3 – Ad-Free Memberships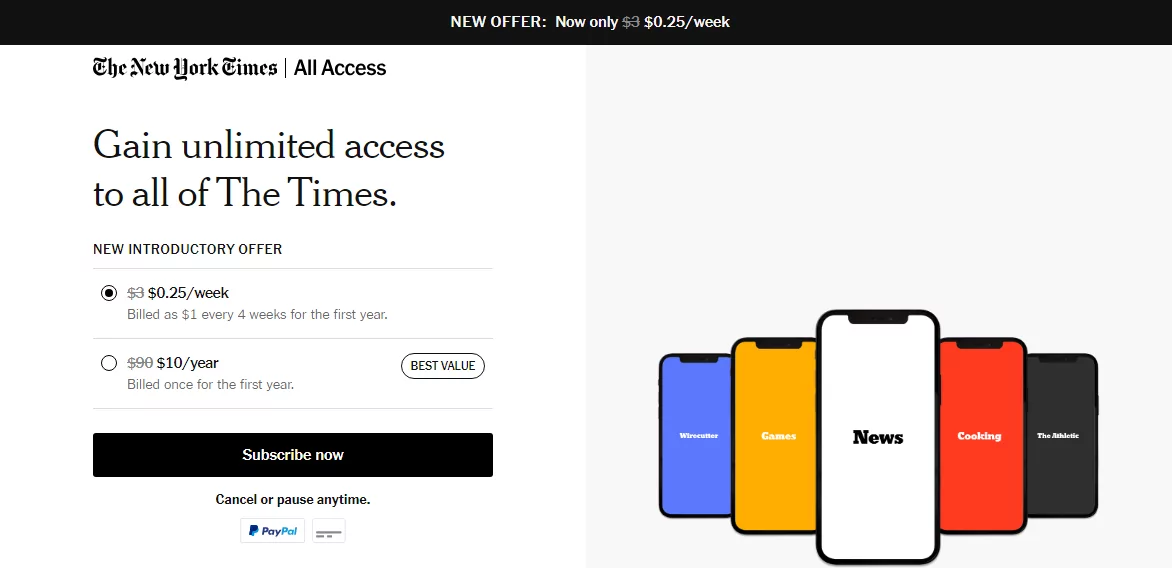 It is safe to say we all have it in for adverts. Adverts are obtrusive, distracting, and bad for UX. Isn't that why you have adblockers? But somehow, ads seem to get in the way.
Guess who else hates adverts? Your readers do. Do you know what else? Many people are ready to pay for an ad-free experience. The New York Times knows this and is minting millions with ad-free subscriptions.
Instead of bombarding your readers with ads to put food on the table, offer ad-free subscriptions to supplement or replace your ad revenue.
Offer them incentives such as bonus content, insider scoops, discounts, and anything else that makes the subscription irresistible.
Who is it for: News publications and magazines that want to improve the user experience and diversify income streams.
#4 – Consultancy or Coaching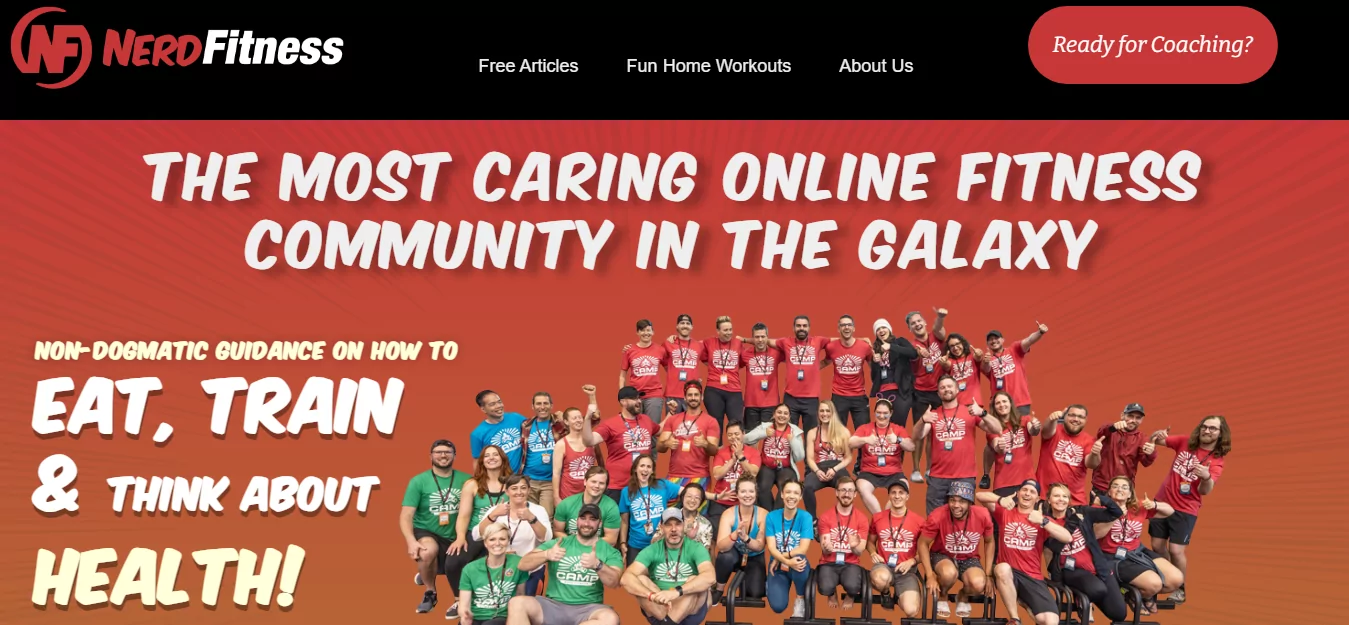 This is an easy and profitable membership site idea to implement. Are you a financial advisor, wellness coach, therapist, meditation guru, or even a nerd who got in shape?
If so, you have so much to offer the world via your consulting or coaching membership site. Nerd Fitness did it, and so can you.
Do you need another example? Coach people to play the saxophone like How to Play the Sax and smile all the way to the bank. You can even coach other coaches – the opportunities are endless.
Here, your expertise is your product. Package that into one-on-one sessions, videos, live events, or courses and you have a membership site ready to go.
Who is it for: Ambitious people who want to share their expertise, skills, and experiences with the world. If you lost weight, you can coach the next person to do the same. Are you a therapist? You can line up appointments with your membership site. See where I'm going with this?
#5 – Courses or Educational Content Memberships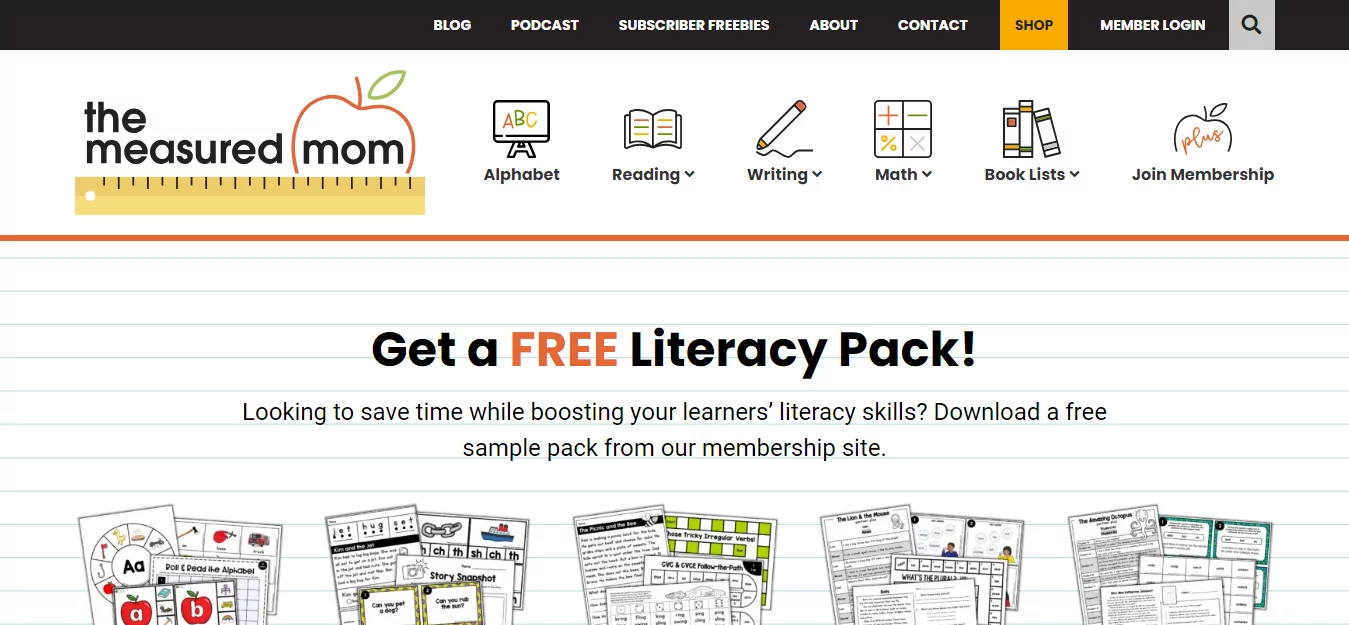 Courses are another profitable membership site idea. I mean, people are always looking to learn something.
If you're a teacher or educator, creating a course membership site is a no-brainer. Have a knack for homeschooling? Well, you can turn what you already do and love into a membership site, such as The Measured Mom.
Perhaps that is not your style. Maybe membership sites such as Udemy, Codecademy, and Alison are more to your liking.
The bottom line is you will need to create lots of educational content if you go with the first option. If you choose the second option, you need to onboard more educators.
Who is it for: Teachers, educators, and experts looking to share their wealth of knowledge.
#6 – Digital Asset Libraries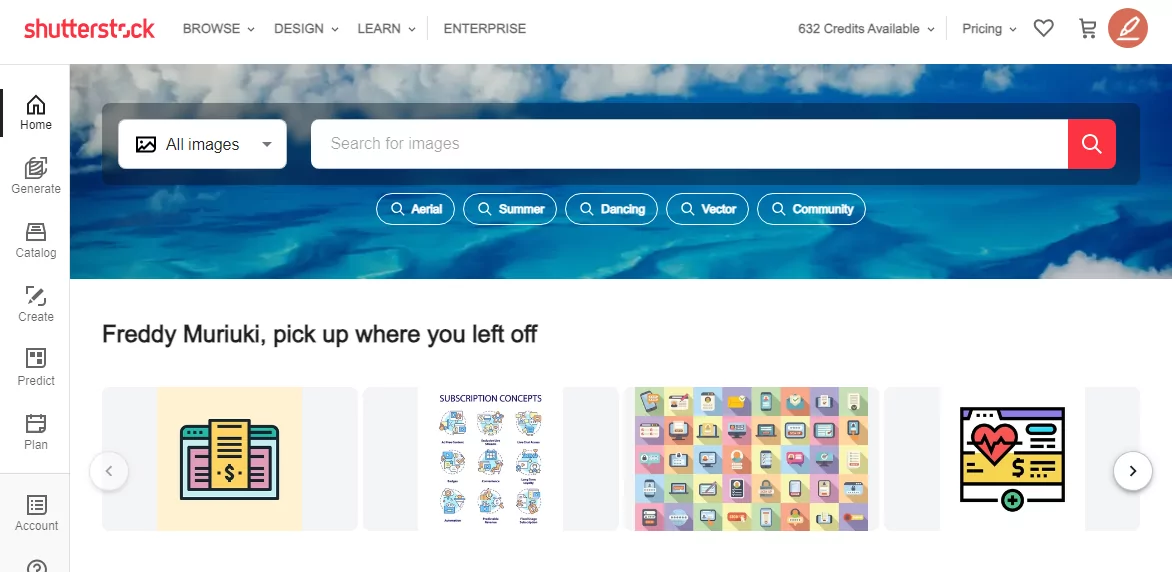 You are probably familiar with membership websites such as Shutterstock, Envato Elements, and DeviantArt. These types of websites are known as digital asset libraries.
They are collections of digital media such as templates, images, videos, audio, and documents. Users pay a recurring membership fee to access said media files.
After, users are free to use the files in their projects, such as social media posts, websites, and marketing materials.
To run a digital asset membership, you need lots of high-quality content. You also need to have the proper licenses in place to avoid copyright infringement.
Who is it for: Creative freelancers (e.g., photographers, artists, designers, illustrators, graphic designers, etc.) who have a vast collection of digital assets to offload. Additionally, you can have members submit their assets.
#7 – Subscription Service Membership Sites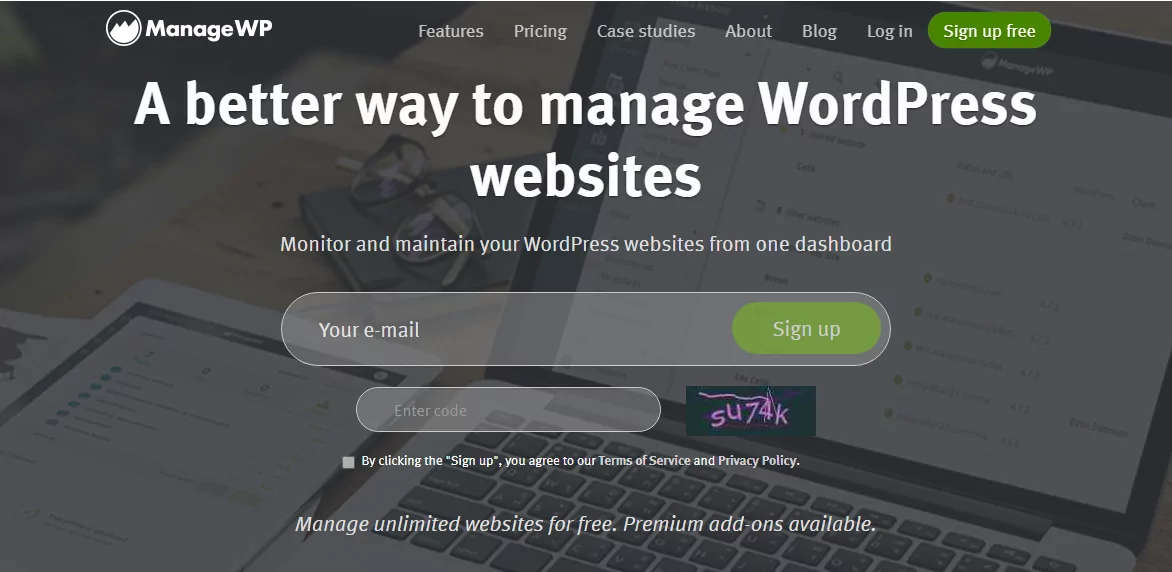 People who sell services online can package their offers as subscription plans.
Here's an example. Let's say you develop WordPress websites. You can sell website maintenance as a monthly membership.
That is what ManageWP does. The company allows you to manage your WordPress websites, but you'll need a monthly membership to access extra services, such as premium backups and SEO.
You can turn whichever service you offer into a membership model. Offer discounts and add-ons that aren't part of your typical one-time offer.
Who is it for: Freelancers and independent contractors in whatever vertical.
#8 – Social Networks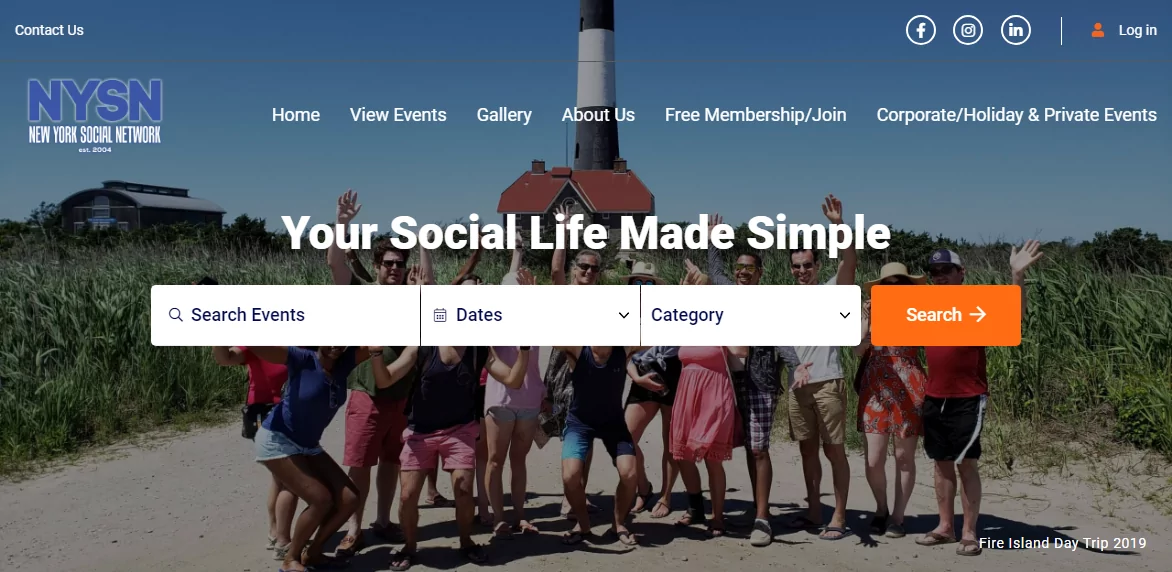 It would be ridiculous to end today's post without mentioning social networks, one of the most popular types of membership sites.
If you have zero subscription-based website ideas, consider starting a social network. It doesn't have to be the next Facebook to make you money. A social network for your city or university (hello, Mark Zuckerberg?) is good enough.
In our previous article on marketing a membership site, I mentioned that we created a membership site with 4k members. That site was a social network exclusive to one city.
We didn't even market the website heavily – most people signed up because of the exclusivity factor.
Like New York Social Network, you can start a membership site and monetize it in several ways. Dave, the owner, offers free and paid VIP memberships. The social network also hosts many events, a source of income.
Pro Tip: Don't use a rigid script like my colleague and I did. You're better off with WordPress like New York Social Network. After, add Paid Member Subscriptions to get your social network off the ground quickly.
Who is it for: Anybody who wants to create a place where like-minded people can connect and have fun.
#9 – Job Boards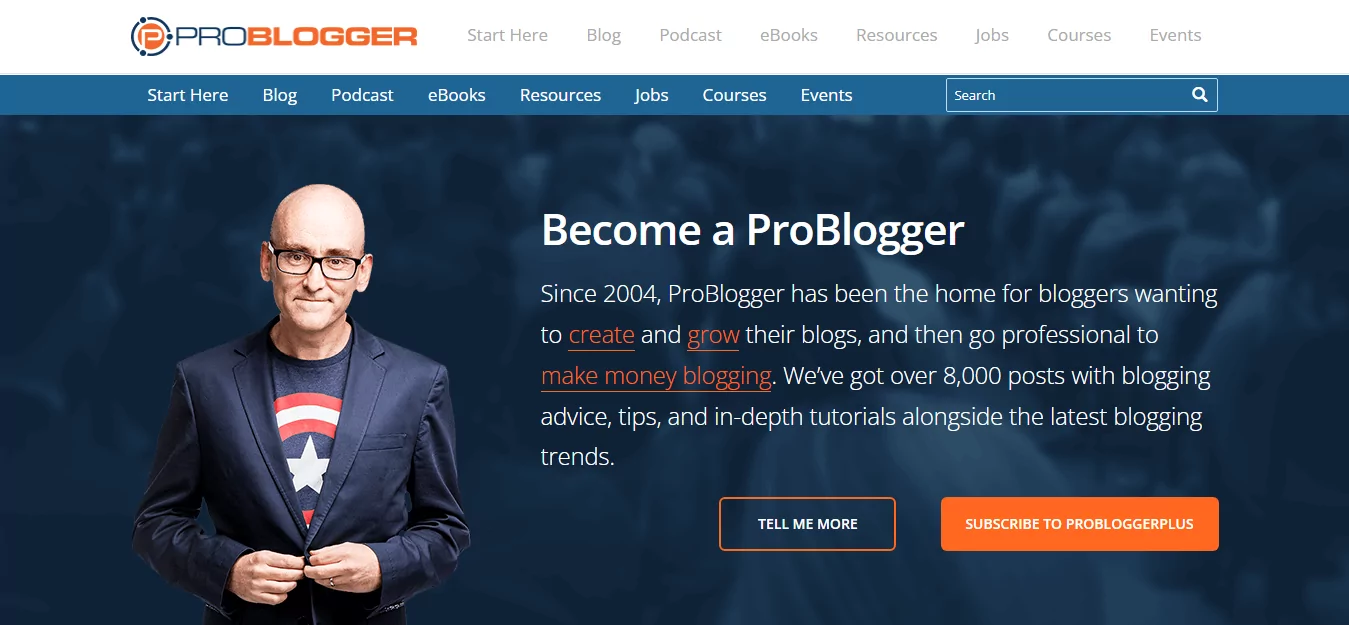 Here's a quick fun fact. I found my first well-paying freelance writing gig on the ProBlogger Job Board. God bless Darren Rowse, the owner.
But that's beside the point. How does Darren make money from the job board? You guessed it. He charges employers a small amount to post jobs. Applying for jobs is free.
With over 8,000 successful job posts, it isn't hard to see how the job board makes Darren a passive income per month.
Flexjobs is another popular job board with a different monetization strategy. The website charges both employers and workers for memberships.
Other examples include Upwork, Gigster, Fiverr, and Toptal, just to mention a few.
Don't know where to start? Why don't you start your membership site adventure with a job board?
Who is it for: Anybody under the sun can create a job board. Better still, you can add a job board to your growing blog. Employers are always hunting for talent, and your readers will love you too 🙂
#10 – Recipe and Cooking Membership Sites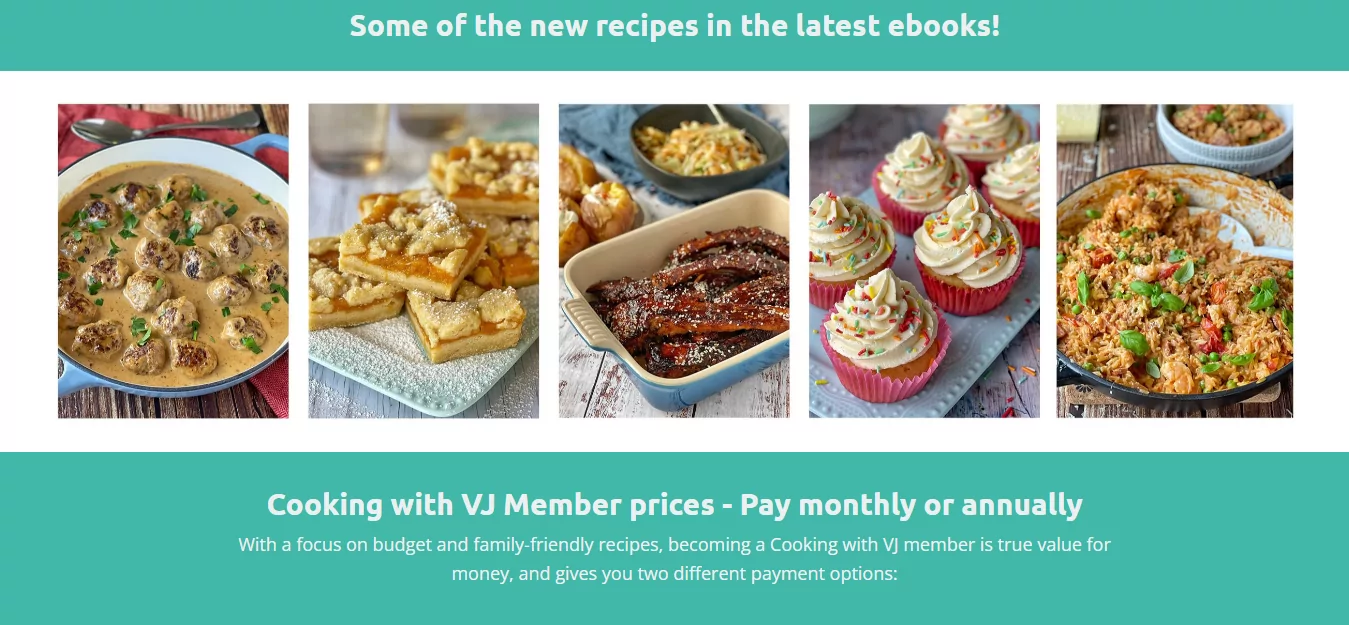 If you still can't believe you can create a membership out of anything, say a big hello to Vanya and her team of five at Cooking with VJ.
Many would-be chefs can't cook to save their lives, but Vanya is changing all that with her cooking membership website.
And to think she wasn't a confident cook at first.
Her website is a simple one-pager with over 1,100 members who receive recipes, videos, meal plans, shipping lists, access to a Facebook group, private Instagram, and more.
Vanya's mission is to take you from "What's for dinner?" to master chef able to whip up meals friends and family will love.
If you can wing it in the kitchen or have secret grandma recipes to share, you can run a cooking membership like Vanya.
Who is it for: Chefs, cooks, hobbyists, and anybody who knows their way around the kitchen.
#11 – Niche Fan Sites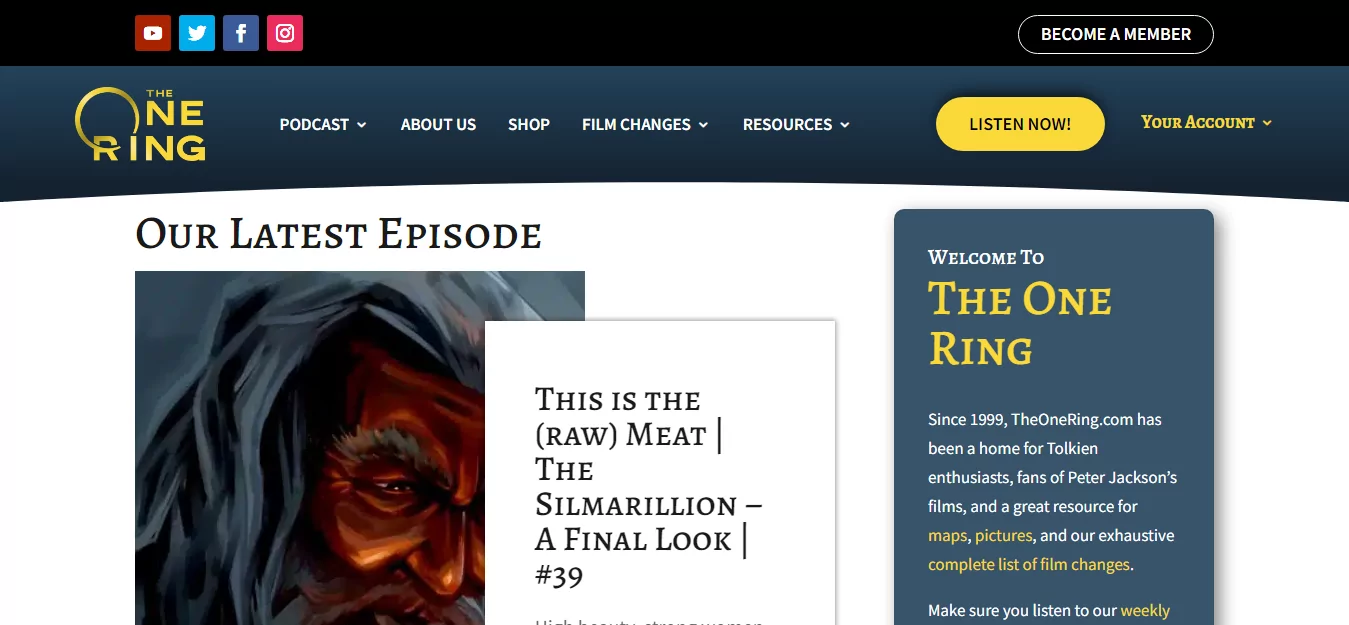 Can't get enough of Star Wars, Lord of the Rings, comics, or certain celebs? Well, you aren't alone. Millions of fans are always looking for websites to hang out with fellow enthusiasts.
If you're a die-hard fan, you can take it further with a fan site membership site like The One Ring. The site covers news revolving around Middle Earth and everything Tolkien wrote.
With your fan site up and running, you can monetize it with ads, merch, memberships, and everything in between. Another great example is Comics Curmudgeon by Josh.
Who is it for: Fans who want to hang out with fellow fans.
#12 – Online Stores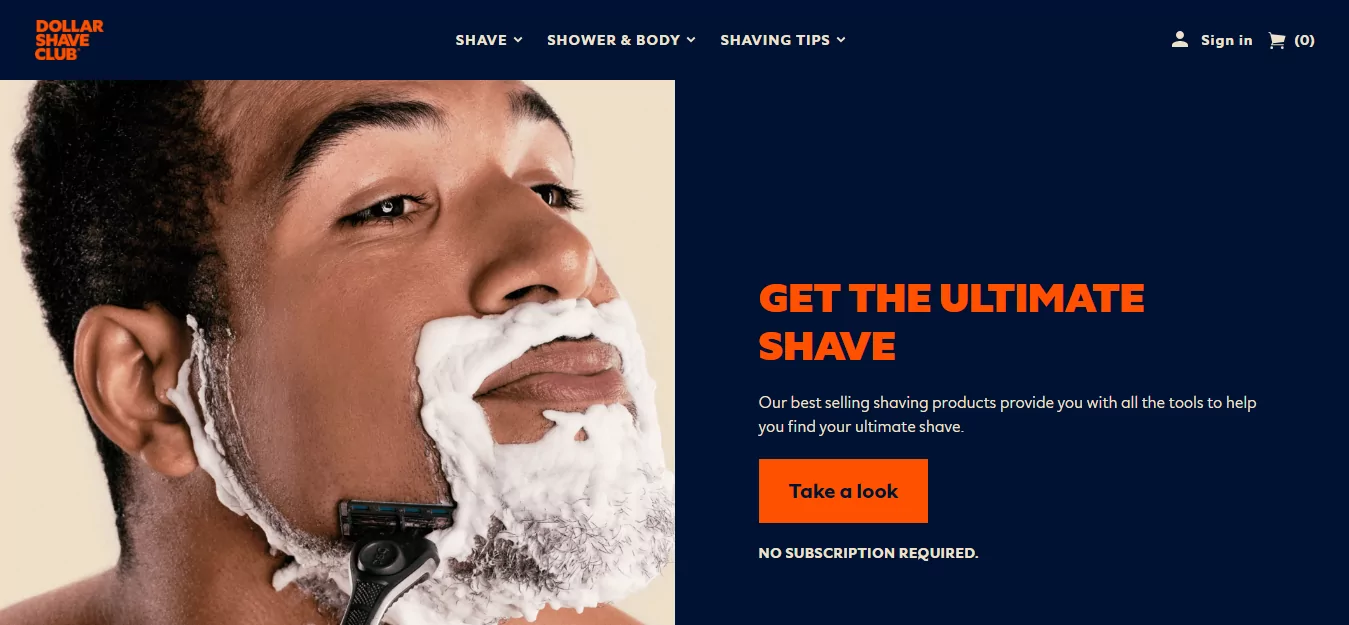 When you mention online stores, many people envision a digital storefront to sell one-off items. Few people will think of online stores that sell subscription-based products.
But Dollar Shave Club (we mentioned these folks earlier) had a different idea altogether. Instead of putting up an online store to sell razor blades as one-off items, they built a membership platform.
As a result, a multi-billion company was born. While we can't ignore their marketing brilliance and efforts, it's apparent the membership model played a pivotal role in their growth.
You can sell any product similarly with a membership site of your own. Many traditional retailers offer memberships to customers and make a killing.
A good example is Walmart, which made $2.6 billion from Sam Club memberships between 2018 and 2023.
Who is it for: Every retailer looking to sell physical products using the membership model.
#13 – Association & Society Memberships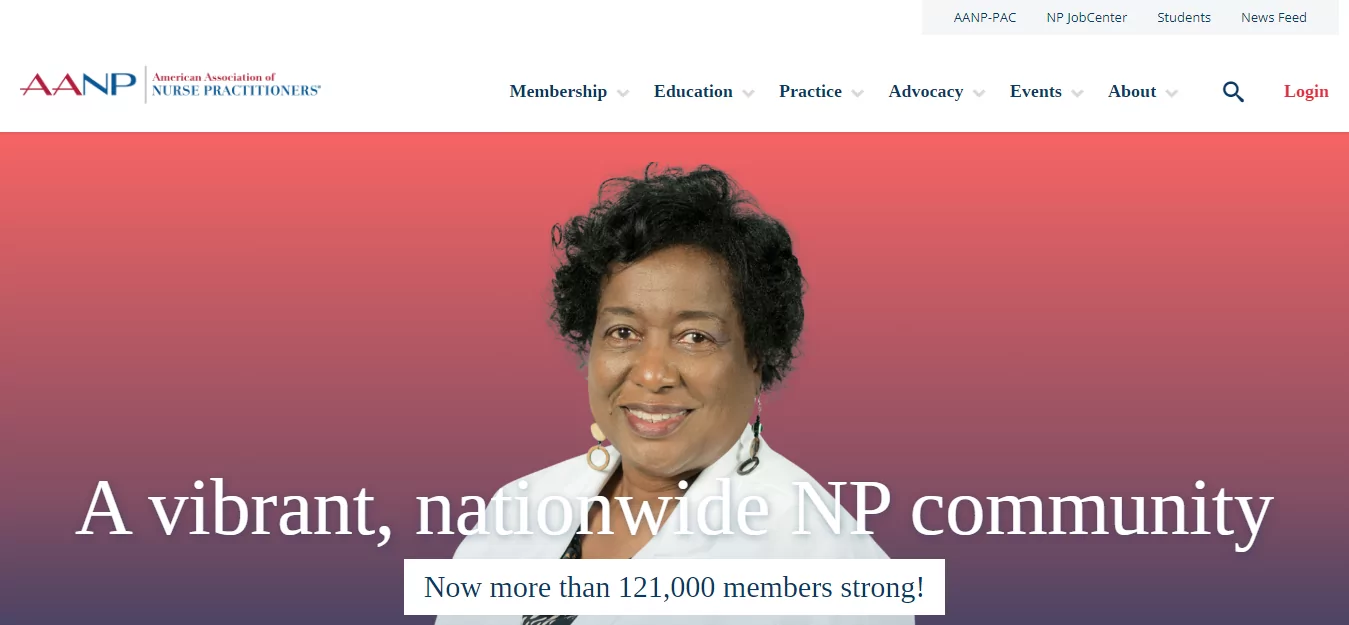 Human beings tend to gravitate toward like-minded people. After all, we are social beings who thrive in communities.
If you're considering setting up a membership site, associations and societies are ripe for the taking. These can take many different forms, including:
Professional associations;
Local community forums;
Support groups;
Buy and sell groups;
Activist organizations;
And more.
Stellar examples of membership associations are the NAHS and AANP. These groups offer members support and a sense of belonging.
Who is it for: Professionals or people sharing common interests.
#14 – PLR Membership Sites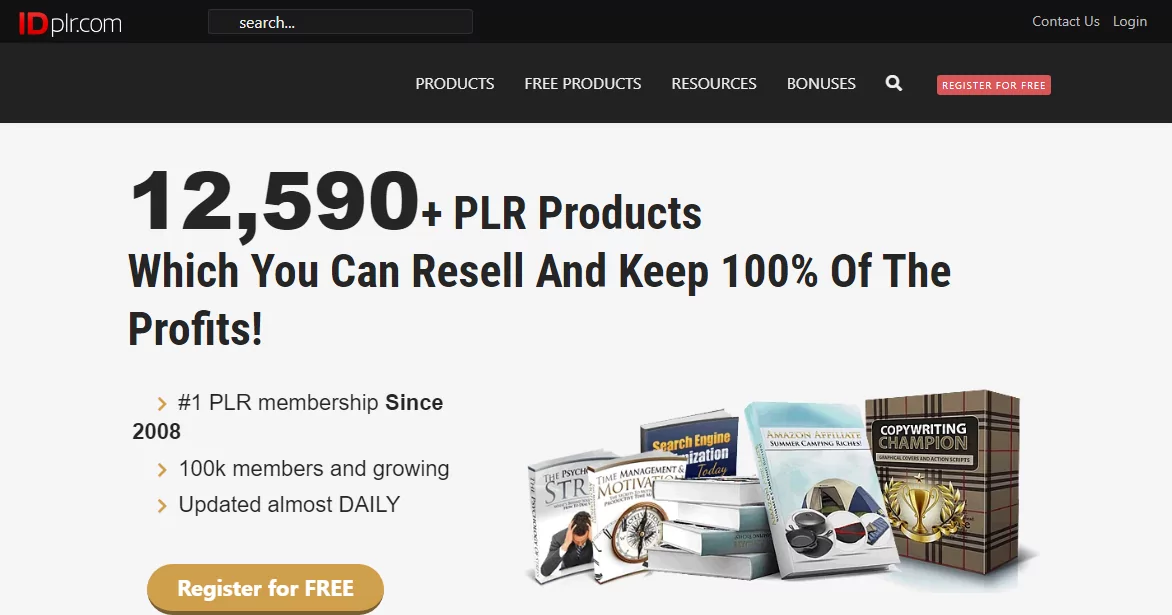 Still can't find inspiration for your next membership site? Don't sweat it as you can start with a PLR membership site like IDplr.com.
PLR is an acronym for private label rights. It represents a type of license that allows you to sell, edit or even claim a product as your own.
PLR products include ebooks, videos, audio, graphics, templates, and articles perfect for marketers and internet businesses.
Since you can download and use the products as you wish, you can quickly populate and monetize your PLR membership site.
Who is it for: Entrepreneurs who lack the resources to create products. Simply grab products from PLR websites, set up your membership site, and you're good to go. As simple as A, B, and C.
#15 – "Best of" or Serial Content Membership Sites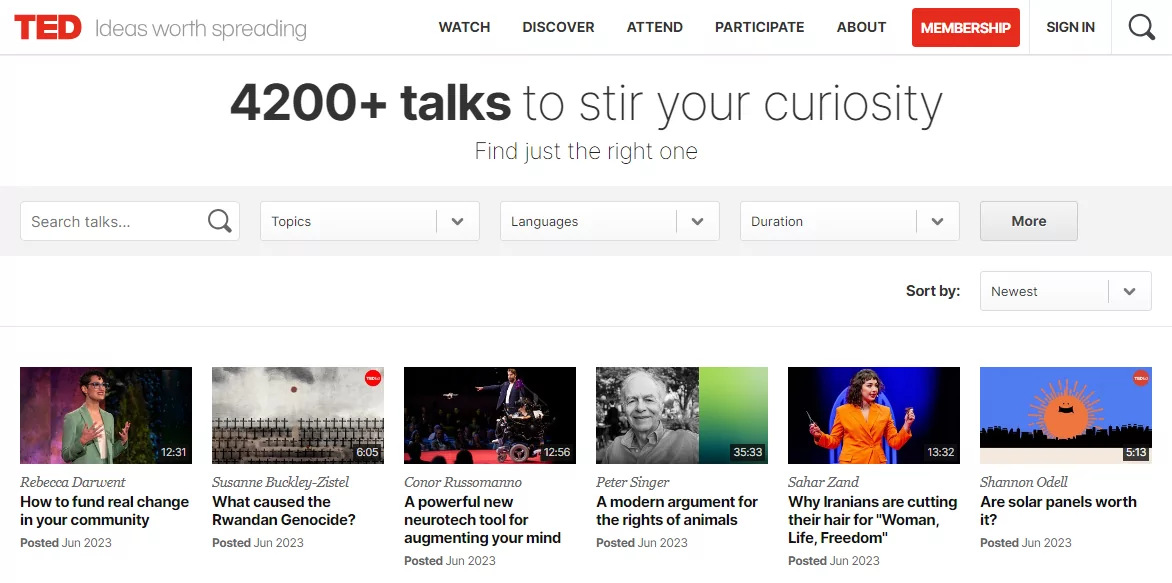 A serial content membership site like TED Talks is a collection of curated content revolving around specific topics. Members pay to access content around a topic of interest.
Now, you don't have to create the next TED Talks website. You can curate content around a certain topic in different formats and offer the same to your members at a small fee.
Are you an expert in a specific topic? Go ahead and curate articles, videos, case studies, images, and other media revolving around the topic.
Other than the money you stand to make with a serial content membership site, offering members the content can boost your authority and credibility in the industry.
Who is it for: Anybody who can curate high-quality content around a certain topic (or topics).
Pick the Right Tools
Choosing the right idea is one part of the equation. To start without hiccups and grow your membership site, you need the right WordPress membership plugin.
For that, I highly recommend Paid Member Subscriptions for its numerous features and ease of use.
Final Words About Membership Site Ideas
Finding the right membership idea for your next project needn't be a challenge. That's especially true with the above options.
Keep the needs of your audience in mind when building your site. Additionally, always pick a profitable idea you're passionate about.
Then, choose the best membership plugin to help you create a membership site that makes you money with ease.
Which is your favorite membership site idea? Please share your thoughts in the comments below.
Subscribe to get early access
to new plugins, discounts and brief updates about what's new with Cozmoslabs!
Source: https://www.cozmoslabs.com/1700550-killer-membership-site-ideas/
---
---
You might also like this video