MemberPress is a popular WordPress plugin that enables you to create a membership site. However, the plugin has a few limitations such as a high price point. Therefore, you might prefer to find a MemberPress alternative that's within your budget.
Fortunately, Paid Member Subscriptions is a free MemberPress alternative that lets you sell subscriptions, offer free trials, paywall premium content, and more. Better yet, it's super easy to set up in WordPress, making it totally beginner-friendly.
In this post, we'll take a closer look at MemberPress and Paid Member Subscriptions. Then, we'll compare the membership tools in three key areas. Let's jump right in!
An Introduction to the MemberPress Plugin
MemberPress is one of the most well-known membership plugins on the market. It enables you to set up a complete learning management system (LMS), sell on a subscription revenue model, gatekeep premium content, and more.
The plugin slots right in with WordPress where you can create courses, set up membership options, and create a pricing table. You can also use it to configure restrictions to certain pieces of content and store digital files like PDFs: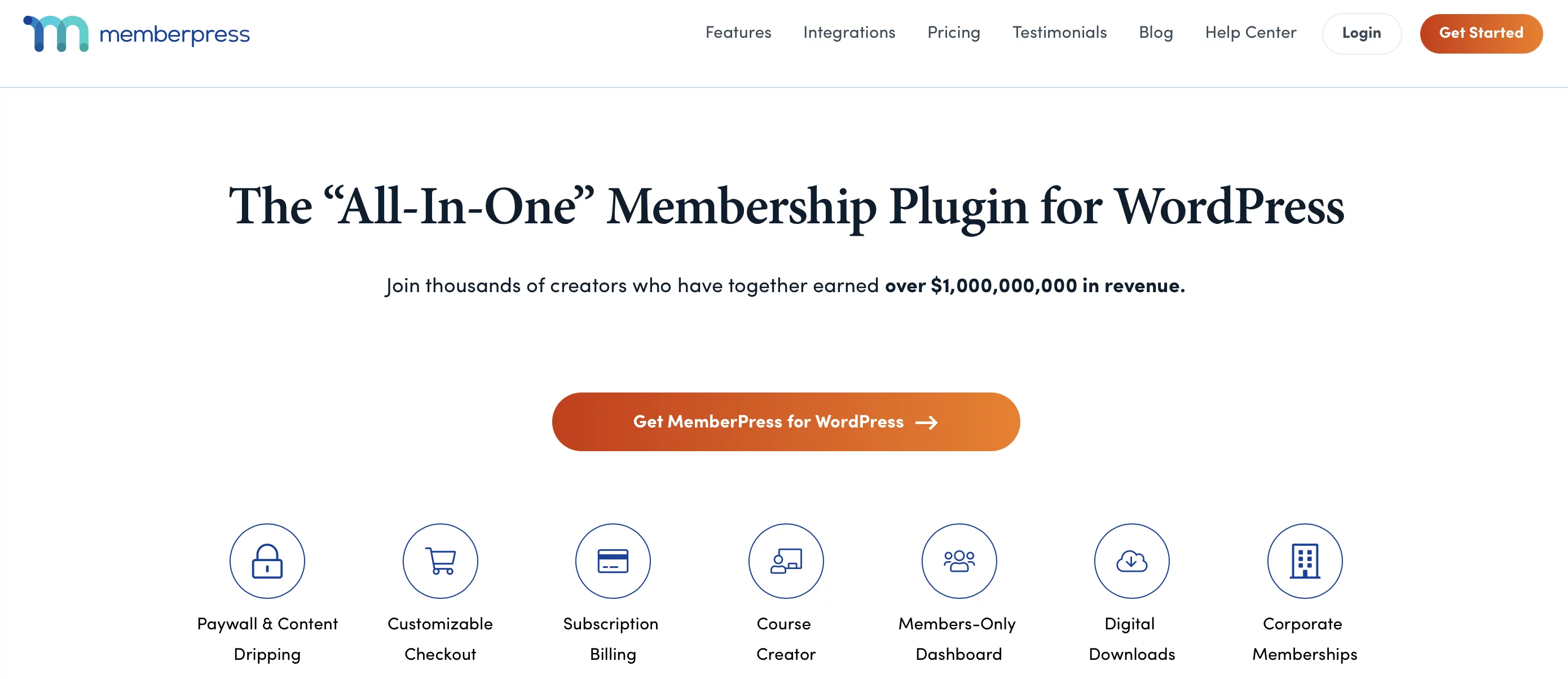 While MemberPress offers some useful features, it is a premium plugin that comes at a steep price point. The Basic Plan will cost you $179.50 a year and yet, it's missing some of the most powerful features that MemberPress offers.
For example, you won't be able to create quizzes, offer certified courses, set up forums, or provide podcast memberships. Instead, you're required to purchase the relevant add-ons, or upgrade to a more expensive plan.
What's more, for the time that you intend to use MemberPress, you'll need to make sure that you have an active license for the tool. If your license expires, you won't be able to access the back-end MemberPress admin screen or the associated functions. Therefore, it's only practical to get started with MemberPress if you're able to continue to pay the annual license fee.
The Free MemberPress Alternative: Paid Member Subscriptions
If MemberPress is a little out of your budget, or it doesn't offer the complete functionality you require, you might be better off finding a free MemberPress alternative. Luckily, Paid Member Subscriptions makes an excellent option.
As we mentioned, this plugin is totally free, so you can go ahead and install it right from your WordPress dashboard. Like MemberPress, Paid Member Subscriptions enables you to sell subscriptions, restrict access to top-tier content, offer free trials, and more. This plugin also offers a premium version that comes with even more extra functionalities such as the possibility to sell group memberships or drip content.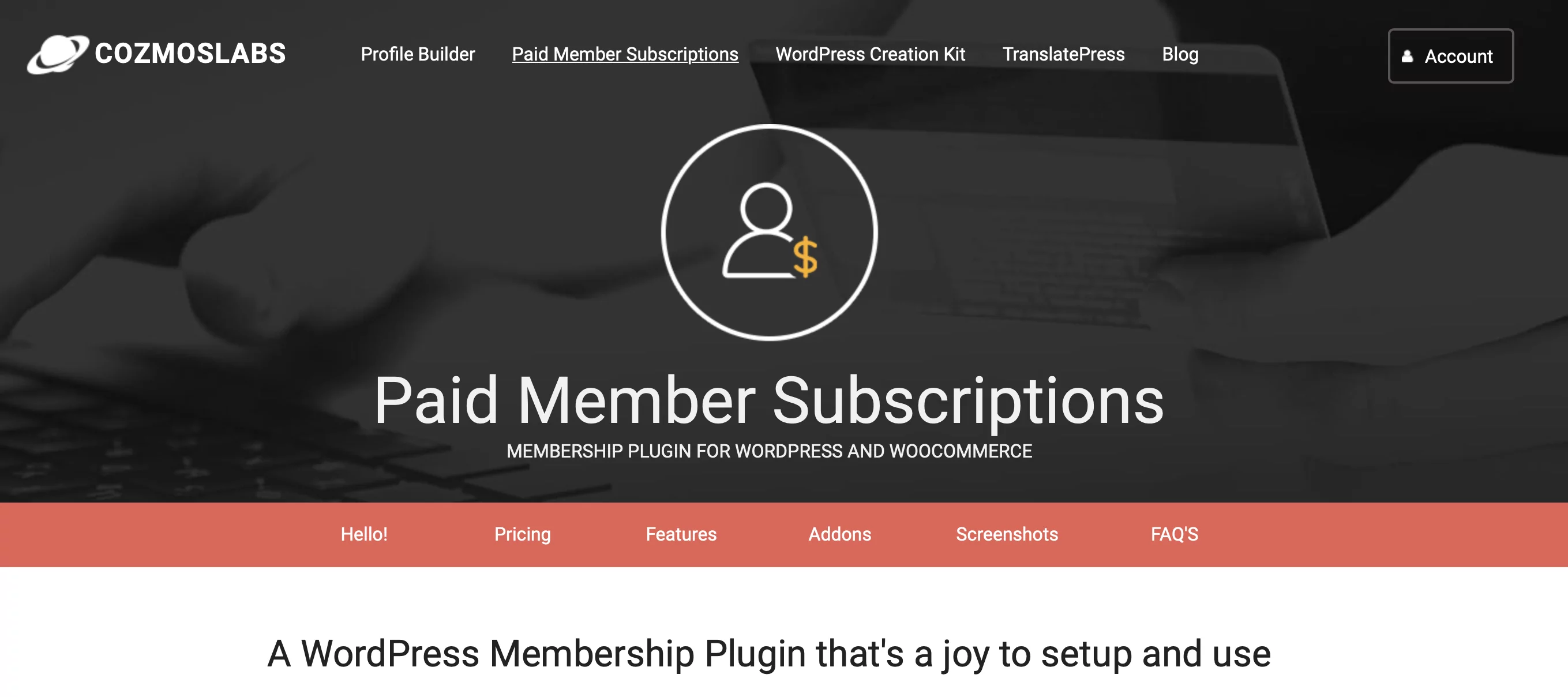 However, the free version is more than enough for setting up a fully functional and pretty complex membership website by itself.
Better yet, the plugin works seamlessly with other useful tools like Elementor and WooCommerce. In fact, with WooCommerce Integration, you can restrict product viewing, offer discounted prices to members, and sell your subscription plans as WooCommerce products.
Additionally, you'll find a whole host of free (and premium) add-ons that you can use to extend the functionality of the membership plugin. For example, you can apply global content restriction rules, send email reminders, and offer variable pricing.
MemberPress vs Paid Member Subscriptions (A Comparison of 3 Key Factors)
Now, let's take a look at how the free MemberPress alternative (Paid Member Subscriptions) stacks up against MemberPress across three key areas.
1. Ease of Use
Once installed and activated, MemberPress is accessed via the sidebar of the WordPress dashboard. The plugin contains many tabs where you can carry out different tasks like adding membership options.
All you need to do is pick a membership name, set a price, choose between a one-time or recurring payment: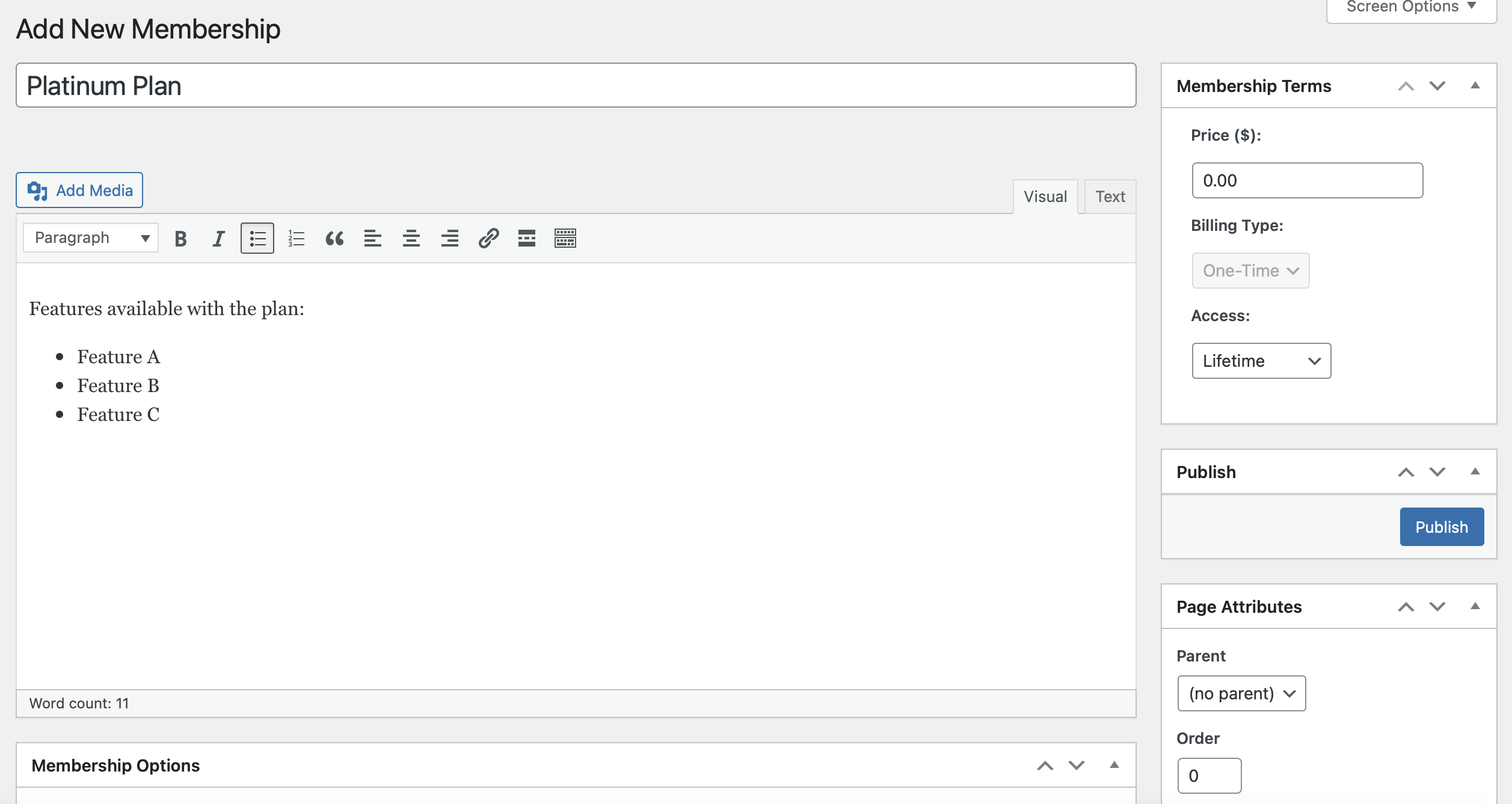 At the bottom of these settings, you'll find additional features where you can enable a thank you message and configure the price box.
Every tab looks exactly the same (whether you're adding coupons, rules, or reminders) so it's easy to get to grips with. Additionally, if you decide to use any of the add-ons, you can access these directly through the MemberPress dashboard.
On top of this, you can build your courses straight in the WordPress editor, utilizing blocks like images, headings, and buttons. Plus, you're able to view statistical and visual reports and filter the results by date.
On the other hand, Paid Member Subscriptions does a great job of simplifying the setup procedure. Upon activation, you'll be guided through the plugin's settings where you can allow the tool to automatically create pages for registration, login, and more: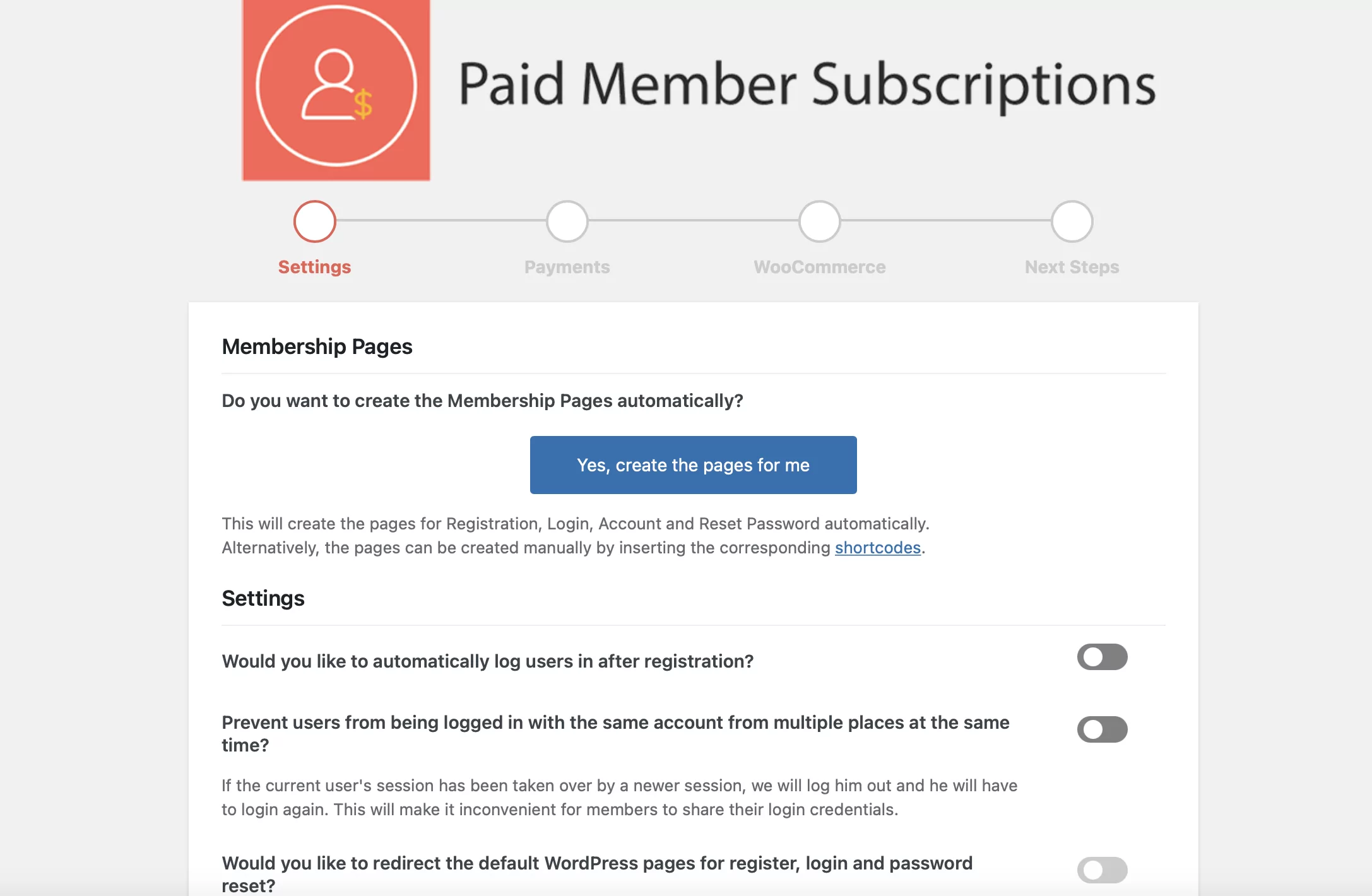 You can also configure neat login settings so that users can't log in from multiple locations, preventing shared user accounts. Meanwhile, the dashboard features a bunch of linked resources where you can learn more about the settings and view all the add-ons.
You'll add subscription plans in a similar format to MemberPress. However, plenty of advanced settings are more easily accessible. For example, you can offer a free trial, charge a sign-up fee, configure the renewal procedure, and more: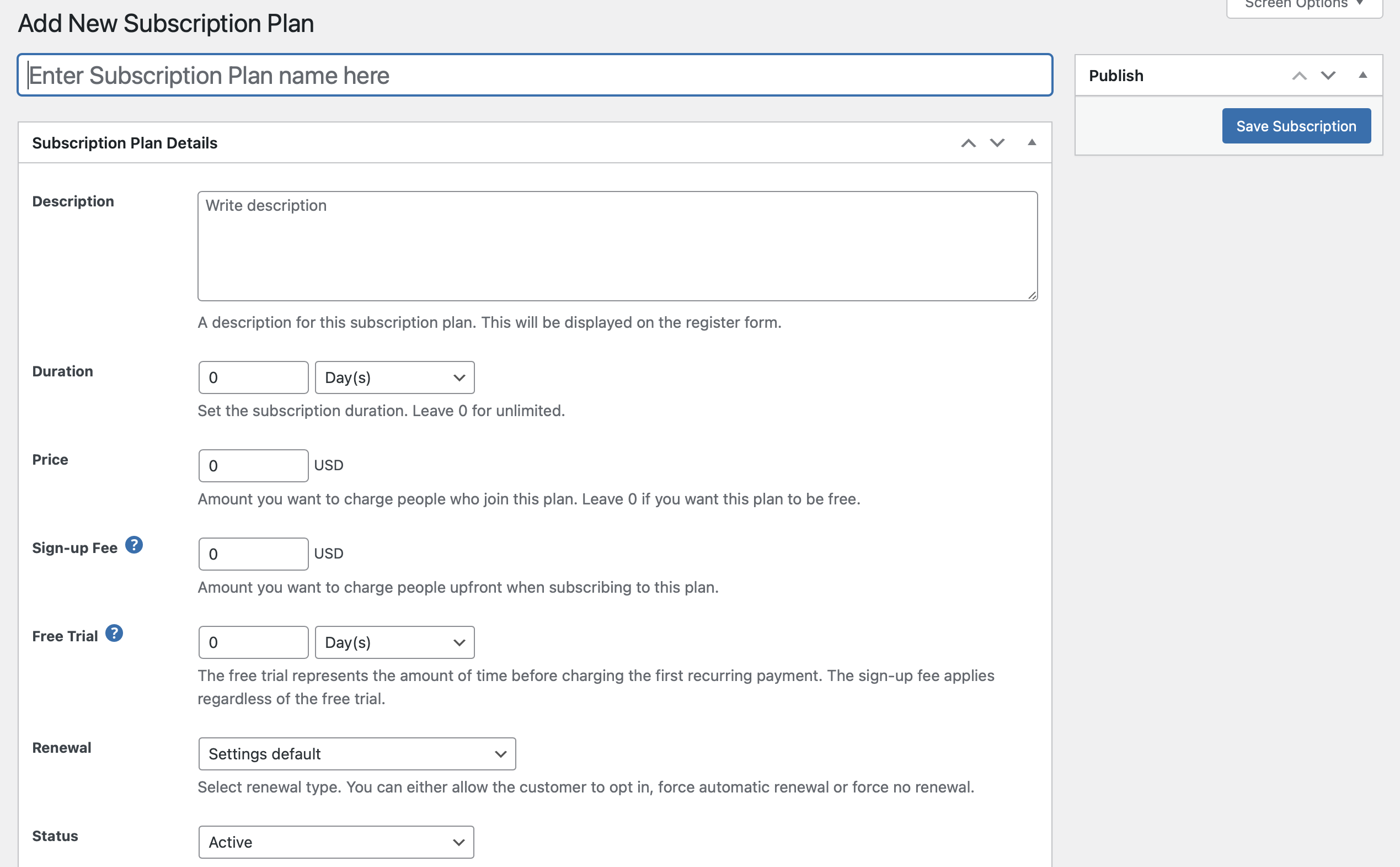 Better yet, reports are streamlined, giving you access to a short summary and a visual chart. Plus, you can filter the results easily by month.
2. Interface
One of the best parts about the free MemberPress alternative: Paid Member Subscriptions is that you get access to a dedicated dashboard. Through this slick, stylish interface, you can access basic information like learning resources. Or, you can revisit the setup wizard and activate free (and Pro) add-ons: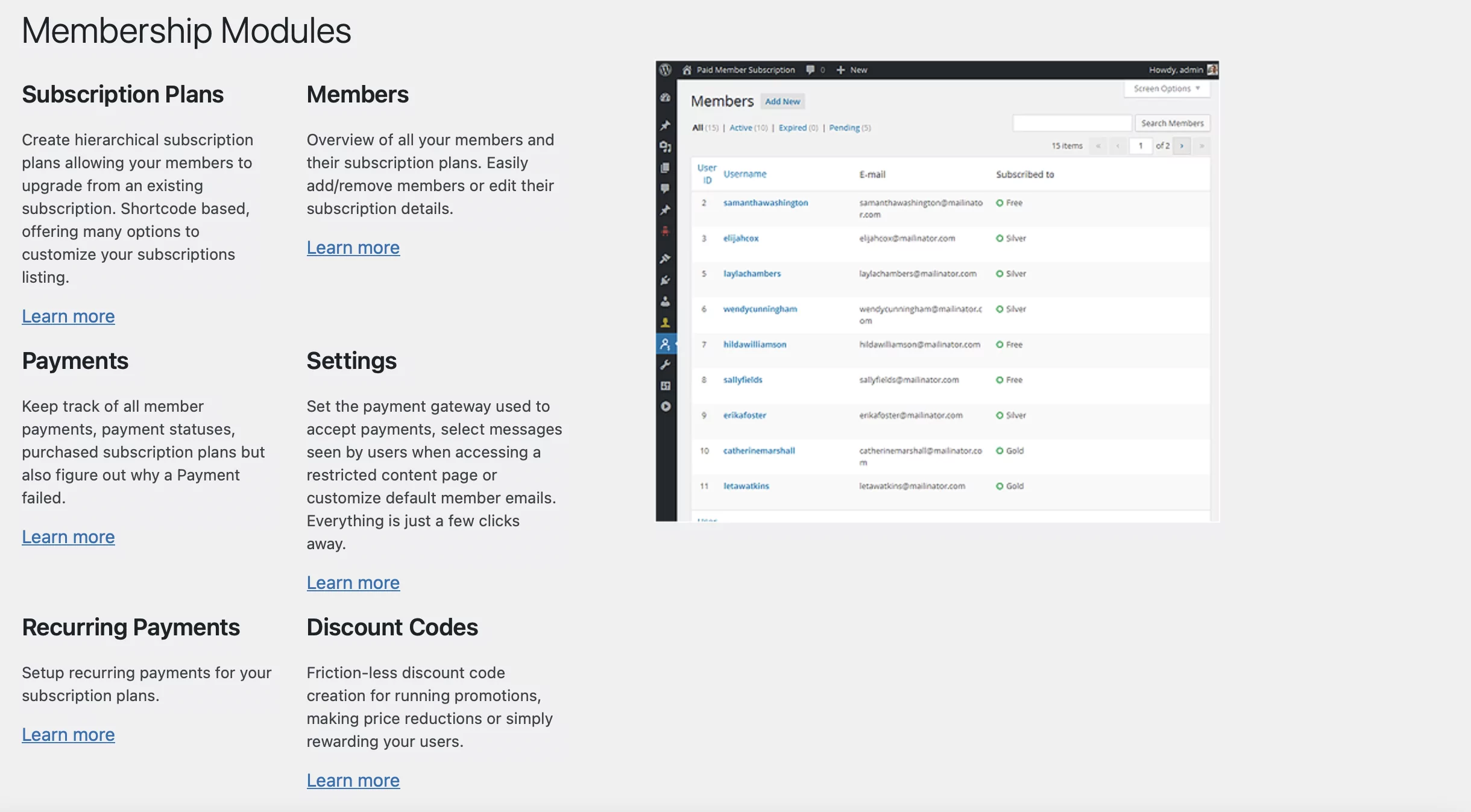 However, MemberPress lacks a dedicated hub to organize its materials so it can be more difficult for users to navigate. Instead, when you click on MemberPress in your dashboard, you're taken straight to the screen where you add your membership options.
The MemberPress interface is consistent, whether you're adding coupons, rules, or groups. Plus, your options are listed in the same way as your WordPress posts and pages which makes it familiar for most users:

Paid Member Subscriptions works similarly. However, this tool lacks the branding that MemberPress adds to its pages. Therefore, it slots in seamlessly to your WordPress admin screen.
Plus, on the Payments and Members screens, you can filter your list by using the Completed, Pending, and Failed links:

Meanwhile, you're able to use the Bulk actions dropdown menu, as you can with any other WordPress asset.
3. Price
As we've discussed, there is no free version of the MemberPress plugin. Therefore, you'll be paying at least $179.50 a year just to gain the simple membership functionality.
What's worse is that even at such a steep price point, you're unable to unlock the plugin's full potential. For example, you won't be able to access specific add-ons like Quizzes, Forums, and Communities. Plus, customization options can be quite limited and you won't benefit from any marketing integrations like Zapier.
That's why you might prefer to find a MemberPress alternative like Paid Member Subscriptions. This plugin is completely free so anyone, regardless of budget, can install the plugin and have a membership site up and running in no time. However, if you do want to add some extra features, you can always upgrade to one of the paid versions.
How to Set Up a Membership Site Using Paid Member Subscriptions, the Free Memberpress Alternative
If you'd prefer to use a MemberPress alternative, Paid Member Subscriptions is super easy to set up in WordPress. All you need to do is go to Plugins. Then, click on Add New. Here, type in "paid member subscriptions". It's the first option that you see.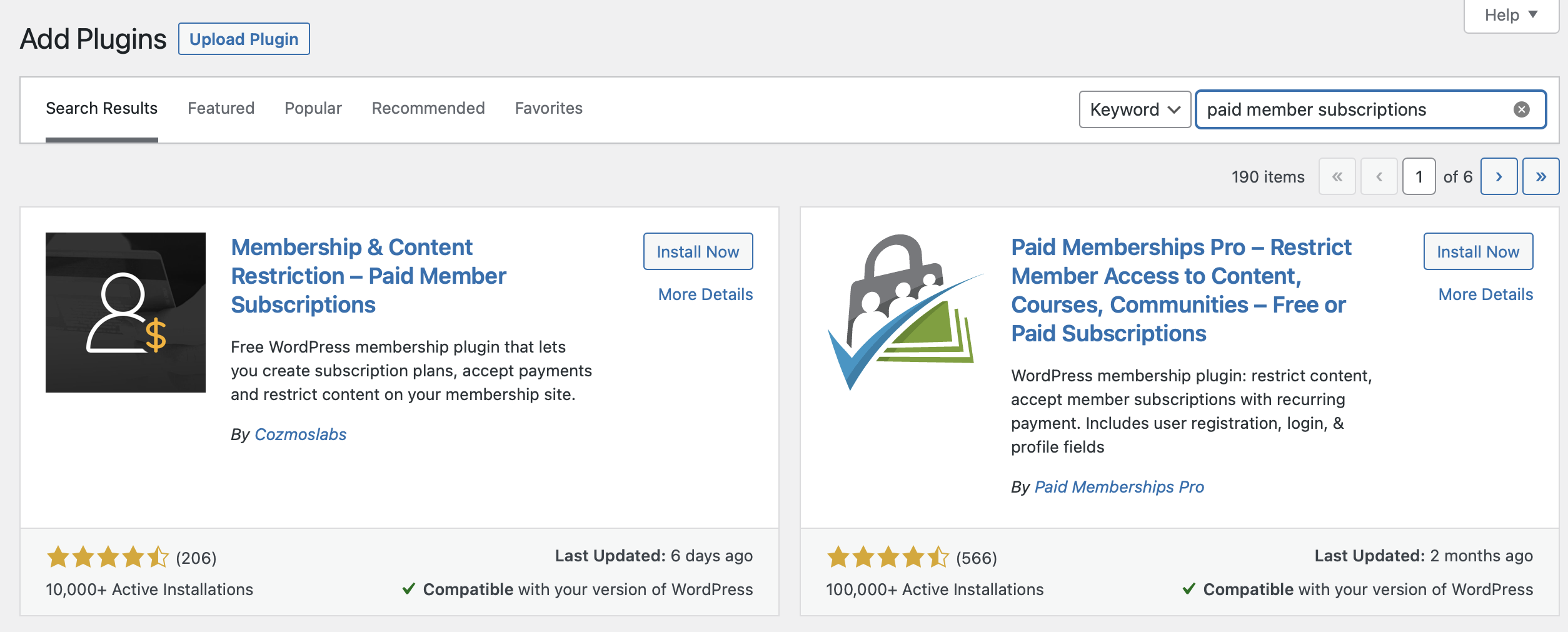 Now, click on Install Now. This might take a couple of seconds. Then, select Activate.
You'll be guided through the setup wizard where you're able to change some of the default settings. For instance, you can automatically redirect users to another page after registration and allow the plugin to create all your important membership pages, like the login or registration pages.
Next, you can start working on your subscription plans. Go to Paid Member Subscriptions → Subscription Plans and click on the Add New button up top. Give your plan a name, set a duration for it, a price, and browse through the rest of the setting on the page to configure your plan.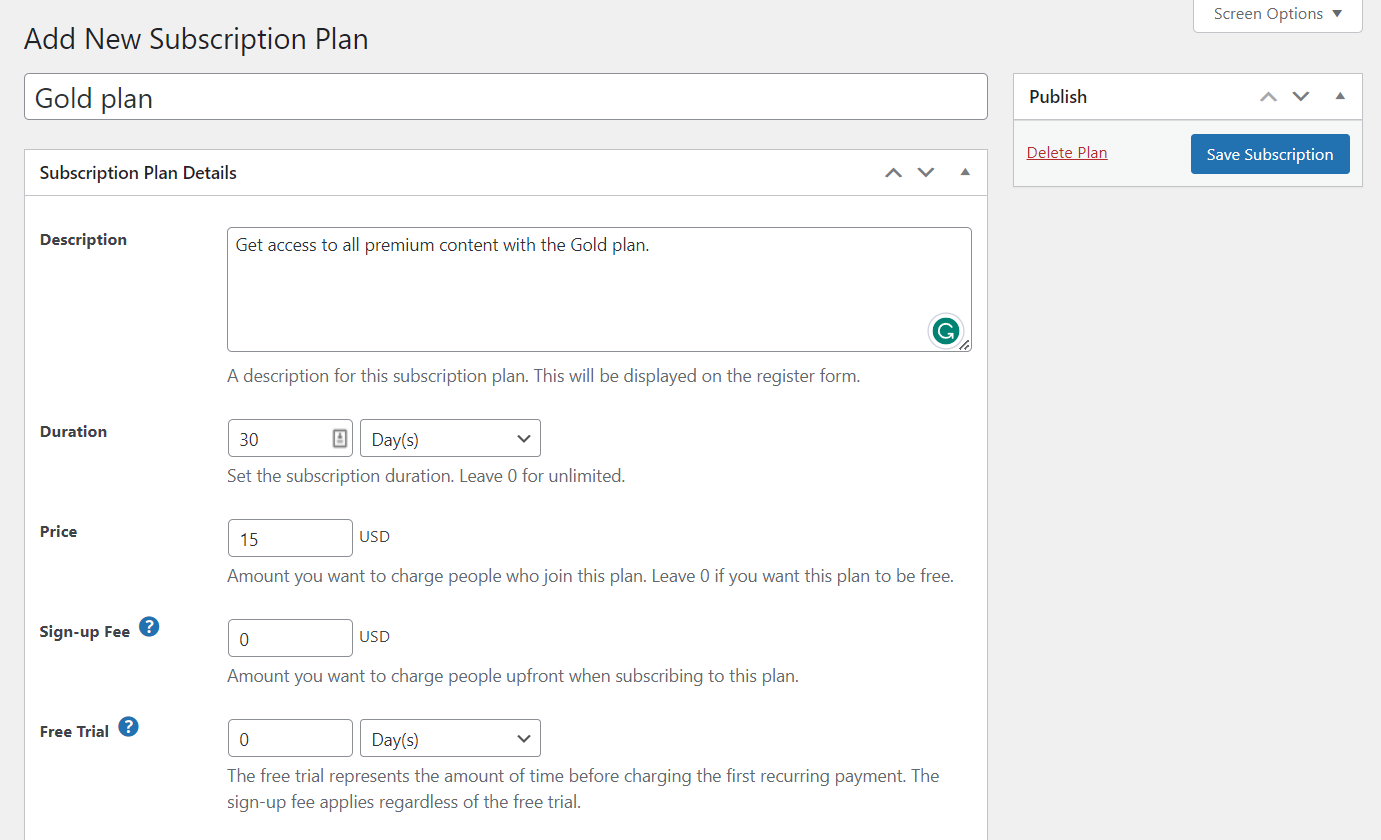 Once you're done, click Save Subscription from the upper right corner of the screen and then add as many other plans you'd like in the exact same manner.
These will be the subscription plans that your customers will see on the registration page.
Next, the dashboard is an excellent place to learn more about this MemberPress alternative. Or, you can visit each of the tabs in the WordPress sidebar to create subscription plans, add new members, manage payments, and more.
If you want a full walkthrough on this process you can read our full guide on how to build a membership website on WordPress.
Is Paid Member Subscriptions a Good Alternative for Memberpress?
While MemberPress continues to be a widely-used tool, there are plenty of limitations to the plugin. Therefore, you might prefer to find a free MemberPress alternative like Paid Member Subscriptions to create a membership website. However, there are some key differences between the options.
To recap, here are three key differences between MemberPress and Paid Member Subscriptions:
Paid Member Subscriptions is easier to use thanks to the setup wizard, linked learning resources, and a streamlined report system.
MemberPress and Paid Member Subscriptions use an interface that compliments WordPress. However, Paid Member Subscriptions features a dedicated hub, and tones down the branding for a more seamless integration.
MemberPress is a premium tool, but Paid Member Subscriptions offers a completely free version in the WordPress repository.
So, if you're on the looks for a plugin that can help you easily create a membership site with tons of features without needing any technical skills or a big budget, you can give Paid Member Subscriptions a try.

Paid Member Subscriptions Pro
Accept (recurring) payments, create subscription plans and restrict content on your website. Easily setup a WordPress membership site using Paid Member Subscriptions.
Do you have any questions about using the MemberPress alternative: Paid Member Subscriptions? Let us know in the comments section below!
Subscribe to get early access
to new plugins, discounts and brief updates about what's new with Cozmoslabs!
Source: https://www.cozmoslabs.com/1380613-free-memberpress-alternative/
---
---
You might also like this video