Can't seem to get your head around membership marketing, huh? Don't worry, we've all been there. The whole matter might make you feel like Sisyphus initially, but it's easy as you're about to learn.
We agree that creating a membership site is a thrilling feat. Like us, you're probably as excited as a bride on her wedding day.
First, setting up memberships is relatively easy because of WordPress membership plugins, such as Paid Member Subscriptions.
Second, creating membership marketing content is a piece of cake if you understand your niche. Not to mention that, for most membership sites, your expertise is your product. Unless you're something like Dollar Shave Club, which makes razor blades and shaving creams for its members.
Third, membership sites can make you a tidy sum at the end of the day. For instance, Unilever bought Dollar Shave Club for a whopping $1bn!
Fun fact: Unilever didn't drop the membership model after the acquisition because it works like magic.
Is that not a good enough example? Pat Flynn is swinging it and swimming in the dough from selling course memberships at Smart Passive Income Pro.
These are just two examples. We would be here all day if we were to mention all membership sites that make money.
Back to you. You have a beautiful membership website with stunning content, but there's one problem. Low membership sales are crushing your spirits.
You're probably wondering: What do successful membership sites do differently in the marketing department?
Join us as we uncover the techniques you need to promote your membership site like a pro.
Top 10 Membership Marketing Ideas
Building your membership site is one-half of the equation. The other half involves encouraging people to sign up, pay for membership, and stay as long as possible.
"Don't be afraid to get creative and experiment with your marketing." – Mike Volpe, former CMO, HubSpot.
The following tips apply whether you sell information, services, or physical products on your membership portal. Also, don't be afraid to try different marketing approaches.
#1 – Understand Your Target Audience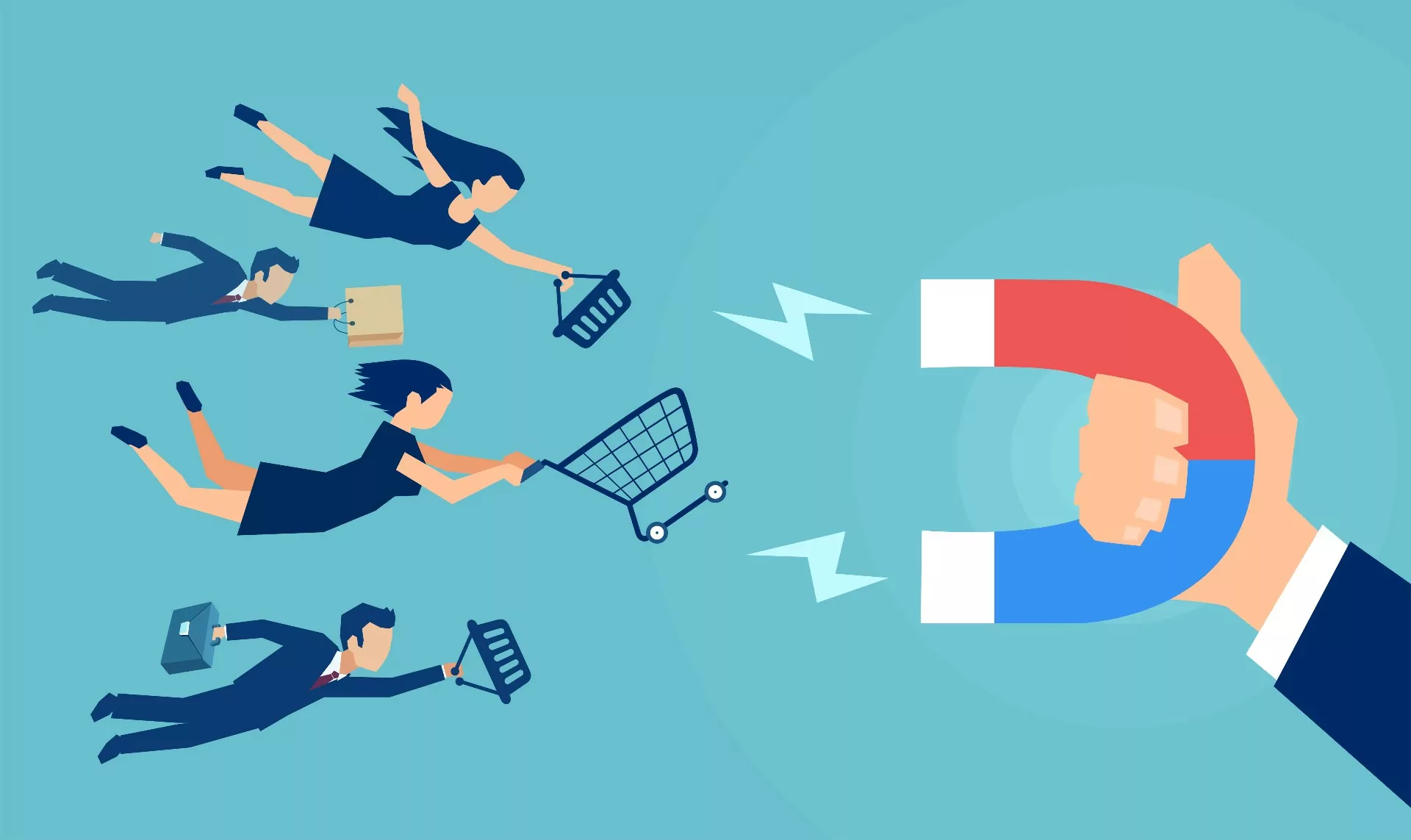 Understanding your target audience is the most important tip you can take away today.
If you want a yellow Lamborghini Aventador, you won't bother looking at ads selling a red Toyota Prius, now would you? It doesn't matter how good the pitch is, right?
And guess what – the person selling the Lambo won't go looking for anyone who wants a Prius. It's a simple business principle to comprehend, I suppose.
In other words, the entire universe is not your marketplace. If your membership site is to thrive, you must find the right people. Your kind of people.
Aim to reach the people most interested in what you're offering. Don't just shoot out of the blue, hoping something will stick. Do so, and you will waste time, effort, and money.
An effective membership marketing strategy starts with data-driven research. Who are you selling to? What are their pain points? Are they mainly male or female? Can they even afford your membership?
You must have a clear picture of your target audience if your marketing efforts are to bear any fruit. Don't hesitate to drill down until you find the level of detail you require to inform your membership marketing strategy.
There are many online tools and ways to lock on your target audience. Use Google Analytics, social media analysis, surveys, keyword research, existing followers, and beyond.
When you know who you're trying to reach, membership marketing morphs from a cocktail of arduous tasks you'd rather avoid to pure bliss.
Additionally, you enjoy better results since you're not wasting time on people who don't care about your membership program.
Take time to understand your ideal customer well before launching your membership site. Aim to answer their questions and craft a value proposition that gets them through the door and keeps them hooked to your program.
Main takeaway: Learn all you can about your target audience to create an effective membership marketing strategy.
#2 – Start With An Awesome Membership Site
A few years ago, my colleague and I created a membership site using a script known as Oxwall. Within a few months, we had more than 4k members. Pretty neat, right?
Everything was swell until we noticed a significant drop in memberships. The problem? Oxwall was not mobile-friendly or the least bit responsive back in the day. Long story short, we shut down.
Lesson learned? Create a membership website that's pleasant to use across multiple devices.
I mean. What's the point of spending resources to market your WordPress membership site if people will land on the site and leave due to poor user experience (UX)?
How do you expect people to pay for memberships when your website feels like a school project by a third-grader? What happens if they can't enjoy your content or product offering because your design gets in the way?
That's shooting yourself in the foot per se, and you have no one to blame. No, you can't even blame Samuel L. Jackson 🙂
Invest time or money in a professional site designer to offer a seamless sign-up, payment, and membership experience.
If you don't have the time or money for a pro developer, we have your back with 15+ WordPress Membership Themes in 2023.
Main takeaway: Establish authority with a solid and professional brand image.
#3 – Grow Your Email List Long Before Launch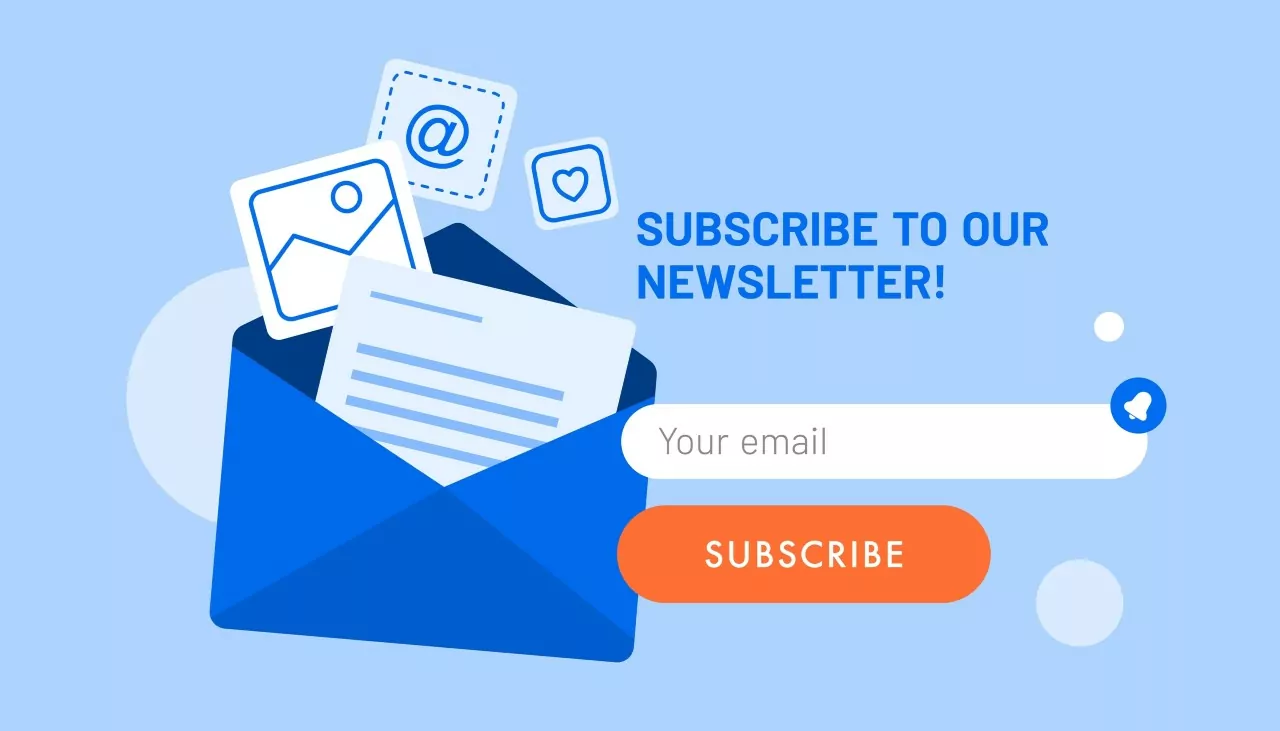 Do you know what Pat Flynn, Neil Patel, and other top-tier marketers do before launching products or membership programs?
They create buzz. That's right; they make lots of noise about the product well before launch day. But they don't stop there. They deliberately ensure most prospects join their email list.
In other words, they first create interest in their membership programs and products. Then they ensure they have eager email subscribers waiting for the launch.
It's simple. If I give you my email address in anticipation of your membership site, I'll most likely engage with your content during the launch. Additionally, I'm more likely to pay for membership than the guy who saw a random ad for your membership site on the internet.
Already have an email list? Good, you can market your membership site to this group in advance.
Don't have an email list? Don't worry. You can easily create an email list to market your WordPress membership site long before launching.
But how? Glad you asked.
Create a landing or sales page for your membership site, and add an email subscription form.
Next, incentivize users to join your email list. You have a couple of options at your disposal:
Use a free lead magnet, such as an eBook, worksheet, template, report, exclusive expert insight, or a completely free membership level;
Entice users with a low-dollar trial to test the waters. After the trial ends, your automated system will charge users the whole amount. Don't forget to make this clear on your landing/sales page;
After users subscribe to your email list or take you up on the low-dollar trial, don't send them to the "Thank You" page. Instead, send them to a page that upsells your membership plans, preferably at discounted annual plans (you've seen web hosting companies implement the second part successfully);
Create compelling content but restrict some posts for email subscribers (Brian Dean of Backlinko does this excellently).
Exhaust all options to grab email addresses before the launch. Doing so allows you to launch with a bang.
Send your email list that much-awaited welcome message when your membership site is ready for the world. You won't be starting from scratch like the guy blasting messages hoping something will stick.
You can go further. Instead of collecting email addresses only, you can use the email subscription form to ask prospects about their pain points.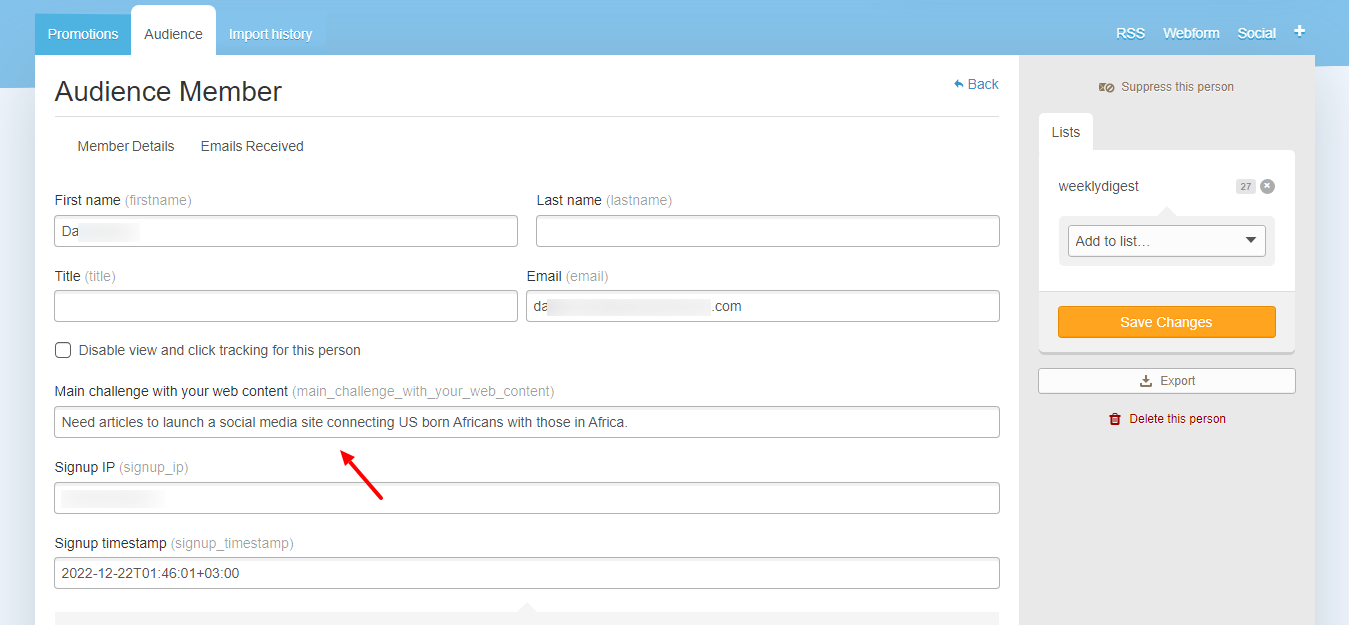 Do so to learn more about your members and generate more ideas for future content.
Email marketing has a high ROI of about $42 for every $1 you spend. It's best to ensure your email marketing machinery is well-oiled before, during, and after the launch.
Basic email marketing workflows could look like this:
Content marketing → email list → nurture sequence → pitch membership;
Paid ads → email list → nurture sequence → pitch;
Paid ads → webinar → email list → pitch;
Ads → sales page → free lead magnet → email list → pitch;
Free trial → email list → upsell.
There are countless ways to do this; the above are just examples. All in all, make email marketing part of your membership marketing strategy.
Main takeaway: Invest heavily in email marketing long before launching your WordPress membership site.
#4 – Leverage Social Proof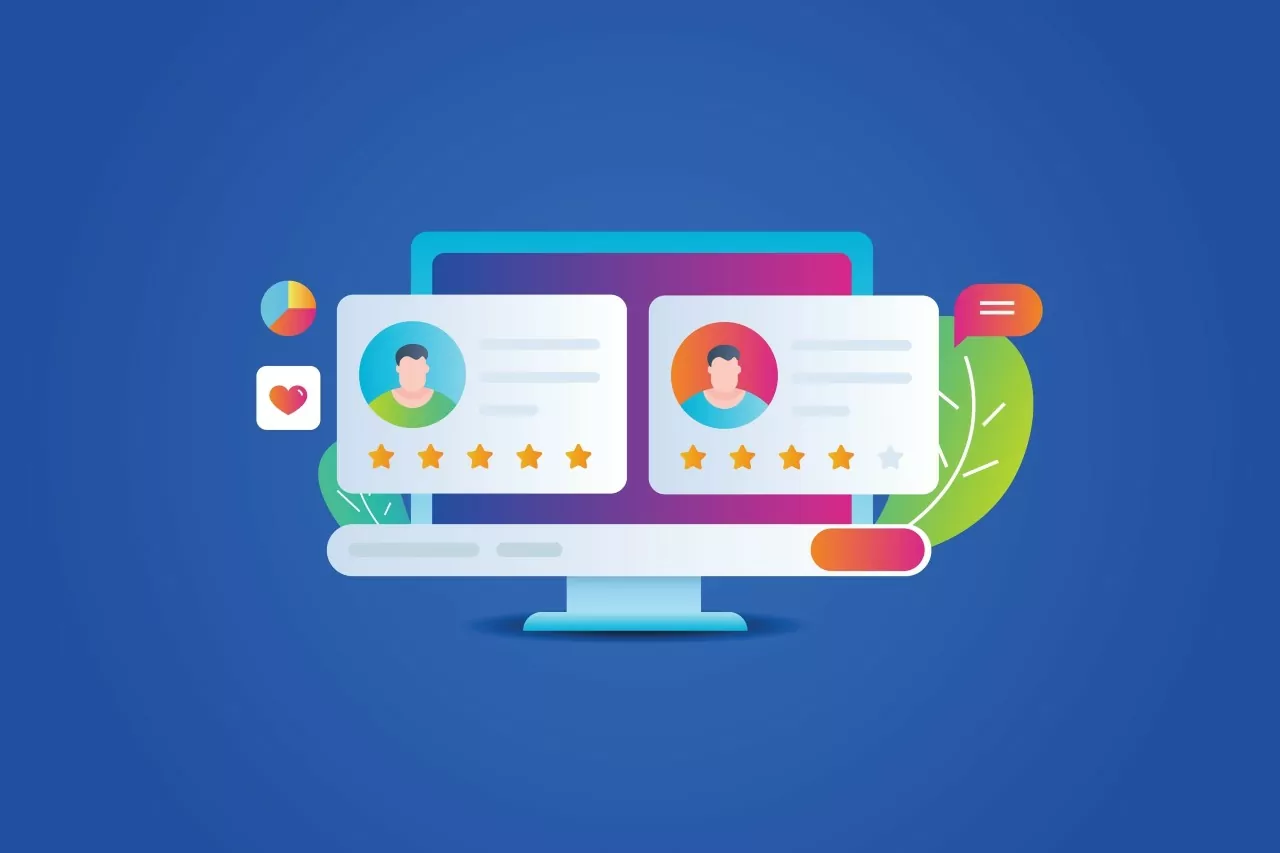 If you're like most of us, you probably read lots of reviews and testimonials before buying a product online. I do it, and I have dropped products severally after reading bad reviews.
Do you have reviews and testimonials about your membership site? If so, create a page or a section on your landing page and add the reviews.
Don't have reviews or testimonials yet? Just ask people to leave them after trying your membership. You can use the free membership level or trial we mentioned earlier.
Publishing reviews and testimonials show prospective members that your program is the real deal. Also, don't be a bore. Add visual or video testimonials to add weight to your claims.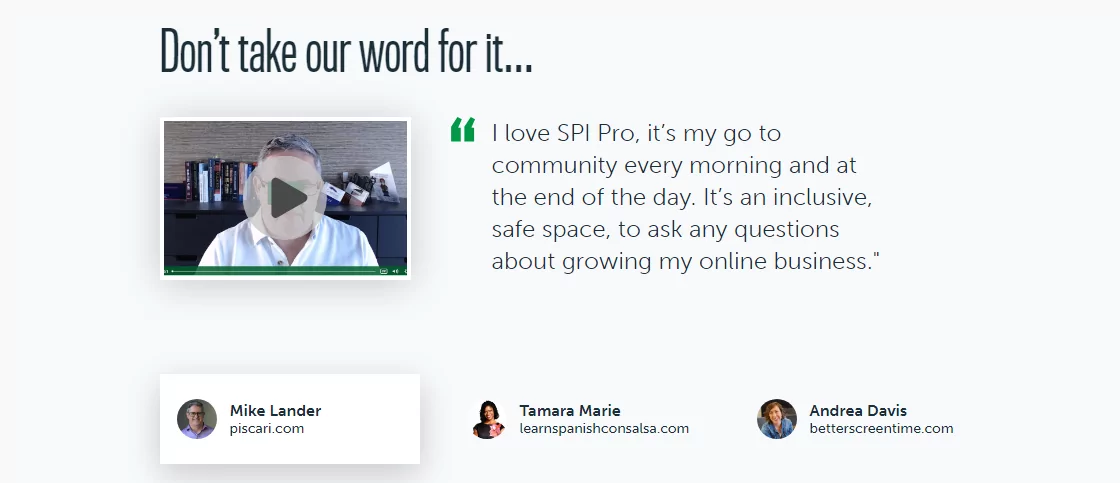 Don't use the testimonials on your landing pages only. Add a simple testimonial to the product or checkout page to coax hesitant members.
But don't stop there. Publish member success stories and case studies to boost your authority and credibility. Additionally, display the number of active members, social media followers, and an "As seen on" block.
Don't let these elements lie around; let happy customers help you to market your membership website. After all, it's free membership marketing.
Main takeaway: Add social proof to boost credibility, impress your audience, and eliminate member hesitation.
#5 – Blogging & Guest Blogging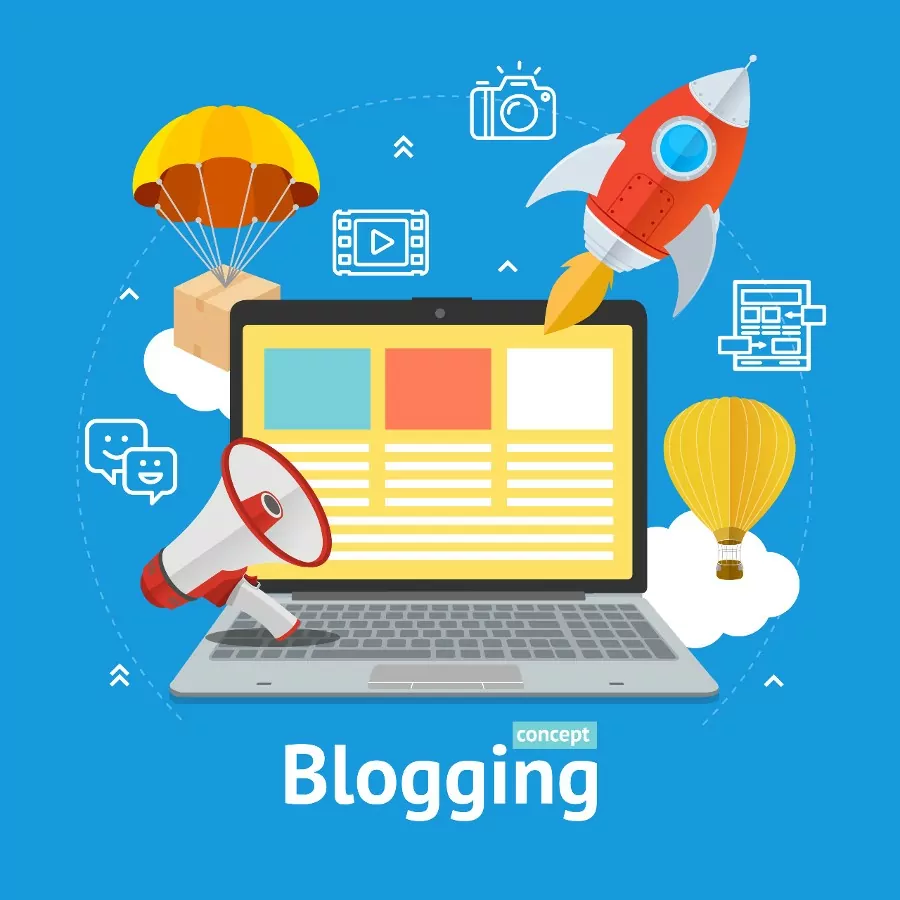 Blogging is a powerful form of content marketing. It allows you to create relevant content around your membership site.
Sadly, many membership site owners put most of their content behind a paywall. As such, search engines can't index their content, which leads to less organic traffic.
Don't go down this route. Instead, use your blog to share some of your best content for free. Doing so boosts authority and confidence in your membership. At the same time, it establishes you as an expert in your niche.
Also, a well-maintained blog encourages people to sign up for your email list and eventually pay for your premium content.
Publishing content consistently keeps your brand in the loop and on the mind of your prospective customers.
Moreover, don't forget to mix things up. Instead of plain text, add images, videos, infographics, data, and everything else that makes your blog the go-to place for your audience.
Blogging is a huge part of search engine optimization. Always publish SEO-ready content to rank your blog on the first page of Google.
What about Guest Blogging?
Another crucial part of SEO is link building. While people will naturally link to your blog if you have stunning content, you can improve your chances with guest blogging.
If you're a complete greenhorn, guest blogging involves publishing your content on other blogs in exchange for a link to your blog.
Now, don't just post on every other blog you come across. You must identify blogs within your niche. Then publish some of your best articles there.
For example, if your membership site sells workout plans, you can approach nutrition, gym, or fitness blogs and submit guest posts.
You'll be glad that many blogs accept guest posts, so it's easy. Just don't spam people or write articles for the backlinks. Provide real value through guest posts to drive people to your membership site.
Main takeaway: Add blogging and guest blogging to your membership marketing arsenal.
#6 – Social Media Marketing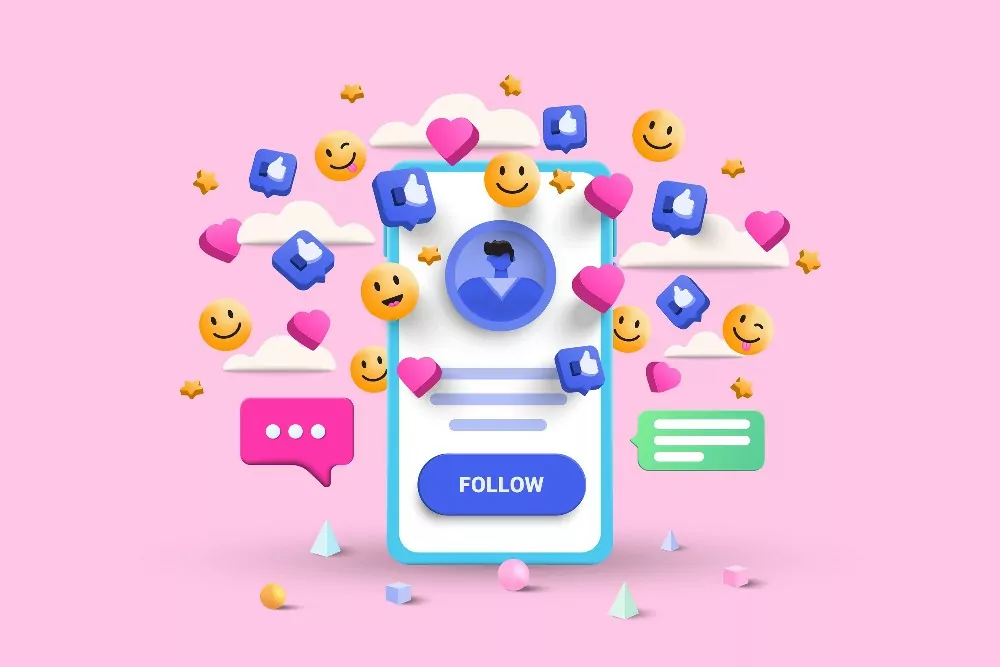 Any marketer will tell you that social media marketing is ruthless but rewarding. There is cutthroat competition, which means your marketing message can drown in the noise.
Nonetheless, you can make big moves if you know what you are doing. To hit the mark with social media marketing, we recommend starting with one platform at first.
For instance, starting with Facebook is one of the best membership promotion ideas. The social media giant offers many budget-friendly options to reach your target audience.
Facebook ads are affordable and generate high ROI. You also have promoted posts. They are cheaper but generate a lower ROI than the ads.
Also, don't promote your paid membership plans only. Promote free content such as guides, ebooks, worksheets, etc.
The best part about Facebook is you can fine-tune your ads for your target audience. For instance, you can select location, age, interests, likes, and budget with a few clicks.
Facebook is an example. Many entrepreneurs have succeeded with other social sites such as Pinterest, Twitter, Instagram, LinkedIn, and even the newest kid on the block – Tiktok.
Main takeaway: Create social media profiles and post content regularly. To build momentum, don't hesitate to pay for ads. Facebook is a great place to start.
#7 – Affiliate Marketing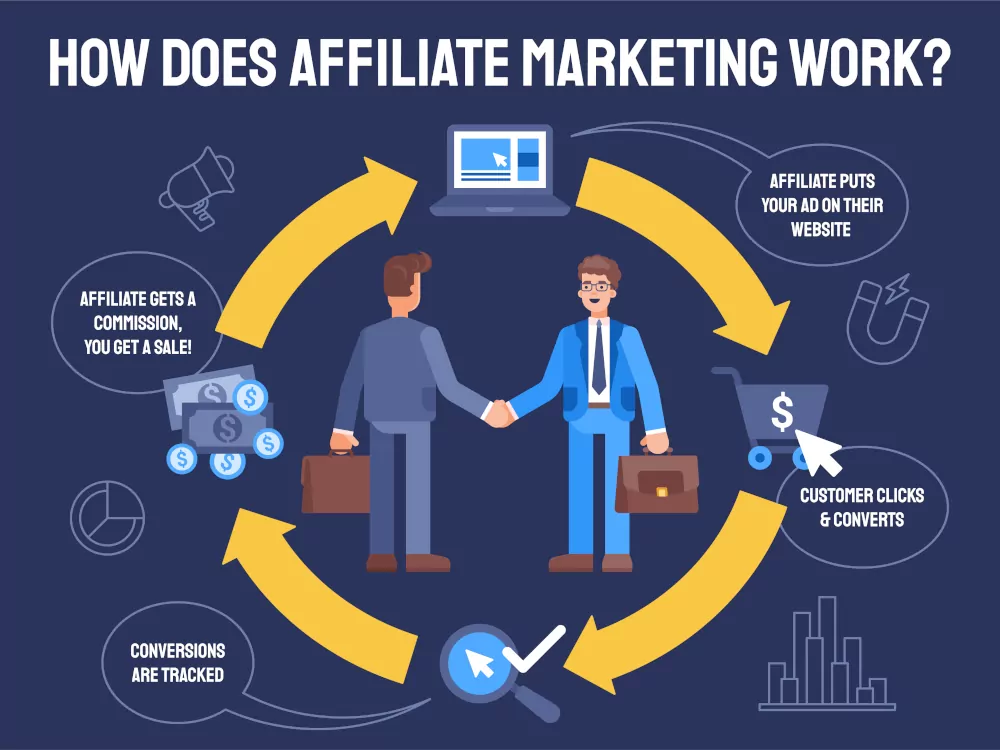 Creating a membership affiliate program is one of the best marketing strategies to increase sales on your membership site. It's online word-of-mouth marketing.
The process is simple. Partners and publishers promote your membership site using trackable creatives, such as affiliate links and banners. The customer clicks on the affiliate link, comes to your site, and buys a membership plan. You reward the affiliate partner or publisher.
You can reward the affiliate with commissions, discounts, gift cards, or loyalty points they can redeem on your website or elsewhere.
For more sales, collaborate with industry influencers and thought leaders that people already trust. I have bought a product that was recommended by an expert many times.
If people who found your membership useful want to share it with friends, offer them affiliate marketing to gain more sales and reward users.
The best part is affiliate marketing is easy to implement with tools such as AffiliateWP and Paid Member Subscriptions.
Pro tip: Are you an existing Cozmoslabs customer? Earn up to 30% commission on each successful sale.
Main takeaway: Add an affiliate marketing program to your membership site to boost sales and reward your users.
#8 – Host Online Events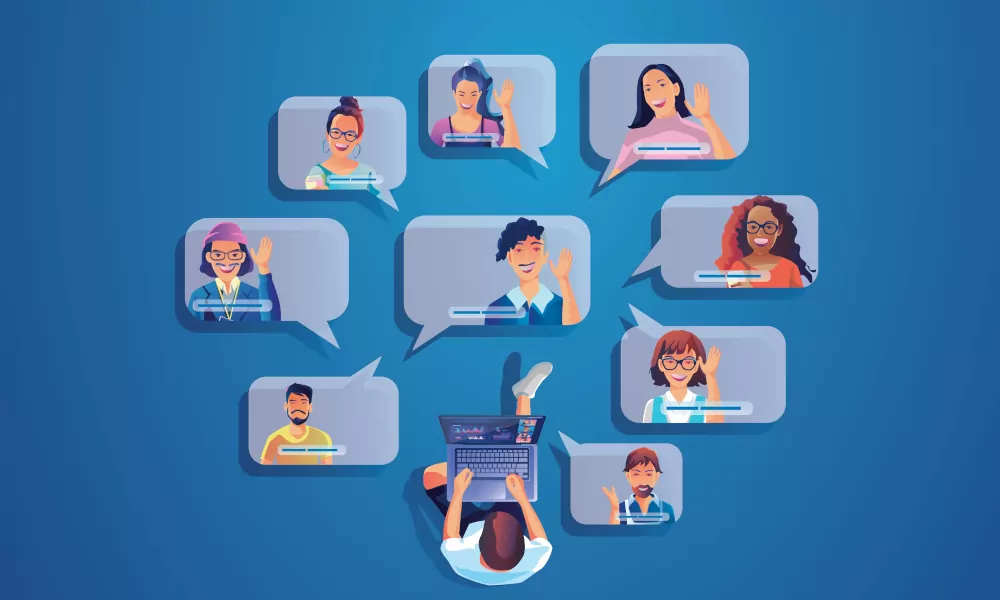 You've probably attended an online event at least once in the past. If so, you probably noticed a lot of engagement during the event.
I mean. People can easily ask questions in the comments during the live event and receive instant answers. This camaraderie boosts trust and eliminates hesitation.
You can also create urgency and scarcity. For example, you can host a free webinar and put the recording behind a paywall after 24 hours.
Online events can come in many forms, such as:
Live Q & A;
Live feedback sessions;
Webinars;
Live talks;
Virtual summits and conferences;
Interviews with industry experts;
Reddit AMAs;
Simple live streams on social media to know your target audience better.
Go ahead and repurpose the events for other channels. For example, you can turn a webinar into a blog post or an explainer video for YouTube.
Related: 10 Best WooCommerce Events Plugins for Hassle-Free Event Management
Main takeaway: Hosting online events helps you to gain many members quickly. If people don't sign up immediately, you still have their email addresses in your email marketing platform.
#9 – Paid Advertising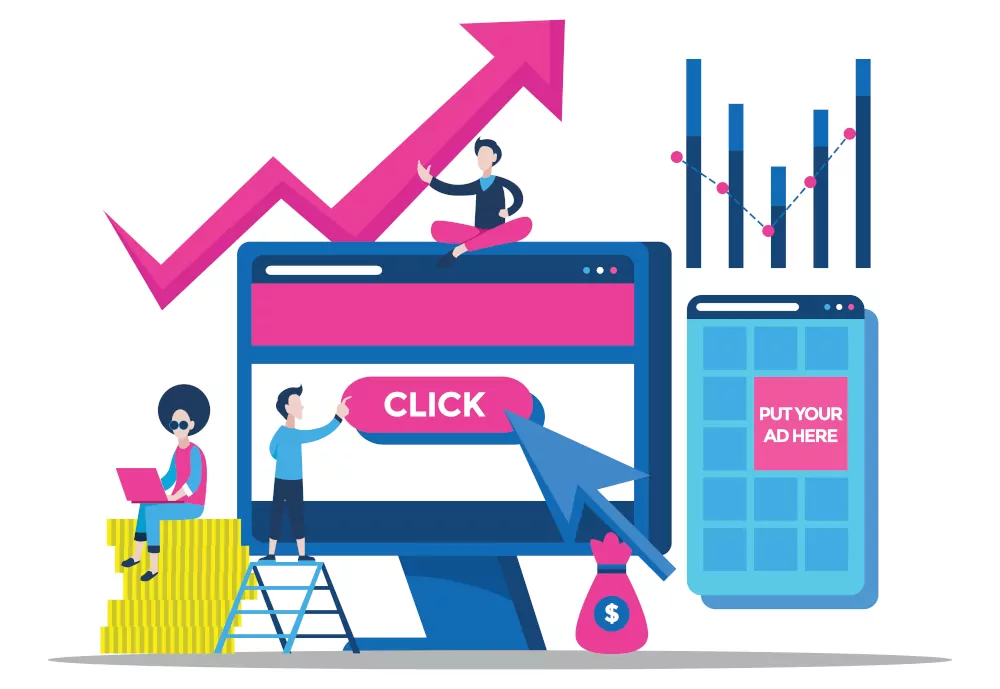 You don't have to reinvent the wheel to market your WordPress membership site. You can use one of the oldest forms of promotion: paid advertising.
You're the queen on the chess board as far as paid membership advertising goes. I mean. You have leeway to take your advertising campaign in whichever direction you desire.
First, there are many advertising platforms online from Google ads to Facebook ads and the list goes on. Also, there are many AI tools that allow you to automate your advertising campaigns.
Word of advice: Don't use paid membership advertising right away. Instead, start paying for advertising after you have some traction. It's pointless to pay for ads when you don't have much to offer visitors.
Additionally, don't forget to advertise in local journals and newspapers. This is especially useful if you're promoting memberships for a local brick-and-mortar business.
Main takeaway: Invest in paid advertising but only after your membership site has some momentum.
#10 – Test, Rinse & Repeat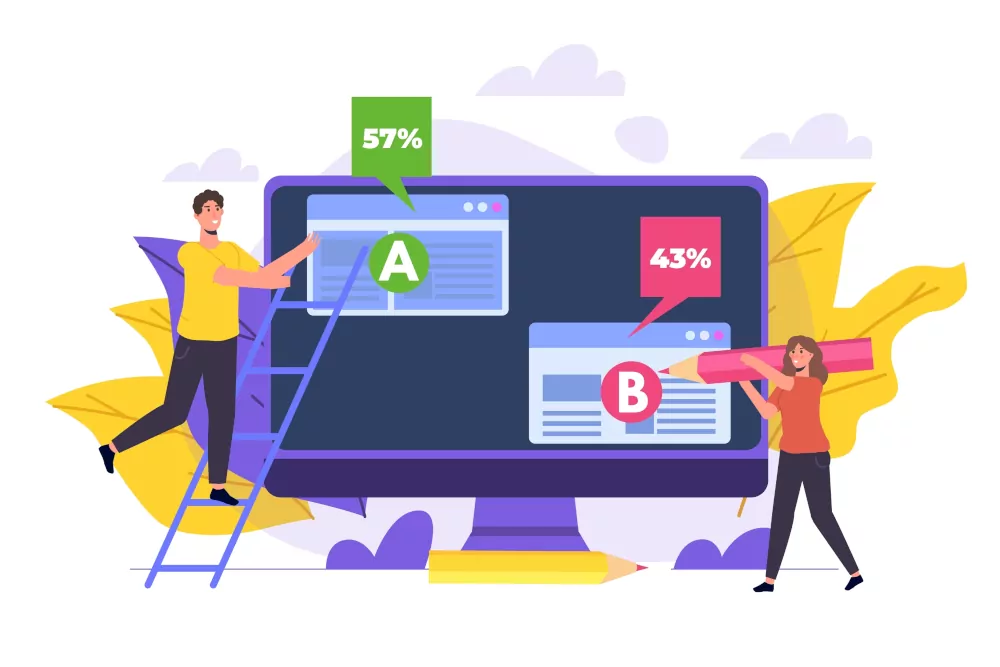 You don't have to start with all the strategies we highlight in today's post. Pick one, implement it, and measure the results.
Note and double down on the areas you can improve. At the same time, don't hesitate to innovate. That is, mix things a little and don't have qualms about testing new methods.
Takeaway: Invest your efforts in membership marketing ideas that work for your business.
Bonus: Choose the Right Tools
Marketing your site is one part of the problem. Once you have things going, you need the right tools to manage everything. That's why you need a WordPress membership plugin, such as Paid Member Subscriptions.
Conclusion
Marketing membership sites needn't be challenging. You need to understand your target audience first. Next, create content and products that address their pain points.
After that, use promotional methods such as blogging, SEO, affiliate marketing, paid advertising, and social media to market your membership site.
No matter the methods you use to put your memberships in front of the right people, always put their needs first.
Have thoughts, questions, or corrections? Please keep the conversation going in the comment section below.
Subscribe to get early access
to new plugins, discounts and brief updates about what's new with Cozmoslabs!
Source: https://www.cozmoslabs.com/1645911-membership-marketing-best-promotion-ideas-strategies/
---
---
You might also like this video