Regardless of whether you want to create a fully-fledged WordPress business directory or make it a part of your overall site, a business directory WordPress plugin would do the job for you.
While some plugins are specifically designed to just create a business directory, others can offer a much wider range of functionalities that would also help you manage other areas of your WordPress website.
Features to Look For in a WordPress Business Directory Plugin
While the exact choice of the right business directory plugin may depend on the functionalities you need, some key features to look for are going to remain the same for most site owners. So let us quickly go through them before we review the best business directory WordPress plugins.
Templates
Simply put, a template is basically the entire design of your directory. Different site owners would prefer different templates depending on what type of look they want for their directory.
So the quality of the templates should be one of the most important factors when choosing a business directory WordPress plugin. But remember, it's much better to have a couple well-designed templates than 10 templates that are very similar to one another without any professional appeal.
After all, you're only going to need one clean yet professionally-appealing template to create a functional and sophisticated business directory.
Setting Customizations
From the user roles to display to the sorting criteria, there are many different aspects of a WooCommerce business directory that you would want to have control over. The right business directory WordPress plugin would allow you to customize all the important areas of your directory.
This includes design elements as well, including how the results are displayed, the avatar size of the members of the directory, and more.
Search Functionality
While most business directory plugins do come with a search functionality that allows your site visitors to search for users, the customizations offered there is an important factor too.
This is especially true if you're looking to build a large directory with a lot of members. Again, the right plugin here would allow you to select the different search criteria the visitors can use to perform a search.
Additional Functionalities
If you know WordPress well, you probably know that it's a bad idea to have a separate plugin on your site for every single thing you want on your website. In fact, when you're building a more user-focused website, there are tons of functionalities you would need to add to your site.
If you install a separate plugin for each of those functionalities, your site's functioning would be far from ideal and it would also lead to a negative impact on your site's speed and SEO (Search Engine Optimization).
So unless absolutely necessary, it's best to go with a plugin that also offers a lot of other useful user-specific functionalities apart from helping you build a business directory.
Best Business Directory WordPress Plugins
Now that you have a fair bit of idea about some of the most important features of a WordPress business directory plugin, let us discuss the best options you have.
Profile Builder Pro
Profile Builder Pro is the most complete user management plugin, and that's precisely why it's the best option in general as well. It can not only help you create a functional, professionally-looking business directory in a few simple clicks, but it also offers a ton of other functionalities that are very important to build a user-focused website.
Some of these functionalities include:
There are tons of other functionalities too. They make Profile Builder Pro the most complete user management plugin.
So if you want a WordPress business directory plugin that goes well beyond just being another business directory plugin, Profile Builder Pro is going to be the best option. It will not only help you build a functional, searchable business directory but also offer a wide range of other useful features that your website needs.

Profile Builder Pro
Profile Builder Pro is your all-in-one solution for user management, while also letting you create a functional and professional business directory.
But back to business directories, the big advantage Profile Builder brings are the pre-designed templates for user listing. The plugin offers 5 pre-made templates you can choose from depending on your website design and taste. So, you don't have to worry about your directory looking plain, or even unprofessional.
Here's an example of what your business directory could look like: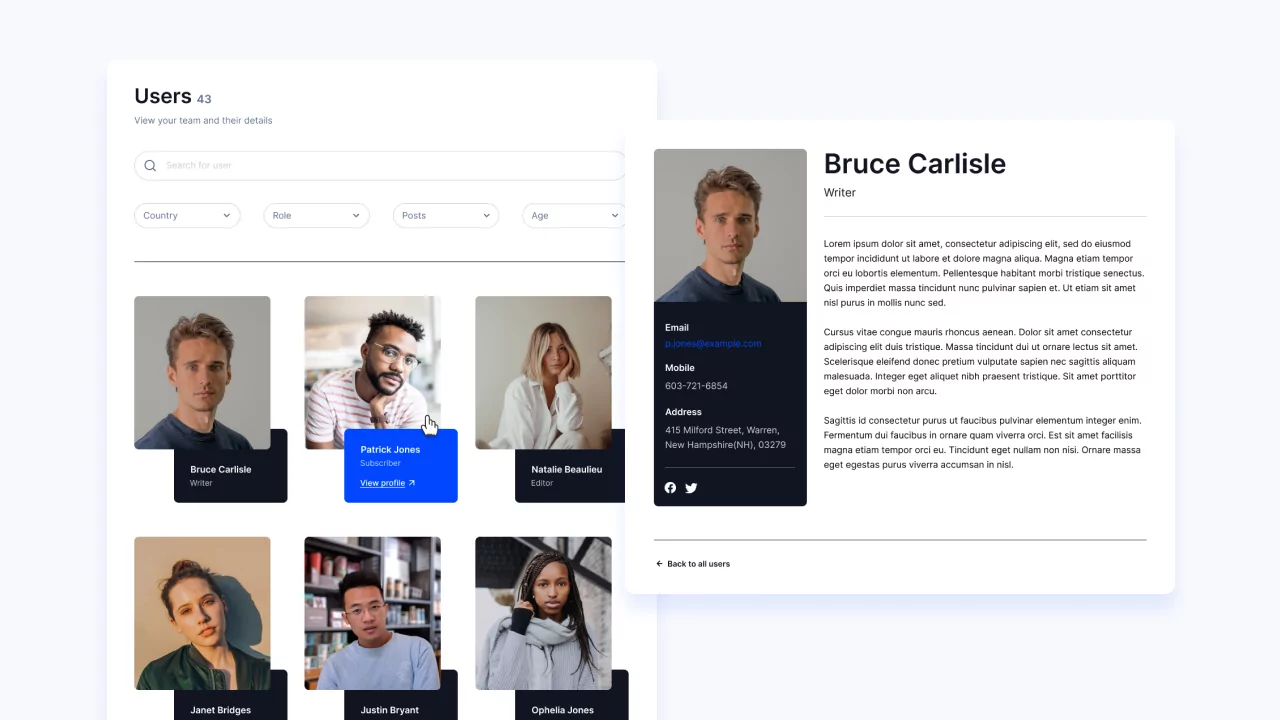 But there's more. You can add filters, search fields, and even furthermore customize these templates to perfectly fit your needs, showcasing only the information you want.
For a more in-depth tutorial on how to create a business directory using Profile Builder, you can scroll to the end of this plugin list. Or, you can click here to go straight to the step-by-step "how to" section.
Directorist
Directorist is one of the most popular WordPress business directory plugins. It's also one of the easier-to-use plugins since it has a start-up wizard to help you set everything up.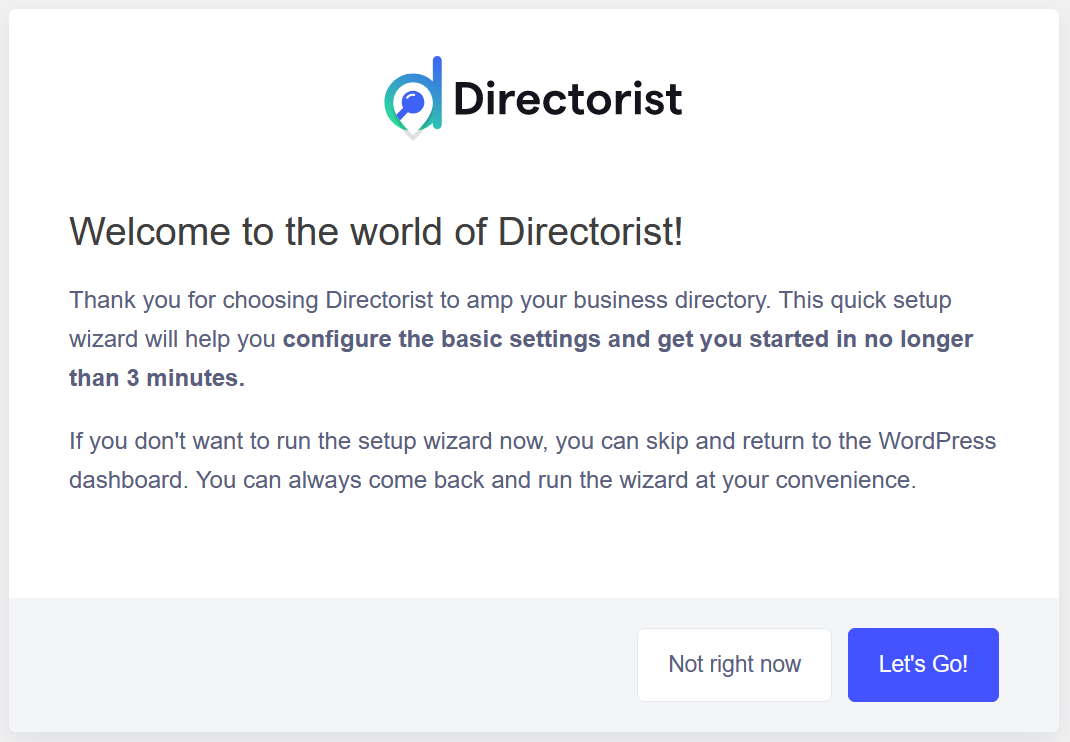 It also creates a whole lot of pages for you automatically. You just have to check or uncheck them as per your requirements at the time of setting up the plugin.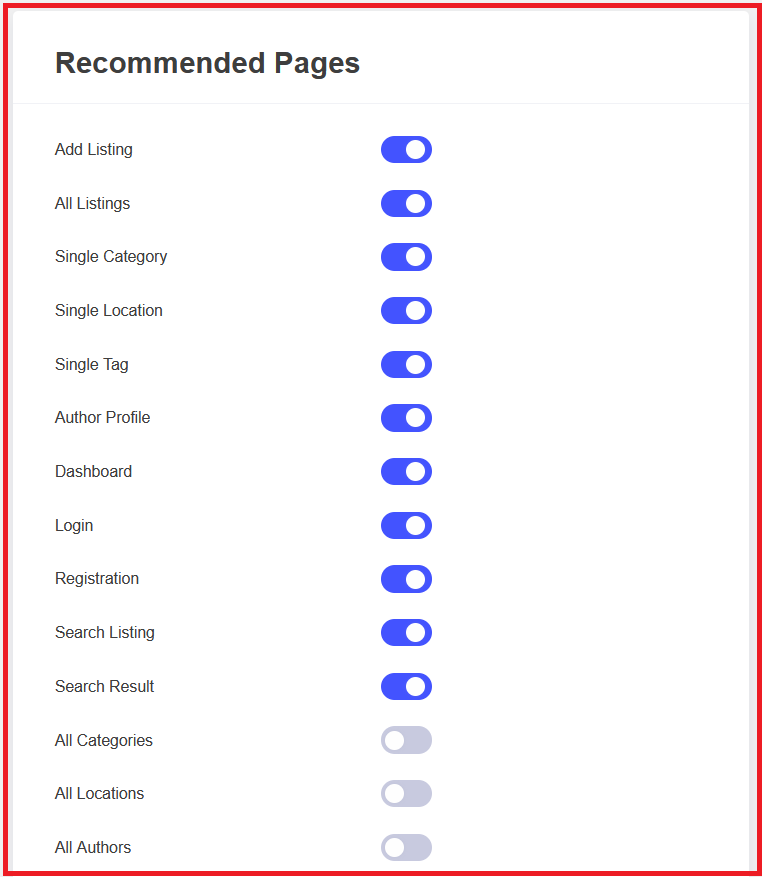 However, it's more suitable for site owners who want to create more of a classified ad website or a real estate business directory. The plugin offers a lot of features to create property listings, including the ability to show the location of the property on Google Maps or OpenStreetMap.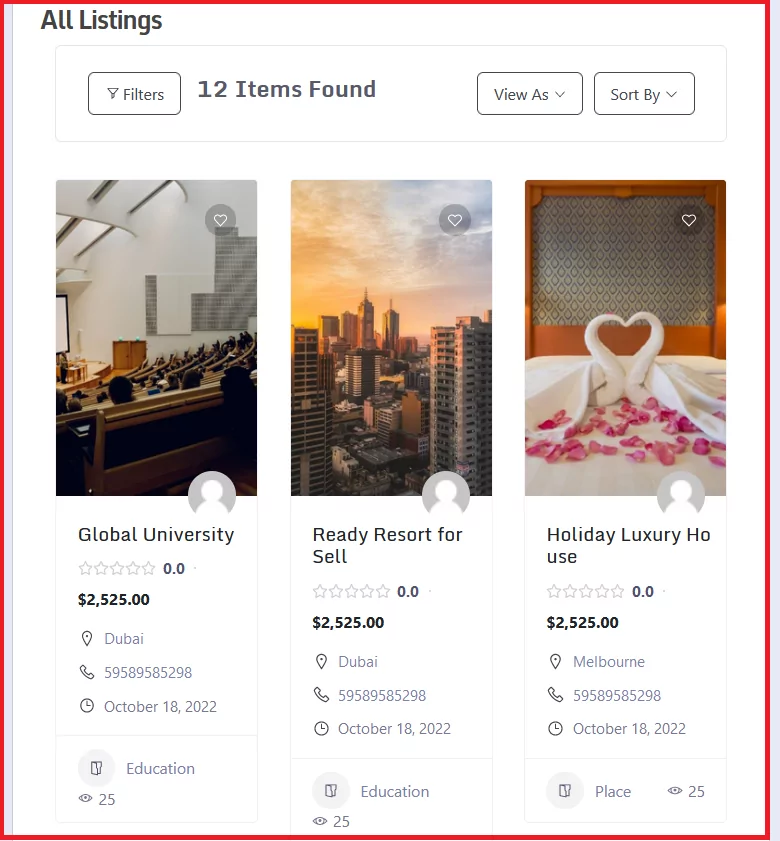 You can import your listings using a CSV file. It does support accepting submissions from your visitors. But if you want to accept paid listings, you will need to purchase the paid extension.
Business Directory Plugin
Business Directory Plugin is also a fairly popular business directory plugin with thousands of installs. However, we would recommend it to site owners who want to accept listing requests from visitors.
This plugin allows visitors to submit requests to list themselves in your directory. So if you're running a general business directory like Yelp, other businesses may want to list themselves on your directory.
However, if you do not want to allow listings from visitors, then this plugin wouldn't make sense. There are a couple reasons for that.
You have to manually add the listings. There's no option to list users by user roles like in Profile Builder Pro.
There are also no template options, and the default template design looks a bit outdated. Here's an example.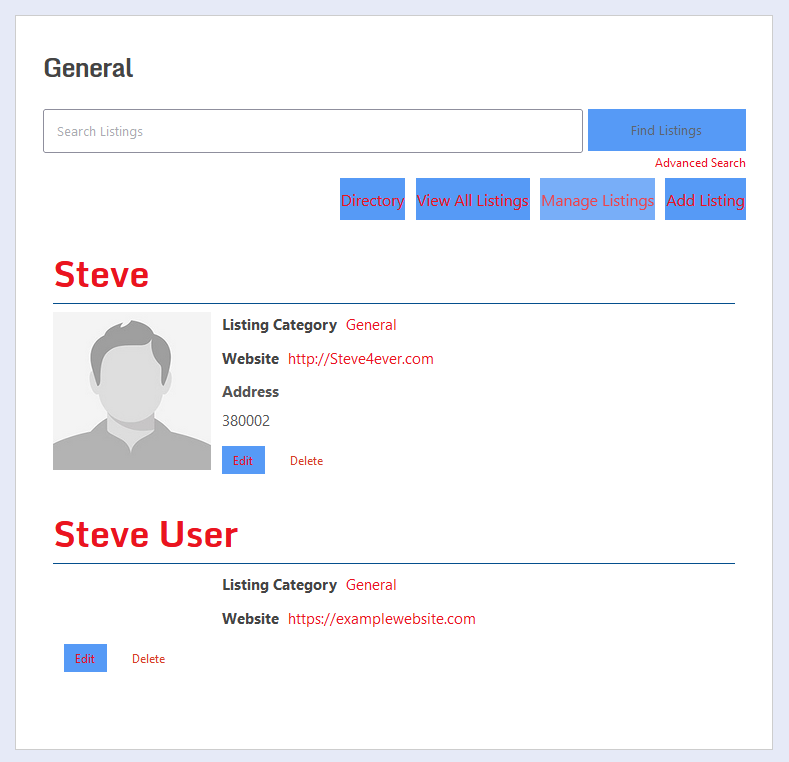 That said, it does support paid listings too. But in the free version, you can only use Authorize.net as your payment gateway. If you want to use the common payment gateways like PayPal and Stripe, you have to purchase their paid version.
Connections Business Directory
Connections Business Directory is also one of the more flexible WordPress business directory plugins. This plugin can be used in different ways, including as a staff directory plugin. You can make your staff or team members add their entries manually.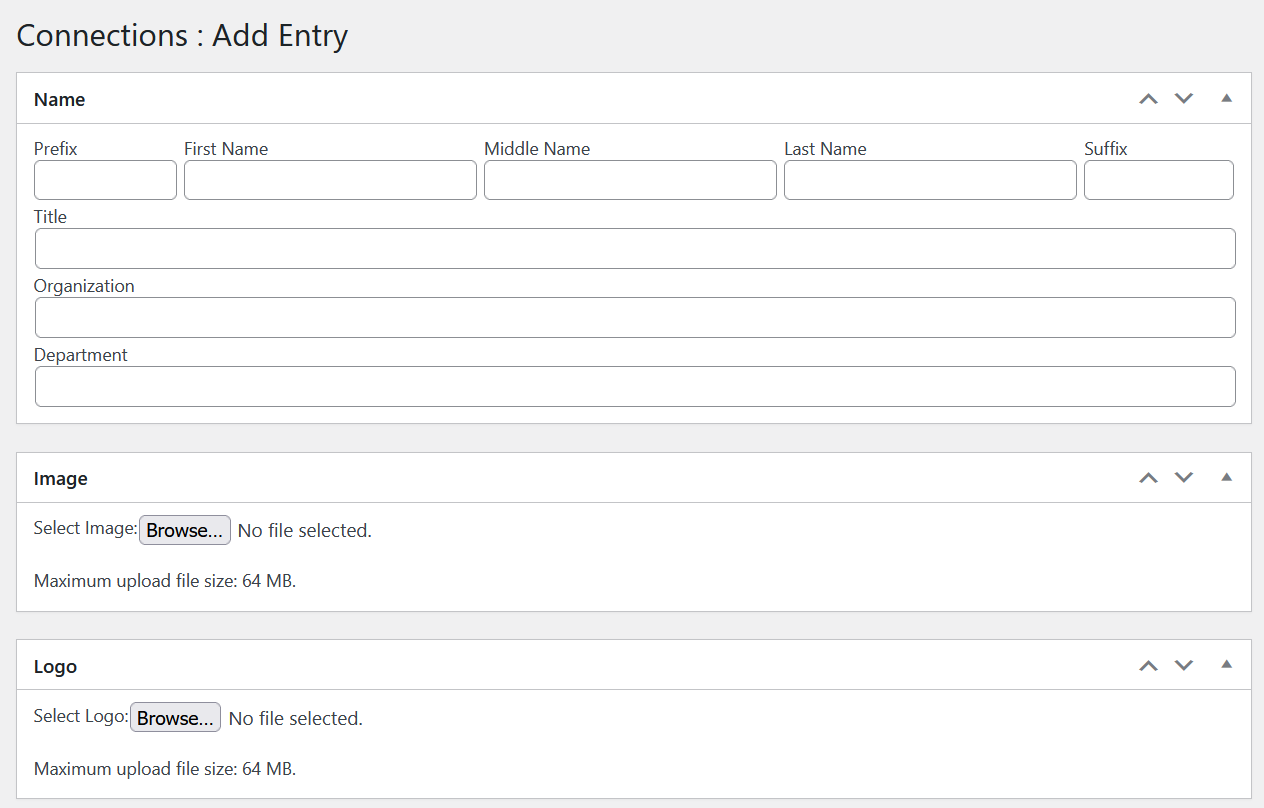 However, its free version is only good for creating smaller directories. This is because the ability to import users using a CSV file requires a paid extension. And so does accepting third-party listing submissions.
Similarly, the only template available in the free listing is pretty basic. It's not suitable for a large professional business directory.
So, for a bigger website, you may also have to purchase their premium templates.
GeoDirectory
As the name suggests, GeoDirectory is designed to be a more location-specific business directory plugin. It might be useful for local business directories where the visitors would want to find the address and navigation details of the listed local businesses on the map.
It automatically creates a lot of useful pages for you, including the one that lets visitors add their own listings. You can also add your listings on the back end. You can do so by clicking on the Add New button under the Places menu on your WordPress dashboard which is created when you activate this plugin.
You can also import listings using a CSV file. One of its unique features is that it also displays the analytics for your directory. You can find it under the Dashboard option under the GeoDirectory menu on your WordPress dashboard.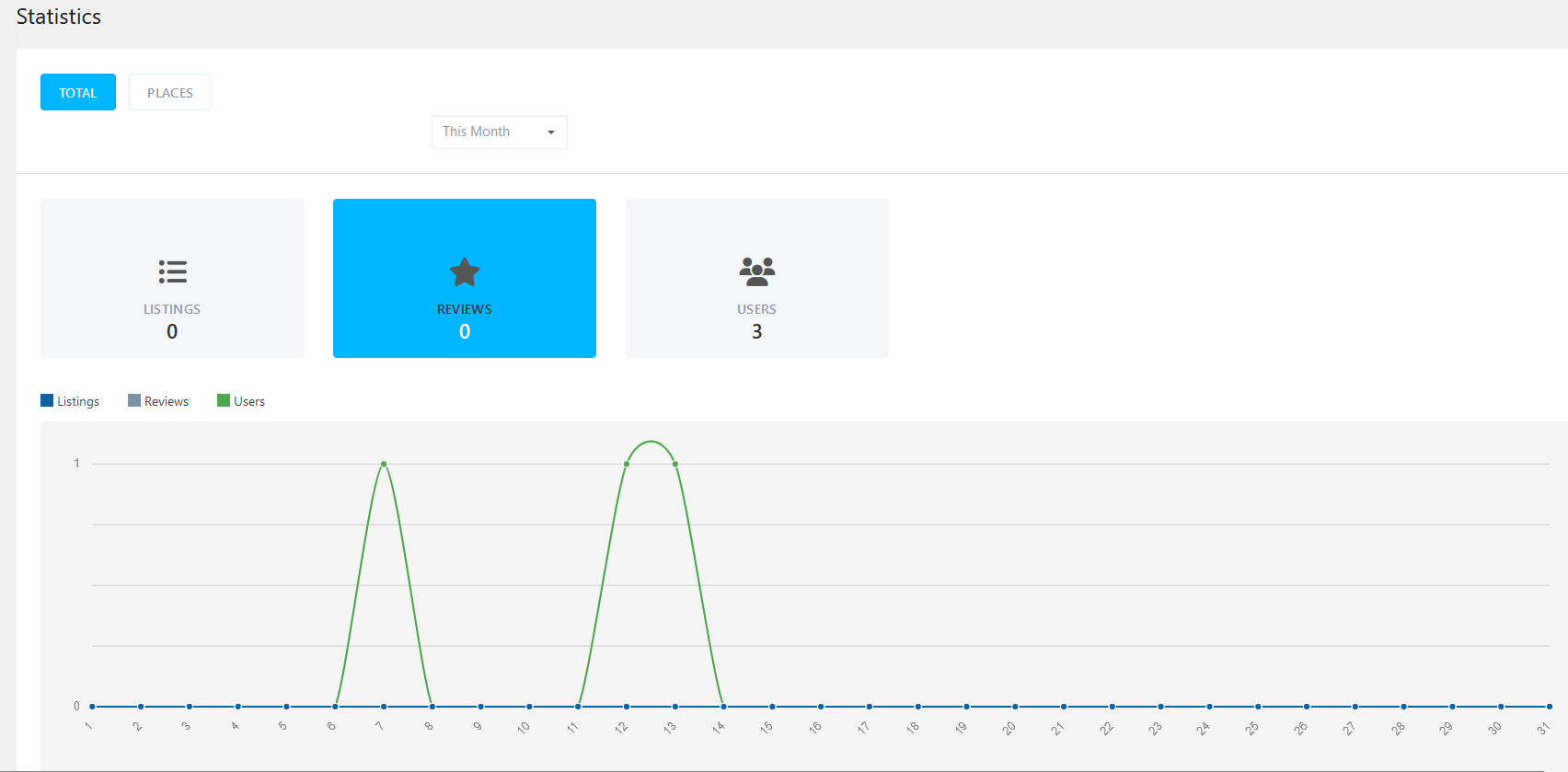 There are also many premium add-ons, including one that lets you create a more global business directory, add custom post types to your directory, advanced search filters, and more.
How to Build a WordPress Business Directory with Profile Builder Pro
Now, as promised earlier, I am going to show you how to implement a beautiful-looking WordPress business directory on your site using Profile Builder, our plugin of choice (also our plugin) for this task.
The User Listing functionality in Profile Builder that allows you to create a professional business directory is a premium feature. So you will need to purchase the pro version of the plugin.
Once you purchase it, you will be able to download both the pro and the basic (free) versions of the plugin by logging in to your Account on Cozmoslabs.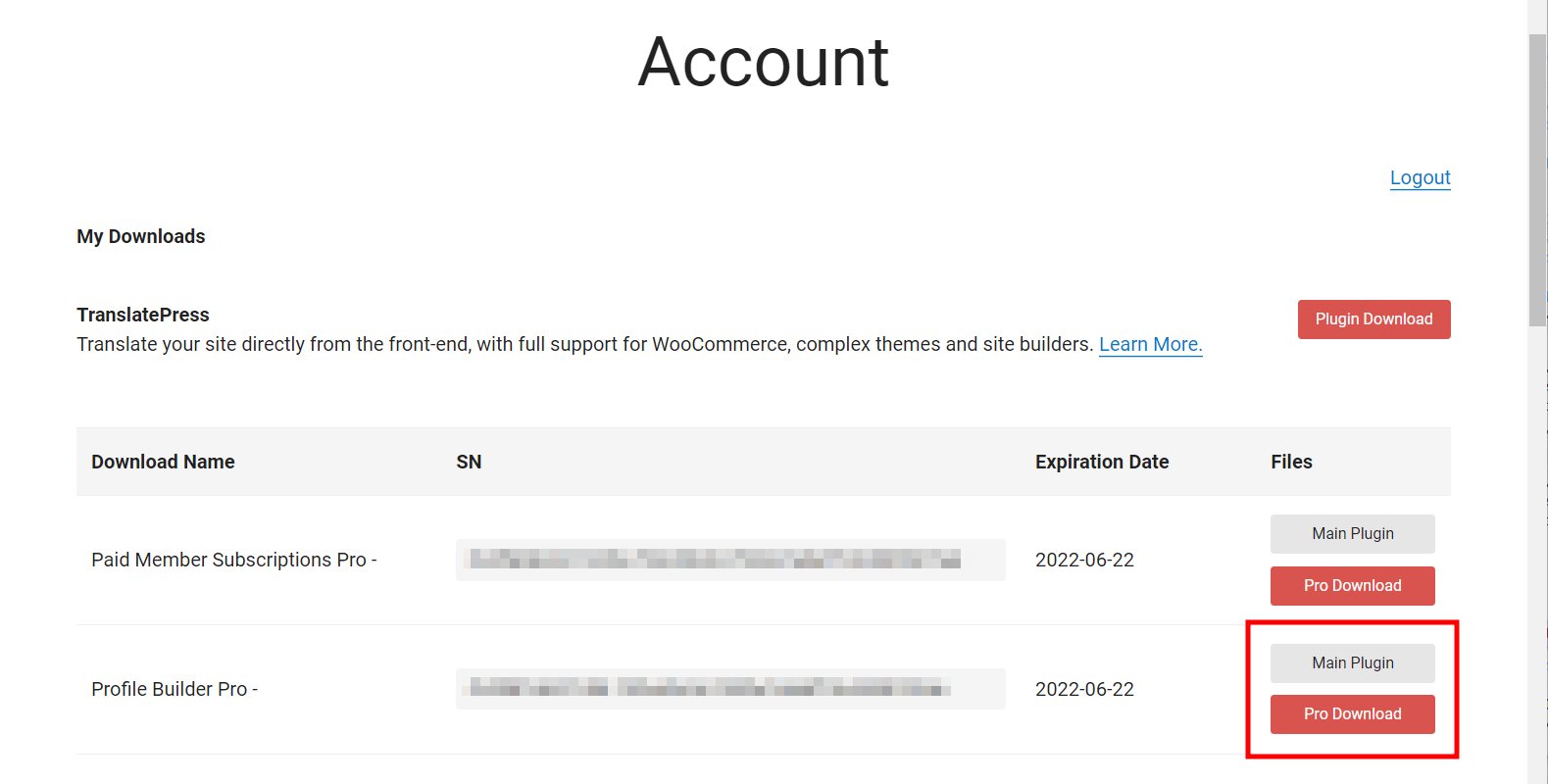 Installing the Plugin
Go to your WordPress dashboard and click on the Add New option under Plugins. Next, click on the Upload Plugin button at the top, locate the plugin files on your computer, click on the Install Now button, and finally the Activate Plugin button. Repeat the process for the pro plugin as well.

Activate User Listing Add-On
As mentioned above, the User Listing add-on is what allows you to create a business directory. So you'll also need to activate that.
Click on the Add-Ons option under Profile Builder on your WordPress dashboard. You will see User Listing listed as the third add-on on the list. Click on its Activate button.

Creating a WordPress Business Directory
Now you'll see User Listing appear as an option under Profile Builder too. Click on it. You can now create a new business directory by clicking on the Add New button at the top.

Give a name to your business directory and choose the user roles you want to display in it.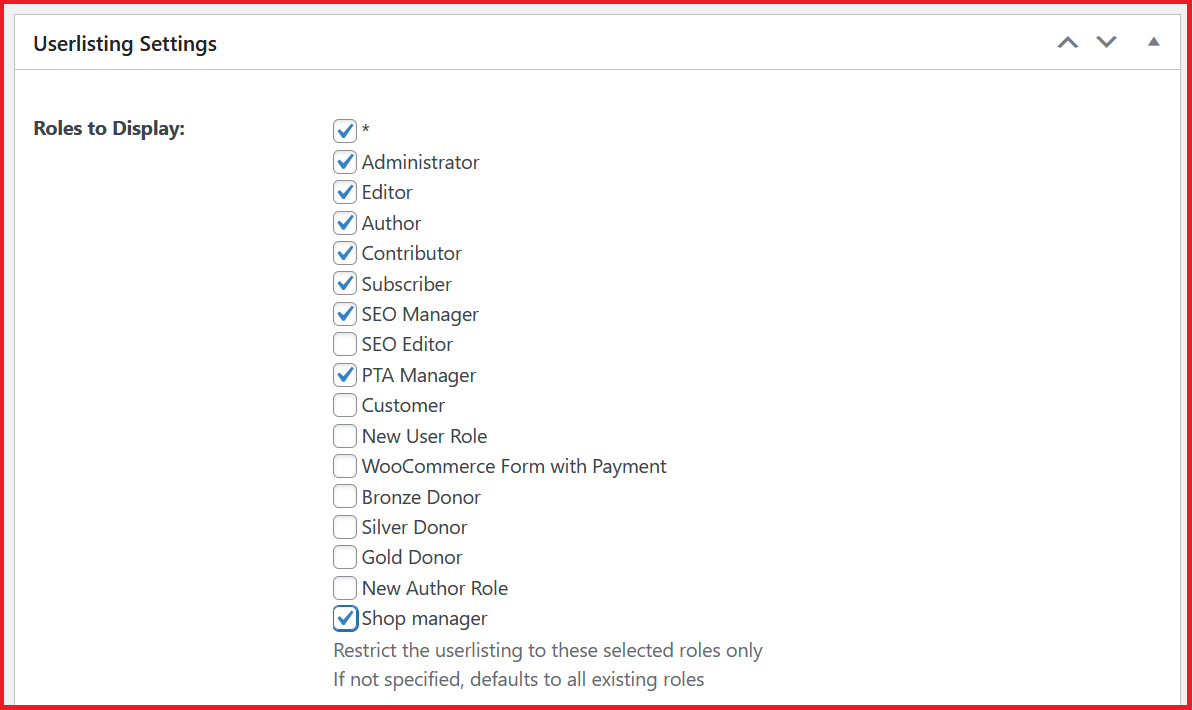 As you scroll down, you will also find options to control the following things:
Number of users to display per page
Default sorting criteria – There are many options here, ranging from username to registration date
Sorting order
Avatar size for both individual listings and general listing view
Visibility – Whether to make the directory accessible to everyone or only to logged-in users
You can also create Faceted menus, which will basically function as filter in your directory. You can read more about how to create them here.
Next, you will also be able to control the different search criteria that the visitors can use to search for directory users themselves using the search box. Just click the checkboxes you want to be "searchable" from the Search Settings section.

Finally, choose from the 5 different professional templates at the end and click the Publish button on the right.
Now you just need to copy the shortcode for the directory you just created and create a page using it. You will find the shortcode on the User Listing page.

Just copy that shortcode onto a page, give it a proper title, and publish the page.
With the template we choose, this is how our sample directory looks on the front end: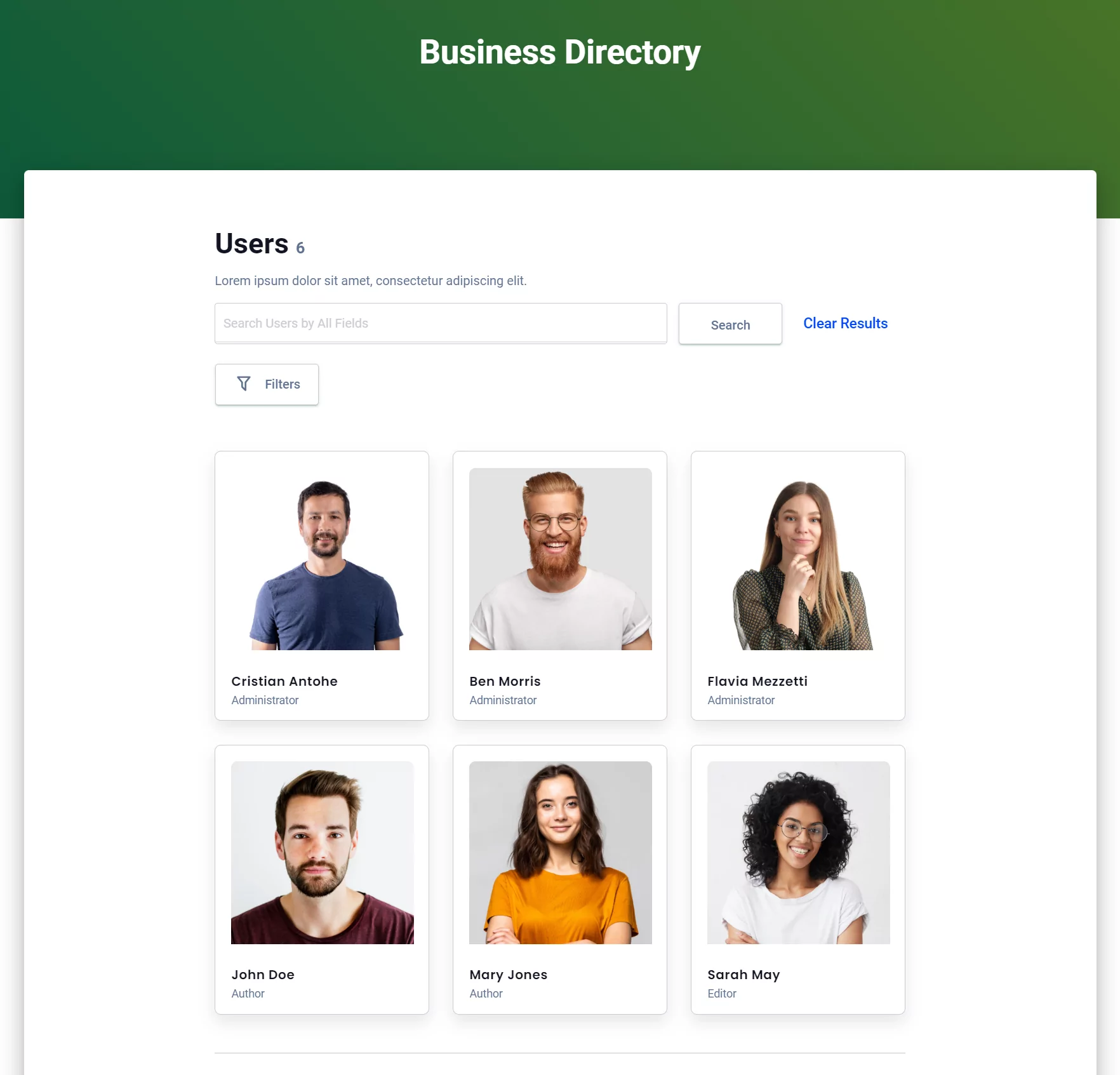 Using Paid Member Subscriptions for Accepting Payments
Well, while Profile Builder Pro in itself doesn't support accepting payments, you can use another innovative plugin from Cozmoslabs in combination with Profile Builder to add this functionality.
That plugin is Paid Member Subscriptions. It's a complete WordPress membership plugin with advanced content restriction functionalities.
If you accept payments using PayPal and are only going to charge for the paid listings once, then you can use the free version which supports PayPal Standard as the payment gateway. However, if you want to charge a recurring fee for the listings or use other payment gateways like Stripe or PayPal Express, you will need to get the pro version.
In addition, the pro version also offers a ton of other advanced functionalities, including email reminders, discount codes, fixed period memberships (where all memberships end on a pre-specified date), a pay-what-you-want functionality, and much more.
Once you have this plugin installed and activated, you can start offering paid listings on your business directory. Here's how to do that.
How to Start Accepting Paid Listings
Begin by clicking on the Form Fields option under Profile Builder. Then click on the Select an option dropdown menu and select Subscription Plans.
You do need to have an active subscription plan though to add one to your form. You can refer to our detailed documentation on creating a subscription plan here. You can create multiple subscription plans too depending on how you plan to manage paid listings.
Once you have at least one subscription plan, choose that plan when adding this field to your form. Fill out all the required details, and once done, click on the Add Field button at the end of the page.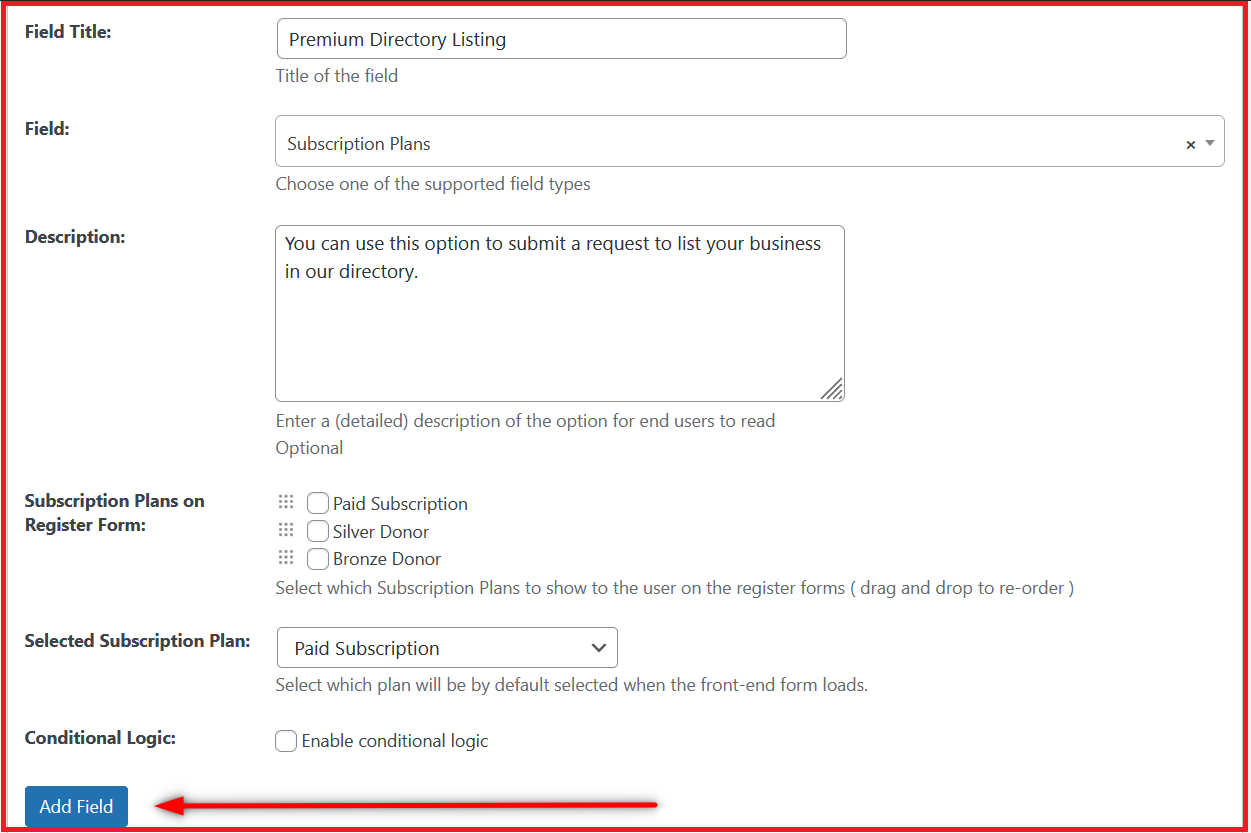 This is more or less how your paid listing submission form will look like on the front end, depending on how you set it up.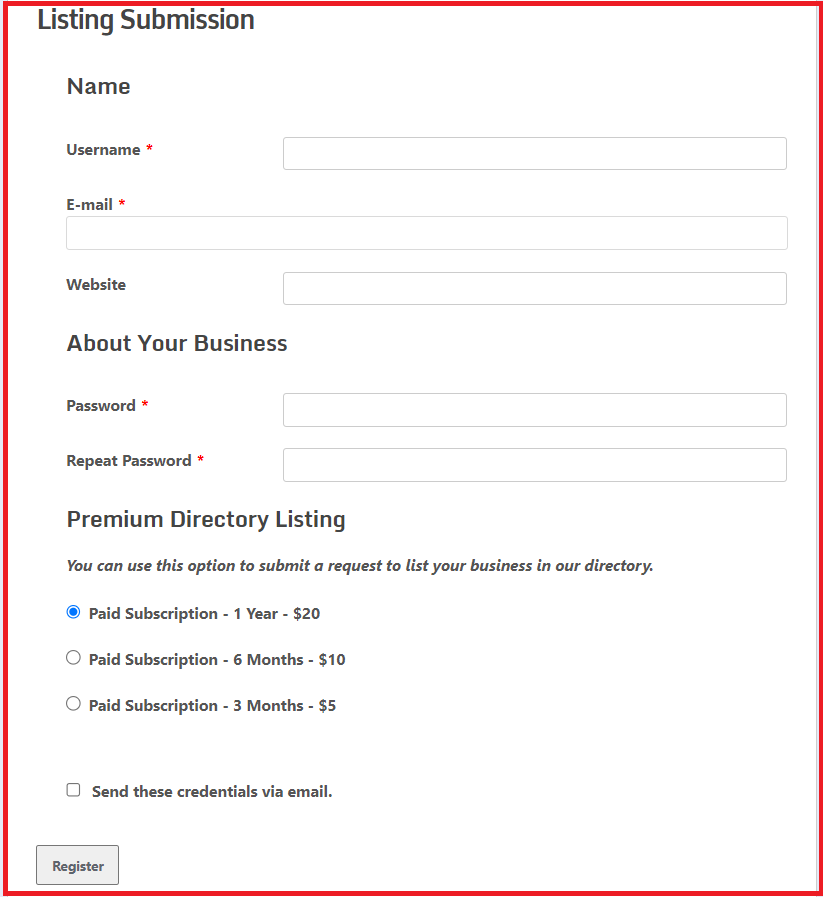 We have explained everything about using Profile Builder Pro and optionally also using Paid Member Subscriptions to create exactly the type of directory you want. But if you only want to create a very basic and small internal directory that you don't want to put much effort into, then you can consider any of the other options we reviewed in this article.
Did You Find Your Best Business Directory WordPress Plugin?
While different plugins bring different functionalities to the table, most site owners would want to go for a more complete WordPress business directory plugin. After all, if they are running a business directory, they will also need to actively manage their users.
And what's better and more complete than Profile Builder Pro – the ultimate user management WordPress plugin? As explained above in this post, it not only functions as a perfect business directory plugin but also covers every single area of user management for your WordPress website.
So get Profile Builder Pro today and put all your user management worries to rest once and for all!

Profile Builder Pro
Get the best user management functionalities and the best WordPress business directory templates in a single plugin.
Do you have any more questions about WordPress business directory plugins? Let us know in the comments below!
Source: https://www.cozmoslabs.com/660412-wordpress-business-directory-plugin/
---
---
You might also like this video